Palladium:

$944.00
$25.00
Bitcoin:

$41,152.61
$957.39
Ethereum:

$2,212.67
$25.29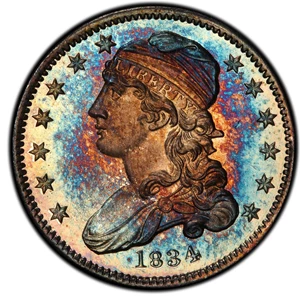 1834 Capped Bust Quarter. Browning-2. Rarity-7 as a Proof. Proof-67 CAM (PCGS).
Source: Stack's Bowers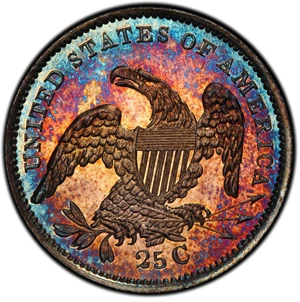 1834 Capped Bust Quarter. Browning-2. Rarity-7 as a Proof. Proof-67 CAM (PCGS).
Source: Stack's Bowers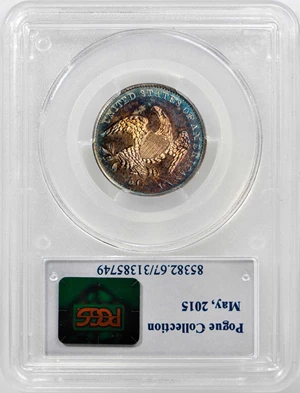 1834 Capped Bust Quarter. Browning-2. Rarity-7 as a Proof. Proof-67 CAM (PCGS).
Source: Stack's Bowers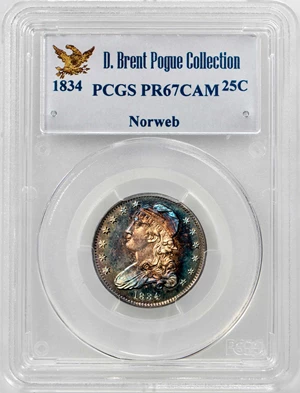 1834 Capped Bust Quarter. Browning-2. Rarity-7 as a Proof. Proof-67 CAM (PCGS).
Source: Stack's Bowers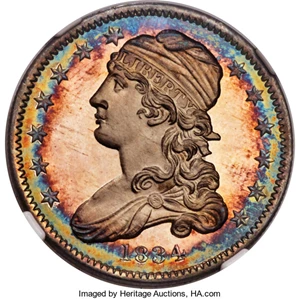 1831-1838 Capped Bust 25c PR Small Planchet (5377)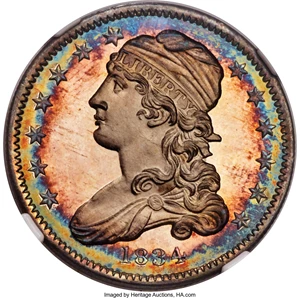 1834 25C PR66+ ★ Ultra Cameo NGC. CAC. B-2, High R.7 as a Proof....
Source: Heritage Auctions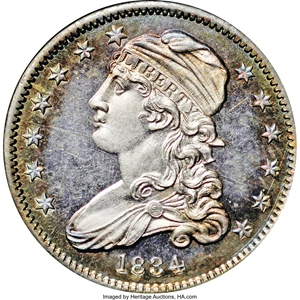 1834 25C PR66+ ★ Ultra Cameo NGC. CAC. B-2, High R.7 as proof....
Source: Heritage Auctions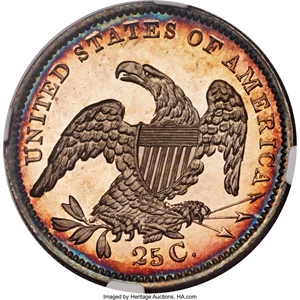 1834 25C PR66+ ★ Ultra Cameo NGC. CAC. B-2, High R.7 as a Proof....
Source: Heritage Auctions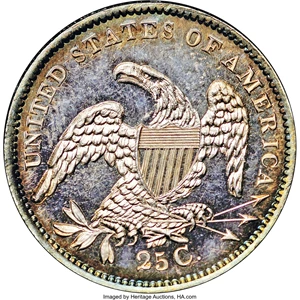 1834 25C PR66+ ★ Ultra Cameo NGC. CAC. B-2, High R.7 as proof....
Source: Heritage Auctions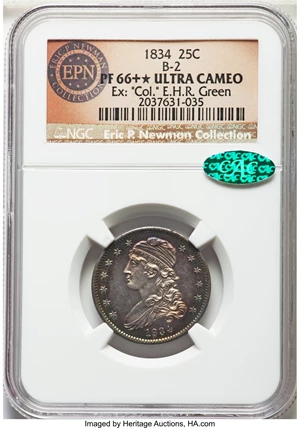 1834 25C PR66+ ★ Ultra Cameo NGC. CAC. B-2, High R.7 as a Proof....
Source: Heritage Auctions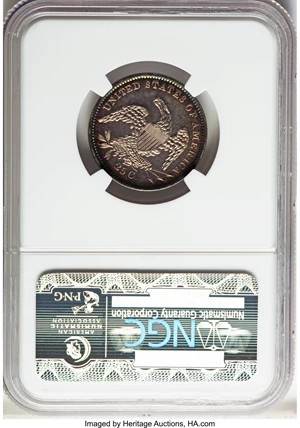 1834 25C PR66+ ★ Ultra Cameo NGC. CAC. B-2, High R.7 as a Proof....
Source: Heritage Auctions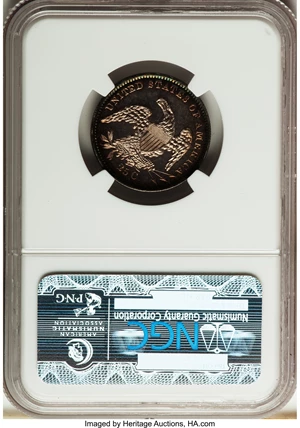 1834 25C PR66+ ★ Ultra Cameo NGC. CAC. B-2, High R.7 as proof....
Source: Heritage Auctions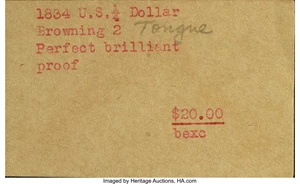 1834 25C PR66+ ★ Ultra Cameo NGC. CAC. B-2, High R.7 as proof....
Source: Heritage Auctions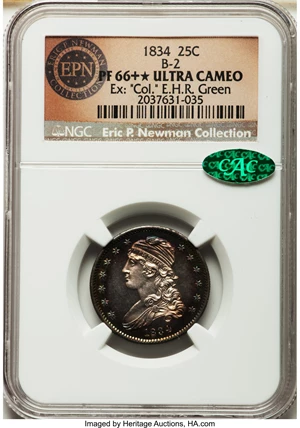 1834 25C PR66+ ★ Ultra Cameo NGC. CAC. B-2, High R.7 as proof....
Source: Heritage Auctions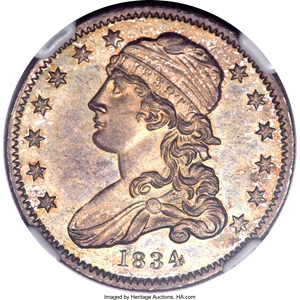 1834 Capped Bust Quarter PR65 NGC. B-2, R.7 as a Proof. ...
Source: Heritage Auctions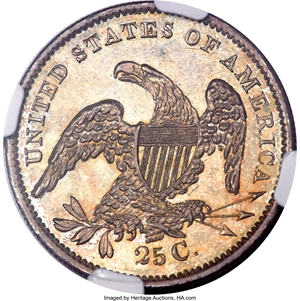 1834 Capped Bust Quarter PR65 NGC. B-2, R.7 as a Proof. ...
Source: Heritage Auctions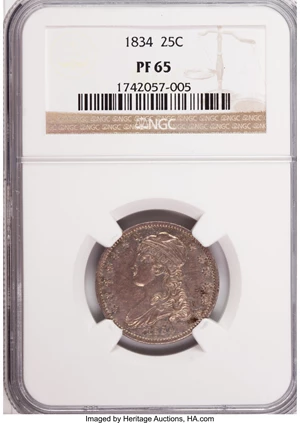 1834 Capped Bust Quarter PR65 NGC. B-2, R.7 as a Proof. ...
Source: Heritage Auctions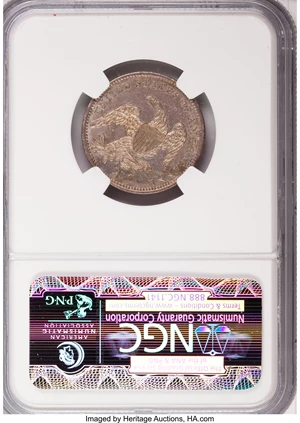 1834 Capped Bust Quarter PR65 NGC. B-2, R.7 as a Proof. ...
Source: Heritage Auctions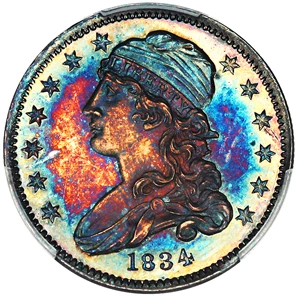 1834 25c PCGS Proof 64+
Source: David Lawrence Rare Coins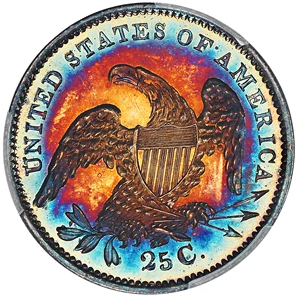 1834 25c PCGS Proof 64+
Source: David Lawrence Rare Coins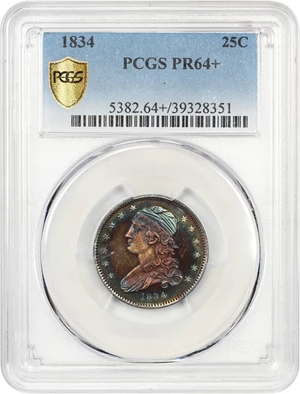 1834 25c PCGS Proof 64+
Source: David Lawrence Rare Coins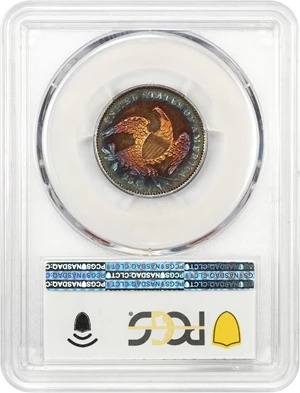 1834 25c PCGS Proof 64+
Source: David Lawrence Rare Coins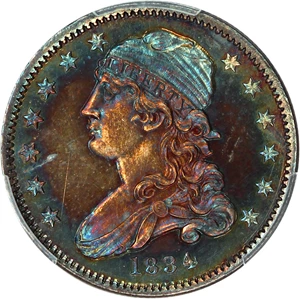 1834 25c PCGS Proof 64+
Source: David Lawrence Rare Coins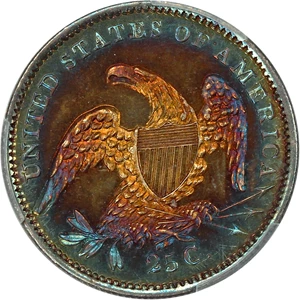 1834 25c PCGS Proof 64+
Source: David Lawrence Rare Coins
Greysheet Catalog Details (GSID: 84454)

The 1834 Twenty five cents is part of a series of Capped bust quarter coins struck from 1831-1838. Struck in Philadelphia and designated as a Business (PR) strike, this coin is made of 89% silver; 11% copper from a mintage of <10 Reported struck and has a rarity rating of 6.
Obverse: Liberty is portrayed, facing left, with cap on her head and the word LIBERTY on her crown. 7 and 6 stars on the left and right periphery, respectively with the date positioned in the bottom center.
Reverse: The centerpiece of the reverse is the so-called "heraldic eagle" with wings fully spread and emblazoned with a shield replacing the chest. A ribbon bearing the motto E PLURIBUS UNUM hangs from the beak. The eagles right talon holds bundle of arrows and an olive branch in the right. Above the eagle's head are a group of stars and clouds with the words UNITED STATES OF AMERICA at the top periphery. The denomination of 25 C. appears at the bottom.
GSID:
84454
Coin Date:
1834
Denomination:
25c / Twenty five cents
Designation:
PR
Mint Mark:
P
Mint Location:
Philadelphia
Mintage:
<10 Reported
Coinage Type:
Capped bust quarter
Coinage Years:
1831-1838
Composition:
89% silver; 11% copper
Rarity:
R-6
Strike Type:
Proof
Diameter:
24.3 mm
Fineness:
0.89
Weight:
6.74 gr
Coin Shape:
Round
Designer:
William Kneass
Obverse Designer:
William Kneass
Reverse Designer:
William Kneass
PCGS #:
85382
NGC ID:
27HD
Feedback:
Visit these great CDN Sponsors
CDN Sponsors
Greysheet & CPG® PRICE GUIDE
About CDN Prices
All CDN prices are based on proprietary market knowledge and technology developed by CDN Publishing, LLC.
CPG® prices represent retail levels. Collectors should refer to CPG values as a starting place for their negotiations, or auction bid reference.
Greysheet/Greensheet prices are wholesale market levels for collectible coins/paper money intended to indicate what a dealer, or wholesale, buyer would pay for the described item in the specified grade. Greysheet/Greensheet represent "sight-seen" values based on a buyer's in-hand review. The actual value can be more or less than this depending on factors including eye appeal and market timing.
Bluesheet (NGC & PCGS) prices represent the highest sight-unseen offers to buy on dealer networks like CDN Exchange. In many cases, there are no active sight-unseen buy offers, so CDN looks to the recent lowest market values for such an item. For this reason, Bluesheet values typically represent the floor of the market for the specified item. CDN only tracks Bluesheet on certain items.
CAC prices are for U.S. coins that meet the standards of the Certified Acceptance Corporation. You can learn more about CAC on their web site.
Price movement is indicated for price changes in the last 30 days.
The prices listed in our database are intended to be used as an indication only. Users are strongly encouraged to seek multiple sources of pricing before making a final determination of value. CDN Publishing is not responsible for typographical or database-related errors. Your use of this site indicates full acceptance of these terms.
Read More...