CDN Releases New Website Pricing Resources
John Feigenbaum · May 10, 2019

Featured
Announcements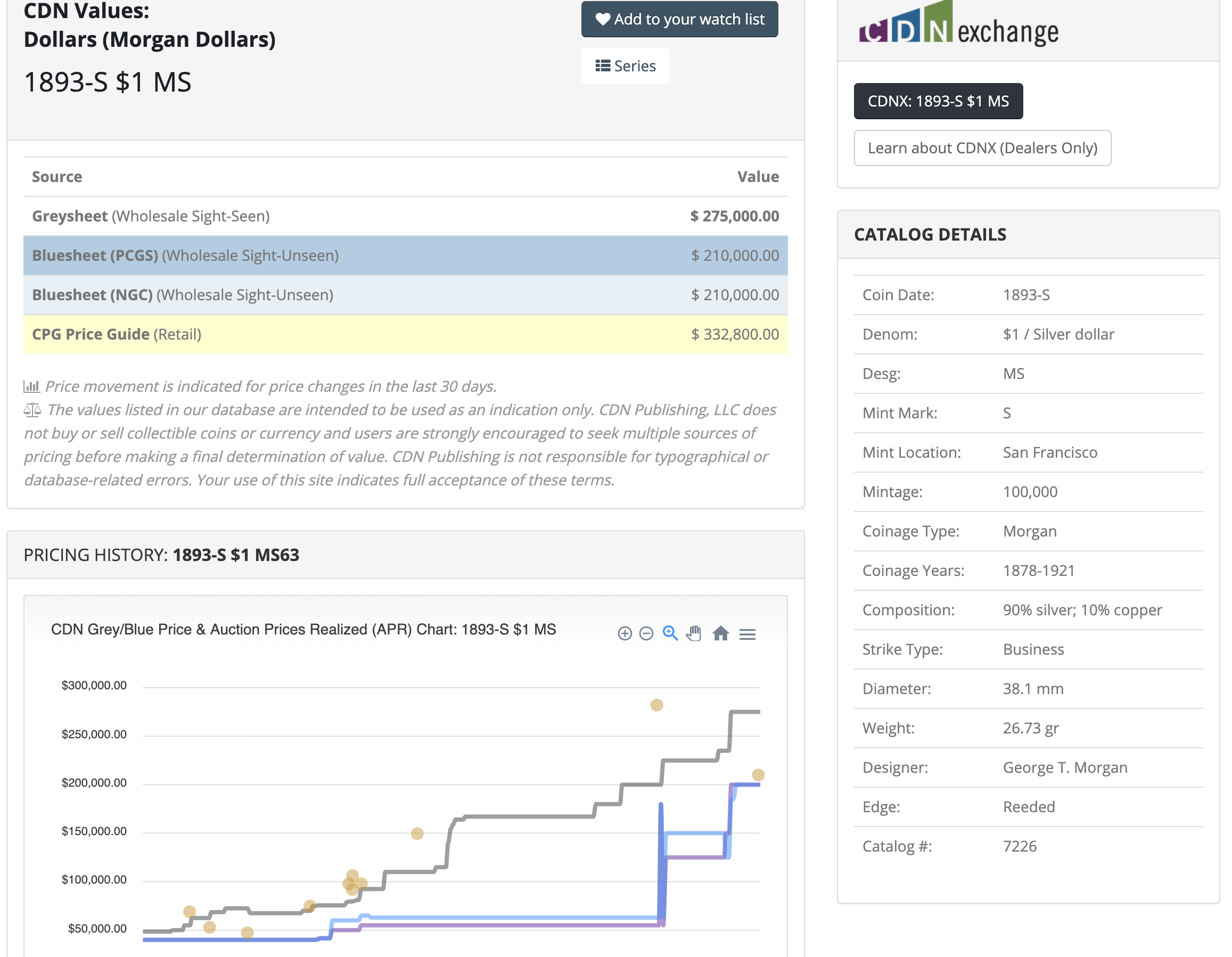 By John Feigenbaum, Publisher
At CDN, we're constantly refining and improving the multitude of numismatic resources we offer, and our latest enhancements offers our readers more in control of the pricing data you need than ever offered before.
You don't have to be a subscriber to benefit, however, subscribers get a lot more in the sense of wholesale pricing and historic data. The best part is you won't need to pay a penny more to access these unique and powerful pricing tools.
Our new pricing pages now offer you the ability to research the pricing history of coins & paper money down to the grade level, including Greysheet, Bluesheet & Greensheet wholesale prices, CPG retail, and 3 million APR (auction prices realized) records from major companies like Heritage, Stacks-Bowers, Legend, David Lawrence, Lyn Knight and more.
You can now visualize the price trends of virtually any coin in our massive catalog using easy-to-read graphs and interactive scatter plots. Like never before, you'll see at a glance how much your coins sold for today, yesterday, last month, last year — even up to a decade ago or longer. Information overload? Don't worry! Our intuitive pricing tool allows you to customize how much data you're looking at so you can find out exactly what you need with just a few easy clicks.
There's simply no other coin pricing tool like it anywhere else. And with this pricing information at your fingertips, you gain a new advantage whether you're just hoping to learn more about the coins in your holdings or fine-tuning your market knowledge so you can better strategize future trades or auction purchases.
Check out this short, easy-to-follow video below to find out more about this exclusive pricing tool and how to use it…
John Feigenbaum
The Publisher and managing partner at CDN Publishing, John Feigenbaum, has been a professional numismatist since 1979. Formerly president of David Lawrence Rare Coins, John has taken on Publishing and executive responsibilities for CDN Publishing. John has written for numerous trade publications and published "The Complete Guide to Washington Quarters" in 1991. In 2014, John received the PNG Abe Kosoff Founders Award for "his steadfast dedication to the entire numismatic community".
more from John Feigenbaum
Spot Prices
Gold:
1559.32 2.25
Silver:
$17.75 0.00
Platinum:
$1000.57 2.90