Coin Dealers Sprinkle Thousands Of Valuable Coin Into Circulation For National Coin Week
CDN Publishing · Apr 22, 2019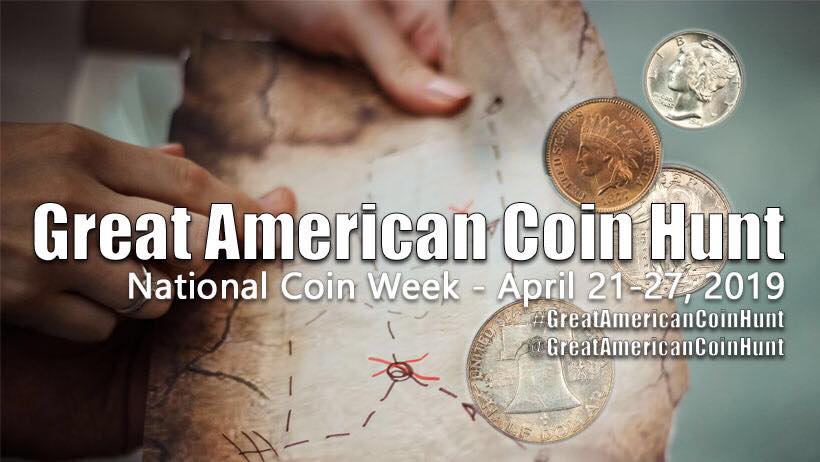 By Joshua McMorrow-Hernandez, Editor
Have you been finding some unusually old coins in circulation recently? You may have been the lucky recipient of one of the thousands of coins dropped by coin dealers around the United States as part of the Great American Coin Hunt. An initiative launched by a group of coin dealers for National Coin Week (April 21-27, 2019), the Great American Coin Hunt has sparked coin dealers to spend a variety of old and valuable coins and paper currency as money to get people to check their change and spark the growth of new coin collectors.
Rob Oberth, president of RoundTable Trading in Marietta, Georgia, says the idea has been in the works for a long time. "The general concept has been discussed for many years now. Another member of Coin Dealers Helping Coin Dealers mentioned trying to organize something similar last year, but it didn't seem to materialize," he said. "I gave a speech at the American Numismatic Association symposium in 2019 and part of what I talked about was how our profession can organize to bring the hunt back to the hobby." Speaking about the topic at the symposium inspired Oberth to formally organize the coin drop, news of which spread like wildfire on social media, drawing hundreds of coin dealers and other numismatists to join in.
"I personally [dropped] over 10,000 coins," he said, with the majority of those being Indian Head cents, Buffalo nickels, silver dimes and quarters, Eisenhower dollars, silver certificates, red and blue seal notes. "I plan to release some better semi-key dates and even give away silver dollars as tips. One lucky waiter will have received a $5 gold piece at the Central States Numismatic Society show in April."
Like Oberth, coin dealer Adam Wilburn is excited to see what effects the Great American Coin Hunt has on the hobby. The founder of Hat Creek Coins & Currency in Texas says he will be spending steel cents, Barber coinage, and Standing Liberty quarters in his transaction to help infuse commerce with some old coinage. "We are hoping to generate a newfound interest within younger generations in hopes of spreading the love of numismatics through these discoveries," he says. "Not everyone was born into or brought up in the hobby like a lot of us were, so like with anything you have to have a starting point. We expect to see new interest in the hobby from those who may otherwise have not been exposed to the world of numismatics."
With the discoveries will come the many questions about what these old coins are and how much they're worth. Wilburn expects this won't only bring more foot traffic to coin shops, but it could also help numismatic websites and media see a spike in readership. "I feel quite strongly that we will create a whole new generation of collectors from this initiative."
Coin dealer Matt Dinger of Lost Dutchman Rare Coins in Indianapolis, Indiana, set aside 5,000 coins to drop around his community, including everything from wheat cents to 90% silver coinage. "I personally hope the coin hunt just gets people to stop and look at their change," says Dinger, who remarks he has been slipping old coins into circulation since well before the coin hunt ever officially began.
"Circulation finds were what got me started at a young age, and I hope that maybe this project will inspire future collectors." Dinger also hopes the mainstream media picks up the story, because that may spur folks who never even thought about collecting coins to give the hobby a try. "I do think that these coins will get people into coin shops and hopefully they look in the cases at coins like Morgan dollars and get them excited to begin collecting."
Shannon Martin splits her time as both a coin collector and coin dealer, and she is excited for the coin hunt because of the opportunity it could bring to find a key date coin in circulation – something she says otherwise wouldn't be a realistic expectation. "We all started somewhere, who knows what potential leader in the field may be introduced to the hobby by the Great American Coin Hunt?" The 31-year-old got her start as a young girl looking for anything that she found "unique" in her pocket change. "It's been almost a year now since I got more serious about the hobby and began actually buying and selling coins."
While she is looking forward to the increased odds of finding an old or valuable coin in circulation, her enthusiasm for the Great American Coin Hunt extends well beyond her desire to pick up a rare coin or two for face value. She's hoping it helps bring more young women into numismatics. "As a female collector, it saddens me that so many women don't feel welcomed in the hobby," she says. "I know this is one place we can bring about changing the unbalanced ratio of men and women who enjoy our hobby. I urge anyone participating in the coin drop to consider more groups consisting of young girls to begin sharing numismatic treasures with Girl Scouts troops, girls' sports teams, and so on."
Shannon's goals are similar to those of her colleagues, including Oberth, who says his objective with the coin hunt is to focus national media attention on the hobby and inspire children and adults to check their change. He anticipates the coin dealer community will see a spike in calls from the people who find these coins, curious to know how much their finds are worth. "As those calls begin to come in, we must do more than simply state that the value of their coin is "X" dollars, but we must also try to engage those callers and encourage them to come in and start to put sets together. Our hobby is small enough that we can really turn it around by engaging just a few thousand people to become interested in the hobby."
Spot Prices
Gold:
1555.32 3.00
Silver:
$17.66 0.16
Platinum:
$1004.06 9.41