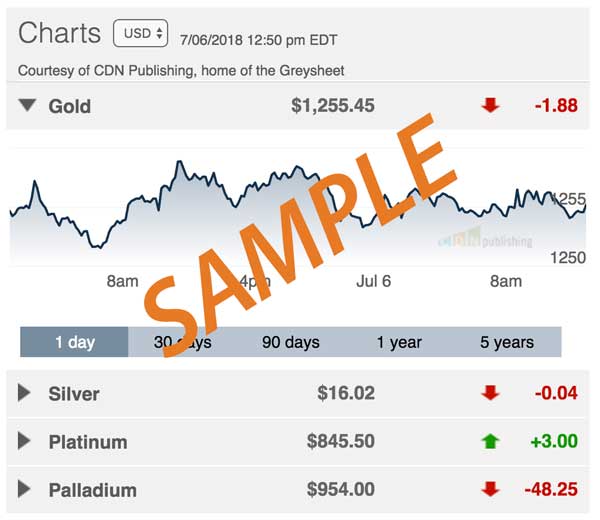 Dealers: Add Free Bullion Widget and Scroller to your web site
John Feigenbaum · Jun 30, 2018

Featured
CDN is proud to offer a free bullion widget with interactive charts to display spot prices for Gold, Silver, Platinum & Palladium for 1 day, 30 days, 90 days, 1 yea
Subscribe to Monthly Greysheet for the industry's most respected pricing and to read more articles just like this.
CDN is proud to offer a free bullion widget with interactive charts to display spot prices for Gold, Silver, Platinum & Palladium for 1 day, 30 days, 90 days, 1 year, or 5 years. We've also got a beautiful scroller which displays current prices across your screen.
It's really easy to add this to your site. Visit this page to learn more.
Leave a comment
Please sign in or register to leave a comment.
Your identity will be restricted to first name/last initial, or a user ID you create.
Register
John Feigenbaum
The Publisher and managing partner at CDN Publishing, John Feigenbaum, has been a professional numismatist since 1979. Formerly president of David Lawrence Rare Coins, John has taken on Publishing and executive responsibilities for CDN Publishing. John has written for numerous trade publications and published "The Complete Guide to Washington Quarters" in 1991. In 2014, John received the PNG Abe Kosoff Founders Award for "his steadfast dedication to the entire numismatic community".
more from John Feigenbaum
Spot Prices
Gold:
1929.01 16.26
Silver:
$26.25 0.99
Platinum:
$945.57 18.47