Greysheet: COPPER SHINES AT GOLDBERG SALE
The Goldberg pre-Long Beach auction has concluded and, while copper coinage held most of the highlights, the top lot was a gold piece: an 1854-O $20 graded NGC AU53 whi
CDN Publishing · Feb 24, 2017

The Goldberg pre-Long Beach auction has concluded and, while copper coinage held most of the highlights, the top lot was a gold piece: an 1854-O $20 graded NGC AU53 which brought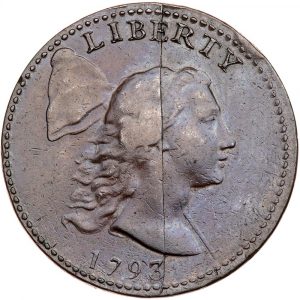 $305,500 with buyer's premium. The next four top lots were copper, with second place going to the well-known Sheldon-14 variety of the 1793 Liberty Cap cent, graded PCGS XF45, which realized $199,750. This realization is a nice bump considering the coin previously sold for $126,500 in February of 2008. Tied for third place in this sale were an 1804 cent (S-266c) PCGS/CAC AU55 and a 1943 copper Lincoln cent PCGS XF45, both of which realized $193,875. Rounding out the top five was a 1793 Chain cent (S-4) certified PCGS AU50 which sold for $164,500.
THIS WEEK'S MARKET
Gold type: 
As the gold spot price climbs steadily and slowly, the generic gold market continues to compress. The price spreads between grades is very narrow for multiple series, making pricing challenging. The Heritage wholesale department this week sent out an interesting chart (see below) detailing the premiums over melt value for generic gold by type and grade over the past 14 years, and it's worth reporting on here. Note that the premiums are relative to Heritage wholesale ask prices and not CDN bids, but there is strong correlation between the two. The data was taken from January of each year. Immediately two things jump out: first the year 2009 was when the largest amount of types had the highest premiums, with 12 different series seeing their 14-year tops. The average premium over melt for these 12 types was 38.3%. The second aspect is that 2012, just three years later was the year in which the most coin types had the lowest premium. Nineteen different series had their low at the start of that year, with an average of 15.4% over melt. Only one coin/grade, MS63 $20 Libs, have hit a high post-2009. Furthermore, based on readings taken the third week of February, 16 types are currently sitting at their 14-year lows. Of these 16 types, 14 of them are down by 50% or more as compared to January 2016. There are multiple reasons for this price activity. First, the supply has increased due to large numbers of U.S. gold coins coming from a large hoard in Europe. The relentless climb of the stock market is another potential reason, with individuals happy to keep their money in the market as long as the euphoria lasts. Indeed, as of Wednesday the 15th, there has been 87 straight days without a 1% or more drop in the market. it is up to buyers to decide if these current levels will be proven in the long term to be excellent values.
*right click to enlarge chart
Leave a comment
Please sign in or register to leave a comment.
Your identity will be restricted to first name/last initial, or a user ID you create.
Register
Spot Prices
Gold:
1613.32 28.93
Silver:
$16.79 0.93
Platinum:
$861.01 40.84