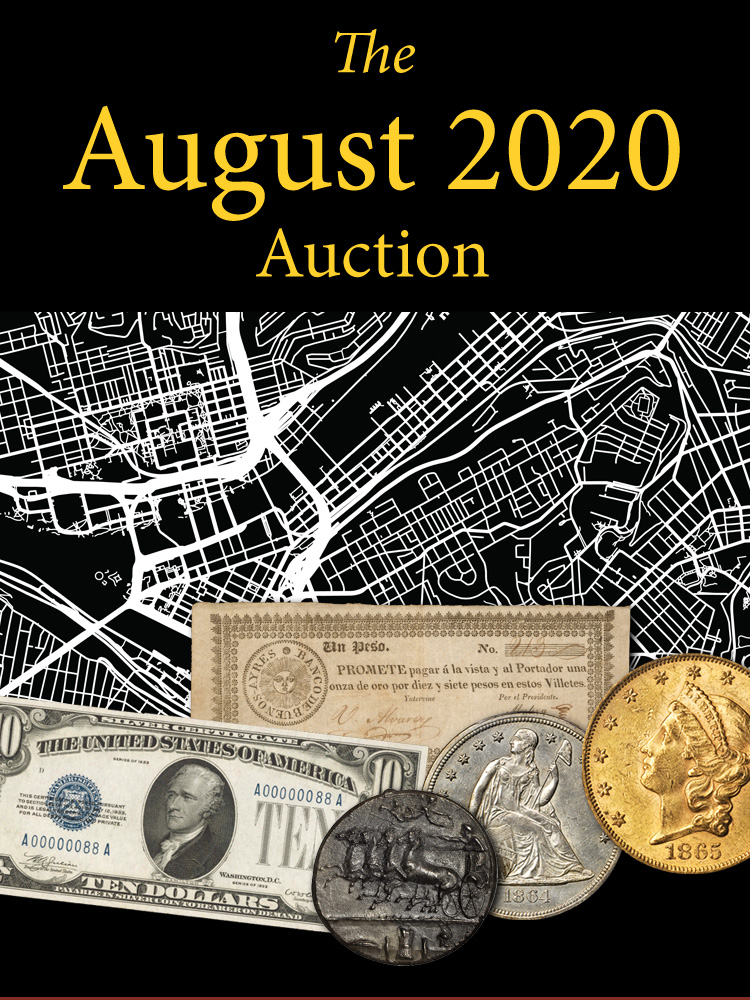 Stacks Bowers August 2020 Auction – Ancient and World Coins & Paper Money • United States Coins and Currency
Stack's Bowers Galleries is thrilled to present several important collections in their August 2020 auction of United States and World coins and paper money. The live auction will be held August 5-7 at the Bellagio Hotel and Casino in Las Vegas, in coordination with the recently announced PCGS Members Only Show.
The ESM Collection of Large Cents is among the standout offerings of United States Coins, combining both high grades and extreme rarity. It showcases the finest known 1793 Strawberry Leaf cent in addition to many Condition Census examples. Collectors of U.S. gold coinage will be excited by our offering of the Fairmont Collection , focused primarily on half eagles of the Liberty and Indian Head series. Indian cents from the BSC Indians Set accompany Liberty Seated half dimes from the Henry Collection as additional specialized selections.
The D. Brent Pogue Numismatic Library is an historic offering, numbering more than 100 lots from important Chapman sales to rare volumes such as a presentation copy of A.W. Browning's work on early quarters .
United States Currency is highlighted by an impressive array of high denomination notes including some of the finest known $500 and $1000 Federal Reserve Notes from the Windy City Collection .
A monumental rarity among the Ancient and World coins is a Mexican 1714-Mo J "Royal" Presentation 8 Escudos from the D. Brent Pogue Collection graded MS-66 (PCGS). Also featured is the Glacier Rams Collection of gold solidi from the 4th to 9th centuries A.D,. and the Duke of Lansing Collection of British Coronation Medals.
Incredible rarity is the focus of our World Paper Money offering, which includes such historic notes as a 1920 5 Shillings from Saint Lucia graded PMG Very Fine 20, a PMG Choice Fine 15 Leeward Islands 1921 5 Shillings , and a Zanzibar 1916 10 Rupees graded PCGS Banknote Choice Fine 15 Details.
Lot viewing for the Stack's Bowers Galleries August 2020 auction will be available, by appointment only, at the firm's Santa Ana, California headquarters from July 20-24, at the Grand Hyatt DFW, DFW Airport, Texas from July 31–August 2, and at the Bellagio Hotel in Las Vegas from August 5-7.
The firm is committed to meeting local and federal safety restrictions and guidelines in place at the time of the sale and reiterates that the ongoing Covid-19 situation could result in location or other changes.