Event has been cancelled.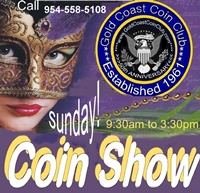 Gold Coast (Hollywood) Coin & Collectible Show - 1st Sunday - Hollywood FL
70+ dealers, free parking & appraisals.
U.S. & world coins & currency, antique jewelry, baseball cards, stamps & other collectibles available.
If you have time stop by and visit for a while admission is free.
Event Hours
Sun: 10:00am-3:00pm