Palladium:

$2,140.00
$70.00
Bitcoin:

$19,443.73
$43.21
Ethereum:

$1,337.35
$0.51
Description
CDN Publishing & Banknote Book are proud sponsors of this event!
With exhibitors from all over the world and a floor area of 2500 m2 MIF 2022 will be one of the largest events for dealers, investors and collector in Paper Money, Bonds&Shares and coins.
MIF Paper Money Fair 2022 is organized by MIF EVENTS, in co-operation with MECC Maastricht (The Netherlands), which will be the location for the MIF 2022.
The show is announced as a Paper Money show. That means Paper Money will be offered primarily, but it is permitted to offer other numismatic products as well.
During the MIF Paper Money Fair 2022 there will be an auction held by Stacks Bowers from the United States. The auction lot viewing will take place at the booth of Stacks Bowers in de Expo Foyer.
MIF Paper Money Fair 2022 will take place in the MECC Maastricht on Saturday September 24th and Sunday September 25th.
(free entrance for visitors on these days).
Friday September 23rd will be an only exhibitor dealer day.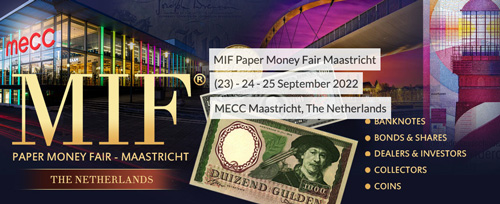 Contact Information email

M.I.F. EVENTS
Hours: Saturday-Sunday 10:00-17:00
Event Location
MECC Maastricht
Forum 100
Maastricht,

---