Palladium:

$2,188.00
$77.00
Bitcoin:

$20,057.49
$210.25
Ethereum:

$1,348.89
$8.73
Canadian Dollar:

$0.73
$0.01
Description
Featuring 146 Tables.
Banquet by advanced reservation on Saturday night.
Speaker will be Mike Beall (ancient coin collector).
Youth Exhibits and Adult Exhibits. Youth activities led by John Philips, Youth Director, Homeschooler's Education Program on Friday, Grandparent's Day on Saturday.
Youth and Adult Education Programs on Saturday. We encourage both Youth and Adult Exhibitors. Prizes will be awarded for Youth and Adult exhibits.There will also be excellent speakers that adults and youth will enjoy. Contact: Richard Schornak, 372 Wythe Creek Rd., #E, Poquoson, VA 23662. Phone: 757 659-0235. Email: rschornak@cox.net.
Since we did not have a VNA convention last year, let's all come out and make this the best convention ever!
Support the VNA! Plan for a future Convention and Coin Show next year on September 23 – 25, 2022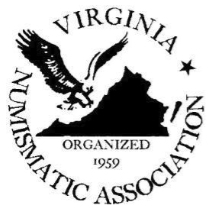 Contact Information email
INTEGRITY COIN STORE
Hours: Friday: 10am - 6pm // Saturday: 10am - 6pm // Sunday: 10am - 2pm
Event Location
Fredericksburg Expo Center
2371 Carl D Silver Parkway
Fredericksburg, VA 22401

---