Palladium:

$2,080.00
$10.00
Bitcoin:

$22,747.65
$601.00
Ethereum:

$1,814.68
$53.03
13 Lincoln Memorial Cent Varieties Add Challenge, Flair To Popular Series
Lincoln cents are arguably the most popular United States series around. Josh dives into these popular varieties to explain their rarity and value.
By Joshua McMorrow-Hernandez, Editor
Lincoln cents are arguably the most popular United States series around (shhh… don't tell Morgan dollar enthusiasts I said that). Lincoln pennies are plentiful in change jars, coin folders, and five-gallon buckets from Bangor, Maine to Los Angeles, California, and beyond, and they're perhaps the most widely collected American coin, even among coin collectors overseas in foreign lands. Countless collectors love Lincoln cents, and they're often seeking well-known rare wheat pennies such as the 1909-S VDB, 1911-S, 1914-D, 1924-D, and 1931-S. Then there's the famous 1922 "plain" cent, a rare Denver-minted issue that due to some die retooling appears sans "D" mintmark. Finally, we have the 1943 bronze cent, 1944 steel cent, and 1955 doubled die cent – the two former of those being six-figure transitional errors and the last serving as the most famous doubled die variety in numismatics.
But what about Lincoln Memorial cents? Like their "wheat ears" predecessors, Lincoln Memorial cents are now also an obsolete series, having been first struck 60 years ago in 1959 and retired in 2008. The subtype was replaced in 2010 by the Union Shield type reverse. Dealers have seen an onslaught of pre-1982 bronze cents come in by the bucketful in recent years, as the numismatic community recognizes the potential value these bronze cents have, especially if melting them for their copper content becomes legal again. With current metal prices, bronze Lincoln Memorial cents struck through early 1982 boasts about 2 cents of intrinsic copper value.
There's so much more to love about Lincoln Memorial cents than their potential bullion payout. While there may not be any major regular-issue rarities among the Lincoln Memorial cent series, there are many varieties that are much more than their bronze value – some pieces trade into the hundreds or even thousands of dollars apiece.
Here are 13 valuable Lincoln Memorial cent varieties that should be on your radar screen…
1964 Special Mint Set Lincoln Cents – In recent decades, the numismatic community has become aware of 1964 SMS coins, which exist in limited numbers and may have served as prototype coinage for the SMS sets that were produced for regular distribution from 1965 through 1967. Some believe the 1964 SMS set was designed to also include the infamous 1964-D Peace dollar, which saw a trial-run mintage of 316,076 pieces – all reportedly melted and illegal for private citizens to own should any still exist. 1964 SMS coins, including 1964 SMS pennies, apparently were struck with some involvement by then- U.S. Mint Director Eva B. Adams, who owned several 1964 SMS coins that were later sold by Stack's in the early 1990s following her death. Perhaps 20 to 50 specimens of the 1964 SMS cents survive, and they don't come to auction often. Among the most recent offerings came in 2010, when Heritage Auctions sold a PCGS MS66RD example for $7,187.50.
1969-S Doubled Die – Eclipsed by the 1955 doubled die cent in popularity but not in rarity or price, the 1969-S doubled die easily claims top spot as the most valuable Lincoln Memorial cent. Fewer than 100 authentic examples are believed to exist (far fewer than the 10,000 to 15,000 surviving 1955 doubled die cents). While extremely rare, 1969-S doubled die cents have appeared, even in recent years, in the most ordinary of places, including an unemployed woman's 1995 discovery of the coin in pocket change and the variety's 2007 appearance in an unsearched roll of 1969-S Lincoln cents by collector Michael Tremonti. The rare variety has scored several five- and six-figure auction appearances in recent years, including the headline-worthy sale of an MS64RD specimen at an April 2018 Stack's Bowers auction in which the coin took a whopping $126,000. However, among 1969-S doubled die cents, RB specimens are more common; MS63RB specimens are listed in CPG at $60,500 while MS64RBs notch $90,800 apiece.
1970 Small S – The most common of Lincoln cent varieties listed here is also among the most overlooked by dealers who don't commonly handle Lincoln cents as a specialty. Two varieties of the 1970-S cent exist, including the more common large date and the scarcer small date. It's unknown how many were made, but they exist as both business strikes and proofs. Perhaps the easiest way to tell a 1970-S small date apart from the 1970-S large date is by looking at the tops of the numerals in the date. If the "7" appears lower than the adjacent "9" and "0," it's a large date, but if the top of the "7" appears aligned with the tops of the other numerals, it's a small date. 1970-S Small Date cents trade for about $20 and up in MSRD grades.
1971-S Proof Doubled Die – Got any 1971-S proof sets in your latest bulk purchase? Then get your loupe out and start looking for the 1971-S obverse doubled die! There are three known varieties of the 1971-S doubled die, with the strongest of these exhibiting prevalent doubling in the inscriptions IN GOD WE TRUST and LIBERTY. PR65RD specimens trade for about $375 apiece while PR67DCAMs command closer to $3,000.
1972 Doubled Die – Another early '70s obverse doubled die comes from 1972, a year which boasts some 10 doubled die varieties. Though the scarcest and most popular exhibits doubling visible to the naked eye within the date and in the inscriptions IN GOD WE TRUST and LIBERTY. These are listed in the CPG at MS63RB for $390 while the slightly scarcer MS64RD trades for around $442.
1982-D Small Date Bronze – The newest kid on this block of Lincoln cent varieties is more than 35 years old and was only recently discovered in November 2016, when Minnesota collector Paul Malone was separating bronze 1982 cents from their copper-plated zinc counterparts, the former weighing about 3.11 grams and the latter just 2.5 grams. The discovery was announced over the following weeks and appeared as a front-page article by Ken Potter in the January 3, 2017 issue of Numismatic News. The coin sold as an NGC-certified AU58BN in an August 2017 Stack's Bowers Rarities Night sale at the American Numismatic Association World's Fair of Money Show in Denver for $18,800 and to date remains the only known example. However, it's not the only transitional error known among 1980s Lincoln Memorial cents…
1983-D Bronze – While the U.S. Mint officially phased out the production of bronze cents by the end of 1982, apparently at least a few of these copper-based planchets were left behind at the Denver Mint in 1983. During the same Rarities Nights Auction in which the 1982-D bronze small date cent sold, so, too did a 1983-D bronze cent. This specimen, discovered by Ohio collector Jeff Young, was certified by PCGS as an AU55 and sold for $17,625. The lesson here? Start weighing those post-1982 pennies!
1983 Doubled Die – Perhaps the strongest doubled die reverse of the Lincoln Memorial cent series, this 1983 variety exhibits doubling in the words "UNITED" "E PLURIBUS UNUM" and "ONE CENT" that can be seen with the naked eye. At least a few thousand are accounted for, and they're listed in CPG for $312 in MS65RD.
1984 Doubled Die – Two ears are better than one? Maybe, at least in the case of 1984 Lincoln cents. This major variety, which exhibits doubling of Lincoln's ear that is evident with the naked eye, is highly collectible. Perhaps several thousand specimens survive, and this coin retails for approximately $221 in MS65RD as reported in CPG.
1989-D Bronze – Need another reason weigh those post-1982 pennies? How about the 1989-D bronze cent. Yep… It's difficult to imagine how what is so far the only known 1989-D cent could have been struck on a pre-1983 bronze planchet some seven years after bronze cents were eliminated from the US Mint's production roster. Whether it was merely accidental or stemming from more contrived origins, this 1989-D MS65RD cent slabbed by PCGS took $3,525 at a 2016 Stack's Bowers Rarities Night auction. How many more post-1982 bronze Lincoln Memorial cents exist? Who knows… But chances are others are floating around.
1990 No-S Proof – The numismatic world stirred with the discovery of no-S 1990 proof Lincoln cents by Jim Gullen of New York on July 18, 1990. Originally, few numismatists knew how many existed, but nearly 30 years on, survival figures have remained roughly static at around 200 examples. They trade for around $2,600 each in PR66DCAM. Amazingly, the rare example is still cherrypicked from 1990 proof sets, meaning dealers need to take a closer look at the coins in those proof sets that are readily traded in bulk numbers. You may just earn a pretty penny for your efforts.
1992 Close AM – A very rare transitional variety involves Philadelphia- and Denver-minted 1992-dated cents struck with the 1993 reverse die. This variety is best exhibited in the letters "A" and "M" of "AMERICA" as seen on the reverse of the 1992 cent. The Close AM cents show the bottoms of the "A" and "M" virtually touching each other and the "FG" initials of designer Frank Gasparro farther from the bottom of the Lincoln Memorial. Only a few Philly-minted 1992 Close AM cents are known, and the piece most recently traded in a public sale, a PCGS-certified MS63RB specimen, took $5,040 in March 2018. There are approximately 15 known Denver specimens, with a PCGS MS65RD example clinching $7,200 in April 2018. Interestingly, Close AM proofs struck in 1998 and 1999 with business-strike dies also exist, but with levels of about $150 to $200 in PR68DCAM, they don't command nearly the premium the 1992 Close AM cents do.
1995 Doubled Die – This doubled die cent was a media sensation when it was discovered in the spring of 1995. It's also the last of its breed, as the US Mint switched to a single-hub technique in the 1990s eliminating the chance of major double dies. While 1995 doubled die cents originally commanded more than $200 apiece soon after their discovery, this variety has been found to be much more common than initially thought, with perhaps 500,000 in existence. They trade for about $20 and up in MSRD grades.
If these 13 valuable Lincoln Memorial cent varieties prove anything, it's that there are many treasures to be found among modern coinage. And for those who may have thought the US Mint "hasn't made anything good since 1964" (a misfortunate phrase I've heard repeated verbatim by countless folks in numismatics), it's that even the most familiar coin series can still yield plenty of pleasant surprises. And, you now have a roadmap for striking gold by more carefully examining America's most popular copper series. Good luck, coin collectors!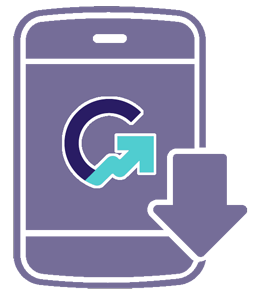 Download the Greysheet app for access to pricing, news, events and your subscriptions.
Subscribe Now.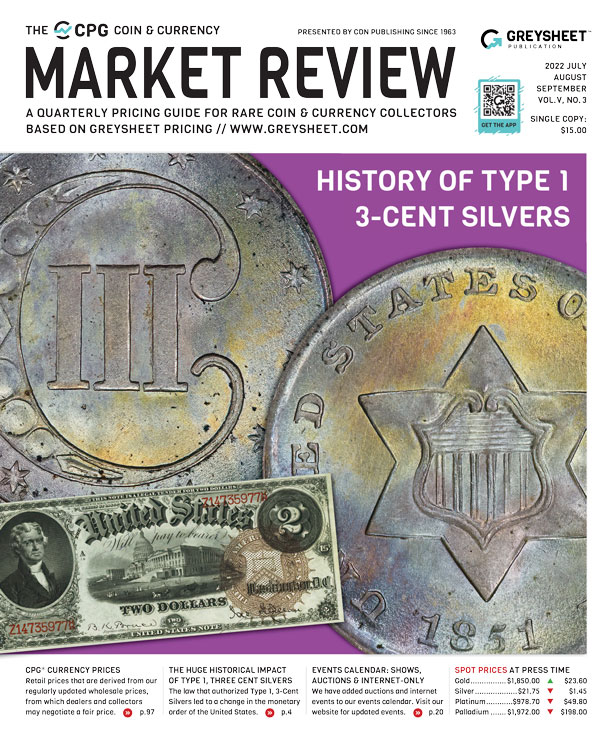 Subscribe to CPG© Coin & Currency Market Review for the industry's most respected pricing and to read more articles just like this.
Visit these great CDN Sponsors
---