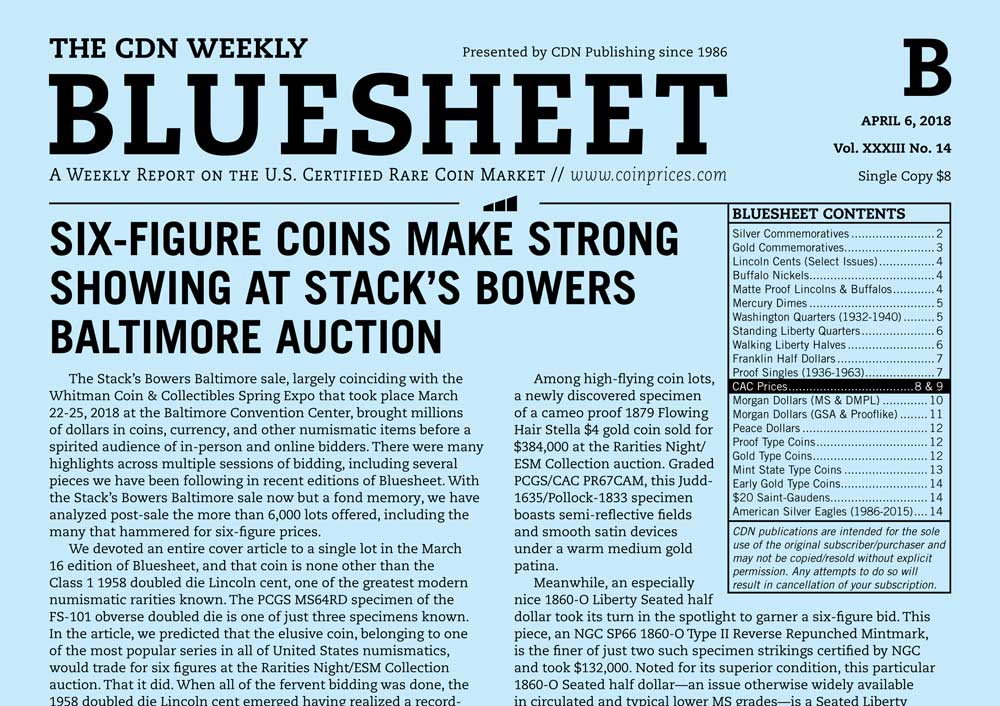 BLUESHEET: SIX-FIGURE COINS MAKE STRONG SHOWING AT STACK'S BOWERS BALTIMORE AUCTION
CDN Publishing · Apr 6, 2018

The Stack's Bowers Baltimore sale, largely coinciding with the Whitman Coin & Collectibles Spring Expo that took place March 22-25, 2018 at the Baltimore Convention
Subscribe to Monthly Greysheet for the industry's most respected pricing and to read more articles just like this.
The Stack's Bowers Baltimore sale, largely coinciding with the Whitman Coin & Collectibles Spring Expo that took place March 22-25, 2018 at the Baltimore Convention Center, brought millions of dollars in coins, currency, and other numismatic items before a spirited audience of in-person and online bidders. There were many highlights across multiple sessions of bidding, including several pieces we have been following in recent editions of Bluesheet. With the Stack's Bowers Baltimore sale now but a fond memory, we have analyzed post-sale the more than 6,000 lots offered, including the many that hammered for six-figure prices.
We devoted an entire cover article to a single lot in the March 16 edition of Bluesheet, and that coin is none other than the Class 1 1958 doubled die Lincoln cent, one of the greatest modern numismatic rarities known. The PCGS MS64RD specimen of the FS-101 obverse doubled die is one of just three specimens known. In the article, we predicted that the elusive coin, belonging to one of the most popular series in all of United States numismatics, would trade for six figures at the Rarities Night/ESM Collection auction. That it did. When all of the fervent bidding was done, the 1958 doubled die Lincoln cent emerged having realized a record-breaking $336,000, including 20% buyer's premium. It's a staggering sum for any coin, especially one from the Lincoln cent series, which boasts few rarities that venture into six-figure territory, save for the exceedingly rare 1943 bronze and 1944 steel off-metal errors and 1969 doubled die variety that generally trade for more than $100,000 apiece.
While the 1958 doubled die Lincoln cent was rightfully a star at the Stack's Bowers sale, it was by no means the most expensive lot to cross the block during the Baltimore Expo. We would perhaps be considered remiss, most especially in the eyes of our loyal Greensheet readers, without mentioning that the top Baltimore bids went to two consecutive lots offered in the Joel R. Anderson Collection of United States Paper Money sale. Of these, Lot 1018 was the finest-graded 1863 $1,000 legal tender note and Lot 1019 was an 1880 $1,000 legal tender note that is unique in private hands. Both remarkable pieces tied at $960,000 each.
Among high-flying coin lots, a newly discovered specimen of a cameo proof 1879 Flowing Hair Stella $4 gold coin sold for $384,000 at the Rarities Night/ESM Collection auction. Graded PCGS/CAC PR67CAM, this Judd-1635/Pollock-1833 specimen boasts semi-reflective fields and smooth satin devices under a warm medium gold patina.
Meanwhile, an especially nice 1860-O Liberty Seated half dollar took its turn in the spotlight to garner a six-figure bid. This piece, an NGC SP66 1860-O Type II Reverse Repunched Mintmark, is the finer of just two such specimen strikings certified by NGC and took $132,000. Noted for its superior condition, this particular 1860-O Seated half dollar—an issue otherwise widely available in circulated and typical lower MS grades—is a Seated Liberty enthusiast's dream come true, bearing several neat varieties. These include die marriages utilizing either the Type I or Type II Reverse, WB-2 and WB-3 "Weird Vertical Stripes" on the shield, and an "O" mintmark positioned much higher than normal under the eagle, giving birth to an unusual variety aptly named "Eagle Laying an Egg."
The A.J. Vanderbilt Collection of U.S. Coins also yielded a plethora of exquisite coins, including a pair of first-year 1795 $5 gold half eagles. Lot 10325, a PCGS MS62 1795 Small Eagle took $132,000, while its counterpart, Lot 10326 PCGS/CAC MS62 1795 Heraldic Eagle, flew significantly higher with a final bid of $180,000. Both issues have a few higher-graded specimens, but with only a relative handful of either popular coin available in nice MS grades, they rarely surface at auction and during those auspicious occasions duly excite bidders.
Leave a comment
Please sign in or register to leave a comment.
Your identity will be restricted to first name/last initial, or a user ID you create.
Register
Spot Prices
Gold:
1880.86 2.91
Silver:
$23.57 0.02
Platinum:
$881.77 0.08