December 4, 2020
Industry
News
Vital rare coin & paper money industry updates
Platinum:
$1049.32
$18.87
Palladium:
$2323.00
$30.00
Platinum:
$1049.32
$18.87
Palladium:
$2323.00
$30.00
SEARCH BY CATEGORY
OR PUBLICATION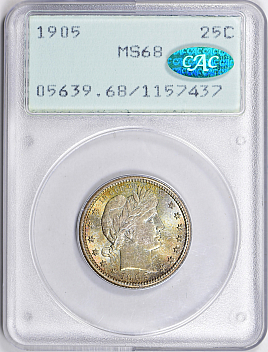 Bedminster, NJ: In addition to faring well in Internet sales, CAC approved coins outperformed other certified coins at the FUN Convention in Orlando. Here are ten examples, which were selected from a large number of results that could have been listed. As it is traditional in the coin business for relatively expensive U.S. coins to publicly trade in January, the average value of coins listed this month is higher than usual.
Leave a comment
Please sign in or register to leave a comment.
Your identity will be restricted to first name/last initial, or a user ID you create.
Register
Certified Acceptance Corporation (CAC)
In every field, there are a select few that represent the best of the best. Coins are no exception.
Now there's an easy way to identify select quality coins within any particular grade.
Just look for the CAC verification sticker.
Visit www.caccoin.com for details.
related news
directory listing