Palladium:

$2,078.00
$12.00
Bitcoin:

$22,943.09
$405.56
Ethereum:

$1,826.39
$41.32
DLRC Acquires Major $1.3 Million 1894-S Barber Dime Rarity for Hansen Collection at Stacks Bowers Auction
John Brush, President of David Lawrence Rare Coins and D.L. Hansen, the owner of the Greatest U.S. Coin Collection of All-Time, acquired the famous 1894-S Dime, graded by PCGS as Proof 63 for $1,320,000.
Editor's note: The 1894-S dime sale at this year's World's Fair of Money was such an important event, both buyer and seller published press releases. CDN has combined these as they are more interesting when filed together. -John Feigenbaum, Publisher
Another 1894-S Dime Finds Its Way Home
VIRGINIA BEACH, VA – On Thursday night, August 16th, 2019, at the Stack's-Bowers Rarities Night Auction, hosted by the American Numismatic Association's World's Fair of Money, John Brush, President of David Lawrence Rare Coins and D.L. Hansen, the owner of the Greatest U.S. Coin Collection of All-Time, acquired the famous 1894-S Dime, graded by PCGS as Proof 63 for $1,320,000.
Mr. Hansen, assisted by John Brush of DLRC, has been on a mission for the past 3 years to put together the first privately held coin collection of items from 1792 to Present. The "Eliasberg Quest" as they call it, has been an incredible challenge for the duo and this legendary rarity was another stop on the path to completion. According to the PCGS Registry Set calculations, the collection put together by Hansen has already surpassed the overall quality of the historic Louis Eliasberg collection.
David Lawrence Rare Coins, which is celebrating their 40th Anniversary in 2019, has handled several examples of the famous rarity designed by Charles Barber, but this is the first time that the Virginia Beach firm has owned this particular example. According to Mr. Brush, "this was one of the most exciting acquisitions that we have made in the pursuit of Mr. Hansen's collection. While DLRC has long been known as the leading specialist in Barber Coinage, it was a tribute to the founder, David Lawrence Feigenbaum, that we were able to acquire yet another example of this famous numismatic rarity at such an exciting event."Mr. Feigenbaum originally wrote a detailed pedigree on the 1894-S dime in 1990 and while his son, John ran the company, the firm handled both the Proof 64 and Proof 66 examples.
The coin, which was graded and authenticated by Professional Coin Grading Service (PCGS) as Proof 63, was last offered in a public auction In June 1998. The coin can be traced back to several famous collectors, with a pedigree of Clapp and Eliasberg, the piece was also previously owned by Dr. Jerry Buss, the now-deceased owner of the Los Angeles Lakers of the NBA.
Mr. Brush stated, "This opportunity to acquire such a legendary rarity is something that you can only dream about as a child. It's a true highlight of my numismatic career and I'm very proud to  add DLRC and D.L. Hansen to the already impressive pedigree list of this famous rarity.  It's truly an honor to work with a collector and business partner such as Mr. Hansen, and this purchase was certainly another one of the highlights of my career."
Mr. Hansen, a Utah businessman and partner of DLRC, has been an active collector since childhood, but has only rekindled his passion over the last 3 years. In that small time span, he has acquired what is widely considered to be the Greatest All-Time Collection of U.S. Coins. He commented, "This was an opportunity to buy yet another famous rarity for the growing collection. As the final piece of the Barber Coinage puzzle, we have now completed the collection of Proof and Circulation Strike sets of Barber Dimes, Quarters, and Halves. I never imagined that this incredible hobby would bring such excitement and joy, but I'm truly ecstatic to be able to be the caretaker of this famous piece of American History and to add it to the collection."
This piece marked another statement by Mr. Hansen as the collection now houses many classic rarities and Finest Known Items. The 1894-S Dime will join the 1884 and 1885 Trade Dollar Proofs, the 1804 $1 PCGS Proof 62, the 1907 Ultra High Relief $20, 1876-CC 20c PCGS MS64, the finest 1901-S Barber Quarter PCGS MS68+, as well as the most complete collection of US coins that has been privately assembled.
Legendary 1894-S Dime Sells for Over $1.3 Million in the Stack's Bowers Galleries 2019 ANA Auction
Santa Ana, CA – Numismatic history was made in the Stack's Bowers Galleries Official Auction at the 2019 ANA World's Fair of Money, where an example of the legendary 1894-S Barber dime sold for over $1.3 million in lot 5178. Certified Branch Mint Proof-63 by PCGS and verified by CAC, this coin is one of just nine confirmed survivors from an original mintage of only 24 pieces.
The 1894-S Barber dime is among the most legendary rarities in all of United States numismatics. It has been well studied and publicized over the past century, since it was first noted in an article in the August 25, 1895 edition of The San Francisco Call. By the turn of the 20th century, its fame had grown through publicity surrounding major auction appearances and discussion in hobby publications. Today it remains among the most coveted United States coins, ranking as number six in the reference 100 Greatest U.S. Coins by Jeff Garrett and Ron Guth (4th Edition, 2014). The appearance of an example in any grade is a significant event.
This offering of an 1894-S Barber dime in the Stack's Bowers Galleries ANA sale represents the first time an example has appeared at auction in over three years, and the first offering by the firm in nearly 12 years. This particular coin was sold by Stack's in January 1953 as part of the F.S. Guggenheimer Collection. It eventually found its way to the collection of Los Angeles sports magnate Jerry Buss, whose name would become inseparable from this specimen.
It was presented in the Stack's Bowers Galleries ANA sale as part of the Horatio E. Morgan Collection, an incredible cabinet of rarities assembled primarily in the late 1980s and early 1990s. Additional rarities from this collection sold by Stack's Bowers Galleries in their ANA auction included an MS-65 (PCGS) 1876-CC twenty cent piece that earned $456,000 in lot 5182, and 110 different pattern coins from the United States Mint.
Further selections from the E. Horatio Morgan Collection will be featured in the firm's November 2019 Official Auction of the Whitman Coin & Collectibles Baltimore Expo and other future sales. Upcoming sales will offer a comprehensive set of dimes from the cabinet that begins with the earliest issues, as well as a nearly-complete set of early half dollars by Overton variety.
For more information on this MS-63 (PCGS) CAC 1894-S Barber dime or other highlights of the E. Horatio Morgan Collection, please contact Stack's Bowers Galleries at 800-458-4646 or visit StacksBowers.com.
# # # # # #
ABOUT DAVID LAWRENCE RARE COINS
David Lawrence Rare Coins was founded in 1979 by David Lawrence Feigenbaum in a spare bedroom. A passionate collector his entire life, Feigenbaum made the jump to dealing when his collecting desires surpassed his limited professor's budget. After David passed away from a long battle with ALS (Lou Gehrig's Disease), David's son John Feigenbaum took the reins and oversaw the company's growth until 2015. In August of 2015, John Feigenbaum became the Publisher of the CDN Publishing and John Brush teamed with collector, Dell Loy Hansen, to carry on the tradition of DLRC.
Mr. Brush directs the company with the help of an extremely dedicated staff of 20 employees. The management team has a cumulative total of over 80 years with the company while DLRC's numismatic team offers 100+ years of experience. They are deeply passionate about all aspects of coin collecting.  Whether the coin is $5, $50 or $5 million, they are here to serve the collector with the best quality, service, and price possible. Brush and the DLRC staff are also equally focused on bringing the latest technology advances to the hobby.
The company has handled many legendary rarities of United States numismatics including the finest certified 1796 No Pole Liberty Cap Half Cent, three examples of the 1894-S Barber Dime, a gem 1876-CC Twenty Cent Piece, the finest known 1901-S Barber Quarter, 1884 and 1885 Proof Trade Dollars, four of the 12 known 1870-S Seated Dollars, the famous "Discovery of a Lifetime" 1854-S $5 Gold Half Eagle the historic 1815 $5 Gold Half Eagle one of the two known 1825/4 $5 Gold Half Eagle, and the Mickley-Hawn-Queller 1804 Proof Draped Bust Dollar. DLRC also helped to assemble and then sell the $25 million Richmond Collection at three public auctions hosted in New York City and Baltimore, Maryland and are the curators of the All-Time Greatest Collection of U.S. Coins, the D.L. Hansen Collection.
David Lawrence Rare Coins is an industry leader in the trading and auctioning of U.S. rare coins certified by PCGS, NGC, and CAC. DLRC holds weekly internet auctions and offers sellers the options of direct sale or consignment to auction. To work with David Lawrence or for any question as to how they can help your collection, please call 1-800-776-0560 or email coins@davidlawrence.com.
# # # # # #
ABOUT STACK'S BOWERS GALLERIES
Stack's Bowers Galleries conducts live, Internet and specialized auctions of rare U.S. and world coins and currency and ancient coins, as well as direct sales through retail and wholesale channels. The company's 80-year legacy includes the cataloging and sale of many of the most valuable United States coin and currency collections to ever cross an auction block — The D. Brent Pogue Collection, The John J. Ford, Jr. Collection, The Louis E. Eliasberg, Sr. Collection, The Harry W. Bass, Jr. Collection, The Norweb Collection, The Cardinal Collection and The Battle Born Collection — to name just a few. World coin and currency collections include The Louis E. Eliasberg, Sr. Collection of World Gold Coins, The Kroisos Collection, The Alicia and Sidney Belzberg Collection, The Wa She Wong Collection, The Guia Collection, The Thos. H. Law Collection, and The Robert O. Ebert Collection.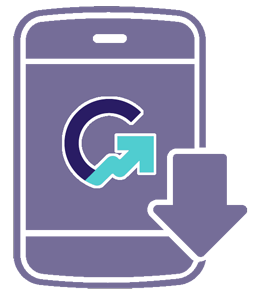 Download the Greysheet app for access to pricing, news, events and your subscriptions.
Subscribe Now.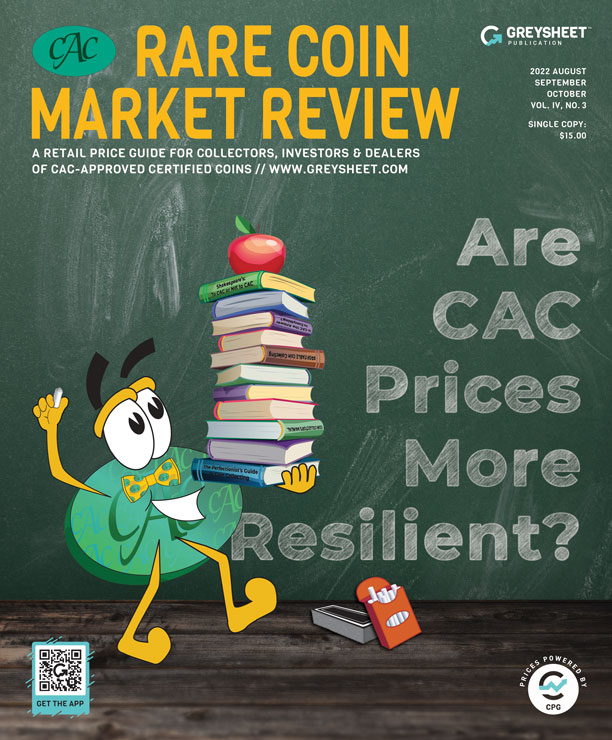 Subscribe to CAC Rare Coin Market Review for the industry's most respected pricing and to read more articles just like this.
Visit these great CDN Sponsors
---