Palladium:

$1,592.50
$41.50
Bitcoin:

$22,886.16
$12.09
Ethereum:

$1,635.15
$8.15
Canadian Dollar:

$0.74
$0.01
February 2021 Greensheet Market Report: Circulated $500's & $1,000's Soar!
In a Bitcoin world prices and popularity for high-denomination notes are moving fast.
The single most overused word in 2020 was the word "unprecedented." The word doesn't necessarily refer to the political and social upheaval we witnessed here in the United States in 2020. It refers directly to the Coronavirus and the Covid-19 pandemic the U.S and the world faced last year and still now, in early 2021.
How could a pandemic so widespread and devastating outwardly affect the microcosm and seemingly unrelated area of collectible currency and the sub-category of high denomination notes? What were the market drivers during this historic rise in values? What results did we witness within the broader market for United States banknotes? These are the questions we want to answer in this brief analysis of these most recent strong price gains.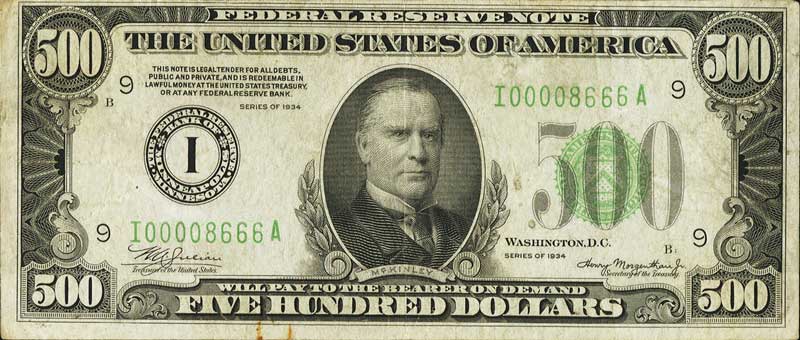 Small sized $500 and $1,000 Federal Reserve Notes are arguably the most popular niche within the area of United States collectible currency. Unlike other U.S. currency types, high denomination notes offer some unique features that fuel their appeal: they boast the highest face value of all U.S. currency. Furthermore, they are fully redeemable, no longer printed, incredibly liquid, and offer limited downside. Demand for these notes has always been strong but now circulated high denomination notes are boasting historically high premiums. The average guy has never heard of, let alone seen or owned, a $500 bill. That all changed in 2020 with thousands of new collectors introduced to this "new" collectible, U.S. high denomination notes. These notes are now making a huge splash on the retail market.
Since early 2020, circulated 500's and $1,000's have witnessed price increases of 30–40% in a period of 10 months! These price gains are truly unprecedented as high denomination notes have never increased so significantly in such a short period of time. It has literally become a case where pricing publications monitoring these valuations (CDN included) are now challenged in keeping up with the pace of these upticks, and for good reason: history has proven that fast, upwardly moving collectibles are cyclical. Soaring prices in any collectible can very well be a bad indicator of things to come. As in any cycle, what goes up must come down. And when these downward moving cycles do come, they usually occur so fast that some participants are left without a chair when the music stops.
Before most us could even acknowledge these price gains, Very Fine $500's had moved from $850 in March 2020 to current levels of closer to $1,200, all in a matter of just three-fourths of a year. In all reality, it wasn't just high denomination notes that were seeing this benefit in the marketplace. Gold has now hit all-time highs. Bitcoin continues to hit all-time highs. Seemingly, most every alternative investment vehicle from Pokemon to fine art is seeing strong upward trends. This is all part of these greater asset classes breaking out. Collectible high denomination notes are, in all modesty, an infinitesimally small part of a much more broader expansive trend.
What were the drivers behind the most recent rise in high denomination note values?
This wasn't a case of an average person spending his $1,200 stimulus check to buy a $500 bill. Instead, what has essentially happened is there has been a huge demographic shift. The pandemic has caused a large segment of the U.S. work force to physically move from employer/employee shared office space to working remotely from home. This historic demographic shift (from office to home) has resulted in the largest consumer spending spree ever! More consumers are now exploring and shopping on the internet from home than ever before. Brick and mortar stores are closing all around us, while internet shopping has become fever pitch for the consumer. Now, for the first time the broader consumer is discovering, and being introduced to, the world of this "new" collectible, high denomination notes, all in the comfort of their home computer. High denomination notes (formerly reserved for collectors) have now transcended that market and made their way into the broader mainstream market in a big way. Consumer engagement (the way we buy) has changed and resulted in substantially increased demand. Introduce a new, much larger consumer to a collectible that is no longer produced (limited supply) and you will see significant price increases in that collectible.
Price increases in the high denomination note market are now observed above and beyond "type" $500's and $1,000's. Type in this case refers specifically to New York and Chicago district, Series 1934 and 1934A high denominations. These are Fr. numbers: 2201B, 2201G, 2202B, and 2202G. Similar upticks have now also been noted in the "better" high denomination notes such as: scarcer light green seal 1934 $500's and $1,000's; tougher low printage districts; and the ever popular (unique for clause) 1928 $500's and $1,000's. So now with all circulated high denomination note issues (and sub-segments) seeing price increases it begs the questions: can they continue to go up? Is this a bubble and where is the current value play?
When prices within a particular grade range go up (for example EF40-45) then it is generally anticipated that the next grade (e.g. AU50-58) will also eventually go up. If AU's didn't increase than EF's would eventually be worth more than AU's which is not possible. So yes, we have in fact seen price increases in all circulated grades of $500's & $1,000's—raw and third party graded—from Good-4 through to About Uncirculated-58. The notes that have been less affected by these big upward price moves are the uncirculated notes which have not kept pace with the upticks seen in circulated high denomination notes. Uncirculated notes are grades CU60 to CU67. It is therefore this author's opinion that accurately graded uncirculated high denomination notes still present value in this market. Are circulated high denomination notes over-priced/over-valued right now? The year 2020 saw significant price increases in many different asset classes, including high denomination notes. All collectible currency (including Small Sized high denomination notes) has benefited from these most recent upward trends. The draw for these notes is unquestionable. Circulated high denomination notes are finally finding their way into a new collector base—the mainstream public. Demand will continue to outstrip supply. We are therefore confident prices will continue to rise.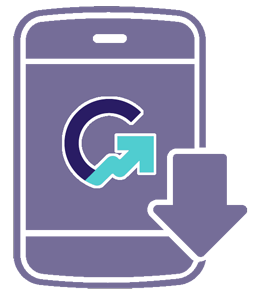 Download the Greysheet app for access to pricing, news, events and your subscriptions.
Visit these great CDN Sponsors
Source: Marc Michaelsen Inc
Marc Michaelson is the president of Highdenomination.com and a industry specialist in small sized paper money.
---