SEARCH BY CATEGORY
OR PUBLICATION

GREENSHEET: ACTIVITY ACROSS THE MARKET
Published on June 5, 2018
BY PATRICK IAN PEREZ, EDITOR The results from the Heritage Central States Numismatic Society Convention auction were solid if not spectacular, bringing in a total haul
Subscribe to

Monthly Greensheet

for the industry's most respected pricing and to read more articles just like this.
BY PATRICK IAN PEREZ, EDITOR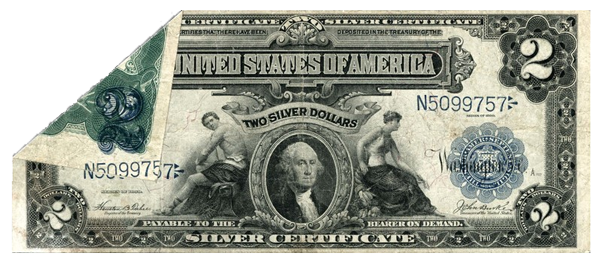 The results from the Heritage Central States Numismatic Society Convention auction were solid if not spectacular, bringing in a total haul of more than $7.7 million on a total of 4,050 lots offered. Two notes broke through the six-figure barrier, and they had a common theme: they were both of the highly sought-after serial number 1 variety. Both coming from the Treasury note series, the top note was an 1891 $20, Fr.-375, graded VF35 at $114,000 and second place was an 1891 $5, Fr.-362, graded CU62 at $102,000. Adding to the appeal, the $5 note featured a courtesy autograph of John Burke, who was U.S. Treasurer from 1913 to 1921. This pair of notes, along with 14 others in the sale, were from the Dean Oakes Serial Number 1 Collections. Incredibly, this group of 16 notes sold for a total of $655,440. The other main highlight of the auction was the Chambliss Collection, which we previewed extensively in last month's issue. Top honors from this collection went to a Series 1922 $500 Gold Certificate, graded PCGS Currency AU53, which brought $90,000. Overall, the Chambliss Collection performed admirably, although there were some bargains to be found. Some examples include a pretty Series 1874 $1 Legal Tender Fr.-19 in Gem which sold for $3,600, and a Series 1923 $10 Legal Tender Fr.-123 in a Superb Gem 66 holder for $16,800. One theory for the somewhat soft demand is that the offering came on the heels of the first part of the Anderson Collection the prior month, thus much of the demand for high-end and scarce Large Size notes had been temporarily satisfied.
In price movement, one area of softness that has been apparent in recent auctions are Small Size Star notes. Many series and denominations are very scarce, however there have been notes that have sold well below standard recently. There are a few possible explanations; many collectors who collect Small Size notes by series, whether Silver Certificates or Legal Tenders, do not often include Star notes as part of their comprehensive collections (because of the cost). This suppresses demand. It also appears that buyers are even more sensitive to grade on these Star notes; there are examples of the same note, same grade selling for disparate prices, even when both notes have a EQP/PPQ qualifier. We encourage those who are interested in these notes observe the price changes this month.
The turning of the calendar to June means one thing to currency dealers and collectors, and that is another renewal of the International Paper Money Show (IPMS). This show, put on by Lyn Knight, was colloquially known as Memphis, as that southern city was the home of the show for its first 40 years. Moved to Kansas City last year, the show features a large dealer bourse and twelve presentations on various currency topics. Lyn Knight will hold their traditional world and U.S. currency auction. The world session has a solid selection—as has been common with Knight's auctions recently—of Philippines notes, along with an extensive collection of notes from the city-state of Danzig. The United States sessions are highlighted by the Doris Bart Collection of Errors, Fancy Serials, and Autograph Notes. Some of the most sought-after error types are present, including double-denomination and inverted back notes. One note making a visually striking appearance is a Series 1899 $2 Silver Certificate with a large printed fold error in which the blue "2" counter on the left is printed fully on the folded-over back. This collection also features one of the most interesting autograph notes perhaps in existence. It features the dual signatures of Timothy Leary and Linus Pauling. While these two figures have nothing to do with numismatics, Leary was a controversial psychologist in the 1960s who promoted the use of psychedelic drugs (read LSD) and Pauling is regarded as one of the 20 greatest scientists of all time. He was one of the founders of both molecular biology and quantum chemistry. He won two Nobel Prizes in two separate categories. Quite the combination!
Outside of the Bart Collection, Large Size Nationals dominate the sale. The IPMS has long been known as a show were many of the top National banknote collectors gather to hunt and compete for pieces to add to their collection. It was tradition for dealers to save their best Nationals for the show, and some of the biggest deals struck (money-wise) are said to have been for Nationals. In the 2018 IPMS sale a Series 1882 $10 from the First National Bank of Colfax, Washington Territory towers over the rest. Any Territorial National is a prize, but those from Washington are extremely rare. According to the catalog, just 12 notes are known from all issuers which circulated before Washington achieved statehood in November 1889. The note mentioned above has been off the market since 1986.
Visit these great CDN Sponsors
Leave a comment
Please sign in or register to leave a comment.
Your identity will be restricted to first name/last initial, or a user ID you create.
Comment