Hong Kong International Numismatic Fair
CDN Publishing · Jun 7, 2017

« All Events This event has passed. Hong Kong International Numismatic Fair June 22, 2018 - June 24, 2018 Fr

Hong Kong International Numismatic Fair
June 22, 2018

-

June 24, 2018

Free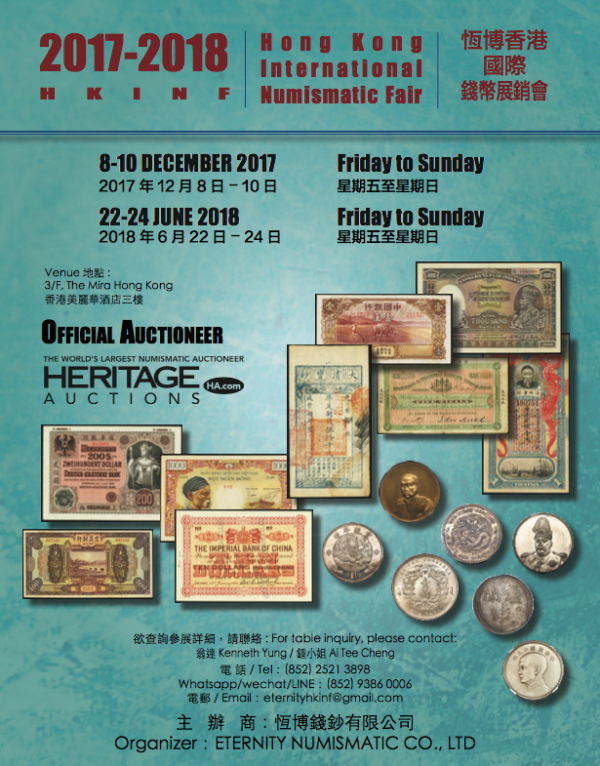 HKINF, "Hong Kong International Numismatic Fair" in full, is Asia's leading Numismatic Event that consists of a 3-day AUCTION  and a 3-day trade FAIR. Along with the world's largest numismatic auction house, Heritage Auctions, HKINF is enable you to make an extraordinary journey of fierce bidding, to meet legendary industry figures and to expose yourself to diverse markets around the world to see and buy a variety of coins & currency from every corner of the globe.
With two years of success, HKINF has become an event where prominent dealers and collectors, well known to all, participate. This June's event can without a doubt only be better! Whether you are a collector or a dealer or just curious, come and visit us — you will not like yourself to be left out!
Leave a comment
Please sign in or register to leave a comment.
Your identity will be restricted to first name/last initial, or a user ID you create.
Register
Spot Prices
Gold:
1947.96 0.00
Silver:
$26.67 0.00
Platinum:
$928.65 0.00