Palladium:

$1,802.00
$0.95
Bitcoin:

$21,191.21
$104.01
Ethereum:

$1,196.48
$34.77
Rare 1916 Standing Liberty Quarter Pattern Discovered, Heading for Auction
By Joshua McMorrow-Hernandez, Editor   An extremely rare 1916 Standing Liberty quarter pattern was recently certified by Numismatic Guaranty Corporation (NGC) and
An extremely rare 1916 Standing Liberty quarter pattern was recently certified by Numismatic Guaranty Corporation (NGC) and will soon be heading to auction. The coin, graded PF61, is only the second specimen known to exist. The proof coin was formerly graded and slabbed by another third-party coin grading company as a regular 1916 Standing Liberty quarter – itself a series rare key date – but was identified by a numismatist at Heritage Auctions as something rarer still than an "ordinary" 1916 Standing quarter. The coin was subsequently submitted to NGC, where the coin was confirmed to be the rare pattern.
This 1916 Standing Liberty quarter pattern is attributed in an industry-standard reference titled United States Pattern Coins by J. Hewitt Judd and is currently listed in the catalog as J-1989 (formerly J-1795). The J-1989 pattern has at least two significant obverse differences from the regular 1916 Standing Liberty quarter, including a different type of olive branch and the absence of the letter "M," which serves as the initial for designer Hermon A. MacNeil.
This 1916 Standing Liberty quarter is an important numismatic rarity for several reasons. Namely, it is an extremely rare pattern coin from a most popular series. It also happens to be a 1916 Philadelphia Mint piece – identical in date and mintmark to the "normal" first-year-of-issue 1916 Standing Liberty quarter, which has a mintage of just 52,000 pieces and is a coveted series key date in any grade. Furthermore, the 1916 Standing Liberty quarter is generally known only as a business-strike coin, though there are some extremely rare matte proofs (such as this one) known. 
Moreover, this 1916 Standing Liberty quarter was "discovered" almost serendipitously – hiding right in front of everyone's eyes and attributed as a normal 1916 quarter by a third-party grading service until an astute numismatist noticed otherwise. This circumstance begs the question: how many more coins like this are in collections right now, perhaps masquerading at first glance as ordinary coins? Of course, the answer to that question yields an untold number of coins from a variety of series, but it's virtually certain there are more patterns and other rarities out there like this 1916 Standing Liberty piece floating around. And if not other J-1989 patterns, then perhaps other patterns or unusual rarities from another series.
The NGC PF61 1916 Standing Liberty quarter pattern will be offered for sale during the Heritage Auctions Platinum Night auction on August 16 at the American Numismatic Association World's Fair of Money in Philadelphia. The 1916 quarter could surely command a six-figure price; the previous offering of an NGC-certified 1916 Standing Liberty quarter J-1989 pattern, graded PF65, brought $312,000 in January 2004.
Regardless of what the newly attributed 1916 Standing Liberty quarter pattern sells for in Philly come August, the year 2018 has delivered a parade of interesting numismatic discovery stories of many types. Most notable of these being the certification of an extremely rare 1854-S half eagle – the example itself having long been declared counterfeit; the coin was certified by NGC as an XF45 and declared on the label as the "Discovery of a Lifetime." Meanwhile, a Chicago man made the discovery of his lifetime when news broke that he had dug up an 1876 proof set buried in his backyard by his father. Overseas, an archeological dig under the remnants of a house in Greece turned up more than 100 bronze coins dating to the destruction of an ancient harbor in 600 A.D., leading scientists to wonder why the harbor wasn't rebuilt – or why the owner of those coins didn't come back to reclaim his wealth.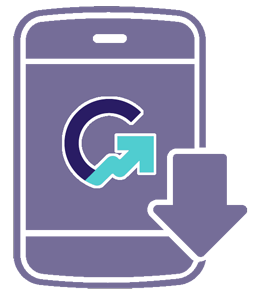 Download the Greysheet app for access to pricing, news, events and your subscriptions.
Subscribe Now.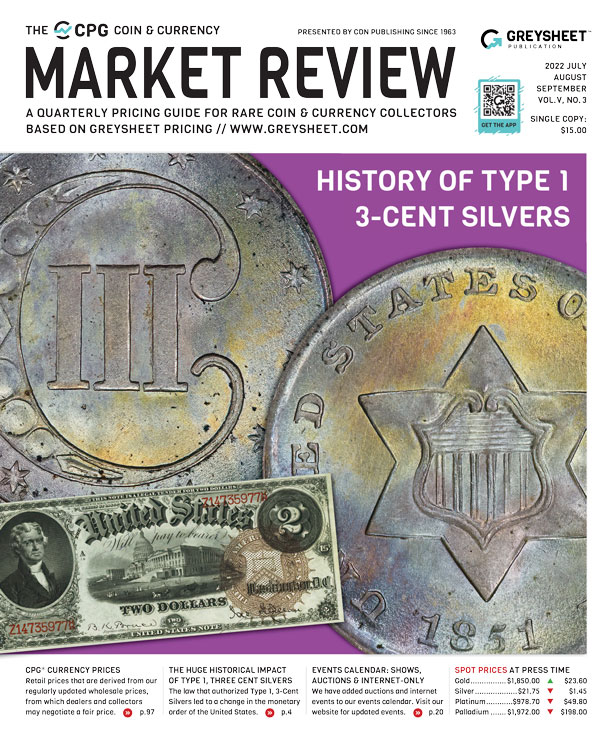 Subscribe to CPG© Coin & Currency Market Review for the industry's most respected pricing and to read more articles just like this.
Visit these great CDN Sponsors
---