Palladium:

$2,168.00
$68.00
Bitcoin:

$19,182.31
$26.07
Ethereum:

$1,298.61
$9.25
Australian Dollar:

$0.65
$0.01
September 2022 Greensheet Market Analysis: Small Auctions Dominate Market Activity
The monthly currency market commentary for September 2022.
Small, focused online-only auction sales continue to pace the United States currency market as we head into the final four months of the year. Two collections I mentioned in last month's issue, the Skourtes Collection and the Bim's Military Payment Certificate Collection brought in over $137,000 and $127,000 respectively at Heritage. The next offering from their U.S. currency department is the Michael L. Turnbull Collection of Federal Reserve Bank Notes. This has always been a well-collected but not widely-understood series, and this collection features 121 notes. The clear highlight is Fr.-831 a famous not that is both the high denomination of the type and was also only issue by a single Federal Reserve district, St. Louis. The Turnbull example is certified PMG Fine-15. The most recent appearance of this catalog number at public auction was a clean PMG XF45 that sold this past May for $33,600. For the October issue we will have the results of the Stack Bowers Global Showcase auction, which will provide a solid amount of market information.
I am also very excited to announce that the latest edition of The Early Paper Money of America, aka the Newman book, is now available to order on our website at https://www.greysheet.com/publications/early-paper-money-of-america-eric-newman.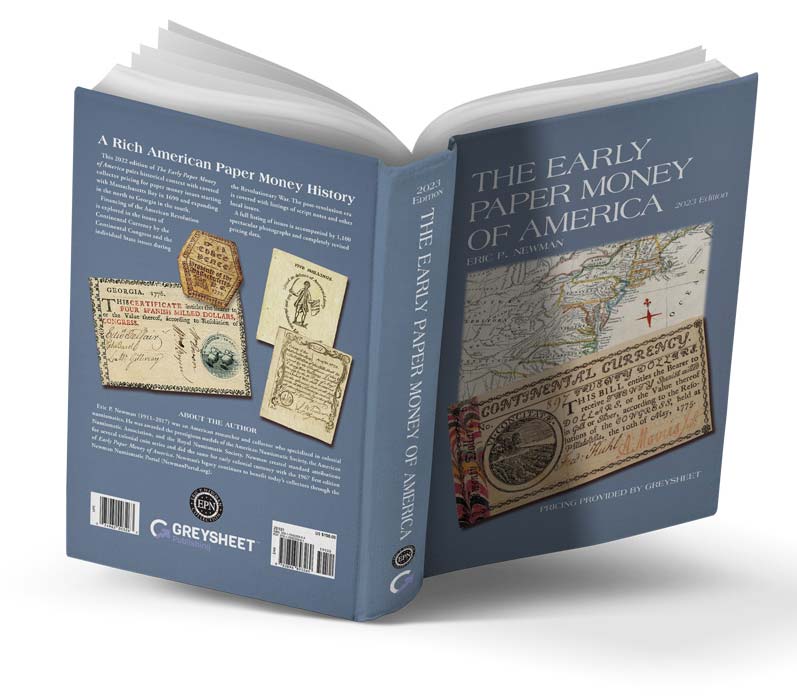 To share a bit of background on this project, I had long felt that it was an unfortunate situation that such an important reference book had not been published since 2008. I felt this way not only because a whole new generation of collectors and some dealer have come about since 2008 who may not have access to a copy of the book, but also because the market for Colonial paper money has progressed significantly; an update was needed. Additionally, with the demise of Krause Publications (KP) and the unknown future of their printed assets, we did not know who else besides CDN would be willing to devote the resources needed to update this reference book.

We reached out to Andy Newman, the son of Eric P. Newman, along with Leonard Augsburger, who represent the Eric P. Newman Numismatic Education Society (EPNNES) about the status of the book. Fortunately, CDN President John Feigenbaum had an established relationship with EPNNES as a result of his work on the well-known Newman Portal project. We worked out an agreement by which CDN would stylistically edit and update the 2008 edition, and also integrate new pieces of research that had been discovered since the last edition. One of, if not the greatest, events in Colonial paper money in the last decade was the sale of Newman's personal collection, which allowed us to replace many monochrome images with high resolution color ones. Using our significant data resources, we were able to update pricing throughout the book, adding easy-to-read pricing charts where applicable to quick reference. I realize that the pricing methodology has taken a different approach in this edition, but I feel it accurately reflects the current market. Third-party certification and greater access to auction prices realized have changed the way collectors and dealer buy and sell and price guides must take that into consideration.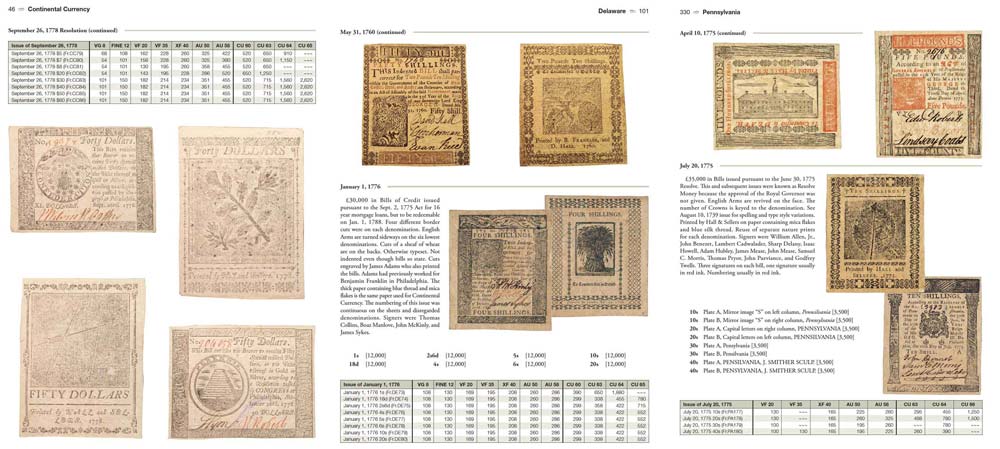 Valuing Colonial paper money is unlike that of most other genres of currency, as many notes have very low populations and saw extensive use in commerce. One must also take into account the substrate used and the method of printing, which at times was quite rudimentary. Of course, a guide is just that, and many times it is just a starting point for selling negotiations. We are very happy with the final results of the book, and I hope that the paper money community finds it a useful publication. Another benefit of this project is in these pages, as it allowed us to include full pricing of Continental currency every month. It is important to note that the Continental pricing here is wholesale, while all of the pricing in Early Paper Money of America is intended to be collector-retail, referred to by our brand name, CPG. A special mention to our Production Manager Sam Crow who oversaw the entire layout of the book and its overall design, seamlessly adapting it from the 2008 version to the 2023 version. We plan to continually update this work in coming years, for as long as the EPNNES will have us.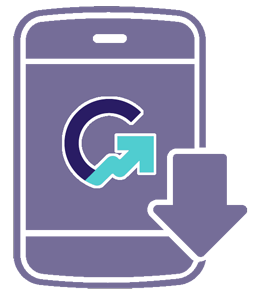 Download the Greysheet app for access to pricing, news, events and your subscriptions.
Visit these great CDN Sponsors
Author: Patrick Ian Perez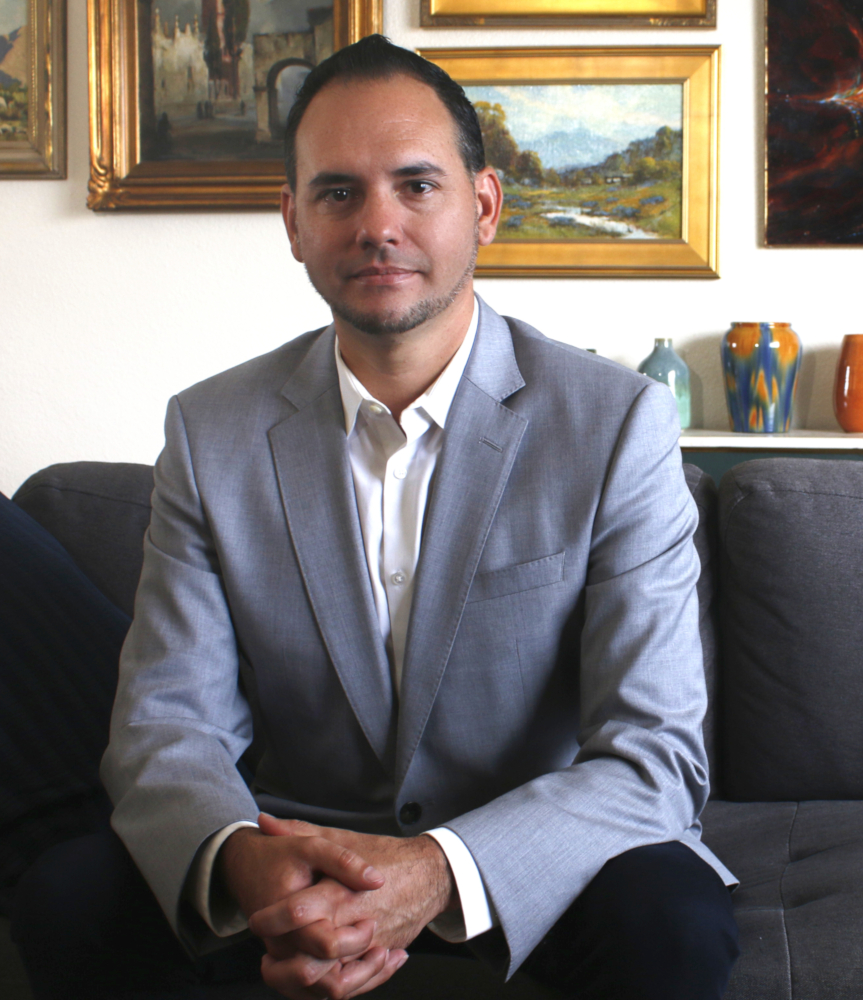 Patrick Ian Perez began as a full time numismatist in June of 2008. For six years he owned and operated a retail brick and mortar coin shop in southern California. He joined the Coin Dealer Newsletter in August of 2014 and was promoted to Editor in June 2015. In addition to United States coins, his numismatic interests include world paper money, world coins with an emphasis on Mexico and Germany, and numismatic literature. Patrick has been also published in the Journal of the International Bank Note Society (IBNS).
---