January 16, 2021
Industry
News
Vital rare coin & paper money industry updates
Gold: $1825.12
Silver: $24.68
Platinum: $1069.45
Palladium: $2372.25
Gold: $1825.12
Silver: $24.68
Platinum: $1069.45
Palladium: $2372.25
SEARCH BY CATEGORY
OR PUBLICATION
Stuttgart (Germany) Coin Fair
CDN Publishing · Jul 22, 2017

« All Events This event has passed. Stuttgart (Germany) Coin Fair September 16, 2017 - September 17, 2017 €6

Stuttgart (Germany) Coin Fair
September 16, 2017

-

September 17, 2017

€6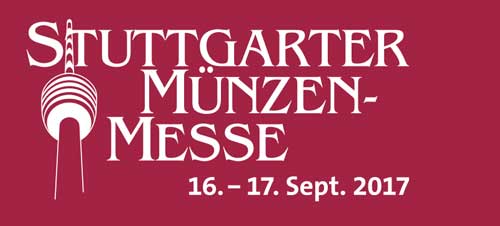 The Stuttgart Coin Fair taking place in the fall like every year, to be precise on September 16/17, 2017, at Hanns-Martin-Schleyer-Halle.
The preparations for this year's trade gathering in the capital of the Federal State of Baden-Württemberg are running at full steam. Each year, over 2,000 visitors find 100 national and international coin dealers, providers of precious metals and representatives from the Baden-Württemberg State Mints of Stuttgart and Karlsruhe. Besides countless numismatic attractions, visitors can also look forward to interesting offers by the Berufsverband des Deutschen Münzenfachhandels.
In order to plan your participation in the Stuttgart Fair unhurriedly we will provide the updated registration forms here in time before the event. Should you have any other queries, please don't hesitate to contact us.
We are looking forward to seeing you again in Stuttgart.
Best regards,
Barbara Balz
World Money Fair Berlin GmbH
Leave a comment
Please sign in or register to leave a comment.
Your identity will be restricted to first name/last initial, or a user ID you create.
Register