Palladium:

$2,078.00
$12.00
Bitcoin:

$22,943.09
$405.56
Ethereum:

$1,826.39
$41.32
Walking Liberty Half Dollar Short Set: Now is a Great Time to Build a High-Grade Set Of Walkers
By Louis Golino, Special To CDN Blog The Walking Liberty half dollar, issued from 1916 to 1947, is arguably the most popular 20th-century United States coin. Much of th
By Louis Golino, Special To CDN Blog
The Walking Liberty half dollar, issued from 1916 to 1947, is arguably the most popular 20th-century United States coin. Much of that appeal comes from its gorgeous, iconic American design by renowned American sculptor Adolph Weinman with motifs boasting enduring American ideals that were born during a time of growing calls for the country to enter World War I.
Known as the "Walker" in the numismatic vernacular, the obverse design shows Lady Liberty draped in the American flag as she strides confidently toward the dawn of a new day, carrying laurel and oak branches that symbolize peace and strength respectively. This design eventually became so popular that it served as the motif for the obverse of the U.S. Mint's flagship bullion coin, the American Silver Eagle, launched in 1986. But when first released not everyone admired it, and Walkers were not widely collected until the early 1940s.
The reverse depicts an eagle perched on a mountain crag with its wings unfolded. Nearby is a rock with a mountain pine sapling growing from it, symbolizing America. This side was also not universally popular with one 1916 commentary describing it as having as much dignity as a turkey marching on the ground.
Because so few people saved half dollars issued before 1934, uncirculated examples of those pieces are scarce, and most collectors settle for circulated collections of the early issues unless they have substantial budgets. Beginning in 1941, business-strike coins were issued at all three then-operating mints – Philadelphia, Denver, and San Francisco, creating a subset of the series and a popular way to collect Walkers, especially uncirculated examples at reasonable prices.
THE WALKER SHORT SET
Many collectors are drawn to the 1941-1947 short set, which numbers only 20 coins and is currently accessible up to MS66 for most pieces, save for collectors who are on a limited budget. During the decade since Great Recession of 2007-2009, as prices for many classic collector coins weakened, levels for MS65 and MS66 Walkers came down substantially. Yet in MS67 or MS68, the rarest dates mostly increased, while those in the middle remained fairly stable, or decreased less than lower-grade pieces.
Prices for coins in MS67 run into the tens of thousands of dollars for the rarest handful of dates. MS68 coins, which number only 135 coins for all dates (55 at PCGS and 80 at NGC), are several thousand dollars each for common dates and much more for the few scarce dates at this grade. Yet today a nice MS66 set can be obtained for $5,105 at CPG retail prices – a level that is affordable for many collectors, especially if they are buying one or a few coins at a time. This is what an MS65 set ran about five years ago, yet grading service populations are much lower for MS66 than MS65 coins.
MS66 coins represent great value at today's levels. 15 of the 20 coins (the more common dates) are currently less than $200 each retail at this grade.
The real challenge, and the fun for collectors, is finding coins that are solid for the grade and have nice eye appeal, especially S-mint coins with above-average strikes and preferably, CAC green stickers. As for coins with gold CAC stickers, there are only a handful in MS65 and above for each date. For this set the Philadelphia coins are consistently well struck, the Denver coins vary, and the San Francisco pieces are notorious for being poorly struck, especially in the middle of the obverse, particularly on the left hand and top of skirt lines. The other important area to focus on is the feathers of the eagle on the reverse.
The reason for the weaker S-mint coins is that as demand rose during World War II for circulation coins, the San Francisco mint had to prolong the use of dies, leading to many inferior-quality pieces. The five S-Mint coins in MS66 run about $3,000 retail with $1750 of that for just the 1941-S and 1942-S. Among the Denver-Mint coins, 1942-D, 1944-D and 1947-D are probably the hardest to find with good strikes. The seven Philadelphia coins are the easiest to find and least expensive in uncirculated condition, though the 1947 is less common with a solid strike than the other six.
RAREST DATES
The two most valuable and rarest dates in the highest grade (MS67) are the 1941-S, the lowest-mintage coin of the short set with just 8,098,000 pieces minted, and the 1942-S – one of the hardest S-mint coins to find with a decent strike, especially in high grade. 1941-S in MS67 runs very steep at $30,200 retail (CPG price) and $36,300 with CAC; $25,000 CDN bid and $30,000 with CAC; and $12,000 Bluesheet bid.  This is a great example of a coin where seeing it in hand makes all the difference. The population at this grade is 24 coins at NGC and 9 at PCGS. CAC census is just 4.
Coins this scarce rarely come up for sale, typically as part of pedigreed collections. Huge differences can exist in small differences in quality and in what the same coin in the same grade brings in a PCGS holder ($35,250 in August 2015) as opposed to $8,225 the same month for an NGC coin for this date and grade.
The 1942-S Walker in MS67 runs similarly steep at $24,200 CPG and $36,300 with CAC; $20,000 CDN bid and $30,000 with CAC; and $15,000 for Bluesheet bid. These prices reflect the fact that only 20 coins have been graded at this level (11 at NGC and 9 at PCGS). As recently as two years ago, MS67 1942-S coins sold at auction in the $10,000-range. CAC population is a mere 2. MS66 examples are much more affordable for 1941-S at $975 CPG and $1,100 with CAC; $750 CDN bid and $850 with CAC; and $620 Bluesheet. Census reports show 224 NGC and 798 PCGS, and the overall CAC population is 156. The 1942-S in M66 is also more accessible at $598 CPG and $748 with CAC; $460 CDN bid and $550 with CAC; and $360 Bluesheet. The census is 423 PCGS and 186 at NGC, and CAC population is 196. The premium for CAC-stickered examples of these two coins in MS66 is not very much and certainly worth it, and for common dates it makes no sense not to seek CAC examples, which sell for very close to the price of non-stickered coins.
A third S-mint coin that is rare in MS67 is the 1944-S, whose prices are in the same approximate range as the 1941-S and 1942-S, running over $20,000 retail for an MS67 CAC (CPG). Yet it is just $520 in MS66 CAC. It also has the lowest CAC population in MS67 of 1 coin. There has perhaps never been a better time to build a nicely matched short set of high-grade Walkers – or for dealers to recommend these Walking Liberty half dollar short sets to their customers. Nor is there another series of 20 coins that can provide a striking education as much about grading and condition rarity.
One can obtain a CAC-designated set for the reasonable sum of $5,699, but to acquire a set to be really be proud of, it's best to take ample time. The more effort put into studying the series and acquiring coins with the best strikes and eye appeal to be found, especially those S-mint coins that never come fully struck, the more you rewarded the collector will be in time.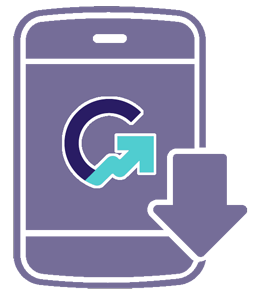 Download the Greysheet app for access to pricing, news, events and your subscriptions.
Subscribe Now.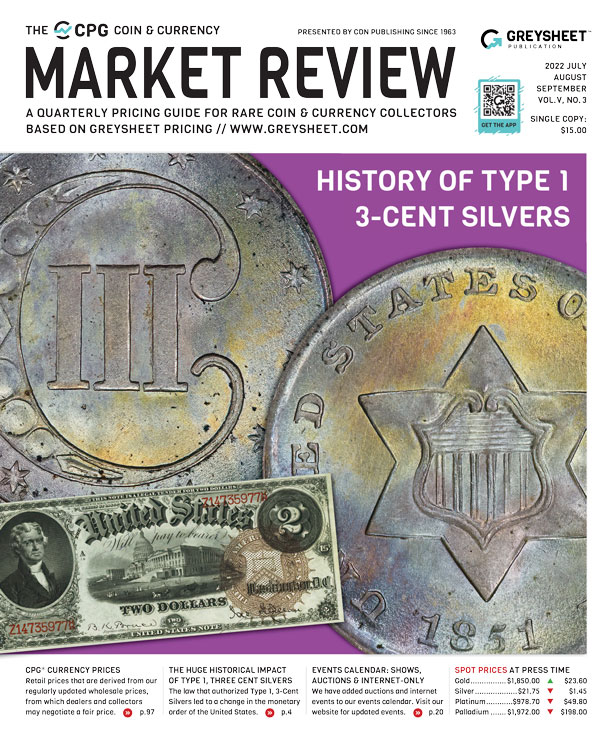 Subscribe to CPG© Coin & Currency Market Review for the industry's most respected pricing and to read more articles just like this.
Visit these great CDN Sponsors
---