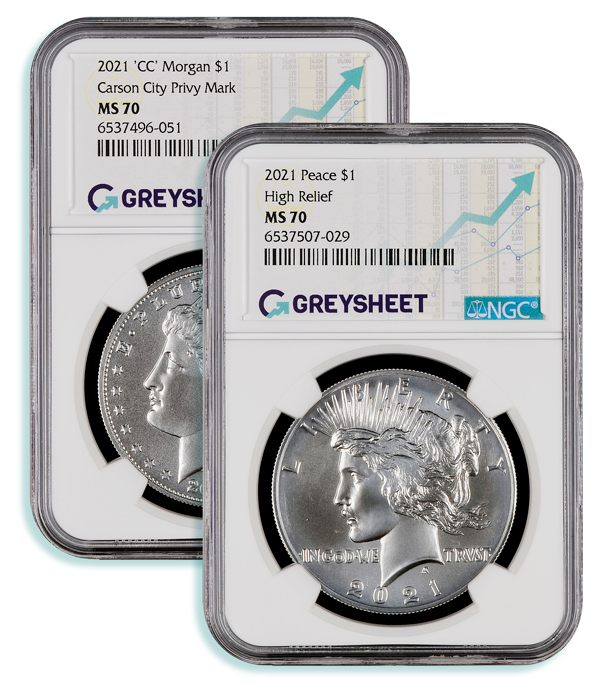 Product Information
In 2021, the US Mint released commemorative issues of the popular vintage Morgan and Peace dollar designs, dated 2021. CDN Publishing has partnered with NGC to certify a limited number of these special coins. The coins were produced by 3 different mints (Philadelphia, Denver and San Francisco) and their mint marks of "P", "D", and "S". Two other designs were released with privy marks of "O" and "CC" to commemorate the historic New Orleans and Carson City Mints. Additionally, a single Peace dollar was issued stuck at the Philadelphia mint, for a total of 6 issues.

At CDN Publishing, we were so enthusiastic about this new release that we took the opportunity to partner with our friends at NGC to create a special label to promote the Greysheet brand. This is the first such collaboration and these are sure to be a special collectors' item.

There will be a maximum of 550 coins total certified with these Greysheet labels and some items are truly scarce. Here are the current populations of items in the custom Greysheet labels:


 
TOTAL AVAILABLE / REMAINING
 Issue
MS69
MS70
 2021-D
39 / 13
48 / 0
 2021-"O"
38 / 7
62 / 0
 2021-S
12 / 0
88 / 8
 2021-P SOLD OUT
3 / 0
32 / 0
 2021-"CC" SOLD OUT
15 / 0
85 / 0
 2021-P Peace SOLD OUT
11 / 0
29 / 0
 TOTAL
118 / 20
344 / 28
Product Details
Orders will be processed in the order that they are received.
2021-D Morgan

With Limited Edition Greysheet Label
2021-O Morgan

With Limited Edition Greysheet Label
2021-S Morgan

With Limited Edition Greysheet Label
Cancellation Policy: Returns are accepted on a limited basis with prior approval from customer service. If approved a restock fee will be assessed.
Visit these great CDN Sponsors
---