Welcome to the CDN pricing database of collector (CPG®) and wholesale (Greysheet/Bluesheet) coin pricing.
Since 1963, CDN has been the trusted industry standard for rare coin & currency pricing. CPG
®
values are FREE to all users. You will need a subscription to
Greysheet
&
Greensheet
for access to wholesale pricing, manage your favorite items, and more.
Sign in Subscribe Coin Values Currency Values Free Mobile App!
Coin Prices: Select a series
Pre-Federal Issues
Early Copper
Small Cents
2-Cent & 3-Cent Pieces
Nickels
Half Dimes & Dimes
20-Cent Pieces
Quarters
Half Dollars
Silver Dollars
Sacagawea and Presidential Dollars
Gold Coinage
Classic Commemoratives
Territorial & Related Coinage
Proof & Mint Sets
Modern Commemoratives
American Silver Eagles
American Gold Eagles
American Buffalo Gold
American Platinum Eagles
American Palladium Eagles
Uncirculated Rolls
Miscellaneous U.S.
For Dealers Only
CDN Exchange is a dealer-only network where dealers can post bids, set market prices, and communicate in private. Join over 200 professional numismatists today.
Learn more
Free Mobile App Download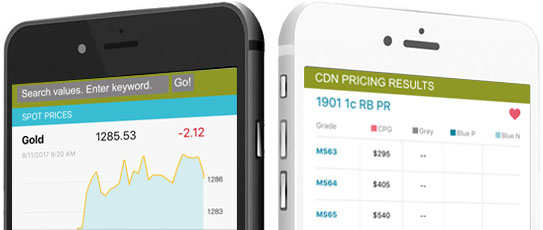 Learn more
Disclaimer
The prices listed in our database are intended to be used as an indication only. CDN Publishing, LLC does not buy or sell collectible coins or currency and users are strongly encouraged to seek multiple sources of pricing before making a final determination of value. CDN Publishing is not responsible for typographical or database-related errors. Your use of this site indicates full acceptance of these terms.