Greysheet - Greensheet - CPG®
Values Defined
The Industry Standard in Rare Coin & Paper Money Values
Since 1963, CDN Publishing has been serving a primary role in the numismatics hobby by providing critical wholesale pricing to dealers nationwide. As "the home of the Greysheet," CDN is known throughout the trade for our hard-earned reputation as an independent source of honest valuation -- we are a rare resource for any collectibles category. Ask anyone in the rare coin or paper money business for a price, and their first reference will be the Greysheet, or Greensheet. Period. Don't accept substitutes.
What does the Greysheet or Greensheet value represent?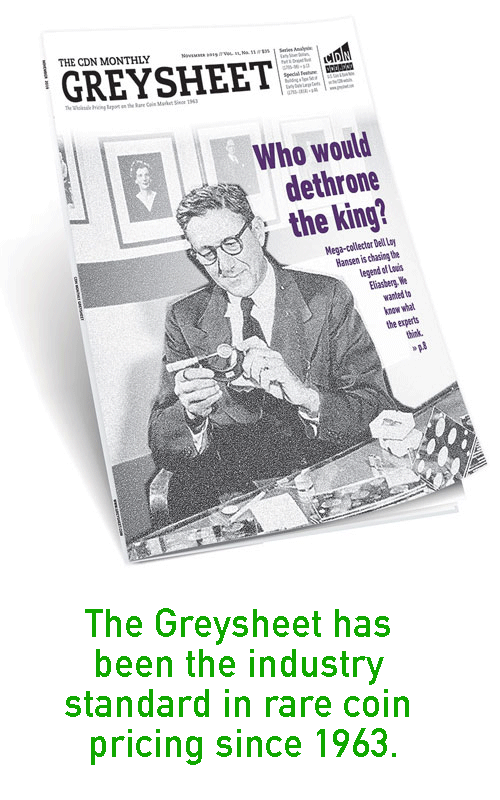 Our flagship publications of the Greysheet, and Greensheet represent wholesale market values for U.S. coins and paper money, respectively. We constantly monitor these arcane and complicated markets and reflect the current market. There is no other authority with a dedicated mission to report accurate prices.

Don't take our word for it. Major industry players like Heritage Auctions, Stack's Bowers, CAC, ANA, David Lawrence Rare Coins, display CDN pricing on their web sites to help their clients make the best-informed buying decisions. So should you...


What is a CPG® Value?
In reaction to collector demand, in 2017 we introduced retail pricing to offer collectors affordable access to serious pricing, based specifically on our wholesale data. No other resource offers this level of informed, unbiased pricing for collectors of U.S. coins, paper money, and modern China coin issues. We will continue to expand our offerings with world paper and Canadian coins in the future. [ read more on CPG]
How does CDN determine values?
The pricing editors at CDN rely on a substantial amount of source material to determine valuations. There is no substitute for experience and CDN's publisher, John Feigenbaum, has over 35 years as a professional numismatist and trader who has intimiate knowledge of the intricacies of this complicated market. Patrick Ian Perez, CDN Editor also has decades of experience across multiple numismatic collectible categories. Our team seeks out information from primary data sources like live auctions, CDN Exchange, and input from thousands of dealers with first-hand experience. No other pricing source offers our level of scrutiny.