SUBSCRIBE TO
CAC Rare Coin Market Review
Industry-standard pricing for collectibles since 1963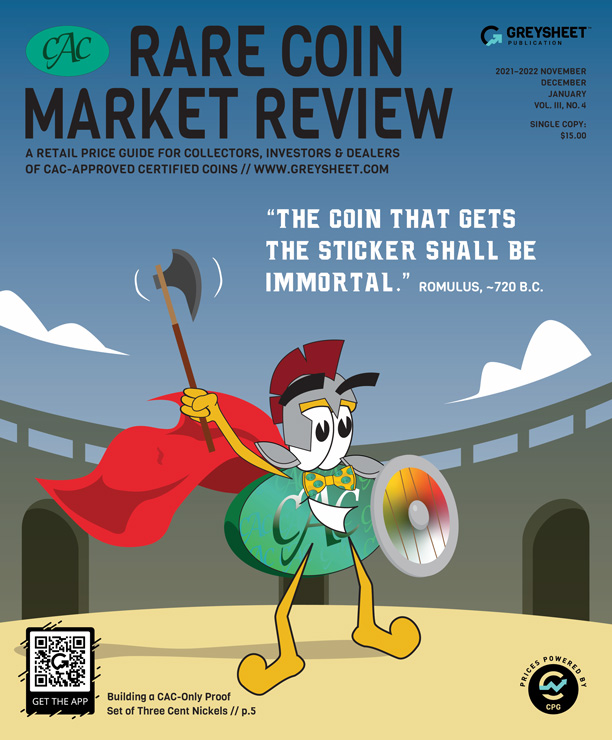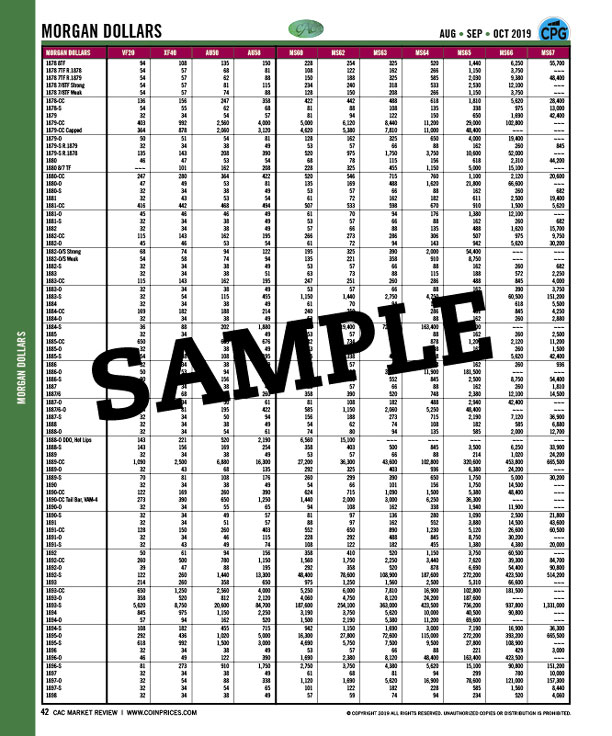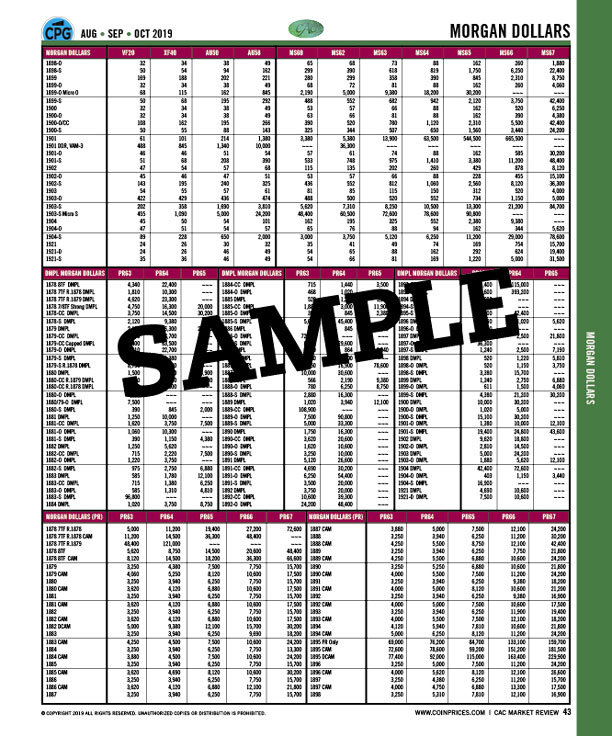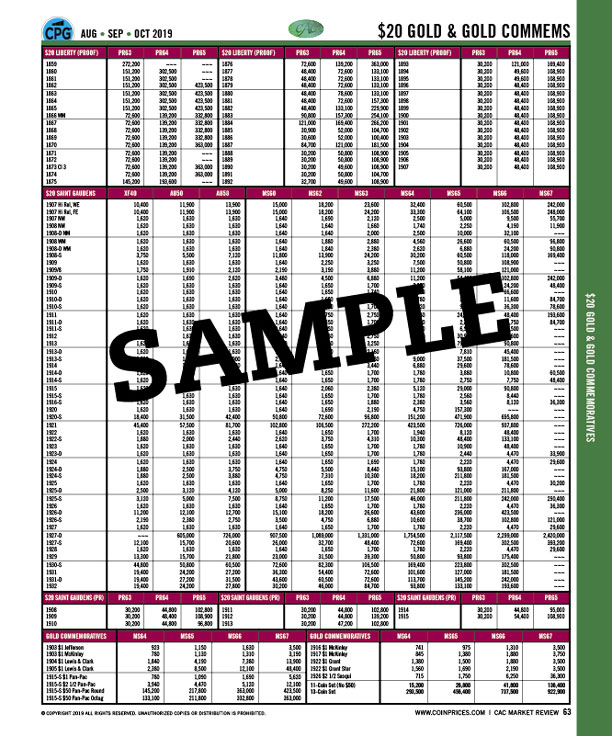 The CAC Rare Coin Market Review [video]
An interview with CAC-founder John Albanese [video]
The different CDN publications [video]
NEW BENEFIT!*
All monthly recurring & annual subscriptions now include both printed copies and digital access!
(*Benefit applies to new orders only. Excludes the Banknote Book. )

Retail Pricing for CAC-Approved Coinage
The premier pricing guide for collectors, investors & dealers of CAC-approved certified U.S. coins.
cac-rare-coin-market-review
CDN Publishing, LLC
https://www.greysheet.com/content/img/11052019/CDN_Logo-wide-2020-v1.png
Home of the Greysheet. Since 1963.
https://www.greysheet.com
Product Information
The quarterly CAC Rare Coin Market Review provides coin collectors and dealers with the latest retail market values for NGC & PCGS certified coins, that meet the CAC standard of approval.

This publication is created with the express permission of the CAC corporation. You can learn more about CAC on their web site.
Subscription Details
The CAC Market Review subscription package includes 4 quarterly issues each year.

International Shipping: Available for an additional $49/yr.
Order Now



Options
Mailed
Publication &
Digital
Access
1 Year (4 Issues)


$50.00


$40.00
Subscribe
AUTOMATIC RENEWAL: Your annual CAC Market Review subscription will automatically continue for as long as you choose to remain a subscriber. Your credit card will be charged at the time of purchase, and before the start of each new annual term at a low rate then in effect. You will receive a reminder of the charge approximately 30 days in advance. You may cancel your enrollment in the Automatic Renewal Program at any time during your subscription. If we are unable to charge your credit card, we will bill you directly instead
Order a Single Issue
Single Issue
Mailed
Publication
CAC Coin Market Review (single issue)
$15.00
Buy Now
Single-issue orders will be shipped within (2) business days via USPS first-class mail within the USA. Contact us for international mailing rate.
Cancellation Policy:
Prepaid subscriptions are non-refundable.
The CAC Rare Coin Market Review [video]
An interview with CAC-founder John Albanese [video]
The different CDN publications [video]
About CAC Rare Coin Market Review
YOU'VE FOUND THE MOST ACCURATE & COMREHENSIVE RETAIL PRICE GUIDE for CAC coins in the U.S. rare coin marketplace.
The 68-page CAC Rare Coin Market Review is one of several pricing resources available from CDN Publishing, which launched in 1963. The quarterly CAC guide first hit the streets in Summer 2019 for debut at the Chicago World's Fair of Money, and provides ask (or retail) pricing for coins that have met, or should meet, the CAC standards of quality as defined on their web site. The listed values are an approximate amount that a dealer will request when selling to others. However, dealers and auction records will vary (sometimes widely) based on numerous factors including eye appeal, demand, and specific rarity.

Information in the CDN family of pricing guides is frequently updated and based on pricing data we receive from a variety of reliable resources. Our data it is more accurate and reflective of the current marketplace than the other price guides around — which, in many cases, may be updated on only yearly intervals or even less frequently. The CPG values which power the CAC Market Review pricing fill a significant niche in the industry because CPG offers the latest retail values for coins and currency and is trusted by the most important market makers in the hobby.
Using the CAC Rare Coin Market Review
The CAC Rare Coin Market Review is a full-color quarterly retail price guide offering the latest pricing data for a full range of US coins based on the high standards set by the Certified Acceptance Corporation (CAC). Serving as a complementary pricing resource alongside the Monthly Greysheet wholesale price guide values, CAC Rare Coin Market Review offers collectors, investors and dealers essential information to price coins for the retail trade and provides buyers a glimpse on what they may expect to pay.

Additionally, CAC Rare Coin Market Review delivers exclusive features and commentary on a wide variety of numismatic topics, with a focus on stories related to CAC. This indispensable guide, published four times a year, has quickly become one of the most popular coin publications among both dealers and collectors.


How do we determine pricing?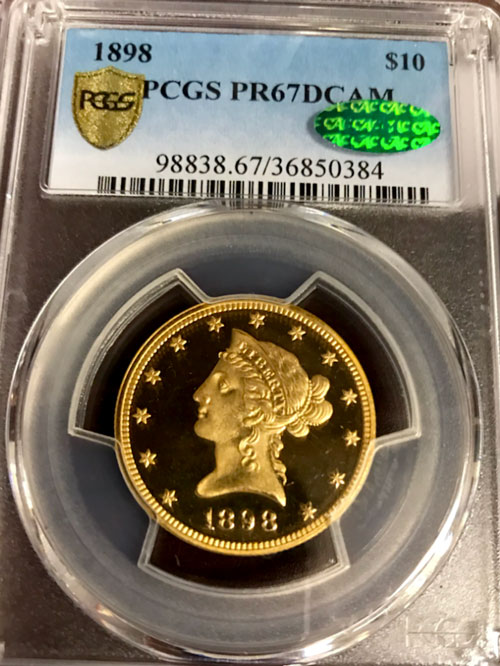 CPG prices are derived from anecdotal dealer information, "ask" prices listed on marketplace exchanges, auction results, other forms of electronic trading, and information from other types of public and private trades involving individual coins. We also have a large network of major coin and currency dealers who provide us with pricing information on a regular basis. All of this information, combined with our team's extensive knowledge of the marketplace, helps us to provide the pricing we publish in the CPG guides.

The values reflected in the CPG guides are for coins that are accurately graded and in original, problem-free condition and meet the rigorous CAC standards as defined on their web site (link). Pieces that are cleaned, damaged, or otherwise subpar for their grade will generally trade for prices lower than those published in the CPG guide. Naturally, pieces that are exceptional for their grade — perhaps those with desirable toning or exhibiting sharper-than-average strike — are bound to trade for higher prices than listed in the guide.


What's covered in each issue?
We cover the range of U.S. coins from early copper to gold issues that are highly collected by CAC buyers. The CPG guide offers a comprehensive analysis of where the retail marketplace is now. While most of the prices published in the CPG guide are accurate for the entirety of the publication date on the cover, there are exceptions, especially those involving bullion coinage. Therefore, we are updating prices for these and other volatile pieces as frequently as every four hours, and these and all other CPG values are available for free on the CDN Pricing App and online at www.greysheet.com.