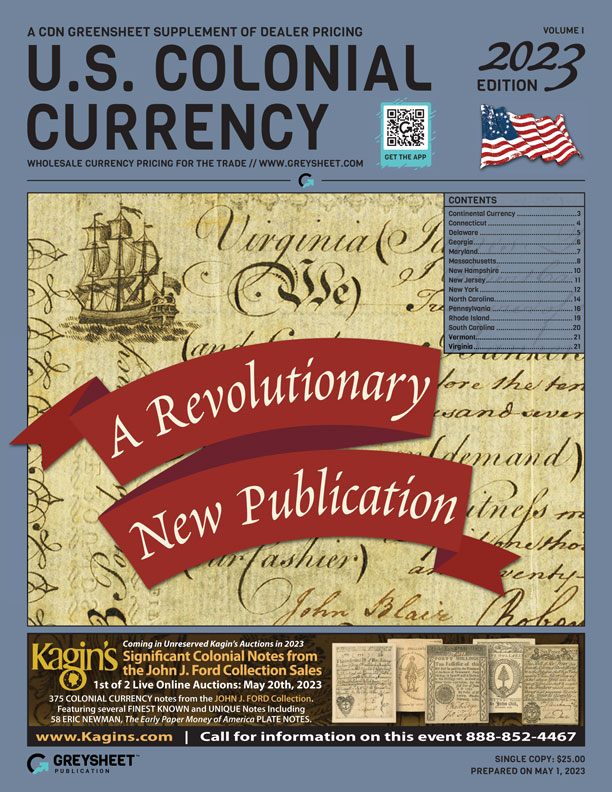 New Benefit!
All monthly recurring & annual subscriptions now include both printed copies and digital access!
(Benefit applies to new orders and renewals only.)
U.S. Colonial Currency Dealer Dealer Newsletter
A necessity for dealers, investors & serious collectors of U.S. bank notes.
Product Information
The U.S. Colonial Currency market is much larger than most people realize, comprised of thousands of notes issued from the thirteen colonies, plus the Continental Congress.
Subscription Details
The Colonial Currency Greensheet Supplement /em> subscription package includes: 2 semi-annual issues each year, as well as online and smartphone access to pricing data.

Digital Access to the publication is only available via the greysheet.com web site and the Greysheet app for iOS and Android. Digital access does not include the ability to download the publication for archival purposes.
Order a Single Issue
Mailed Publication
$25.00
Cancellation Policy: Prepaid subscriptions are non-refundable. In special circumstances we can work with subscribers to pause subscriptions to be continued at a future date.
Visit these great CDN Sponsors
---