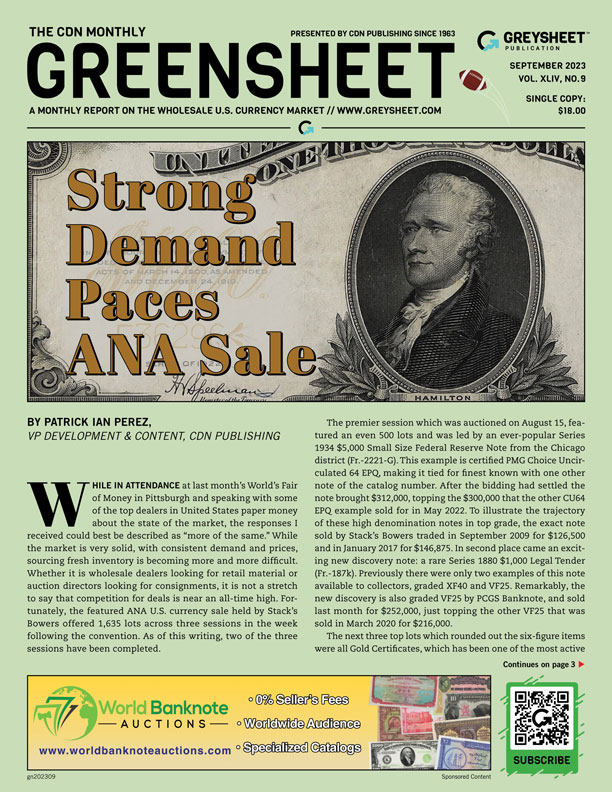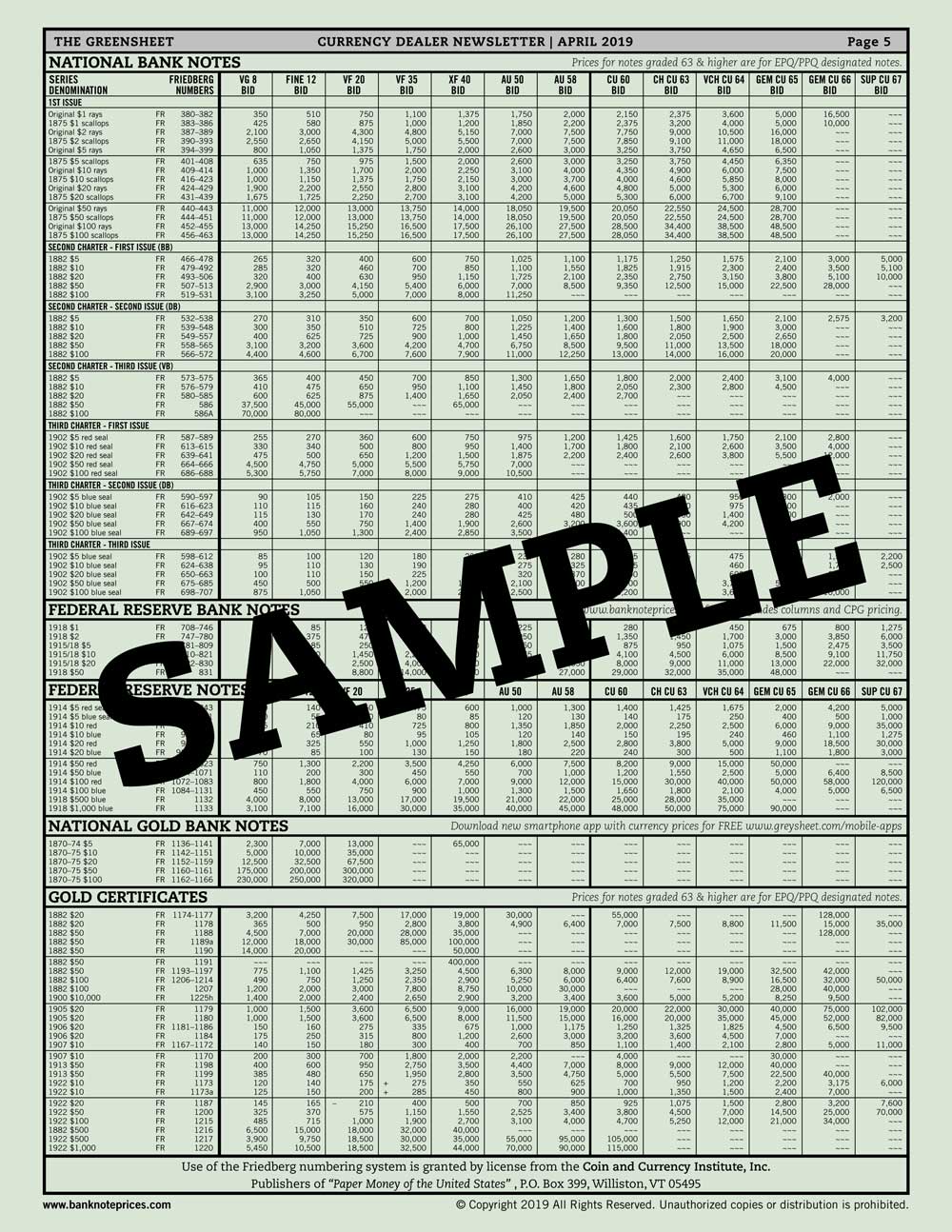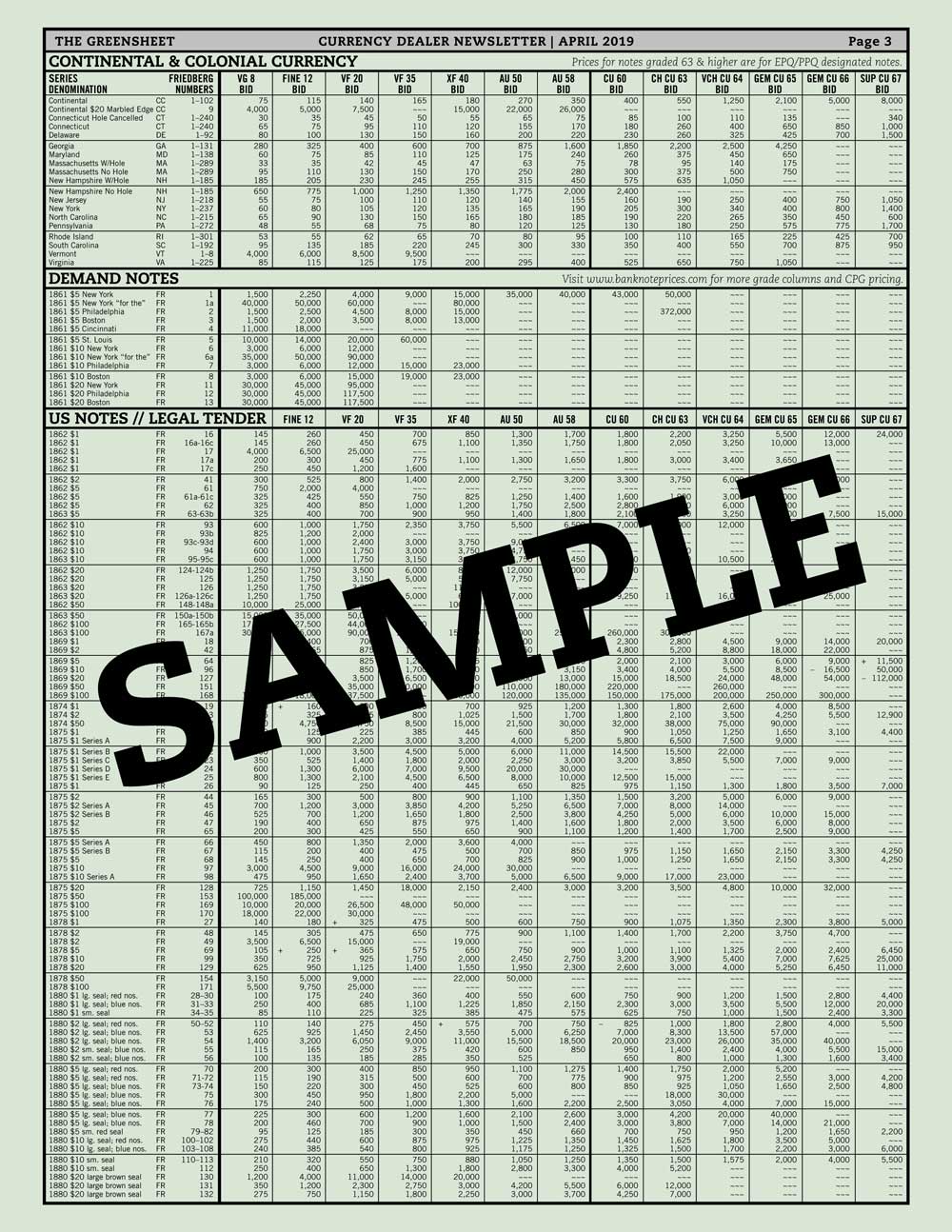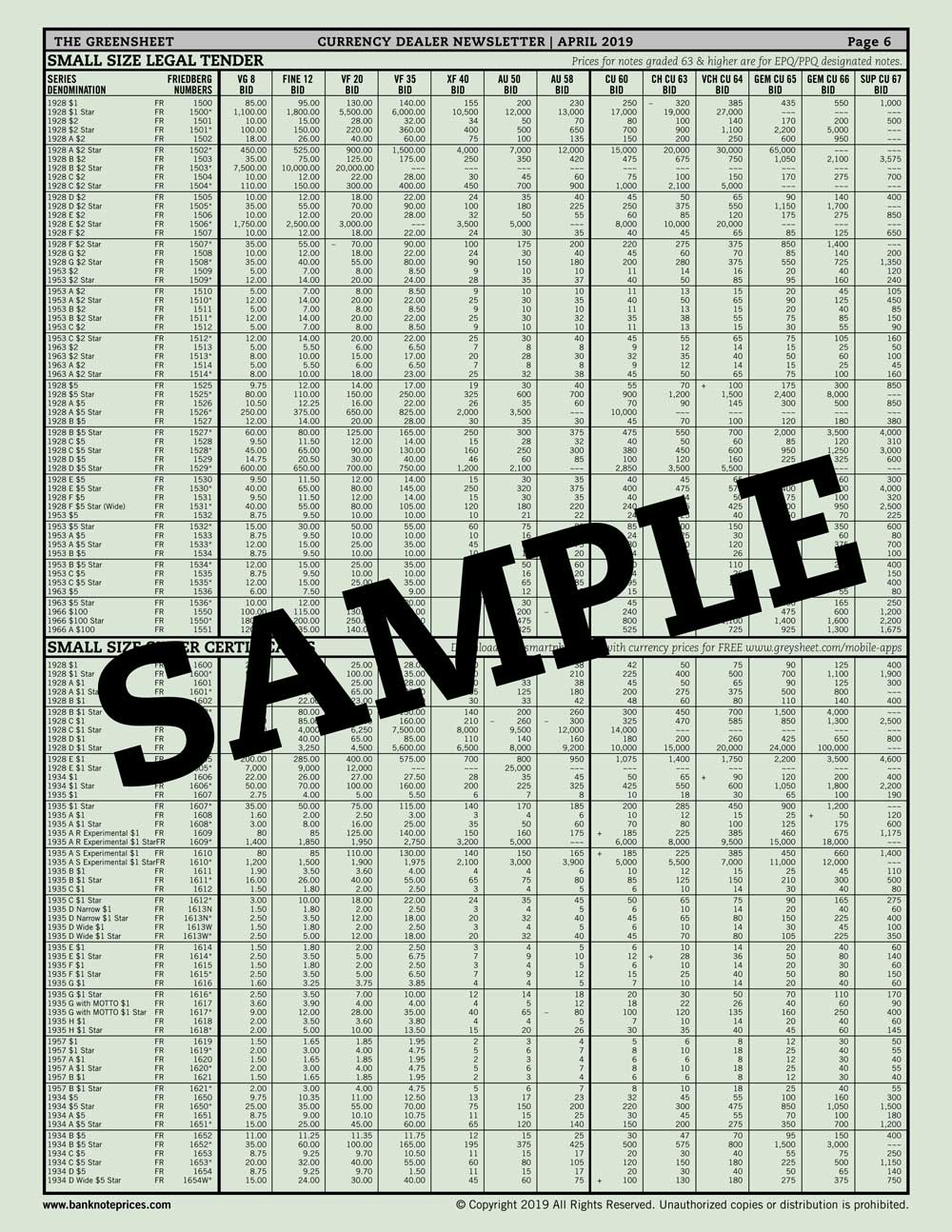 New Benefit!
All monthly recurring & annual subscriptions now include both printed copies and digital access!
(Benefit applies to new orders and renewals only.)
The Currency Dealer Newsletter
A necessity for dealers, investors & serious collectors of U.S. bank notes.
Product Information
The monthly Greensheet provides currency collectors and dealers with the latest wholesale BID prices for a majority of U.S. Currency issues from Colonial to present. Notes are priced in the eleven grading ranges most often used by currency specialists: VG (Very Good); F (Fine); VF (Very Fine); XF ( Extremely Fine); AU (About Uncirculated); CU60 (Crisp Uncirculated); CU63 (Choice Crisp Uncirculated); CU64 (Very Choice Crisp Uncirculated, CU65 (Gem Crisp Uncirculated), CU66 (Superb Gem Uncirculated), and CU67 (Superb Gem Uncirculated).
Subscription Details
The Greensheet subscription package includes: 12 monthly issues each year, as well as online and smartphone access to pricing data.

Digital Access to the publication is only available via the greysheet.com web site and the Greysheet app for iOS and Android. Digital access does not include the ability to download the publication for archival purposes.
The Different CDN Publications
Popular Subscription Bundles
*International orders are digital access only. Contact support@greysheet.com for international mailing rates.
** Monthly subscriptions require a 3-month minimum term.
Popular Subscription Options
** Monthly subscriptions require a 3-month minimum term.
Order a Single Issue
Mailed Publication
$18.00
Cancellation Policy: Prepaid subscriptions are non-refundable. In special circumstances we can work with subscribers to pause subscriptions to be continued at a future date.
The Greensheet
The monthly Greensheet provides currency dealers and collectors with the ONLY WHOLSALE BID prices for collectible U.S. Currency. Notes are priced in the most popular grading ranges most often used by currency specialist from VG (Very Good) through GEM CU (Gem Crisp Uncirculated).
COMES WITH ONLINE PRICING




COMES WITH ONLINE PRICING
Active subscribers have access to online wholesale pricing of currency, which can be accessed here, or via our smartphone app.
Get the App!.
Collectors new to currency are usually quite surprised to learn that for much of its history, the U.S. has had different Types of currency circulating side-by-side. In the decades following the Civil War, separate Acts of Congress created separate classes of currency. Each came with their own special characteristics, and some even had limitations on how they could be used as money!

The Greensheet provides prices for the Demand Notes of 1861; the U.S. Notes (Legal Tender Notes) of 1862 through 1923; Compound Interest Treasury Notes of 1863-1864; Interest Bearing Notes of 1861-1865; Refunding Certificates of 1879; large-sized Silver Certificates of 1880-1923; Treasury Notes (Coin Notes) of 1890 1891; the three different issues of National Bank Notes of 1875 through 1902; large-sized Federal Reserve Bank Notes of 1915-1918; Federal Reserve Notes of 1914-1918; National Gold Bank Notes of 1870-1875; and Gold Certificates of 1882-1922.



Before the Bureau of Engraving and Printing (BEP) began producing our current size of paper money in 1929, Americans were accustomed to both larger and smaller sized currency. All of the Notes listed above were of larger size than used today. U.S. Fractional Currency, representing denominations of 3¢, 5¢, 10¢, 15¢, 25¢, and 50¢, were much smaller than our current Notes; Fractionals were issued as a result of the coinage shortages during the Civil War, and started as a variant of postage stamps! The Currency Dealer newsletter reports on all the Notes produced during the five different emissions of Fractionals, 1862 through 1876. Fractionals are also avidly collected because they are the only official emissions which have widely-available Proofs (as in Printer's Proofs) and Specimens (Special Printings). The CDN lists prices for the specimens as well as the regular issues.
In the Small-Size series, the
Greensheet
lists prices for Legal Tender Notes, 1928-1966; Silver Certificates 1928-1953; the R&S Experimental Silver Certificates of 1935; Small-Size U.S. Bank Notes and National Bank Notes of 1929; Federal Reserve Bank Notes of 1929; Federal Reserve Notes of 1928-1950; the World War II Emergency issues for Hawaii and North Africa; and the Gold Certificates of 1928.
How do we determine pricing?

Are you a market-maker in U.S. paper money?
If so, you should be a member of CDN Exchange. Your market bids on CDNX are reflected directly on the Greensheet and serve as a message to the industry that you are a major player in the U.S. paper money market. Click here to learn more.
The Greensheet bid prices are derived from two primary sources: public trades of United States currency, primarily via auction results, and anecdotal dealer information. Whereas United States coins have a tradition of dealer bids posted on electronic trading networks and buy sheets, the currency market relies more on auction results and specialists. We are in regular contact with the major currency buyers in the market.

CDN Publishing takes this data, along with market knowledge and dealer experience, and derives a wholesale price that in theory a paper money dealer would pay another dealer for a given note. Importantly, notes with problems, such as tears, pinholes, graffiti, or missing pieces will trade at a discount, sometimes significantly so.

The Greensheet wholesale bid prices are for problem-free, clean notes. It is expected that retail transactions will take place at a price above the Greensheet wholesale bid price.


What's covered each month?
SERIES
GRADES COVERED
Continental & Colonial Currency
VG8, F12, VF20, VF35, XF40, AU50, AU58, CU60, CU63, VCH CU64, GEM CU65, GEM CU66, SUP CU67
Large Size Notes
Demand Notes
VG8, F12, VF20, VF35, XF40, AU50, AU58, CU60, CU63
Legal Tender Notes
VG8, F12, VF20, VF35, XF40, AU50, AU58, CU60, CU63, VCH CU64, GEM CU65, GEM CU66, SUP CU67
Compound Interest, Interest Bearing & Refunding Notes
VG8, F12, VF20, VF35, XF40, AU50, AU58, CU60, CU63, VCH CU64, GEM CU65
Silver Certificates
VG8, F12, VF20, VF35, XF40, AU50, AU58, CU60, CU63, VCH CU64, GEM CU65, GEM CU66, SUP CU67
Treasury (Coin) Notes
VG8, F12, VF20, VF35, XF40, AU50, AU58, CU60, CU63, VCH CU64, GEM CU65, GEM CU66, SUP CU67
National Bank Notes (by type)
VG8, F12, VF20, VF35, XF40, AU50, AU58, CU60, CU63, VCH CU64, GEM CU65, GEM CU66, SUP CU67
Federal Reserve Bank Notes
VG8, F12, VF20, VF35, XF40, AU50, AU58, CU60, CU63, VCH CU64, GEM CU65, GEM CU66, SUP CU67
Federal Reserve Notes
VG8, F12, VF20, VF35, XF40, AU50, AU58, CU60, CU63, VCH CU64, GEM CU65, GEM CU66, SUP CU67
National Gold Bank Notes
VG8, F12, VF20, VF35, XF40
Gold Certificates
VG8, F12, VF20, VF35, XF40, AU50, AU58, CU60, CU63, VCH CU64, GEM CU65, GEM CU66, SUP CU67
Small Size Notes
Legal Tender Notes (Including Star Notes)
VG8, F12, VF20, VF35, XF40, AU50, AU58, CU60, CU63, VCH CU64, GEM CU65, GEM CU66, SUP CU67
Silver Certificates (Including Star Notes)
VG8, F12, VF20, VF35, XF40, AU50, AU58, CU60, CU63, VCH CU64, GEM CU65, GEM CU66, SUP CU67
National Bank Notes (by type)
VG8, F12, VF20, VF35, XF40, AU50, AU58, CU60, CU63, VCH CU64, GEM CU65, GEM CU66, SUP CU67
Federal Reserve Bank Notes
VG8, F12, VF20, VF35, XF40, AU50, AU58, CU60, CU63, VCH CU64, GEM CU65, GEM CU66, SUP CU67
Federal Reserve Notes
VG8, F12, VF20, VF35, XF40, AU50, AU58, CU60, CU63, VCH CU64, GEM CU65, GEM CU66, SUP CU67
World War II Emergency Issues
VG8, F12, VF20, VF35, XF40, AU50, AU58, CU60, CU63, VCH CU64, GEM CU65, GEM CU66, SUP CU67
Gold Certificates
VG8, F12, VF20, VF35, XF40, AU50, AU58, CU60, CU63, VCH CU64, GEM CU65, GEM CU66, SUP CU67
Fractionals
Fractional Currency
VG8, F12, VF20, VF35, XF40, AU50, AU58, CU60, CU63, VCH CU64, GEM CU65, GEM CU66, SUP CU67
Fractional Proof & Specimen Notes
CU60, CU63, VCH CU64, GEM CU65, SUP CU67
Military Payment Certificates
Military Payment Certificates
VG8, F12, VF20, XF40, AU50, CU60, CU63, GEM CU65
Replacement MPCs
VG8, F12, VF20, XF40, AU50, CU60, CU63, GEM CU65
Use of the Friedberg (FR) numbering system is granted by license from the Coin and Currency Institute, Inc. Publishers of Paper Money of the United States, P.O. Box 399, Williston, VT 05495
Visit these great CDN Sponsors
CDN Sponsors