SEARCH BY CATEGORY
OR PUBLICATION

The Susan B. Anthony dollar turns 40
Published on July 19, 2019
It was 40 years ago in 1979 that this small-dollar coin ushered in an era of firsts, including its arrival as the first small-size dollar coin, first circulating U.S. coin to bear the likeness of a real female.
Editorial
Featured
U.S. Coins
This article originally appeared in print in the Summer 2019 edition of "The CPG Coin & Currency Market Review".
In numismatics, birthdays come and go, and some inspire more celebrations than others. The centennial of the Lincoln cent in 2009 made headlines even outside numismatics—who else remembers the multitude of news and magazine stories declaring "Lincoln Pennies Turn 100"? In 2016, the US Mint honored the 100th anniversary of the Mercury dime, Standing Liberty quarter, and Walking Liberty half dollar with special one-year-only 24-karat gold coins featuring faithful reproductions of the classic 1916-vintage designs. And we're certain to see some hubbub around the upcoming 100th anniversary of the Peace dollar in 2021.

But the Susan B. Anthony dollar? Yes, even the "Susie B." deserves its time in the spotlight. After all, it was 40 years ago in 1979 that this small-dollar coin ushered in an era of firsts, including its arrival as the first small-size dollar coin, first circulating U.S. coin to bear the likeness of a real female (as opposed to females portraying allegorical figures), and the first United States coin to regularly carry a "P" mintmark from the Philadelphia Mint.
Of course, the Susan B. Anthony dollar has been the butt of a few numismatic jokes, too. The coin gained widespread notoriety as the "Carter Quarter" in the late 1970s and early '80s due to its close proximity in size to the quarter and the fact that President Jimmy Carter had signed the coin into law.
And younger numismatists may never forget when the Susan B. Anthony dollar was loosely parodied on the popular primetime cartoon sitcom The Simpsons in a 1991 episode known as "Mr. Lisa Goes To Washington," with a tongue-in cheek reference to fictional women's rights leader Winifred Beecher Howe, said to have led the Floor Mop Rebellion of 1910 and "later appeared on the highly unpopular 75-cent piece." In a 2000 episode entitled "Behind The Laughter," the same landmark cartoon comedy series lampooned the coin with Susan B. Anthony Man, a comic book hero à la Captain America who dons a large round shield depicting the obverse of a Susan B. Anthony dollar.
And who can forget the 1979 jazzy-folk tune known simply as "The Susan B. Anthony Dollar," written by American lyricist duo Richard M. Sherman and Milt Larsen? The lyrics include lines such as, "Let's give a great big holler to the Susan B. Anthony dollar/The boys in the mint they got inspired/an 11-sided coin we all desired/Gonna be America's lucky bucka bucka bucka buck buck." The song appears on the appropriately titled duo's compilation album Smash Flops, which also includes other satirical classics such as "Columbus, You Bag Of Steam," "We're Depending On You, General Custer," "The Palin For President Polka" and "The Fracking Song." While "The Susan B. Anthony Dollar" didn't become as big a hit as Arthur Johnston and Johnny Burke's "Pennies From Heaven," it nevertheless gets the toes a-tappin'.
Making The Susan B. Anthony Dollar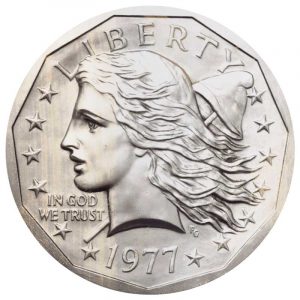 All kidding aside, the Susan B. Anthony dollar really does have merit as a significant contribution to numismatics. It was born as a revolutionary solution to a real problem—Americans were not using dollar coins, which last longer than dollar bills in circulation and therefore over time cost less to make than the denomination's paper counterpart.
The Susan B. Anthony dollar's origins date back to 1976, when the reduced-sized dollar coin was conceived following a study by the Research Triangle Institute that suggested "a conveniently sized dollar coin would significantly broaden the capabilities of consumers for cash transactions, especially with machines." The report went on to say that, "Members of the automatic merchandising industry have expressed a strong interest in a smaller dollar, indicating their willingness to adapt their machinery to its use."
In 1977, numismatic scholar David L. Ganz believed the findings were accurate and echoed calls that the large-size Eisenhower dollar coin be replaced with a reduced-size dollar coin. Director of the United States Mint Stella Hackel threw her support in by stating the United States would save an estimated $19 million per year if even only half of the dollar bills in production were replaced by dollar coins. This argument was made on the assumption that a dollar bill then cost about 2 cents to make and lasted about 18 months in circulation whereas the dollar coin would cost 3 cents to make but survive more than 15 years in commerce.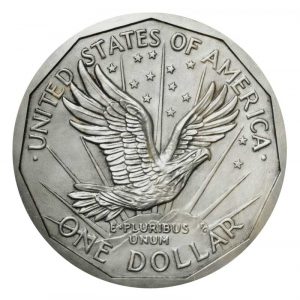 Even before legislation was formally introduced, United States Treasury officials began gearing up for production of the proposed new dollar coin; optimism was high Congress would approve the idea on the basis that the coin has virtually unanimous support in the vending machine industry and at the United States Mint. There was also plenty of support from key members of the Carter Cabinet, including Secretary of the Treasury Werner Michael Blumenthal, who supported the small-dollar coin and suggested the new issue carry an allegorical representation of Liberty on it.
Chief Engraver Frank Gasparro went to work on creating models for the new dollar coin, which he envisioned bearing a bust of a young Miss Liberty with flowing hair and a Phrygian cap on a pole for the obverse and an eagle soaring over a mountainous sunrise scene on the reverse. The designs were derivative of earlier Gasparro works, with the obverse drawing from a 1969 American Numismatic Association convention medal and the reverse, which the veteran engraver said symbolized "a new day being born," borrowing from a proposed 1967 commemorative half dollar that never materialized.
In the meantime, the U.S Mint conducted experiments on a shape for the new dollar coin, trying its hand at creating eight-, 10-, 11-, and even 13-sided coins. However, officials concluded these coins would pose problems for existing vending machines, which only accepted round coins and would need to be updated at expensive cost to take new coins with multiple sides. The best solution, or so it seemed at the time, was to make a round coin with reeded edges and an 11-sided inner border so that the coin would appear distinct from the quarter and feel distinct in the hands of a blind person.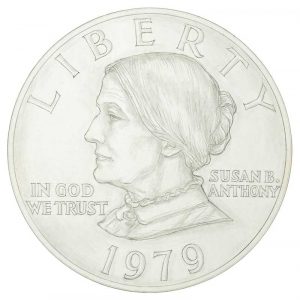 On May 1, 1978 legislation was introduced in Congress to reduce the size of the dollar coin from 38 millimeters to 26.5 millimeters and lower its weight from 22.68 grams to 8.5 grams. Modifications to the bill shaved another 0.4 grams from the overall weight of the new dollar coin, down to 8.1 grams. Further weight reductions weren't the only changes the proposed dollar coin would see along its tour as a bill through Capitol Hill.
As the new bill was making its way through passage, Wisconsin Senator William Proxmire proposed legislation for a new dollar coin similar in physical features to those suggested by the Treasury but mandating the design on the coin feature Susan B. Anthony. Many other politically active individuals and organizations also trumpeted support for placing Anthony on the dollar coin, including the National Organization for Women, the Congresswoman's Caucus, and the National Women's Political Caucus.
Perhaps the League of Women Voters was most vocal among these groups with support for Anthony, with officials from the group writing, "The League believes that the time has come and indeed long past, for the likeness of a prominent American woman to be placed on a denomination of U.S. currency. We believe strongly that the likeness should be that of an actual woman and not that of an imaginary or symbolic figure." The League further pitched Anthony, who lived from 1820 through 1906, saying she "contributed immeasurably to the advancement of human dignity in this nation."
As the fate of the dollar coin bill hung in the balance on Capitol Hill, Gasparro began crafting the new Susan B. Anthony obverse, first choosing an image of the women's rights activist in her late 20s and another portrait of her from her mid 80s. After consultations with Anthony's family and other adjusting of his work per various critiques, he created the final portrait, which depicts Anthony at around the age of 50, during the peak of her sociopolitical influence. Gasparro made these changes with the knowledge that his soaring eagle design would remain in place. But this, too, was changed in the eleventh hour after Utah Senator Jake Garn modified language in the legislation to keep Gasparro's Apollo 11 insignia design symbolizing the 1969 lunar landing on the reverse of the dollar coin, as had been the case since the introduction of the Eisenhower dollar in 1971.
The Susan B. Anthony Dollar Coin Act was approved as Public Law 95-447 and sent to President Carter's desk. Carter, upon signing the coin into law on October 10, 1978, said, "I am confident this act—and the new dollar—will substantially improve our coinage system as well as cutting government coin production costs. I am particularly pleased that the new dollar coin will, for the first time in history, bear the image of a great American woman." He went on to say that, "The 'Anthony dollar' will symbolize for all American women the achievement of their unalienable right to vote. It will be a constant reminder for the continuing struggle for the equality of all Americans."
Hype & Gripe
The Susan B. Anthony dollar was lauded as "the dollar of the future" in 1979 United States Mint brochures. Among the benefits listed for the new dollar coin were its ability to "save time and reduce errors at the cash register" and being "easy to carry with other coins—avoid[ing] fumbling in both sections of a wallet or purse—[so] higher bills remain secure." Early hopes rode high for the new dollar coin. In anticipation of the coin being a smashing success upon its summertime release, the U.S. Mint geared up production of the coin throughout the earlier months of 1979 by striking between 300 and 500 million Susan B. Anthony dollars at the Philadelphia, Denver, and San Francisco Mints.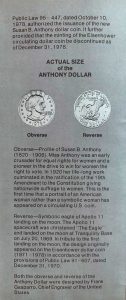 The dollar coin was officially released on July 2, 1979, with a gala ceremony in Susan B. Anthony's home town of Rochester, New York. Mint Director Hackel was in attendance along with many other dignitaries. In the months that followed, streams of new dollar coins made their way into commerce, and the U.S. Mint ensured the public had plenty on hand. Total first-year production figures for the 1979 Susan B. Anthony dollar was some 757 million circulation strikes. Hundreds of millions were released to banks, and many private merchants promoted their use in circulation. However, relatively few of these dollars ever saw heavy use as circulating coinage. This is because a problem soon emerged… Too many people were confusing the Susan B. Anthony dollar with the Washington quarter. Of similar size, shape, and color, both coins looked too much alike, and many folks began losing 75 cents (or more) in cash transactions thinking their Susie B. dollars were quarters.
On September 25, 1979, Undersecretary of the Treasury Bette B. Anderson testified to the Subcommittee on Consumer Affairs of the House Committee on Banking, Finance, and Urban Affairs that, "We fully realized that there has been criticism of the new coin by many of our citizens. Perhaps the strongest objection we have heard is that, because of its size and color, the Anthony dollar can be mistaken for the quarter." She noted that suggestions to further modify the coin included increasing the diameter, changing the color or shape, or punching a hole in the middle of the coin.
The Appropriations Committee approved $300,000 for an educational program aimed at helping the dollar coin better circulate, and more than 400,000 of these kits were distributed. But Congressman Frank Annunzio, who was a vocal supporter of many coin programs of the era—including legislation in the early '80s to resurrect the then-long dormant commemorative coin program, said, "The new dollar coin may well go down in history as the only coin that more people wanted before it was released than after it was released."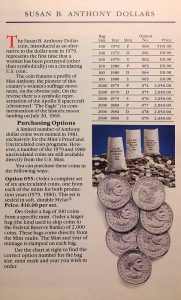 By 1980, Annunzio's comments came to reality. The public had all-out rejected the Susan B. Anthony dollar. A United States Postal Service campaign to circulate the dollars in change flopped in March of 1980, and the New York Port Authority, which had put up big red signs alerting drivers that the dollar coin was accepted at toll booths fell flat as so few drivers were even carrying these coins. In the summer of 1980, the United States Mint launched yet another "circulation campaign," offering brochures, posters, and kits on the benefits of using the Susan B. Anthony dollar. But the public was no more receptive of the dollar coin in the summer of 1980 than they had been less than a year earlier in the fall of 1979.
Production of business-strike coins reflected this. Some 89,660,708 Susan B. Anthony dollars were struck in 1980, barely a fraction of the 1979 run. Even still, demand for new dollar coins was virtually nil, and hundreds of millions of 1979-dated Susan B. Anthony dollars were still in storage as the 1980 production was underway. The United States Mint sputtered out a run of Susan B. Anthony dollars for collectors in 1981, with December of that year marking barely 29 months since the first of these ill-fated dollars were released in July 1979. Millions of these dollar coins languished in U.S. Mint vaults for years afterward. But that isn't the end of the story.
Rebirth
In 1985, United States Mint Director Donna Pope pitched a new program to help distribute the millions of Susan B. Anthony dollars still in the government's hands. Three plans included a set of the six 1979 and 1980 coins (one from each of the three mints) assembled in Mylar sets and packaged as souvenir sets, with a sales price of $10. Another option consisted of a bag of 100 coins of coins from the customer's selected year and mint, to be sold for $110. A third option was an original bag of 2,000 coins of the desired year and mint to be offered at a price of $2,050.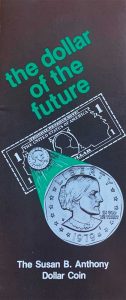 In the meantime, some transit authorities as well as the United States Postal Service began distributing Susan B. Anthony dollars in their networks during the 1990s. These SBA dollars were generally accepted and given as change at various points of purchase, including vending machines. By the end of the decade, the government stockpile of Susan B. Anthony dollars began to dwindle, prompting calls for a new dollar coin. By the late 1990s, the proposal for a new small-size dollar coin of distinct appearance and metallic composition gave rise to the Sacagawea dollar, which was authorized under the United States $1 Coin Act of 1997, signed by President Bill Clinton on December 1 of that year.
As the new "golden dollar" was being designed and prepared for release in 2000, another story was developing. Millions feared that bank accounts would be wiped clean when computers not using the first two digits of the year, "19," flipped the "99" to "00" come 12:00 AM on January 1, 2000. The Y2K scare prompted countless Americans to turn to hard money instead of trusting digital banking systems. The United States Mint, legally unable to strike Sacagawea dollars until 2000, responded by striking a special run of Susan B. Anthony dollars in 1999 to have on hand in case the rush for dollar coins came in.
Of course, the year 2000 came and went with virtually no computer issues directly related to the clock striking 12 AM on New Year's Day 2000. Nevertheless, coin collectors were given a fresh batch of SBA dollars nearly a generation after the previous were struck in 1981. And this created a colorful new wrinkle in one of the 20th century's most curious numismatic stories.
Collecting Susan B. Anthony Dollars
For a series that saw production during just four calendar years, the Susan B. Anthony dollar actually presents a number of interesting challenges for the collector. For starters, the SBA dollar offers at least two fascinating varieties for the 1979-P strikes, with these being the so-called "Wide Rim" (or "Near Date") variety and "Narrow Rim" (or "Far Date"). Of these two varieties, the 1979 Wide Rim is by far the scarcer.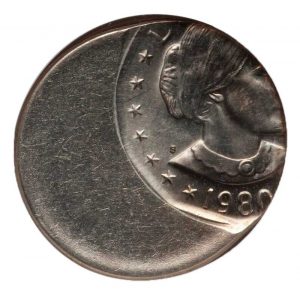 No specific mintage record exists, but Professional Coin Grading Service (PCGS) estimates just 20,000 exist in all grades, but a fraction of this issue's total mintage of 360,222,000. Current CPG® prices for the 1979-P Wide Rim are $33.75 for a specimen in MS65, $57 for one in MS66, and a whopping $3,500 for one of the few MS67 examples.
Among proof SBA dollars there are even more varieties to be found. Changes to the shape and clarity of the "S" mintmark for the San Francisco proofs in 1979 and 1981 resulted in the creation of four varieties across Susan B. Anthony dollars for those years. The 1979-S Type I Susan B. Anthony dollar has a blobby "S" and is the more common proof variety of that year with perhaps 2.5 to 2.8 million examples of a total production of 3,677,175 produced, whereas the 1979-S Type II "S" dollar is scarcer with an estimated strike of perhaps 700,000 to 800,000 pieces.
The 1979-S Type II "S" mintmark constitutes the 1981-S Type I, which is much more common than the 1981-S Type II bearing a clear "S" with bulbous serifs; it's estimated that of a total mintage of 4,063,083 proofs, perhaps 650,000 to 700,000 were of the Type II variety.
CPG® prices for these varieties bear out just how relatively scarce the Type II dollars are in comparison to their respective Type I counterparts; the 1979-S Type II dollars trade for about $6 in PR67, whereas the '79-S Type II goes for $33.75 in that same grade. Meanwhile, the 1981-S Type I proof sells for about $5.40 in PR67, with the '81-S Type II commanding more than $125 in an equivalent grade. PR70 examples of the 1979-S and 1981-S Type II dollars retail for $143 and $292, respectively, compared to $29.70 and $36.45 for their contemporary Type I peers in a "perfect" proof grade.
There are a few other lesser-known SBA dollar varieties that are worth mentioning. Most notable of these is the 1980-S proof dollar with repunched mintmark, showing muddled remnants of an earlier "S" mintmark punch just to the left of the primary "S" mintmark. Market data is sketchier on this relatively obscure piece that is referenced in Cherrypickers' Guide by Bill Fivaz and J.T. Stanton (Whitman Publishing, 2012). Interestingly, 20th-century coin expert Walter Breen noted several minor varieties for various issues across the original run of SBA dollars from 1979 through 1981. These include a proof 1979-S with "third star much too small," a variety originating with die-polishing and reported by a Lyle Haakenson in January 1980. An identical variety is mentioned in Breen's tome for some 1981-S proofs and is noted as having been reported in the September 23, 1981 edition of Coin World.
Meanwhile, the Combined Organizations of Numismatic Error Collectors of America (CONECA) lists a couple minor obverse doubled dies for the 1999-P proof. One shows medium spread and extra thickness on LIBERTY, the stars, the date, the motto IN GOD WE TRUST, hair in the knot, Anthony's collar (below), and the mintmark. Another type shows light spread and extra thickness on the left four stars, the mintmark, and Anthony's left collar.
Then there are the colorful errors of the kind one might find among any series of coins, including off-center strikes, wrong-planchet strikes, broadstrikes, and other oddities. Some of the most valuable Anthony dollar errors are the rare 1999 SBAs struck on planchets intended for the Sacagawea dollar. These distinctive-looking experimental planchet errors, which have a light gold tint, have sold for high four- and low-five figure amounts.
Among the other interesting entries for the Susan B. Anthony dollar are the aforementioned Mylar-packaged three-coin sets of Susan B. Anthony dollars as offered by the United States Mint in the 1980s and 1990s. The most well known of these are the 1979 and 1980 Susan B. Anthony "souvenir sets," both sold in either bright yellow or light blue envelopes.
It's important to recall that while the 1981 dollars were struck only for numismatic purposes, tens of thousands more business-strike dollars were made in 1981 at the Philadelphia, Denver, and San Francisco Mints than were reportedly issued in uncirculated sets. To be exact, only 2,908,145 uncirculated sets were made in 1981, yet the individual mintages of business-strike 1981 dollars include 3,000,000 struck at the Philadelphia Mint, 3,250,000 made in Denver, and 3,492,000 produced at San Francisco. However, a relatively scarce offering of 1981 Susan B. Anthony Souvenir Sets, packaged in light green envelopes, may help to explain where some of the surplus production of mint state 1981 dollars went.
When the United States Mint reissued Susan B. Anthony dollars in 1999, it did not package the coins in either the regular uncirculated or proof sets from that year. However, the U.S. Mint did sell a special four-piece mint set with two packages, one containing a 1999-P SBA dollar and Philadelphia Mint token and the other with a complementary 1999-D dollar and Denver Mint token. A 1999-P proof dollar was also sold as a separate offering in a handsome navy blue plastic clamshell case.
The 1979 and 1980 SBA souvenir sets trade for between $5 and $10 each, while the 1981 dollar set often sells for anywhere from $25 to $50 on the relatively rare occasions one is offered for sale. The 1999-P and 1999-D dollar mint set retails in the $15 range. Lastly, the 1999-P dollar has a CPG® price of $27 in PR67 and $68 in PR70.
For those assembling collections of Susan B. Anthony dollars, there are plenty of options for storing and displaying these assemblages of the first "small-size" modern U.S. dollar. Dansco, Whitman, and other album manufacturers have a plethora of fancy albums available for Susan B. Anthony dollars, while Whitman also sells a less-expensive folder alternative that houses circulation-strike Eisenhower and SBA dollars in a single tri-fold display. Capital Plastics has several handsome three-panel sandwich-style Lucite display cases offering museum-quality protection for Susan B. Anthony dollar collections. However, most of the existing Capital Plastics holders accommodate only the 1979-'81 run of the dollar coin, with portals for circulation strikes, proofs, and the varieties; a couple Capital Plastics products also accommodate the 1999 strikes.
Epilogue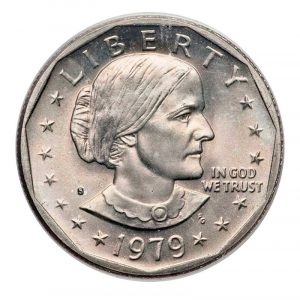 It seems a few collectors of a certain generation just as soon forget the Susan B. Anthony dollar ever existed. Perhaps they remember all too well the failed experiment that was the Susan B. Anthony dollar. Or, perhaps, they associate the failure of the SBA dollar with many of the tragedies, controversies, flops, gimmicks, and gaffes from the era of the coin's original production from 1979 through 1981. The 444-day-long Iran hostage crisis. The assassinations of legendary ex-Beatles musician John Lennon and amiable Egyptian president Anwar Sadat. The near assassination of President Ronald Reagan and Pope John Paul II. Runaway inflation. Relentless unemployment. Spiraling interest rates. The failure of the United States to adopt the Equal Rights Amendment or the metric system. Diehard fans of hard rock music would probably add the disco invasion to this list. Modern-day fashionistas bell bottoms. Automobile safety advocates? The Ford Pinto. And, finally, cult TV curiosity BJ and the Bear probably belongs here, too—the man-and-his-monkey schtick just never really seemed to take off.
Yes, the Susan B. Anthony dollar is definitely a product of its time. And it's easy in hindsight to suggest that the coin probably should have been struck in a golden color or made in a more distinctive shape other than round. And to ensure the dollar coin's success? Eliminate the dollar bill, as Canada later successfully did in the late 1980s after that nation's golden-colored dollar coin, famously called "the Loonie," was released in 1987. Other nations made similar moves in the 1980s and '90s, scrapping low-denomination paper currency for coins of an equivalent denomination, with relatively few problems.
But things are a little different with Americans, whose love affair with the dollar bill continues 40 years on. Whether or not the United States ever has a successful run with a small-dollar coin is something that can't be definitively answered now. The golden-colored, small-size descendants of the SBA dollar, which include the Sacagawea, Presidential, and Native American dollar coins have proven no more successful, and the last of these was issued for circulation in 2011. Meanwhile, the new Innovation dollar coin program honoring various inventors or inventions and representing each of the 50 states, the District of Columbia, and five outlying United States territories will run from 2018 through 2032 but is presently not slated to hit circulation.
The Susan B. Anthony dollar remains as an enigmatic chapter of our numismatic history. It's also one that offers numismatists, and particularly those who appreciate modern coins, a wonderfully refreshing avenue for study and collecting. Will Susan B. Anthony dollars ever be as popular a collectible as Morgan, Peace, or even Eisenhower silver dollars? Will they ever move numismatists to their feet like Draped Bust, Seated Liberty, or Trade dollars? Probably not. Nor do they have to. The Susie B. dollar is a curiosity in its own right, and it's certainly already earned its own unique place in numismatic history.
Visit these great CDN Sponsors
Leave a comment
Please sign in or register to leave a comment.
Your identity will be restricted to first name/last initial, or a user ID you create.
Comment