Platinum:

$1,041.00
$1.00
Palladium:

$1,830.00
$7.00
Bitcoin:

$17,116.12
$28.94
Ethereum:

$1,282.76
$5.16
1982 Coinage Keeps Collectors On Their Toes
1982 was a busy year… Meanwhile, the United States Mint was transitioning into a new period that brought the first commemorative coins in nearly three decades, a revamped metal composition for the one-cent coin, and several scarce and valuable errors.
Editor's Note: This article is featured in the Fall 2018 CPG Coin & Currency Market Review

1982 was a busy year… A crushing recession walloped Americans, EPCOT Center opened at Disney World in Florida, Michael Jackson's Thriller album was released to rave reviews, E.T. The Extra Terrestrial moved audiences to tears over the story about a young boy and his alien friend, and TV series Cheers welcomed millions of Americans to the quaint Boston bar where "everyone knows your name." Meanwhile, the United States Mint was transitioning into a new period that brought the first commemorative coins in nearly three decades, a revamped metal composition for the one-cent coin, and several scarce and valuable errors.
It was a period of stark economic realities for many Americans. Ronald Reagan took the reins from single-term President Jimmy Carter a year earlier in 1981 amid socio-political tumult on the domestic front as well as overseas. Growing tensions in the Middle East dominated news headlines while Cold War struggles between the United States and the Soviet Union continued. Back on the home front, the economy had never really recovered from the "stagflation" of the mid 1970s. The sluggish economy, saddled with double-digit inflation for much of the period spanning from 1973 through 1981 and relatively high unemployment rates hovering between 6% and 8% for that same timeframe, had in 1982 edged the nation into negative economic growth (-1.8% gross domestic product, the worst showing since 1946) and a 10% unemployment rate – the highest since the tail end of the Great Depression in 1940.
Early Reagan-era Federal budget cuts amid the recession meant layoffs for thousands of government workers, including many who worked at the United States Mint. This led to a temporary end for the production of uncirculated mint sets, which had been issued virtually every year since 1947. However, government layoffs didn't hinder the launch of the first official United States commemorative coin since 1954; the 1982 George Washington half dollar, the first 90% silver coin struck in the U.S. since 1964, was widely popular with hobbyists and ushered in a new era of commemorative coinage that continues today.
In addition to the 1982 George Washington commemorative half dollar, there were several other notable coins that caught the attention of numismatists from coast to coast. The Lincoln cent became the face of sweeping change at the U.S Mint as the production of bronze "pennies" came to an end. Due to rising copper prices, the United States government scrapped the traditional copper-based composition for the one-cent coin, made from 95% copper and 5% zinc, in favor of a less-expensive copper-plated zinc format. The first copper-plated zinc cents, bearing a 97.5% zinc and 2.5% copper composition, were struck at the West Point Mint on January 7, 1982 without mintmarks.
By the end of 1982, the new zinc-based composition had been phased in for all circulating cents, but not before both the Philadelphia and Denver Mint switched up Lincoln cent dies, resulting with the production of large- and small-date varieties from both mints across the outgoing and incoming metal formats. There were seven regular-issue business-strike varieties of Lincoln cents in 1982, including three bronze cents (1982 large date, 1982 small date, and 1982-D large date) four copper-plated zinc cents (1982 large date, 1982 small date, 1982-D large date, and 1982 small date), and the 1982-S proof cent, all examples of which were made in the traditional bronze format. Of course, transitional errors are wont to occur during periods of compositional change at the mint, and 1982 Lincoln cents are no exception. In November 2016, Minnesota coin collector Paul Malone discovered a 1982-D small date cent struck on a bronze planchet. The rare error coin was certified by Numismatic Guaranty Corporation (NGC) in February 2017 with a grade of AU58 BN and sold for $18,800 at the Stack's Bowers Rarities Night sale of August 3, 2017 at the American Numismatic Association's World's Fair of Money in Denver.
It may have taken 34 years to discover the first (and, so far, only) 1982-D small date bronze cent, but it took just weeks for collectors to identify another important 1982 error variety. In 1982, the placement of Philadelphia "P" mintmarks on the obverse of dimes was a relatively new concept, beginning only two years earlier in 1980 when the custom of placing a "P" on the obverses of all Philadelphia coins greater in denomination than one cent started. Yet, the first no-P mintmark error surfaced before the end of 1982, when several thousand 1982 Philadelphia dimes were mistakenly produced sans the obverse "P" mintmark. Most of the coins originally turned up in December 1982 around Sandusky, Ohio, with many of these error varieties surfacing in change given out at the city's famous Cedar Point amusement park. 1982 no-mintmark dimes exist with strong strikes and weak strikes, and premiums are paid for examples containing full torch bands on the reverse. Uncirculated specimens trade for around $225 in MS65, though even circulated examples command prices ranging from $50 to $100 in grades ranging from XF through AU.
Another significant Philadelphia-minted error variety involving missing letters occurred in 1982 with the production of Kennedy halves without the "FG" initials of Frank Gasparro, who designed the presidential seal motif on the reverse of the half dollar. These scarce error half dollars, absent the tiny "FG" initials between the left leg and tail feathers of the heraldic eagle, are traded for approximately $80 in MS65.
Even with this relatively sizable list of errors and varieties from 1982, there is yet more for coin enthusiasts to seek from this particularly eventful year in United States coinage. Due to the absence of United States mint sets and the recession of the early 1980s, uncirculated 1982 U.S. coinage is relatively scarce. Dire economic circumstances made it financially infeasible for many individuals to save rolls and bag quantities of new circulating 1982 coinage (a situation reflected especially among the "workhorse" denominations – dimes and quarters). And, with no official mint sets made during that period, the only official mint products containing uncirculated business-strike coinage from 1982 are the souvenir sets containing one example of the Lincoln cent, Jefferson nickel, Roosevelt dime, Washington quarter, and Kennedy half dollar from either the Philadelphia or Denver mint. These souvenir sets were sold at their respective mint's gift shops during the year of production for $4 each. Today, 1982 Philadelphia Mint and Denver Mint souvenir sets trade for between $35 and $50 each. This isn't a relatively steep price tag given that only about 10,000 souvenir sets were sold at the Philadelphia Mint in 1982 and just 20,000 were distributed from the Denver Mint. 1982 souvenir sets are in high demand as gap fillers in mint set date-run collections and as sources of uncirculated coinage from the period.
Collectors and dealers need to be aware of the privately assembled uncirculated sets from 1982. Several commercial ventures sold these "put-together" uncirculated sets, including Krause Publications and Paul & Judy's Coins in Illinois. While these sets sell briskly in the secondary market and trade for the cumulative value of the coins contained within, genuine 1982 Philadelphia and Denver Mint souvenir sets are the most sought-after uncirculated coin products from that era. Official souvenir sets are packaged in six-pocket pliable cellophane packages containing one example of each denomination and a bronze medal depicting the respective mint facility that assembled the set. The Philadelphia souvenir sets are packaged in light blue outer envelopes while the similar Denver Mint offering comes in a dark blue outer envelope.
What else does the colorful coinage of 1982 offer? Consider the following footnote about the 1982 proof set. The Susan B. Anthony dollar, which launched in 1979 but quickly flopped after the public refused to use the coin as a substitute for the concurrently issued one-dollar bill, was struck for only three continuous years through 1981. While the proof sets made from 1979 through 1981 have six portals for the denominations running from the one-cent coin through small-size dollar, officials with the United States Mint did not place orders in time for five-portal proof set inserts designed for holding just the five 1982-S proof coins, cent through half dollar. So, to fill the sixth dollar-sized portal that would have theoretically contained 1982-S Susan B. Anthony proof dollar (had they been struck), the US Mint produced a special one-year-only proof medal bearing the Treasury Department seal. The inclusion of the unique Treasury Department proof medal makes 1982 proof sets truly one of a kind, as no other proof sets from the San Francisco proof coin era, which began in 1968, contain such an insert. While 1982 proof sets therefore boast significant collector merit for their inclusion of the unusual proof medal, they trade for the relatively affordable price of $6 according to the CPG® Coin & Currency Market Review.
All things considered, 1982 was an exciting year for coin enthusiasts, who have much to enjoy from the coinage and coin products of that time. Perhaps this comes as a pleasant surprise to some collectors who believe the US Mint "stopped producing anything good" after 1964, when production of 90% silver circulating coins wound down. As the colorful variety of 1982 errors, varieties, and other novelties prove, there is much joy to be found with modern coinage – you just have to know what to look for.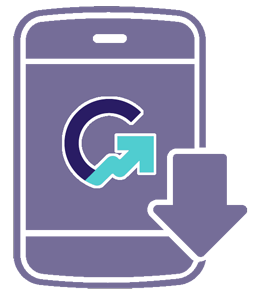 Download the Greysheet app for access to pricing, news, events and your subscriptions.
Subscribe Now.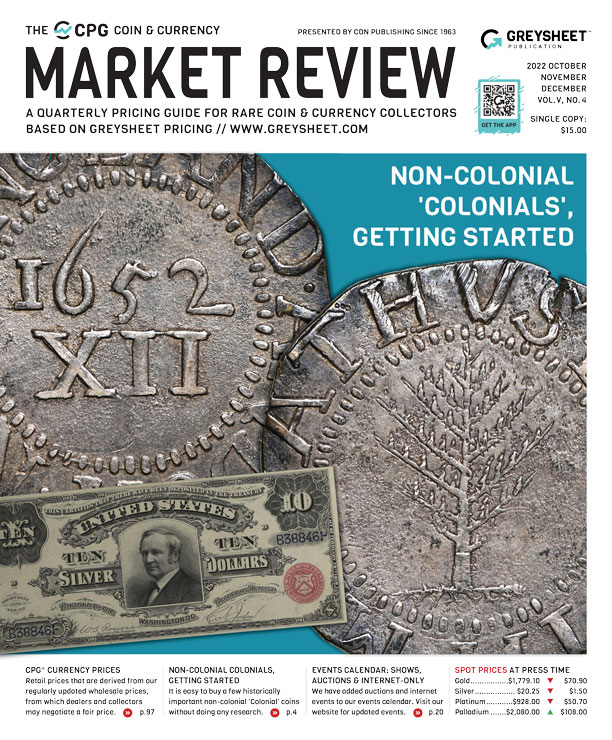 Subscribe to CPG© Coin & Currency Market Review for the industry's most respected pricing and to read more articles just like this.
Visit these great CDN Sponsors
---