Palladium:

$1,372.00
$38.00
Bitcoin:

$27,088.47
$587.53
Ethereum:

$1,874.82
$20.15
Canadian Dollar:

$0.74
$0.01
Dave Bowers and the Garrett Collection
This Lighter Shade of Grey features an excellent story by numismatic legend Q. David Bowers, who serves as a founder of Stack's Bowers Galleries and has handled more co
This Lighter Shade of Grey features an excellent story by numismatic legend Q. David Bowers, who serves as a founder of Stack's Bowers Galleries and has handled more coin transactions over the past six decades than can be counted. In this story, Bowers recounts memories of what led up to the sale of the Garrett Collection, which parted out thousands of rare coins in a four-part auction series spanning from 1979 through 1981. Total sales exceeded $25 million, or three times the pre-sale estimates. Bowers explains coordinating that landmark sale was no small task and involved forming an alliance of business rivals and great minds to help make numismatic history…
Among my favorite memories are visits to the Johns Hopkins University and my firm selling on its behalf the fabled Garrett Collection. In the 1860s T. Harrison Garrett, scion of the family that controlled the Baltimore & Ohio Railroad, became interested in numismatics while a student at Princeton. His passion grew, and by the 1880s he had formed one of the finest collections of American coins in private hands plus world coins, ancient coins, and medals. A connoisseur and historian par excellence he also collected books, autographs, and art. After his passing in 1888 in a boating accident on Chesapeake Bay the collection in time went to sons Robert and John. Robert acted as "curator," adding coins now and again, until he transferred his interest to his brother, Ambassador John Work Garrett. By the time of the ambassador's passing it was far finer than any collection in private or public hands. The collection and the Garrett's ancestral estate, Evergreen House, were willed to the John Hopkins University in 1942. For many years it was stored at Evergreen House, which to this day operates as a museum open to the public.
By the mid-1970s the curator was Susan Muller, an attractive young lady who combined a nice personality with a curatorial instinct. In 1976 the university desired to raise some funds by selling certain of the coins, where by that time they had appreciated in value into the millions of dollars. Norman Stack came from New York City, reviewed the collection, and selected a relatively small number of coins—gold proof sets of the 19th century among them—of a value that amounted to a couple million dollars, to raise the amount of money the university had in mind. It turned out that 1976 was a slump year in the coin market, in fact maybe even the low point. Although the auction attracted attention, the prices were much lower than they would have been a few years earlier. No matter, many fine coins changed hands and everyone was content. In the meantime, safety and security concerns necessitated the removal of the coin collection from Evergreen House to storage in a subterranean vault downtown. Accordingly, they were not available for enjoyment or study. Fast forward to 1979. Curator Susan Muller had become Mrs. David Tripp, with Tripp, a numismatic expert, having met her in 1976 during the sale of coins through Stack's. David combined scholarship and research with hands-on numismatic knowledge in many series from ancients onward.
In early 1979, the university determined to contact the four most important auction houses in its estimation. These were the numismatic firms of Bowers and Ruddy Galleries, separately Stack's, and separately the art auction houses of Christie's and Sotheby's. Both of the two art houses had numismatic departments, although coins were not a major part of their business. Appointments were made whereby representatives from the four companies could visit Baltimore and examine the Garrett Collection and inventory. Then it was time to make a proposal. Dr. Richard Zdanis, provost of the university, called a meeting for a certain day, inviting representatives from the four auction houses to come to Shriver Hall and make presentations to the board of trustees. At 9:00 in the morning we were to arrive, and we did.
Representing Bowers and Ruddy Galleries were myself and company president Bill Hawfield. Representing Christie's was John J. Ford, Jr., who had been hired as a consultant, as Christie's had no coin department in America (their facility was in London). For Stack's, Norman Stack came along with John Burnham, a numismatist who worked with Stack's and also was curator of the Yale University Collection, thought to have been a worthwhile connection concerning the academic context of the entire thing. The Sotheby's contingent consisted of Donald Crowther, David Tripp, Peregrine Pollen (vice chairman of Sotheby's worldwide), and Philip Wilson (publisher).
In the lobby of Shriver Hall we greeted each other, shook hands, and exchanged pleasantries, at which point Dr. Zdanis came by and said something to the effect of, "what is going on? Why are you talking to each other?" He was not aware of the warm camaraderie that existed, even among competitors. He came up with a plan of assigning us each to a separate office in Shriver Hall where we could wait on our own, until called. Obviously, it was not desirable for us to mix and mingle in the lobby. We each gave our presentations, then retired to our assigned quarters.
In time, Dr. Zdanis came and said to Bill Hawfield and me, "you have been selected. Please come to Garland Hall and meet with the board." We went back, met the group, and Dr. Steven Muller, president of the university, was the spokesman. A nice discussion ensued. He said something to the effect, "I suppose you wonder why you were picked?" I replied in the affirmative. He said, "because I think Bowers and Ruddy Galleries can give some P.T. Barnum to the sale, and we need the money."
The collection had been appraised at about $8 million, and we suggested that it was worth over $10 million. He and the board were skeptical, as claims were easy to make and hard to prove. A challenge was presented: we will pay you the commission you propose, but if the realization exceeds a certain amount, we'll give you an extra percentage, and beyond that, in steps, even additional. When all was said and done, the collection, appraised at $8 million, brought about $25 million! The compensation was generous, but was well deserved. The presentation of the Garrett Collection was quite complex.
On March 11, 1978, Christine Valentine, an elementary school teacher who I had met the year before, and I were married in the Presbyterian Church in Beverly Hills. By one arrangement or another, my assigned time availability to go to Baltimore and examine the Garrett Collection in detail, preparatory to cataloguing and offering it for sale, was the week after our wedding took place. Accordingly, Christie very gamely went across country and spent a week with me in the bank vault in Baltimore, while I examined coins, made notes, and also at the Ferdinand Hamburger University Archives on the university campus and at the nearby Evergreen House, where I reviewed many thousands of invoices, letters, and other items pertaining to T. Harrison, Robert, and John Work Garrett, eventually making over 4,000 Xerox copies! These went into the creation of a book, The History of United States Coinage as Illustrated by the Garrett Collection. This volume, 592 pages, took quite a bit of time to prepare, but was finally done in the late summer. In the meantime, the first section of coins was catalogued by me and our talented staff. Dr. Zdanis suggested that The Johns Hopkins University Press publish the book, and I met with them, giving them details.
Their reply was that coins were such an obscure pursuit, that it would probably take ten years to sell as many as 1,000 copies. They might print it if forced to, but it did not sound very interesting. No problem. We decided to print it ourselves. The first order was for 4,000 copies. Announcements were made in the trade press, excitement arose, and the entire run was sold out within a few weeks! We had to have a second printing. In time about 15,000 were sold! In the meantime, in Baltimore, Christie and I spent our evenings having dinners with Dave and Susan Tripp at various restaurants—we tried out the favorites—and had a very nice time. We all liked in particular the prime rib, which, it later turned out, was also a favorite of the Eliasberg family.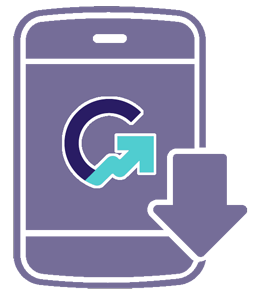 Download the Greysheet app for access to pricing, news, events and your subscriptions.
Subscribe Now.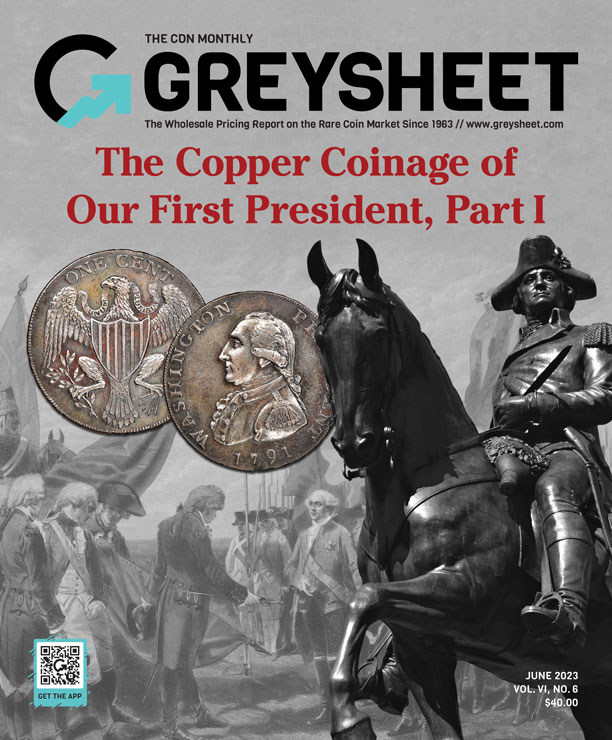 Subscribe to Monthly Greysheet for the industry's most respected pricing and to read more articles just like this.
Visit these great CDN Sponsors

Jeff Garrett is the former President of ANA and PNG and is an award winning author, including 100 Greatest US Coins and Encyclopedia of US Gold. He can be reached by email at
jeff@rarecoingallery.com
---