Platinum:

$1,011.00
$7.00
Palladium:

$1,402.00
$1.50
Bitcoin:

$27,062.90
$101.50
Ethereum:

$1,886.51
$8.77
Assembling a Nice 1950 Proof Set at a Reasonable Cost
Proof sets dating from 1950 to 1955 are overlooked and not talked about very often.
Proof sets dating from 1950 to 1955 are overlooked and not talked about very often. Proof sets dating from 1936 to 1942 are considered more exciting, partly because these feature Mercury dimes and Walking Liberty half dollars. Moreover, Proof sets dating from 1936 and 1937 include Buffalo nickels. There were no Proof U.S. coins issued from 1943 to 1949. The Proof coins of 1950 are especially noteworthy as these were the first Proof coins of a new era and are dramatically scarcer than Proof coins dating from 1952 to 1982.
Each 1950 Proof set must contain a Lincoln cent, a Jefferson nickel, a Roosevelt dime, a Washington quarter and a Franklin half dollar. Neither U.S. one dollar coins nor U.S. gold coins of any denomination were minted during the 1940s, 1950s and 1960s.
The total of U.S. Proof sets minted during the six year period from 1950 to 1955 was less than one million. From 1956 to 1961, annual Proof set mintages ranged from less than 670,000 to more than three million; the total for those six years was more than 8.66 million.
From 1962 to 1982, yearly mintages of regular Proof sets ranged from 2.6 million to 4.15 million or so, except that no Proof sets were issued from 1965 to 1967. From 1983 onward, there were varieties of Proof sets each year. Options to acquire new Proof coins from the U.S. Mint became complicated.
The mintage of 1950 Proof sets was just 51,386, a small number. Coin collecting was then (and is now) a very popular hobby and the number of adherents grew substantially during the early 1950s. By 1953, the yearly Proof set mintage had grown to more than 128,000 and then to more than 378,000 in 1955. For the year 1957, the reported mintage of U.S. Proof sets surpassed one million for the first time and just about reached 1.25 million!
In 1961, the milestone of three million new Proof sets sold was exceeded. The mintage in 1961 was more than fifty-eight times the mintage in 1950, just eleven years earlier. Although the number of collectors of modern coins certainly increased from 1950 to 1961, it is hard to believe that the total number of such collectors in 1961 was fifty-eight times higher than the number was in 1950! The Proof set mintage in 1950 was very low, even in the context of collector demand in the 1950s, and the relative scarcity of 1950 Proof coins is not widely appreciated in 2022.
Also, not all Proof coins from 1950 survive in 2022. Collectors were not the only buyers of Proof sets from the U.S. Mint each year. Many others bought them to be gifted or for whimsical reasons. As strange as such behavior might seem to knowledgeable collectors, many Proof coins have been spent or sold as scrap by people who inherited them, found them or received them as gifts. Undoubtedly, some children were unaware that the coins in Proof sets were worth more than face value or spent them to spite their parents. Over the course of my life, I have met many adult non-collectors who think that "old" U.S. coins, particularly 20th century coins, are only worth face value or 'melt value,' whichever is higher.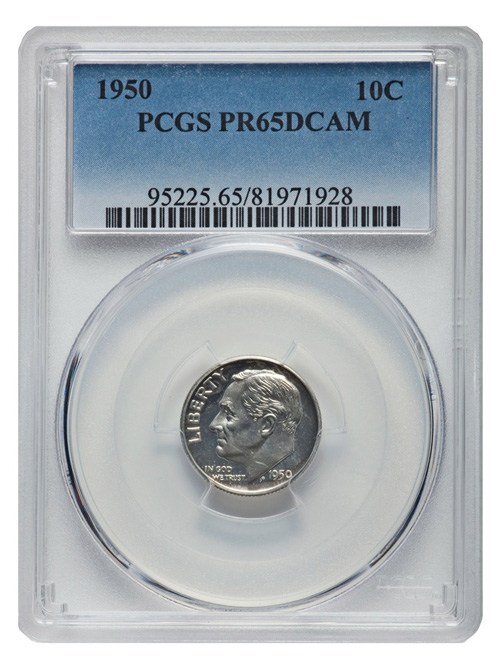 During the hyper-rallies in markets for silver bullion during 1979 and early 1980, and again in 2011, many Proof silver coins were melted, especially those that were of relatively low quality. Also, some 1950 Proof coins that survive are problematic, including coins that were damaged by air pollution, high humidity or excessive heat. Others have been deliberately modified by dealers.
In the context of current grading criteria and standards, interested collectors tend to demand Proofs from the 1950s that are PCGS or NGC graded 64 or higher. There are some collectors, however, who prefer Proof sets in their original mint packaging, referenced in the hobby as "OGP." It is difficult to discuss OGP Proof sets from the 1950s in general terms because the quality of the coins varies widely. Even the quality of the coins in any one OGP Proof set from the early 1950s may realistically vary from below Proof-62 to above Proof-64.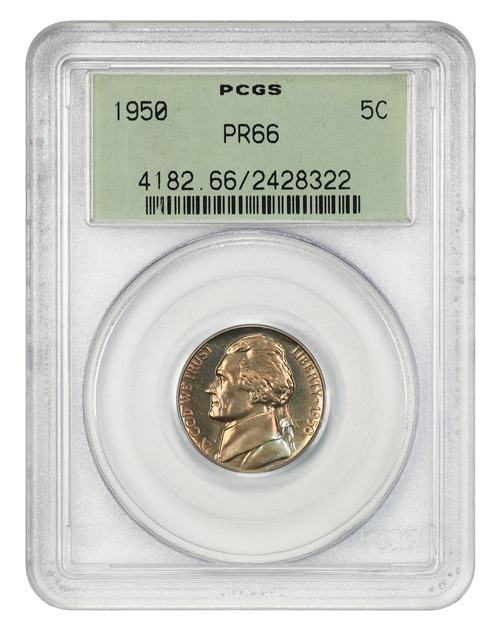 As each OGP or otherwise uncertified Proof set would need to be scrutinized to be effectively discussed, it is more productive to discuss the values of Proof 1950 coins that have been certified by PCGS or NGC. It is true in regard to many Proof coins from 1950, however, that the costs of certification amount to a substantial percentage of the value of the respective coin. Even so, a collector who is not already very knowledgeable about Proof coins from the 1950s should probably acquire those that are already certified by PCGS or NGC.
I am not asserting that the PCGS or NGC assigned grades will always be accurate or even defensible. I am not expressing my opinions about the grades of coins here, or about grading criteria. I am emphasizing that acquiring PCGS or NGC certified coins usually involves less risk than buying uncertified Proof coins from 1950, provided that PCGS or NGC certified coins are purchased for sensible prices in the framework of prevailing market levels.
It would not make sense to pay a gigantic premium for the highest graded coin by one service of a particular Proof issue, and it would not make sense to pay a 100% premium just because a coin has attractive orange or red toning. On many Proof coins, some or all the design elements, have a white coating, which frequently tones an off-white or tan color. The term Cameo refers to the contrast between such a white coating and mirrored fields.
Unfortunately, PCGS and NGC designate coins with bold to stark cameo contrasts as Cameo, Ultra Cameo (NGC) or Deep Cameo (PCGS); such designations have contributed to much higher prices for coins with stark cameo contrasts. Many Proof coins have been dipped in acidic solutions for the purpose of enhancing cameo contrasts in order to receive designations from PCGS or NGC. Such dipping destroys toning and strips metal from the coin.
Additionally, coin doctors tend to mimic or enhance cameo contrasts with additives, sometimes with a substance that appears like white paint. There are cases where coins that have been so doctored have received numerical grades and Cameo designations from PCGS or NGC. The paying of large premiums for coins with Cameo designations encourages dipping and doctoring.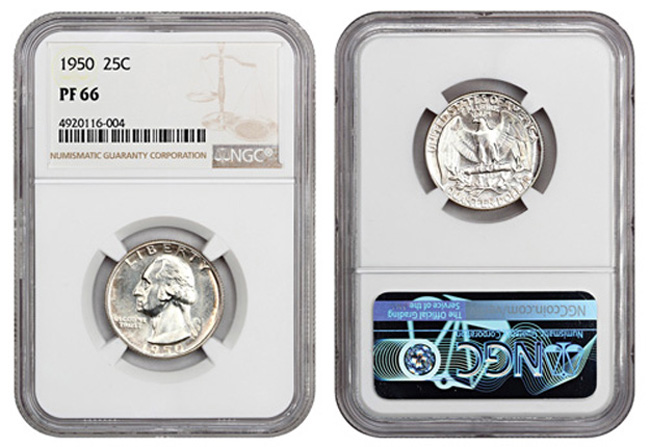 CPG® retail price estimates for 1950 Franklin halves shed light upon premiums paid for Cameo designations. The CPG® retail price estimate for a Proof-65 1950 Franklin half is $650, but a Proof-65 1950 half with a Cameo designation is estimated to retail for $1,560, well over twice as much. Many Proof-65 1950 Franklins are attractive coins. In my opinion, it usually does not make sense to pay $900 more or even $200 more for a Cameo designation.

The CPG® value for a Proof-65 1950 Franklin with a Deep Cameo designation is or was $24,000! A whole fourteen coin set of PCGS or NGC certified Proof-65 Franklins, dating from 1950 to 1963 is estimated to be worth $1,860. Would it really be logical to pay $24,000 or even $5,000 for one certified Proof-65 1950 Franklin half because it has a Deep Cameo designation?
Deep Cameo Proof Franklin half dollars tend to be very similar to each other. I prefer coins that are more distinctive and have more personality, though I realize that tastes and preferences among coin enthusiasts vary. Even those who are very fond of the Deep Cameo designations may wish, however, to think about whether these should be worth the premiums they command?
Many Proofs without any kind of cameo designation have some cameo contrast, sometimes in regard to some design elements or just one side. In other words, an attractive Proof coin may be partially Cameo, without a Cameo designation, and not command a Cameo premium. It is important to view many coins and to not take certifications too seriously.
I suggest seeking a Proof 1950 Franklin without a Cameo designation. The most pertinent CPG® retail price estimates are $420 for a Proof-64 half, $650 for a Proof-65 1950 and $975 for a Proof-66 Franklin.
On Nov. 23, 2021, Heritage sold a CAC approved Proof-65 1950 half for $552. This was probably an attractive coin and a good value. A past article of mine, which can be found on Greysheet.com, provides an explanation of CAC (https://tinyurl.com/ReducingRisk).
According to CPG® retail estimates, a Proof-65 1950 quarter is valued at $63, just around $15 more than a Proof-63, and a certified Proof-66 1950 quarter is estimated to cost just $5 more than a Proof-65 1950 quarter. In reality, the physical characteristics of individual coins affect their respective prices. The circumstances of individual transactions are factors, too.
In the context of collectors who are willing and able to assemble 1950 Proof sets, a PCGS or NGC certified Proof-66 1950 quarter may be a good value. Of course, I am not recommending all such coins, yet an amount in the range of $60 to $100 is not much to risk in the realm of collecting certified Proof coins. If a collector buys a certified Proof-66 1950 quarter that turns out to be unattractive or problematic, he or she could always just buy another one.
On December 26, 2021, David Lawrence Rare Coins sold an NGC certified Proof-66 1950 quarter for $95. On January 9, 2022, GreatCollections sold an NGC certified Proof-65 1950 quarter for $49.80.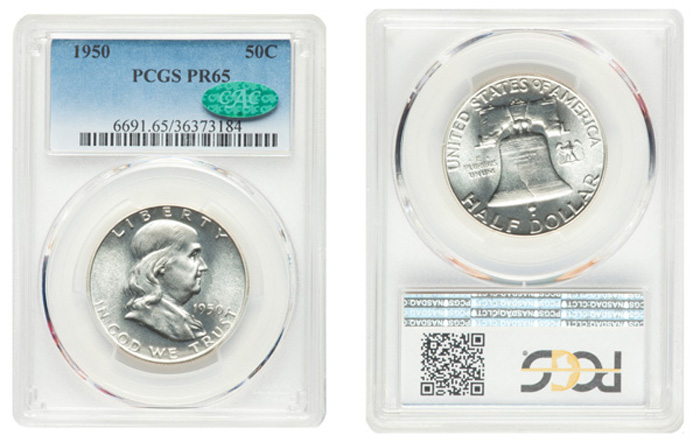 Proof 1950 dimes, nickels and cents are around. On May 2, 2021, David Lawrence Rare Coins sold a PCGS certified Proof-66 1950 dime for $75. On January 16, 2022, this same firm sold a PCGS certified Proof-66 1950 nickel for $70. On February 13, 2022, David Lawrence sold a different PCGS certified Proof-66 1950 nickel for this same price, $70.
On January 2, 2022, GreatCollections sold a PCGS certified Proof-66 1950 Lincoln cent with a full red (RD) designation for $89.74. Back on November 28, this same firm sold a different Proof 1950 cent with the same certification for $90.11. There is not a need, though, to spend as much as $89 for a suitable Proof 1950 cent.
On November 14, 2021, GreatCollections sold an NGC certified Proof-65 1950 cent with a Red & Brown (RB) color designation for $35. A collector who searches for Proof 1950 pennies at coin shows may eventually find plenty for apparently low prices, perhaps even less than $22 each, though some of the coins available may have problems that are not readily noticeable
I will not recommend specific coins that I have not actually seen, and no specific coins are being recommended in this discussion. Collectors must find their own advisors and make their own decisions. I recommend that each collector examine a large number of coins of the types that are of interest to him or her, and ask questions.
It is not difficult to assemble a 1950 Proof set of attractive, PCGS or NGC certified coins for modest prices. It may be a good idea to attend small to medium sized coin shows to locate these and to see coins of other types.
Copyright ©2022 Greg Reynolds
Insightful10@gmail.com
Images courtesy of Heritage Auctions, David Lawrence Rare Coins, and GreatCollections.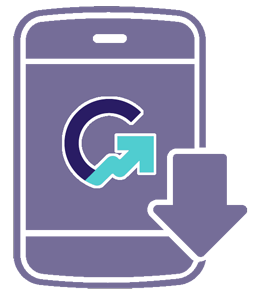 Download the Greysheet app for access to pricing, news, events and your subscriptions.
Visit these great CDN Sponsors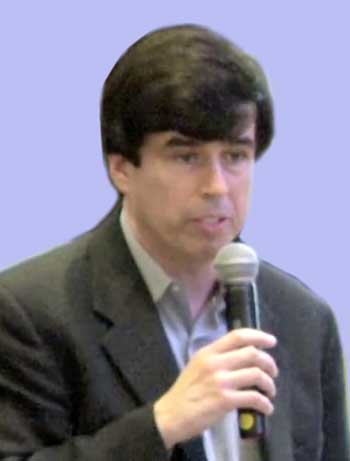 More than 750 of Greg Reynolds' articles about coins and related items have appeared in ten different publications. Reynolds has closely examined a tremendous number of rare, or conditionally rare, vintage U.S., British and Latin American coins. Furthermore, he has attended dozens of major coin auctions, including those of Eliasberg, Pittman, Newman, Gardner and Pogue Family. From the NLG, Reynolds has shared or won outright the annual award for 'Best All-Around Portfolio' a record seven times. Greg is available for private consultations and analyses, especially regarding rarities and auctions.
---