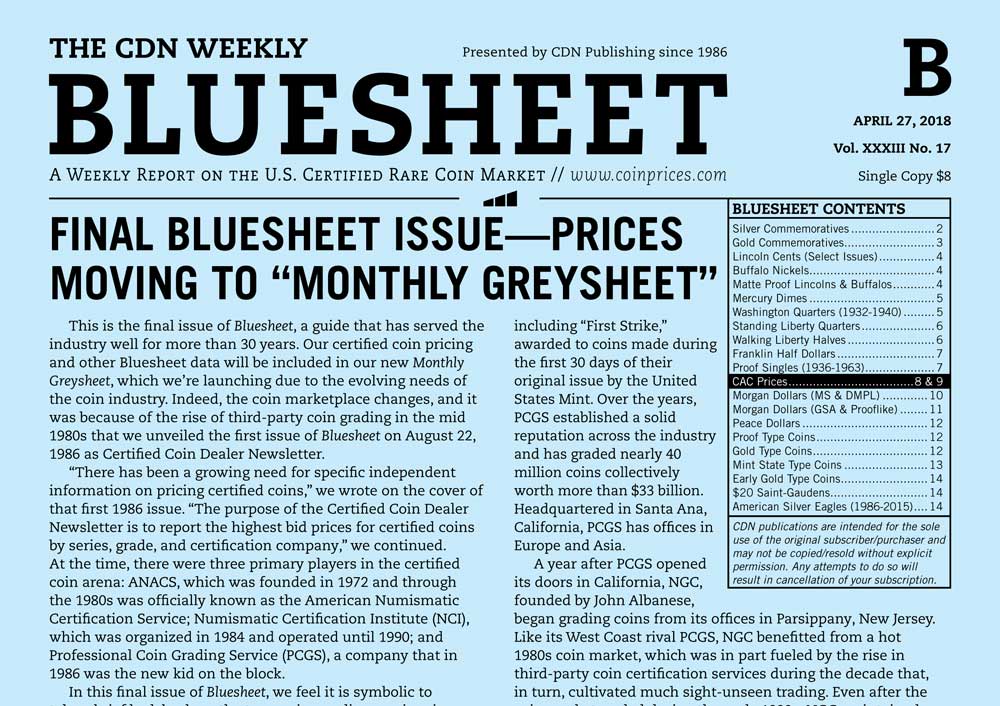 BLUESHEET: FINAL BLUESHEET ISSUE—PRICES MOVING TO "MONTHLY GREYSHEET"
CDN Publishing · Apr 27, 2018

This is the final issue of Bluesheet, a guide that has served the industry well for more than 30 years. Our certified coin pricing and other Bluesheet data will be incl
Subscribe to Monthly Greysheet for the industry's most respected pricing and to read more articles just like this.
This is the final issue of Bluesheet, a guide that has served the industry well for more than 30 years. Our certified coin pricing and other Bluesheet data will be included in our new Monthly Greysheet, which we're launching due to the evolving needs of the coin industry. Indeed, the coin marketplace changes, and it was because of the rise of third-party coin grading in the mid 1980s that we unveiled the first issue of Bluesheet on August 22, 1986 as Certified Coin Dealer Newsletter.
There has been a growing need for specific independent information on pricing certified coins," we wrote on the cover of that first 1986 issue. "The purpose of the Certified Coin Dealer Newsletter is to report the highest bid prices for certified coins by series, grade, and certification company," we continued.
At the time, there were three primary players in the certified coin arena: ANACS, which was founded in 1972 and through the 1980s was officially known as the American Numismatic Certification Service; Numismatic Certification Institute (NCI), which was organized in 1984 and operated until 1990; and Professional Coin Grading Service (PCGS), a company that in 1986 was the new kid on the block.
In this final issue of Bluesheet, we feel it is symbolic to take a brief look back on the two major grading services in existence today that represent the nucleus of pricing in the Bluesheet. These two grading services being, of course, PCGS and Numismatic Guaranty Corporation (NGC).
PCGS was founded by seven dealers, including David Hall (who became the company's president) Silvano DiGenova, Bruce Amspacher, Gordon Wrubel, Van Simmons, John Danreuther, and Steve Cyrkin. The firm's mission was to establish grading standards and encapsulate coins with a guarantee as to grade accuracy. After months of planning, the company began operations on February 3, 1986 certifying a range of United States coins. The firm has since expanded its certification services to world coinage and other pieces. In 2001, PCGS began its free and now widely popular set registry program. In more recent years, PCGS has created a number of special label designations, including "First Strike," awarded to coins made during the first 30 days of their original issue by the United States Mint. Over the years, PCGS established a solid reputation across the industry and has graded nearly 40 million coins collectively worth more than $33 billion. Headquartered in Santa Ana, California, PCGS has offices in Europe and Asia.
A year after PCGS opened its doors in California, NGC, founded by John Albanese, began grading coins from its offices in Parsippany, New Jersey. Like its West Coast rival PCGS, NGC benefitted from a hot 1980s coin market, which was in part fueled by the rise in third-party coin certification services during the decade that, in turn, cultivated much sight-unseen trading. Even after the coin market cooled during the early 1990s, NGC maintained its market dominance. In 2002, NGC moved down the eastern seaboard to its current headquarters in Sarasota, Florida, and four years later relocated to a 60,000-square-foot building that also houses four sister companies, including Numismatic Conservation Services (NCS), Paper Money Guaranty (PMG), Certified Guaranty Company (CGC), and Classic Collectibles Services (CCS). NGC has graded more than 40 million coins and now has offices in China, Hong Kong, and Germany.
While Bluesheet is going away in its current format, the iconic Bluesheet name and the Bluesheet prices that thousands of dealers have trusted for decades aren't going anywhere. You'll find them in the new Monthly Greysheet, which debuts with its May 2018 issue. In that sense, the more things change, the more things really stay the same.
Leave a comment
Please sign in or register to leave a comment.
Your identity will be restricted to first name/last initial, or a user ID you create.
Register
Spot Prices
Gold:
1882.64 4.69
Silver:
$23.58 0.01
Platinum:
$880.29 1.56