Palladium:

$1,986.00
$10.00
Bitcoin:

$20,183.31
$1,046.30
Ethereum:

$1,381.94
$54.54
Building a Type Set of Early Date Large Cents (1793–1814)
This article appeared in print in the October-November-December 2019 issue of The CPG Coin & Currency Market Review. Click here for more information on this publica
This article appeared in print in the October-November-December 2019 issue of The CPG Coin & Currency Market Review. Click here for more information on this publication.
By Greg Reynolds, Contributor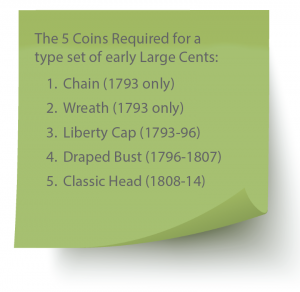 U.S. large cents were minted from 1793 to 1857. By tradition, those dating from 1793 to 1814 are categorized as Early Dates. Middle Dates were minted from 1816 to 1839. 'Late Dates' are large cents that were struck from some time during 1839 until 1857. A type set of Early Dates requires five coins: 1) Chain (1793 only); 2) Wreath (1793 only); 3) Liberty Cap (1793-96); 4) Draped Bust (1796-1807); and 5) Classic Head (1808-14).
It is true that 1793 Liberty Cap cents have beaded borders and 1794 to '96 Liberty Cap cents have dentils, not beads. Dentils are raised elements, sort of shaped like teeth, that point in from the edge or rim of each side of a coin. While beads are more ornamental, dentils are thought of as being more practical. Beads or dentils, however, are not prime focal points. They are minor elements. Most references classify all Liberty Cap Cents, dating from 1793 to 1796, as being of the same design type.
The fact that a 1793 Liberty Cap cent and a 1794 to '96 Liberty Cap Cent are both required for each Professional Coin Grading Service (PCGS) registry set that features or includes a type set of large cents has contributed to a tremendous increase in relative prices for 1793 Liberty Cap cents over the past seventeen years. In the registry of the Numismatic Guaranty Corporation (NGC), however, the general type set and the specific large cent type set each require only one Liberty Cap cent (1793-96).
Before the founding of PCGS, it was generally understood that there was just one design type of Liberty Cap cents, which date from 1793 to 1796. A 1794 'Head of 1794' cent is an easy choice for a type set. CPG® retail value estimates for 1794 'Head of 1794' cents are worth considering: AG3 $292, G4 $455, G6 $520, VG8 $650, F12 $1150, VF20 $2090, XF40 $4830, XF45 $6250, AU50 $10,600, AU58 $16,300, MS60 $18,200.
Regarding 'mint state' early copper, it is often safer to buy coins that are NGC or PCGS certified as 'brown' (BN) rather than those that are designated as 'red & brown' (RB) or full 'red' (RD). Indeed, collectors should consult an expert before spending more than $25,000 on an early large cent. The nuances are complicated, and coins with the same certification from the same service, even if struck from the same pair of dies, may be very different in terms of quality and value. The CPG® value of $24,200 for a NGC or PCGS certified MS-62BN 1794 'Head of 1794' is likely to be a sensible reference point for a purchase, provided that the coin acquired is not characterized by significant friction or much corrosion.
Before Liberty Cap cents were made, there were two distinct design types that were each struck only in 1793, Chain cents and Wreath cents. Chain cents are the first U.S. coins, as 1792 half dismes are patterns.
Collectors should probably complete the rest of a planned type set before seeking a Chain cent, as these are expensive, often fraught with noticeable imperfections, and relatively difficult to grade. During June 2017, Stack's-Bowers sold a PCGS graded Poor-1 Chain Cent for $1703.75. A PCGS or NGC graded AG3 piece, though, may very well retail for more than $5000.
The CPG® retail listing of $23,000 for a F12 grade Chain cent may be appealing to a cost conscious buyer with an ample budget. The design is fairly clear on a Fine grade Chain cent. VF20 to AU50 grade Chain cents cost far more than $23,000. The CPG® listing for an AU50 grade Chain is $181,500. Wreath cents are less expensive.
In December 2017, Heritage sold a PCGS graded Poor-1 Wreath cent for $660. In July 2019, Heritage auctioned a PCGS graded VG8 Wreath cent for $2880. In February, Heritage auctioned a PCGS graded XF40 Wreath cent for $11,400. For 'mint state' Wreath cents, auction records and amounts realized in private sales tend to vary widely, even for coins of the same major variety with the same certified grade.
For a type set, a Draped Bust cent (1796-1807) is easy to find in any grade from  Fair-2 to MS64. Many raw Draped Bust cents in G4 or G6 grade sell for less than $100 each at small to medium size coin shows.
In March, Heritage auctioned a PCGS graded VF-20 1801 cent for $546. Heritage sold a NGC graded VF25 1802 in April for $408 and a PCGS graded VF-35 1802 in May for $720.
For a very high quality type set, the Holmes-Cardinal, PCGS certified MS66BN 1805 is a coin that comes to mind. This 1805 cent has a sticker of approval from CAC. I found it to be more than very attractive. The green and steel-brown blend is really cool. This coin was auctioned by Stack's-Bowers in January 2013 for $152,750.
As for Classic Head (1808-14) large cents, those dated 1810, 1812, 1813 and 1814 tend to be relatively inexpensive. In the context of coins for type sets, market levels for well worn Classic Head cents are notably higher than those for Draped Bust cents. In G4 grade, the CPG® value for several dates of the Classic Head type is $135. In contrast, the CPG® value is $101 for G4 grade several dates of the Draped Bust type. In F12 grade, the CPG® value for 1810, 1812, 1813 and 1814 Classic Head cents is $520, twice the CPG® value of $260 for F12 grade 1805 Draped Bust cents.
In January, Heritage sold a PCGS graded VF20 1812 'Small Date' cent for $600. In March, Stack's-Bowers sold a NGC graded F12 1812 'Small Date' for $288 and a PCGS graded VF20 1813 cent for $660.
Ever since coin collecting in the U.S. became very popular in the 1850s, Early Date large cents have been leaders. They still have a tremendous following, including many specialists who collect by date, major variety or die pairing. In addition to being historically important in general, Early Dates are central to the culture of coin collecting in the U.S. 
Copyright 2019 Greg Reynolds. insightful10@gmail.com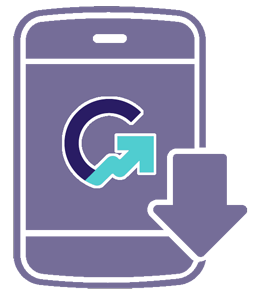 Download the Greysheet app for access to pricing, news, events and your subscriptions.
Subscribe Now.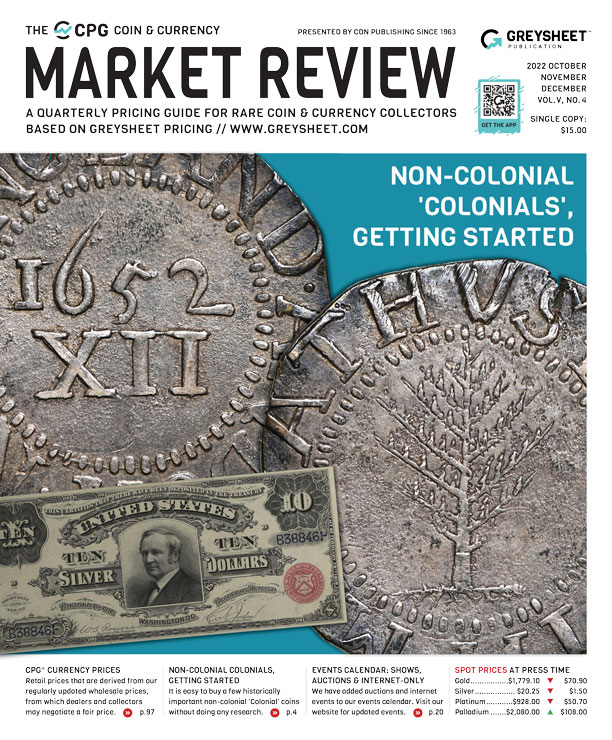 Subscribe to CPG© Coin & Currency Market Review for the industry's most respected pricing and to read more articles just like this.
Visit these great CDN Sponsors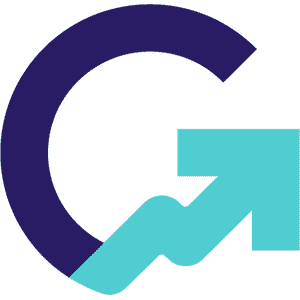 The trusted name in numismatic pricing since 1963, CDN Publishing is home to important industry reference and price guides, including the Greysheet, Greensheet, CPG Rare Coin Market Review, and the CAC Rare Coin Market Review, and the Banknote Book. Located in Virginia Beach, you can find out more at www.greysheet.com, or call 757-655-1056.
---