Palladium:

$1,425.50
$2.50
Bitcoin:

$28,324.65
$87.59
Ethereum:

$1,818.60
$4.47
Coin Collecting 203: Where to Buy Coins
Now that basic pricing and grading have been covered, where do collectors go to buy coins?
Many collectors may have started by collecting coins from circulation. Others may have inherited a coin collection or were given coins from a friend or relative. Regardless of how you began collecting coins, you will eventually need to purchase coins to complete your collection.
Coins can sell from a few cents to thousands or even hundreds of thousands of dollars. However, a beginning coin collector will want to start slow by purchasing lower-priced coins. This way, you will be able to learn how the coin market works and how to interact with coin dealers. And if you make a mistake, it will not be the end of the world financially for you.
1. Coin Shops
Back in the 1960s, coin collecting was all the rage, and there was a coin shop on almost every corner. Even small towns had local coin shops where you could buy coins. Today, there are not as many brick-and-mortar coin shops as in the past. However, they still exist. A little investigation on the Internet can help you find one.
Advantages
Large selection of coins available to select from
You will likely have the undivided attention of the coin dealer to answer your questions and help you select your coin.
Most coin shops have coin collecting supplies for you to purchase
Disadvantages
You will have to drive or take public transportation to the coin shop. Additionally, you may have to pay for parking in large cities.
If the coin dealer does not specialize in the type of coin you're looking for, you will have to drive to another dealer
2. Coin Shows
Another alternative for purchasing coins is to attend a coin show. Coin shows come in a variety of shapes and sizes. Some small local coin shows may be held at a VFW post or community center with only 15 to 30 dealers. If you're looking for more selection and opportunity, large regional and national shows are held in major cities at large convention centers. Hundreds of dealers usually attend these coin shows, which allow you to find any coin you are looking for.
Advantages
Many dealers to choose from
The possibility of finding a dealer that specializes in the coins you are looking for is greatly improved
Smaller local coin shows are usually free and easily accessible to the public
Disadvantages
At a busy dealer table, you may not have the undivided attention of the dealer to answer your questions
Since it is time consuming and expensive for a dealer to attend a coin show, they may not bring coin collecting supplies with them to the event
Since space is limited at a coin show, the dealer may only have a limited selection of inventory
Large regional and national shows are usually held in large cities and involve transportation costs, lodging, and meals to attend.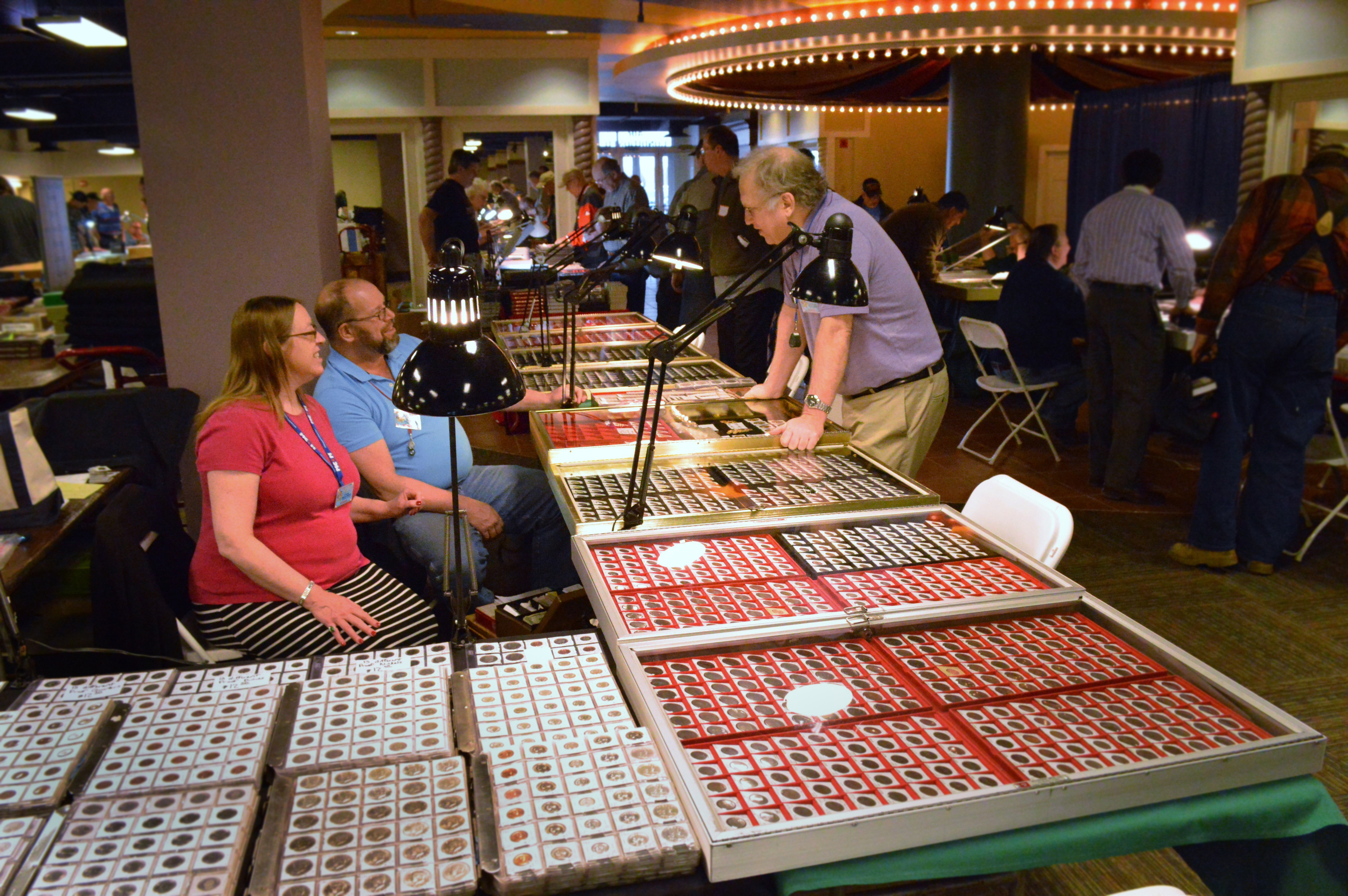 3. Online Marketplaces
Online marketplaces are a convenient way to access a wide variety of coins from the comfort of your home. However, the Internet is the Wild-Wild-West where it is hard to figure out who are the good and bad guys.
The most popular site for purchasing coins is eBay. However, you can also find coins for sale on other social media sites such as Facebook, WhatNot, and Etsy. When purchasing coins online, you must be very careful to only buy from reputable sellers willing to guarantee their coins' authenticity and have a reasonable return policy.
Advantages
Shop from your home or anywhere that has an Internet connection.
Unlike going to a coin shop or coin show, there are no travel expenses.
You can find a coin dealer specializing in the coins you are looking to purchase.
You can evaluate several dealers' inventory in a matter of minutes
Disadvantages
Sellers of counterfeit coins run rampant on the Internet.
Pay attention to the shipping cost to make sure it is reasonable
You will have to wait to see the coin that you purchased.
Returns can be time-consuming and complex.
A seller may not have their entire inventory listed online. Therefore, you may have to contact the seller directly to discern if he has the coin you're looking to purchase.
4. Auctions
Auctions are another popular way to purchase coins. Coins are entered into the auction by sellers looking to sell their coins to the highest bidder. Some auction items begin with no reserve. Other lots may have a starting bid or hidden reserve, which is the minimum amount the seller is willing to accept for the coin. Before bidding and any auction, read the rules carefully to know what to expect. Not knowing the rules can be a costly mistake.
Most local and regional coin shows also feature an auction. The lots are available for viewing before the auction begins so you can decide whether you will bid on a coin. Additionally, there are online auction houses such as Heritage, Stacks Bowers, Great Collections, and Ira & Larry Goldberg, just to name a few.
Advantages
The ability to buy a coin below market value if there aren't enough interested bidders.
The large auction houses may have the rare and hard-to-find coins you are looking for.
You can search past auction records to determine a fair market value for the coin you are looking to purchase
Disadvantages
Emotions may take over, and you may pay too much for the coin.
The number of lots at a particular auction may be limited, and you will not be able to find the coin you want to purchase.
If an auction only has an in-person option (i.e., no online bidding), you will physically have to travel to the auction to bid on the coin you are looking to buy.
What to Bring
If you go to a coin shop or coin show, you must come prepared to evaluate the coins were looking to purchase. First and foremost, you should bring a pricing guide such as "The Redbook" or have online access to pricing guides such as Greysheet & CPG® Price Guide or the Greysheet App for your phone or mobile device. Additionally, you should bring your inventory or catalog of your collection, so you know which coins you already have and what grade they are. This will help you avoid purchasing duplicate coins for your collection.
Finally, you should bring any tools to assist you in evaluating a coin. This may include a magnifying glass or loupe to inspect the coin's surfaces. If you are questioning the authenticity of a coin, you may want to bring a scale and magnet with you.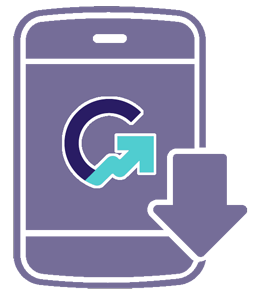 Download the Greysheet app for access to pricing, news, events and your subscriptions.
Subscribe Now.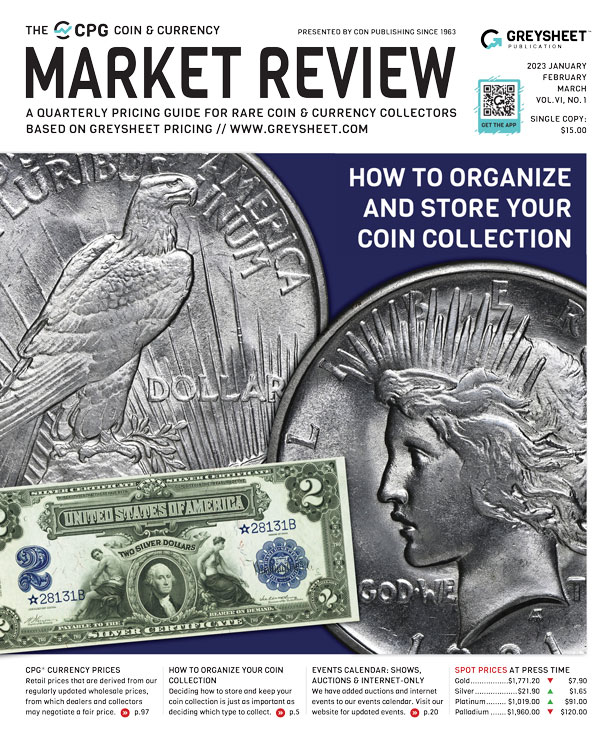 Subscribe to CPG© Coin & Currency Market Review for the industry's most respected pricing and to read more articles just like this.
Visit these great CDN Sponsors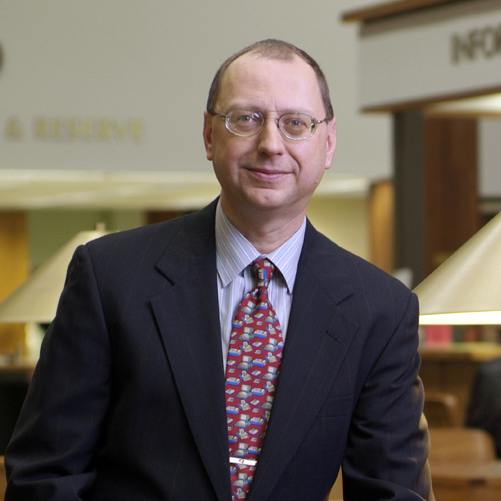 James Bucki is a coin collector, part-time coin dealer, and professional numismatic writer. James has been educated by some of the leading professionals in the coin collecting industry. He has received national recognition for outstanding coin collections and has won various awards for his coin exhibits at coin shows.
---