Palladium:

$2,168.00
$44.00
Bitcoin:

$23,700.28
$236.33
Ethereum:

$1,870.97
$4.84
FUN FEATURES: It's Easy to Track Your Favorite Items on the Greysheet Website
We've quietly been adding a lot of features to the Greysheet website. One great feature is the ability to track "Favorites" in your pricing screens. T
We've quietly been adding a lot of features to the Greysheet website. One great feature is the ability to track "Favorites" in your pricing screens. Tracking favorites is a great way to easily access the coins and currency you refer to most and the items show up online and your app as well.
First, you have to log in. But you don't need to be a paid subscriber to use this feature. However, you do need to to be a subscriber to view wholesale (Greysheet & Greensheet) pricing.
To add an item to favorites, click the heart icon on any page to toggle on/off.
To access your favorites page on the website, click the heart icon from anywhere on the site.
It's easy to remove items from the favorites screen.
All your favorites ALSO appear in the smartphone app!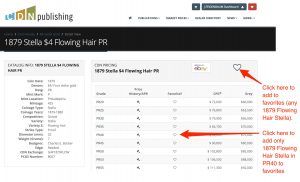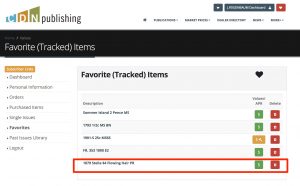 Look for more improvements to come to the website and CDN app in the coming months, too. And while we're continually updating our website and app to make your experience with using them more convenient and enjoyable, we also love hearing from you about what you like most, other improvements you wish to see, and any feedback you wish to share! You can reach out to us by sending email to editor@greysheet.com
Visit these great CDN Sponsors
---