SEARCH BY CATEGORY
OR PUBLICATION

GOLDSHEET: ALL EYES TURN TO HONG KONG COIN SHOW
Published on March 12, 2018
Business in the modern Chinese coin market kicks off for many United States-based dealers with the Hong Kong Coin Show (HKCS), the first major show of 2018 in that bust
Business in the modern Chinese coin market kicks off for many United States-based dealers with the Hong Kong Coin Show (HKCS), the first major show of 2018 in that bustling city of 7.3 million. The anticipation is high for the fourth iteration of this event, as the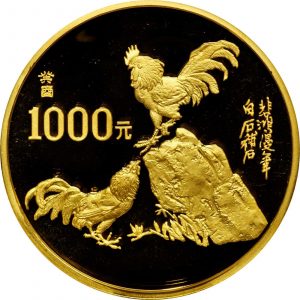 show was sold out of dealer tables back in January. There has been much positive activity domestically in the United States rare coin market, but it remains to be seen if that momentum can carry over into Asia.
Stack's Bowers holds the anchor auction for the show, and there are 203 lots of modern Chinese coinage on offer. Gold Pandas are heavily represented among this group, along with a good number of silver Pandas, mostly in proof format. One of the lesser-seen issues is lot #51041, a 1991 gold Panda 10th Anniversary 1-ounce piefort, graded NGC PF69 Ultra Cameo.
A piefort is a coin that is thicker and heavier than the standard issue, so while this coin weighs a full ounce, it is the diameter of about a half-ounce coin. The standout among the gold Pandas is lot #51083, which is a 2002 gold Panda Kilo, certified NGC PF67 Ultra Cameo. The kilo—32.15 troy ounces—gold Pandas are the most prized issues and the 2002 had a mintage of just 68 pieces. On each kilo Panda the serial number is struck on the edge, and this piece is #39.
For the silver Panda, one of the more recently released but rarely seen issues is lot #51102, which is the 2016 12-ounce silver Panda medal issued at the American Numismatic Association Convention in Anaheim, California. This medal has a mintage of just 125 pieces and has significant crossover appeal, as at the center of the obverse design is the obverse of the 1925-S California Diamond Jubilee commemorative half dollar featuring a miner panning for gold. The California half dollar is one of the most popular issues among the United States classic silver commemoratives. The silver medal also marks the 125th anniversary of the ANA Convention.
Looking at the non-Panda coins, the clear highlight is lot #51123, a 1993 gold Lunar Year of the Rooster 12-ounce coin, certified NGC PF69 Ultra Cameo. This massive coin has a mintage of only 99, and it is rarely seen on the market. Not quite as rare is lot #51157, a 1997 platinum Unicorn in the top grade of NGC PF70 Ultra Cameo. These coins have been selling in the $14,000 to $15,000 range recently. One area that has become much more active in the past couple years are non-Panda or Lunar coins, commonly called PRC coins. These consist of both circulation issues and commemoratives, mint state and proof. The final auction highlight comes from this category, as lot #51188—a 1993 gold 5-ounce Centenary of Birth of Mao Zedong coin, NGC PR69 Ultra Cameo. With an original mintage of 100 pieces, the piece carries a high estimate of $80,000.
Visit these great CDN Sponsors
Leave a comment
Please sign in or register to leave a comment.
Your identity will be restricted to first name/last initial, or a user ID you create.
Comment