Bitcoin:

$23,171.46
$28.71
Ethereum:

$1,589.87
$5.40
Harry Bass Core Coin Collection, Review Part 3: Amazonian Patterns
A critical review and analysis of the upcoming sale of the Harry Bass Collection Amazonian patterns.
Although Harry Bass had an intense passion for rare U.S. gold coins, he was also very interested in U.S. pattern, experimental, fantasy, promotional and trial pieces, unusual items produced by the Philadelphia Mint. The Amazonian patterns of 1872 are extremely famous. Harry Bass had a set, which is in the process of being sold piece by piece in multiple auction sessions by Heritage.
Amazonian One Dollar Gold piece, eagle ($10 denomination) and half dollar patterns will be auctioned by Heritage in the Bass II sale on Thursday, January 5, at the FUN convention in Orlando. For perspectives on the first auction session of the consignment of the Harry Bass Core Collection (HBCC), please see my two articles, (https://tinyurl.com/UnusualBass) and ( https://tinyurl.com/Bass1success ).
Perhaps fifteen Amazonian One Dollar Gold patterns in copper survive. Many of these were gold plated (gilt) including the Bass piece, which is PCGS certified as Proof-63.
The Bass Amazonian eagle pattern is PCGS certified as Proof-64, and will be offered in the Bass II auction session. The Simpson Collection gilt Amazonian ten was PCGS certified as Proof-62 and realized $33,600 on February 23, 2021. The HBCC Amazonian ten is likely to bring dramatically more!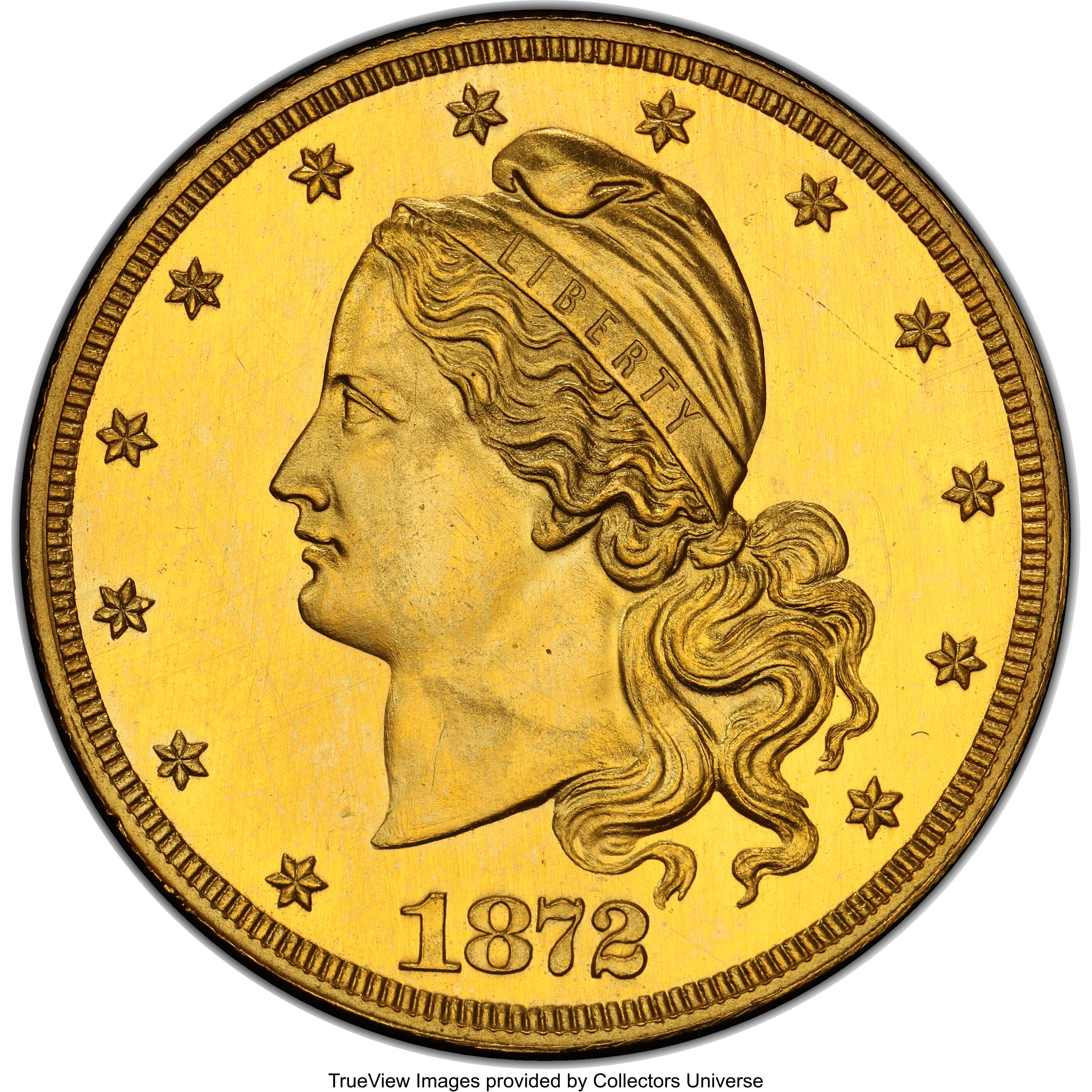 The HBCC Amazonian half dollar in silver is also in the Bass II sale on January 5. It is PCGS certified as Proof-64 and CAC approved. Although I just glanced at it in September, with the idea of closely examining this pattern at a later time, my first impression was very positive. It is attractive and glossy, with neat toning.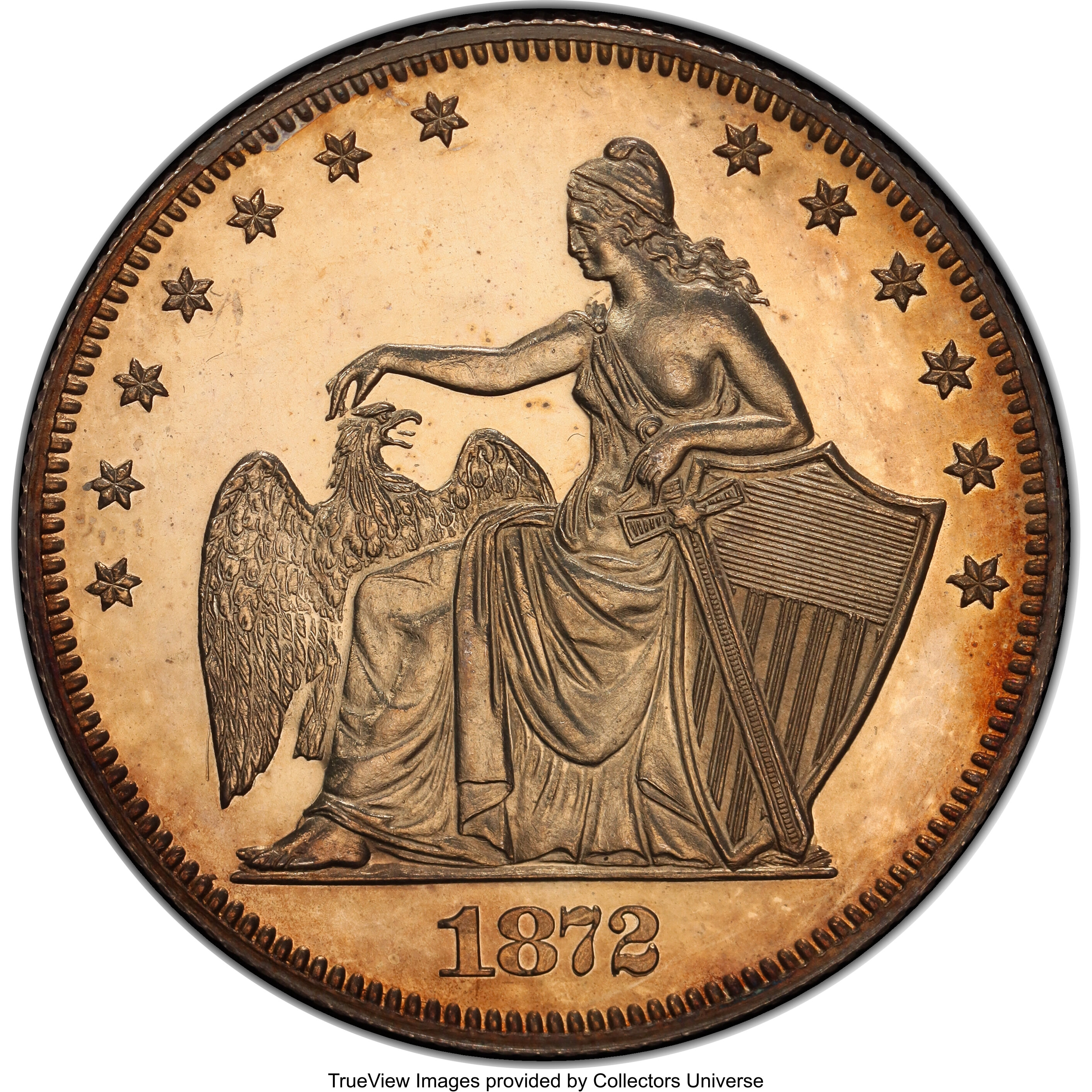 The HBCC Amazonian quarter, also in silver, was in the Bass I sale on September 29. It was PCGS certified Proof-66+ Deep Cameo and had a sticker of approval from CAC. This quarter pattern realized $156,000, a very strong price. This was a really cool gem, with stunning central devices, though not my favorite Amazonian quarter in silver. I may have seen them all.

Bass was especially enthusiastic about the most famous 19th century designs that were proposed for U.S. coins, yet never adopted: Schoolgirl, Shield Earring, Washlady and Amazonian. Of these four design concepts, only Amazonian patterns were struck of gold denominations.
The obverse design of Amazonian gold denomination patterns is very different from the obverse design of Amazonian silver denomination patterns. On the silver Amazonians, Miss Liberty's head occupies a small percentage of the area of the obverse. On the Amazonian gold patterns, Miss Liberty's head occupies a large part of the obverse.
Amazonian patterns were minted of three silver denominations, quarter, half dollar, and dollar, which are of the same design with an eagle motif on both sides. On the obverse an exotic Miss Liberty, while seated, is balancing a shield and a sword with one hand. With her other hand Miss Liberty is apparently petting an eagle.
A female body is emphasized on the Amazonian silver patterns. The Amazonian gold patterns, in contrast, portray just the head of Miss Liberty. She seems to be physically strong and serious.
Were the Amazonian designs related to political issues of the time period? By 1872, the U.S. Civil War and its bitterly controversial aftermath were no longer critical issues, the nation's economy had grown and the future then appeared bright. Indeed, by then, with the exception of the British Empire, the U.S. was leading all the nations of the world in economic output, an incredible feat for a young nation that was recently devastated by a civil war!
Were the Amazonian patterns connected to the viewpoint that the U.S. should be a superpower with a global presence and a leading military force? A robust eagle and shield comprise the main part of the reverse design of both the silver and gold denominations. The sword, eagle and shield on the obverse of the Amazonian silver patterns are likely to be related to potential military power.
Unfortunately, it is impossible to know now the reactions of all those elected politicians, Treasury Department officials, and influential private citizens who received or at least examined Amazonian patterns in 1872 or a little later. Quite a few people received copper strikings.
Patterns of silver and gold denominations were often struck in copper, sometimes to test dies, but mostly because copper was much less expensive and was not subject to much bureaucratic scrutiny at the Philadelphia Mint. It was common for patterns of gold denominations struck in copper to be gold plated (gilt) so that people could form a better impression of the appearances in gold of patterns of gold denominations. A gilt $10 gold pattern in copper appears more like a gold coin than a brown copper $10 gold pattern. Harry Bass's set of Amazonian gold patterns are all gilt.
As far as I know, Bob Simpson still owns the only known set of Amazonian gold patterns that were actually struck in gold, consisting of a double eagle ($20 gold denomination), eagle ($10), half eagle ($5), quarter eagle ($2.5 gold denomination) and One Dollar Gold piece.
The HBCC representative of the Amazonian $5 gold pattern was auctioned for $57,600 in the Bass I sale on September 29. It was PCGS certified as Proof-62 and had a sticker of approval from CAC. It is a very attractive piece, exceptional for a certified Proof-62 pattern.
Amazonian patterns were also struck in aluminum, though aluminum strikings are a different topic. I am unaware of Harry Bass or his foundation ever owning any of the aluminum strikings. In the selections from the Harry Bass Collection that were auctioned by Bowers & Merena in 1999 and 2000, there were no Amazonian patterns, nor were there any in the group of patterns auctioned by Heritage in 2014.
The Bass gilt Amazonian $2½, $3 and $20 gold denomination patterns will appear in future auctions. Hopefully, the Simpson Collection Amazonian set in true gold will as well.
Copyright ©2022 Greg Reynolds
Images are shown courtesy of Heritage Auctions (www.ha.com).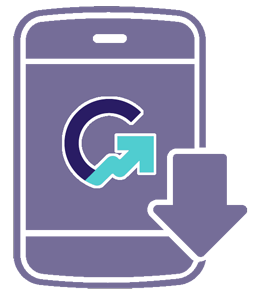 Download the Greysheet app for access to pricing, news, events and your subscriptions.
Subscribe Now.
Subscribe to Monthly Greysheet for the industry's most respected pricing and to read more articles just like this.
Visit these great CDN Sponsors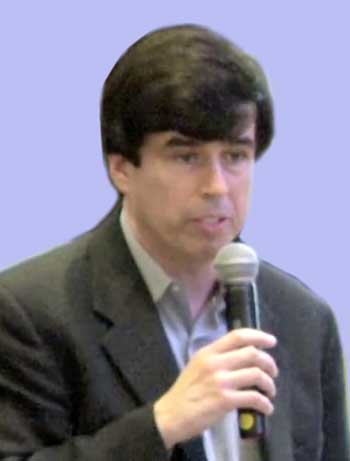 More than 750 of Greg Reynolds' articles about coins and related items have appeared in ten different publications. Reynolds has closely examined a tremendous number of rare, or conditionally rare, vintage U.S., British and Latin American coins. Furthermore, he has attended dozens of major coin auctions, including those of Eliasberg, Pittman, Newman, Gardner and Pogue Family. From the NLG, Reynolds has shared or won outright the annual award for 'Best All-Around Portfolio' a record seven times. Greg is available for private consultations and analyses, especially regarding rarities and auctions.
---