Bitcoin:

$28,533.76
$68.13
Ethereum:

$1,823.78
$6.59
Incredibly Fresh Millholland Coin Collection, Part 1
Greg Reynolds shares his thoughts on coins from the Millholland Collection to be auctioned by Stack's Bowers.
A serious and extensive coin collection that has remained intact since the 19th century is certainly newsworthy. On March 21, 22 and 27, Stack's Bowers will sell one of the freshest collections of U.S. coins ever to be offered. James A. Millholland stopped collecting coins circa 1894 and his collection of more than five hundred coins features many gems with very appealing natural toning, as well as a large number of circulated coins.
Millholland was born in 1842. He probably began collecting coins before he was twenty years old.
According to Christine Karstedt, an executive vice-president of Stack's Bowers, James Millholland's descendants selected Stack's Bowers to auction this collection, which had remained in the family since Millholland's death in 1911. Also, Stack's Bowers reports that James Millholland was involved in both the mechanical aspects and management of railroad business activities in Maryland.
It is likely that Millholland purchased Proof sets directly from the U.S. Mint during his lifetime or obtained sets from someone who did. While his collection features many Proof copper, nickel and silver coins dating from 1859 to 1894, a majority of the coins in the Millholland Collection are business strikes.
There is a 1794 half cent and two 1793 Wreath cents. Millholland's set of Three Cent Silvers includes Proofs, uncirculated and circulated coins. The pre-1830 coins in the collection tend to be heavily worn. Did Millholland pull them from change?
Millholland obtained representatives of the two best dates of the Draped Bust, Heraldic Eagle half dollar type. An 1801 half is PCGS graded VG8. An 1802 half dollar is PCGS graded F12 and is CAC approved.
As far as I know, all of the coins in the Millholland Collection were submitted to PCGS and then those that were eligible to be submitted to CAC were sent to the CAC office in New Jersey. More than 50% of the Proof coins in the Millholland Collection received stickers of approval from CAC. Runs of Proof Liberty Seated coins and Morgan silver dollars will certainly attract much attention among those viewing auction lots.

Although a substantial number of the gem quality Proofs will each bring thousands of dollars, this collection contains many coins that are relatively more affordable in the context of 19th century U.S. coins. Collectors with modest to medium-level budgets should be able to effectively compete for coins in the Millholland Collection.
For example, lot 9334 contains two half cents, a "VF Details" 1804 Spiked Chin variety that is said by PCGS to have "environmental damage" and an "XF Details" 1832 that is said on the PCGS holder to have a serious "scratch." Furthermore, an "AU Details" 1866 Indian cent is referred to as "cleaned." This penny could not possibly realize a fortune.
An 1854 Three Cent Silver is PCGS graded XF45. The CPG retail price estimate for this coin is $182.
He seems to have assembled a partial set of 1804 coins. In addition to the already mentioned representative of the famous Spiked Chin variety, Millholland had a second 1804 half cent, of a common variety, which is PCGS graded VF20. Millholland had an 1804 dime that is PCGS graded AG3 and CAC approved. His 1804 quarter is PCGS graded G6.
Where did Millholland obtain his post-1829 uncirculated silver coins? His half dimes dated 1831, 1836 and 1837 are graded MS66 by PCGS. Did he purchase these from coin dealers, antiques dealers or other collectors? It is possible that Millholland obtained these high-grade half dimes directly from the Philadelphia Mint or from a bank that set aside especially appealing new coins for him.
In 1831, he turned twenty. As he was not from a poor family, trips to the Philadelphia Mint to obtain new coins at face value would probably have been practical. During the 1850s for sure, he could have obtained coins directly from the Philadelphia Mint.
Millholland's 1853 Three Cent Silver is PCGS graded MS66 and CAC approved. His 1853 half dime is PCGS graded MS66+ and CAC approved. His 1853 half dollar is PCGS graded MS64+ and CAC approved. His 1853 silver dollar is PCGS graded AU58 and CAC approved. The better of his two 1853 quarters is PCGS graded MS65+ and CAC approved.
Almost all of the coins in the Millholland Collection were minted in Philadelphia. His home state, Maryland, borders Pennsylvania. During the 19 th century, many collectors were not interested in coins of the Branch Mints or thought of them as inconsequential.
The only Carson City Mint coin in Millholland's collection was an 1878-CC dime that PCGS graded MS65 and is CAC approved. Another coin that is distinct from the rest of his collection is his 1818/5 quarter, which is PCGS graded MS65+ and CAC approved. Were these purchased from coin dealers? His other bust quarters were not nearly of this level of quality, though a PCGS graded G4 1796 is significant as a one-year type coin and as a representative of the first issue of U.S. quarters.
Among the small number of coins from the Millholland Collection that I examined at the FUN convention in January, an 1835 half dollar really stood out. It was fairly graded MS65 by PCGS and CAC approved. It is mostly a rich white color with bright satiny luster. The mottled green toning is appealing. In addition, there are touches of orange-russet and other colors. Moreover, this coin is lively. I recommend it.
Several of the Proof Trade Dollars feature very entertaining toning. The PCGS certified PR64+ 1879 Trade dollar, with a CAC sticker, is really cool and very attractive. The orange-russet colors are memorable.
This is another coin that I recommend. Undoubtedly, as I view most or all of this collection, I will find many coins that are especially appealing.
Copyright ©2023 Greg Reynolds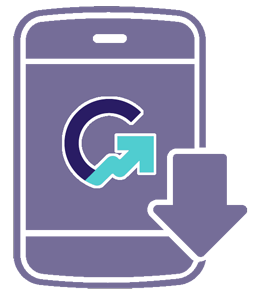 Download the Greysheet app for access to pricing, news, events and your subscriptions.
Subscribe Now.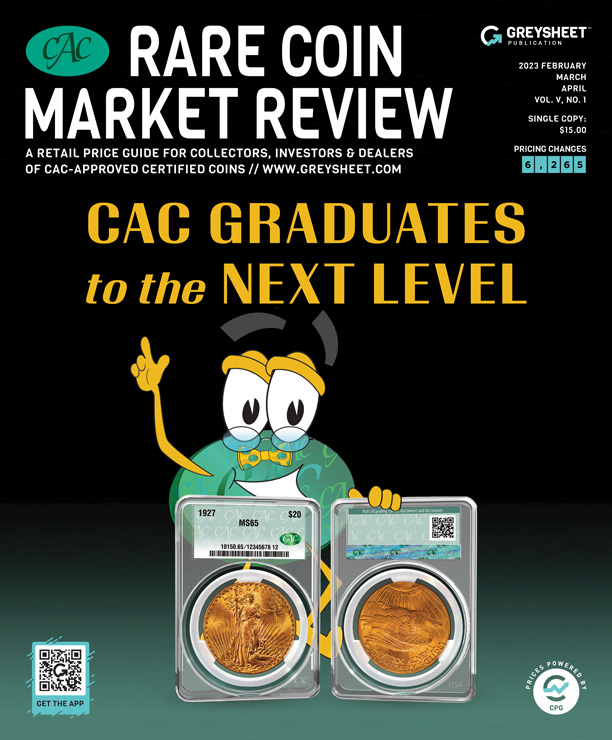 Subscribe to CAC Rare Coin Market Review for the industry's most respected pricing and to read more articles just like this.
Visit these great CDN Sponsors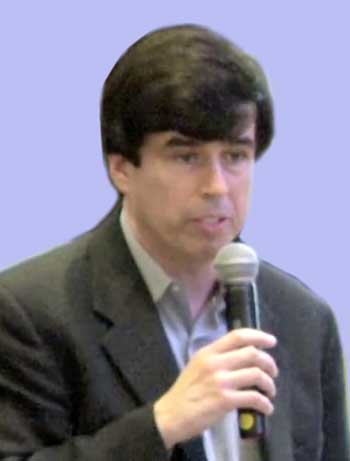 More than 750 of Greg Reynolds' articles about coins and related items have appeared in ten different publications. Reynolds has closely examined a tremendous number of rare, or conditionally rare, vintage U.S., British and Latin American coins. Furthermore, he has attended dozens of major coin auctions, including those of Eliasberg, Pittman, Newman, Gardner and Pogue Family. From the NLG, Reynolds has shared or won outright the annual award for 'Best All-Around Portfolio' a record seven times. Greg is available for private consultations and analyses, especially regarding rarities and auctions.
---