Bitcoin:

$28,501.20
$100.69
Ethereum:

$1,821.97
$8.40
Incredibly Fresh Millholland Coin Collection, Part 2: Seated Quarters
An analysis of high-grade Liberty Seated Quarters coming to auction at Stack's Bowers.
It should be emphasized again that the Millholland Collection is one of the freshest collections of U.S. coins ever to be publicly sold. To be fresh, a coin must have been off the market and not have been aggressively displayed for at least five years. Apparently, Millholland's coins have been off the market and in an intact collection for more than 125 years!
This collection will be sold by Stack's Bowers in California on March 21, 22 and 27, along with a large number of coins from other consignments in a major auction event. For an introduction to the Millholland Collection, please see Part 1 (https://tinyurl.com/Millholland1). Here in Part 2, I recommend a few Liberty Seated quarters, among those that I have personally examined. Also, I discuss one Twenty Cent piece.
The Millholland Collection 1878 Twenty Cent piece is PCGS graded PR65 + and CAC approved. At the CAC office in New Jersey, experts continue to ignore the plus aspect of plus grades assigned by PCGS or NGC. I prefer to refer to this specific coin as being CAC approved at the PR65 level, and not necessarily CAC verified as grading in the high end of the PR65 range.
This 1878 Twenty Cent piece would certainly be an appealing coin for a type set or for an 1878 Proof set put together by a collector in the present. Philadelphia Mint records indicate four Proof-only issues in 1878: Three Cent Nickels, Shield nickels, Twenty Cent pieces, and Trade dollars. These four issues distinguish 1878 Proof sets from Proof sets of other years during the same era.
Although Proof 1859 quarters are not especially rare, pre-1860 Proof coins have a special allure. Before the 1860s, the production and distribution of Proof sets was mysterious. Few people were aware that Proof coins were available at the Philadelphia Mint for face value. Circa 1860, members of the general public, not just collectors and dealers with inside information, acquired Proof sets by mail order or by visiting the Philadelphia Mint. During the 1860s and 1870s, the number of U.S. citizens who became aware of the availability of Proof coins trended upward.
A PCGS certified PR65 1859 quarter in the Millholland collection is CAC approved. Indeed, this coin screams that she grades 65. Contact marks and faint lines are consistent with the assigned 65 grade. In terms of both eye appeal and technical factors, the reverse is of higher quality than the obverse and is really cool.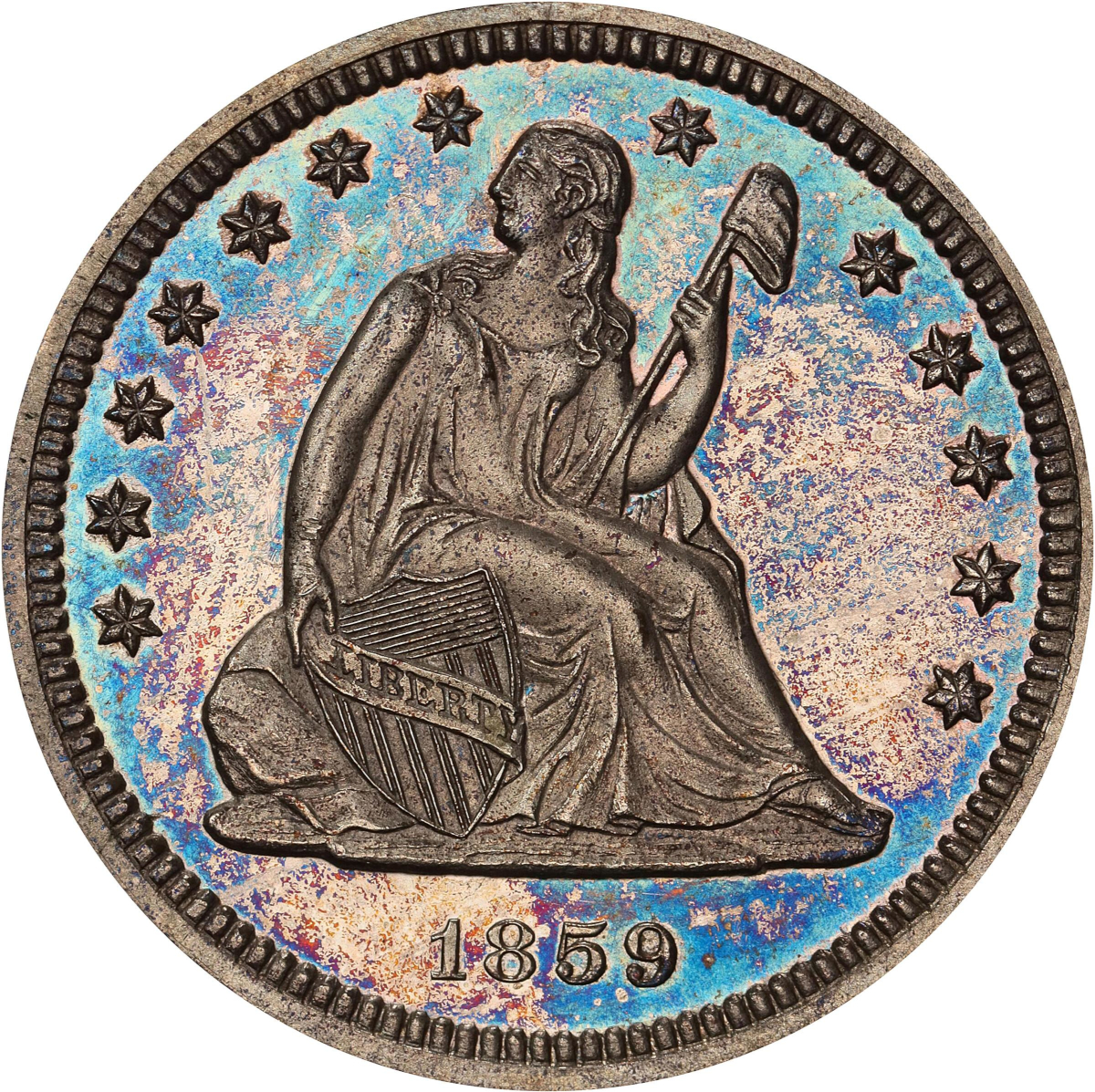 This 1859 quarter has pleasant natural toning that is not quite beautiful. This coin is attractive to very attractive, and serves an educational purpose. It is extremely likely to be a good example of a silver coin from the 1850s with toning that developed very gradually in a normal manner.

There are particular shades of green, and these tend to occupy much of the fields. Brown-russet areas here and there are noteworthy. The mottled gray-green toning in the right obverse (front) field and below the rock is not now often seen on other 19th century silver coins because most of those that had such toning have been dipped (immersed in an acid-based solution).
Some telemarketing firms have found it easier to sell artificially bright-white coins rather than silver coins with mottled toning. This 1859 quarter, however, is much more brilliant than it appears to be in some images. Miss Liberty and her shield are white, and there was a cameo contrast when this coin was struck. The eagle on the reverse has a soft-white texture with some brown-russet tints. There is a mix of brown-russet and green hues in the reverse outer fields and about the periphery. The toning on the reverse is more even and appealing, though the toning on the obverse is more interesting. The white Miss Liberty, mottled tones and underlying flash are memorable.
A PCGS graded MS66 and CAC approved 1863 quarter is one of my favorite coins in the whole Millholland collection. It is more than very attractive and the toning is fabulous. Moreover, the strike and finish of this coin are unusual in the context of other Liberty Seated quarters from the same time period. This 1863 is a coin that many studious collectors would enjoy examining with high magnification.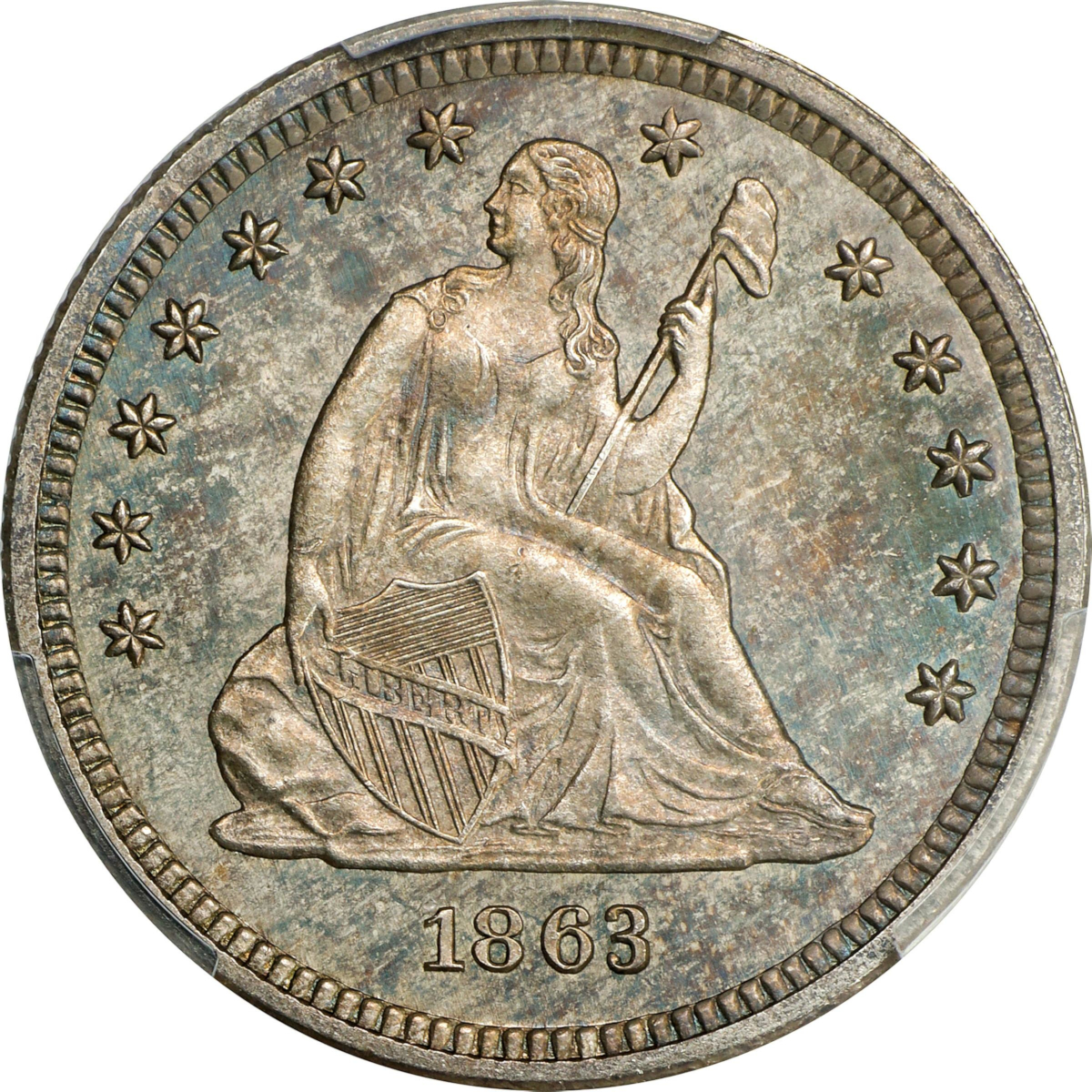 An 1863 quarter in the Gene Gardner Collection was NGC graded MS66 before it was auctioned in October 2014. Years later, it was PCGS graded MS66+. Although I very much like that Gardner Collection 1863 quarter, this Millholland Collection 1863 is more desirable, in my view, for reasons that would be hard to explain.
The 1864 quarter is much scarcer than the 1863. It is likely that fewer than five hundred 1864 business strike quarters survive, in all grades. CAC has approved just thirty-six. The Millholland Collection 1864 quarter was PCGS graded MS66+ and CAC approved. The orange-russet and gray-white colors, with blue streams about dentils and some design elements, are entertaining. While I have seen multiple 1864 business strike quarters that I find to be superior to this one, this is a great gem, and a prize in its own right.
The Millholland Proof 1867 quarter is much more attractive in actuality than it appears to be in some published images. The PCGS Proof-64 Cameo certification and CAC sticker are certainly more than fair. The white Miss Liberty with subtle blue tints contrasts well with green and orange-russet tones at various locations on the obverse. The orange-russet-brown hue about the stars is almost a rust color, and also appears in the outer fields on the reverse along with other colors. The white eagle stands out in a cool way.
The CPG-CAC medium retail price estimate for this 1867 is $1,620, though the price realized certainly could be higher. Appealing natural colors on many of the Proof silver coins in the Millholland Collection will generate substantial premiums in some cases.
Copyright ©2023 Greg Reynolds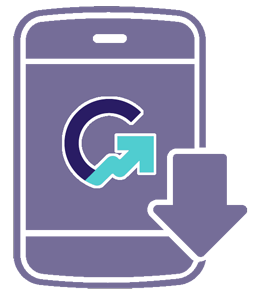 Download the Greysheet app for access to pricing, news, events and your subscriptions.
Subscribe Now.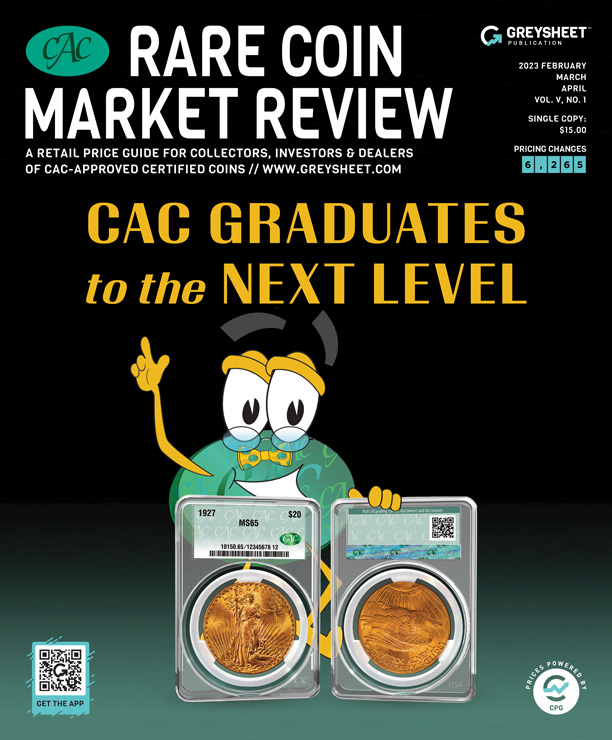 Subscribe to CAC Rare Coin Market Review for the industry's most respected pricing and to read more articles just like this.
Visit these great CDN Sponsors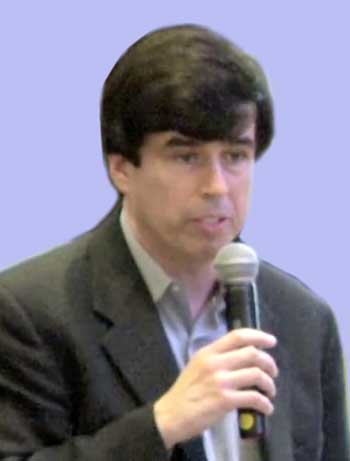 More than 750 of Greg Reynolds' articles about coins and related items have appeared in ten different publications. Reynolds has closely examined a tremendous number of rare, or conditionally rare, vintage U.S., British and Latin American coins. Furthermore, he has attended dozens of major coin auctions, including those of Eliasberg, Pittman, Newman, Gardner and Pogue Family. From the NLG, Reynolds has shared or won outright the annual award for 'Best All-Around Portfolio' a record seven times. Greg is available for private consultations and analyses, especially regarding rarities and auctions.
---