Bitcoin:

$23,207.83
$7.66
Ethereum:

$1,593.01
$2.26
MDC Monnaies de Collections Preview: 8th Numismatic Auction Rare Coins and Medals
MDC Monnaies de Collections sarl introduces its next major numismatic auction by expert Nicolas Gimbert in Monaco.
MDC Monnaies de Collections sarl introduces its next major numismatic auction by expert Nicolas Gimbert in Monaco. Our experts have carefully selected 1446 rare coins and medals gathered in a beautifully illustrated 488 pages auction catalogue. Auction will take place over two days, live with Biddr Switzerland and on all reference numismatic platforms. A sumptuous series of ancient Roman medallions of Magnentius, Maximian Herculius, Maxentius, also the return in Europe of an extraordinary quality and extremely rare English coin minted during the brief reign of Edward VIII, namely a 5-pound PROOF 1937 graded NGC PF 67 ULTRA CAMEO (lot 1050). Amongst others: a fine series of 30 rare Vatican coins; an ancient collection of XVIIth and XVIIIth century thalers in exceptional quality and often Fleur de coin.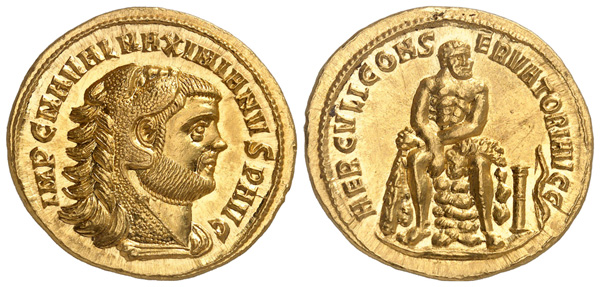 lot 135.

ROMAN EMPIRE Maximian Herculius (AD 286-305). 2 1⁄2 Aurei medallion, undated (294-305), Rome. Obv. IMP C MA VAL MAXIMIANVS P AVG. Bust wearing the Nemean lion-skin facing right.
Rv. HERCVLI CONS - ERVATORI AVGG. Hercules seated on a rock, Nemean lion-skin on his lap, holding a club to his right with his left hand, bow and quiver to his left.
Gnecchi - (cf.12.2 reverse inscription and 13.5-6 similar bust) - C.- (cf.252 reverse inscription) - RIC.- (cf. RIC.VI 1 (Trier) reverse inscription) - Grueber.- - Tocci.- - Froehner - - Beaurains - ; Gold - 14,06 g - 26 mm - 11 h.
Provenance Rauch auction 111, December 3-4, 2020 n° 767, then "Monaco Collection".
2 1⁄2 Aurei medallions are known under the tetrarchy; our unpublished and unlisted coin is in this series. The bust with Nemean lion-skin, inspired by the coinage of Commodus, clearly demonstrates the link between Maximian Herculius on the obverse and Hercules on the reverse. There are other examples. (Gnecchi I pl. 5 N ° 5 [gold - 31 mm - 26.98 g] and 7 [gold - 31 mm - 20.04 g]), also the reverse (Gnecchi II pl.126 N ° 4 [bronze, 34 mm - 24 g] and Triton auction XII January 6, 2009 n° 761 [bronze - 36.57 g]).
Mint state. Fleur de coin
Starting price: 30 0000 €

defeated Carinus in a battle at the mouth of the Morava river. The provinces were in a civil war. Diocletian promoted one of his generals, Marcus Aurelius Valerius Maximianus, to the rank of Caesar in 285 and sent him beyond the Alps. Maximian was awarded the title Augustus after his victory in 286. While Diocletian identified himself with Jupiter, Maximian identified himself with Hercules. With Diocletian, the Eastern Empire established the capital in Nicomedia while Maximian Hercules governed the western part of the Empire from Milan. They both retired in May 305.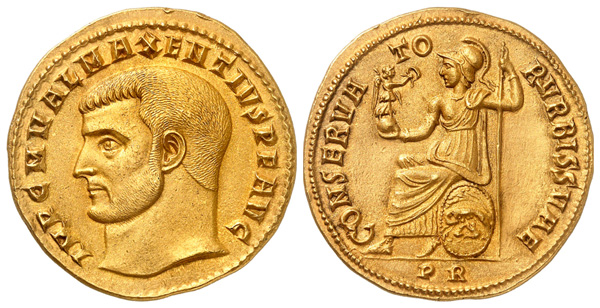 lot 136.
ROMAN EMPIRE Maxentius (306-312). 4 Aurei medallion (quaternio), commemorating the Temple of Venus and Rome restoration undated (c.308). Rome.
Obv. IMP C M VAL MAXENTIVS P F AVG. Bearded head left.
Rv. CONSERVA - TO - R VRBIS SVAE / PR. Helmeted Rome seated left with a shield adorned with the she- wolf suckling Romulus and Remus, holding a spear and a victoriola on a globe holding-out a crown.
Cohen - - Gnecchi - - RIC VI - (cf. 143-144 in aureus) - Carson, A Treasure of Aurei and Multiples from the Mediterranean -, cf.99 (aureus) et 111 (binio, with P*R) or 106-108 (same obverse die, different reverse) = Carson, The Greatest Discovery of Roman Gold Pieces Since the Great Find of Arras, London Illustrated News, November 14, 1959, p.650, fig.1 - Cf. Bastien Donativa, p.71 note 6 - Depeyrot p.153 - Drost 37 ; Gold - 21,12 g - 33 mm - 12 h.

Provenance the "Monaco Collection" and the Paramount Collection n° 30065 (Ex. NGC MS 5/5 2/5 Fine style smoothing), beforehand Triton I, December 2, 1997, n° 1678 - Athena Fund I, Sotheby's, October 26, 1993, n° 125 - Numismatic Fine Arts, XXVII, December 4-5, 1991, n°185 - "Parthenico" Hoard, late fifties. One of only two known coins. Bold strike in high relief with satin matte fields. Slight die shift right. Faintly smoothed reverse field. Minimal marks on the rim. Exceptional and Extremely fine to Fleur de coin.

Starting price: 250 000 €

Marcus Aurelius Valerius Maxentius, born circa 278 is the son of Maximian Herculius and Eutropia. To challenge the threats to the Empire, a diarchy is set up with Maximian Herculius in charge assisted by Diocletian. In 293 it became a tetrarchy. Choosing one of their sons to rule was prohibited.
Augustes Diocletian and Maximian Herculius appoint two generals to support them. Constance Chlore and Galerius were named Caesar. In 305, having served twenty years and after major victories, Constance Chloe and Galerius retired. Two new Caesars were appointed: Maximinus Daza and Valerius Severus. In 306 Constantius Chlorus died and his son Constantine I was proclaimed Emperor by his father's soldiers. Maxentius did the same, having granted himself the titles of invincible Prince and Augustus. He ruled Italy and the African provinces. Maxentius reestablished Rome as the center of the Empire. The founding gods are favored while is undertaken a building policy, for example the construction of the basilica of Maxentius or the restoration of the temple of Venus and Roma. Constantine I, married Fausta, sister of Emperor Maxentius and daughter of Emperor Maximian. Fausta contributed to her father's downfall, he died in 310 as a consequence of an assignation plot against Constantine. Maxentius controlled his opponents but his power gradually weakened. In 312, Constantine I seized northern Italy and marched on Rome where his troops overwhelmed Maxentius. Maxentius was killed crossing the Tiber river at the Milvian Bridge.
The Temple of Venus and Roma is the largest Temple in ancient Rome. It was built under Emperor Hadrian between 121 and 141. Inaugurated in 135, damaged by fire in 307, it was restored under Maxentius. When the work was completed, there was a grand celebration and a commemorative series of coins were minted. The two main rooms of the Temple each housed a colossal statue. Venus was in one room, Roma in the other. Venus represented Love, or AMOR and ROMA, spelled backwards. The depiction on the reverse of this coin is this colossal statue of Roma, which had been miraculously spared by the fire.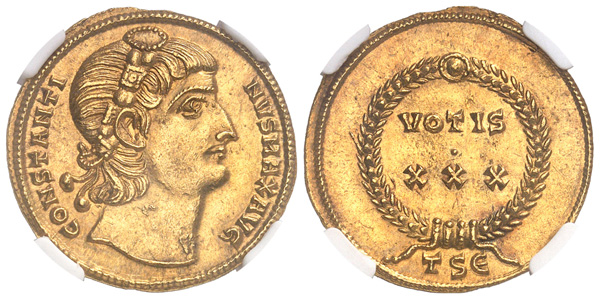 lot 138.

ROMAN EMPIRE Constantine I (307-337). 1 1⁄4 Solidus medaillon (festaureus) 335, Fifth workshop, Thessaloniki.
Av. CONSTANTI - NVS MAX AVG. Diademed head right.
Rv. VOTIS XXX in a wreath; in exergue (workshop).
Calicó 5200 - RIC.207 - Gnecchi 66 - Bastien, Donativa, 81g; Gold - 5.44 g - 25 mm - 12 h.
Provenance Tkalec & Rauch AG auction, 25 April 1989, n ° 453 then Numismatic Fine Arts n°26 14 August 1991, n ° 281 then Numismatic Fine Arts n° 30 December, 8, 1992, n ° 309 and Numismatic Fine Arts & Sotheby's, 26 October 1993, n ° 138.
NGC MS * 5/5 5/5. A magnificent portrait with very light circulation marks and faint patina. Almost Fleur de Coin.

Starting price: 250 000 €

This gold medallion weighs 11⁄4 Solidus and corresponds to an Aureus according to the weight standard of the Diocletian reform. In Constantinian times, these multiples were issued for festive occasions by the Imperial Court, hence their Germanic name of festaureus. Our coin commemorates the 30th anniversary of the reign of Constantine I, which the emperor celebrated in July 335 with grand celebrations in Constantinopolis the new capital he named after himself.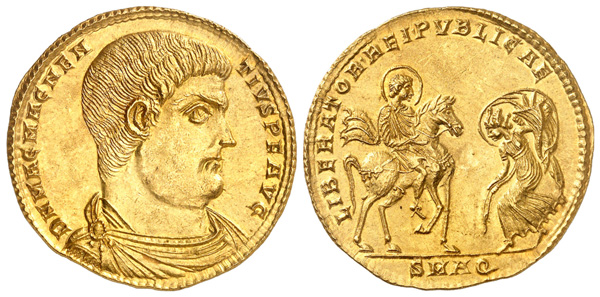 lot 140.
ROMAN EMPIRE Magnentius (350-353). 3 Solidi medallion, commemorating the liberation of the city of Aquileia, undated (c.351), Aquileia.
Obv. D N MAGNEN - TIVS P F AVG. Draped and cuirassed three-quarters bust right.
Rv. LIBERATOR REI PVBLICAE / SMAQ. Emperor in military attire on horseback. Right hand holding a scroll. Left hand holding a cornucopia.
RIC.VIII 128 - Gnecchi - - P. Bastien, Le monnayage de Magnence (350-353) (2nd éd. 1983), 196, 339 - A. Jelocnik, Le trésor d'Emona, RN 1967, 12 et pl.36, 5 ; Gold - 13,46 g - 34 mm - 11 h.
Provenance "Monaco Collection" and the Paramount Collection n°30066 (Ex. NGC MS* 5/5 3/5 Fine style), beforehand Münzen & Medaillen 92, November 22, 2002, n° 329 - Münzen & Medaillen 79, 28 February 1994, n° 617 – Emona hoard, 1956.
Exceptionally well struck bust on a perfectly centered planchet. Original brilliant luster. Extremely fine to Fleur de coin.

Starting price: 250 000 €

The coin features the bust of Magnentius, depicted bare headed without attributes on the obverse, on the reverse as liberator of the state from the tyranny of Constantine I's son. This commemorative depicts his entry into Aquileia at the end of year 350 or beginning of 351. Magnentius, Flavius Magnus Magnentius, was born circa 303 to parents with barbarian ancestry. He was rapidly promoted in the Roman army and became commander of Constans personal guard in 340. In 350, he led a successful revolt supported by his soldier, wearing the Emperor's purple mantle. Constans and Nepotianus were executed in Rome. Decentius was appointed Caesar to fight the Germans on the Rhine. In 351, Constantius II, Emperor of the Eastern Roman Empire, avenged these actions but was defeated and Magnentius seized Siscia. In September 351 at the deadly battle of Mursa, Magnentius fled to Lyon where he committed suicide in 353.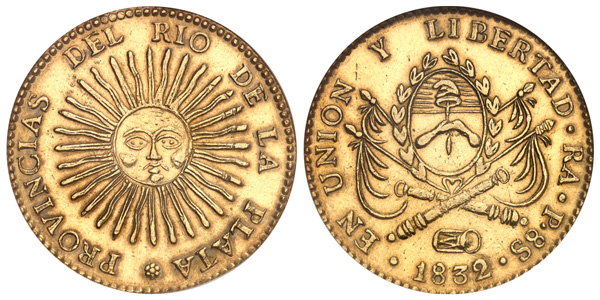 lot 242.

ARGENTINA Argentine Confederation (1831-1861). 8 Escudos 1832/1, RA, Rioja.
Obv. * PROVINCIAS DEL RIO DE LA PLATA. Radiant sun with face.
Rv. IN UNION Y LIBERTAD. RA. P. 8S. Coat-of-arms within wreath above crossed flags and cannon; drum below; below (date).
Fr. 2 - KM. 21; Gold - 27 g - 35 mm - 6 h.
NGC MS64. Top Pop: the finest graded!
Date amended 1832 to 1831, unpublished variety. Normal wear on the high reliefs with original luster. Mint state.

Starting price: 50 000 €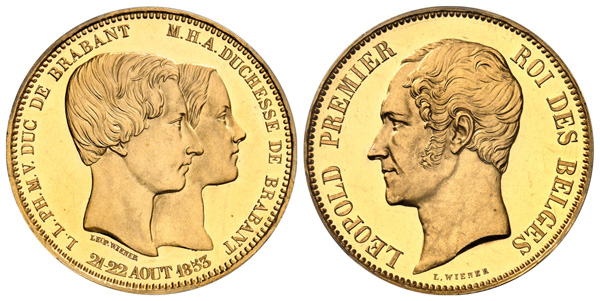 lot 299.
BELGIUM Leopold I (1831-1865). gold Specimen 100 Francs, Duke and Duchess of Brabant wedding, PROOF 1853, Brussels.
Obv. LEOPOLD PREMIER ROI DES BELGES. Bare head left, signature L. WIENER.
Rv. L. L. PH. M. V. DUC DE BRABANT M. H. A. DUCHESSE DE BRABANT / 21-22 AOUT 1853. Conjoined busts right, LEOP. WIENER signature.
Fr. 6 - Dup. 538; Gold - 37 mm - 6 h.

PCGS PR 62 DCAM. Top pop: this is the only coin graded PROOF DEEP CAMEO!

Mirror fields with highly contrasted matte reliefs (Deep Cameo). Exceptional, almost Fleur de Coin. Considered a gold 100 Francs specimen. The striking of a 37 mm specimen corresponds to a 5 francs coin.
Starting price: 60 000 €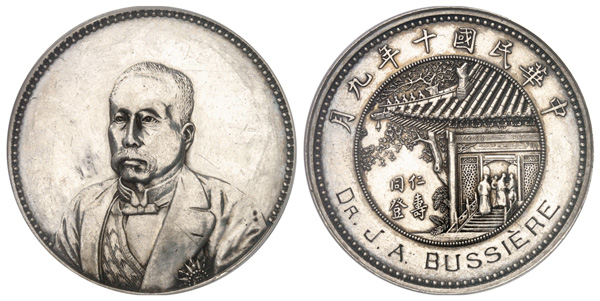 lot 353.

CHINA Republic of China (1912-1949). Xu Shichang dollar, plain edge, with attribution to Dr J. A. BUSSIÈRE, Year 10 (1921). Unique, of the greatest historical interest!
Av. Xu Shichang (Hsu Shih-Chang) Three-quarters bust.
Rv. Chinese characters text. Beijing Hospital pavilion entrance view.
K.676a - L & M.957; Silver - 26.5 g - 39 mm - 12 h.
Provenance from Dr Jean-Augustin Bussière collection, doctor and adviser to the Chinese Presidents between 1916 and 1924: bears the attribution to Dr Bussière, adviser to President XU Shichang.

PCGS SP Genuine Repaired – AU Detail. Plain edge. Lightly cleaned. Very fine to Extremely fine. Starting price: 40 000 €

Unique, with attribution on the reverse, to Doctor Jean Augustin Bussière (1872-1958), French military doctor. After his baccalaureate, Jean Augustin Bussière joined the Brest École de Médecine de la Marine in 1890, then the Bordeaux Ecole de Médecine de la Marine et des Colonies. He goes to Cherbourg in 1895 and soon after to Senegal where plague, cholera and other tropical diseases were rife. He then works in French India, Karical, Mahé and Pondicherry, where he manages the Medicine School and meets his wife, she is daughter of Lyon traders. In 1902 he reinforced the vaccination team at the Institut Pasteur in Saigon (Tonkin, Northern Vietnam) before being appointed in Persia. He then travels back to France and becomes deputy to the Director of the Colonial Health Service. Admirer of Yersin's medical discoveries he chooses to go to Tianjin in China, 41 years old, he is then unaware he will be in China for the next 41 years. He becomes the medical advisor of the Chinese presidency and shares with Dr. Watt Wing the last days of Yuan Shikai in 1916. He then is doctor to presidents Li Yuanhong (1916-1917), Feng Guozhang (1917-1918), Xu Shichang (1918-1922) or Cao Kun (1923-1924). He becomes a major figure of the French presence in China and is appointed Alliance Française director and French Red Cross Beijing committee chairman. On his country estate northwest of Beijing, he grows a garden and looks after the needy in the countryside using the wealthier city citizens' funds. During WWII, defying danger he helped the Chinese fight against the Japanese invaders and becomes a hero for China and is so described by President Xi-Jinping during his visit in France in 2014. In 1954, back in France, he returned to his native village by the Sioule river and passes away the age of 86.
The "Emperor's Doctor's" coinage
Jean-Augustin Bussière (1872-1958) was the son of a schoolteacher and grew up in the French countryside. The eldest of seven children, he began his career as a military doctor in 1890. Upon leaving the Navy, he joined the Colonial School of Health (École de Santé de la Marine et des Colonies). From 1895 to 1912 he participated in the fight against smallpox, plague and cholera in Senegal, Pondicherry, Saigon, Shiraz and Bushehrl. He greatly admired Louis Pasteur. He received many awards and was appointed deputy director of the Colonial Troops Health Service in Paris. From 1909 to 1912 he was the family doctor for French President Maréchal Joffre. In 1913 he went to China as Chief Medical Officer of the 16th Colonial Infantry Regiment in Tientsin. He was a professor at the School of Naval Medicine. A year later he is appointed doctor for the French Legation in Beijing and the chief doctor of the Saint-Michel French hospital. As a surgeon he treated everyone - from the poorest citizens to dignitaries of the Imperial Court, foreign citizens and New China officials. Victor Ségalen, when he left to study sculptures in Western China, selected him to be medical adviser to President Yuan Shikai and his son Yuan Keding. With his Chinese counterpart, Dr. Watt Wing Tsas, he supported the Chinese leader and his claim to be Emperor. For his support he received exceptional medals and Essais from Yuan Shikai himself.
After serving Yuan Shikai, he was named the "Emperor's Doctor" by the press. Until 1924 he was the medical adviser to presidents Li Yuanhong, Feng Guozhang, Xu Shichang, and Cao Kun. He was named Dean of Aurora University in Shanghai, with Li Shizheng he co-founded the Sino-French University and its medical branch and was named President of the University of Peking. In 1925 he was called to the bedside of Sun Yatsen, founder of the Chinese Republic, and was present at his death. He was President of the Alliance Française and the French Red Cross in Beijing.
When he was not in the operating room, this eclectic humanist met in his "literary salon", which was close to the Forbidden City, with Chinese writers, travelers, diplomats, scholars and artists such as Xi Baishi, Mei Lanfan at Hutong Ta Tien Shui Tsing, Saint John Perse, Teilhard de Chardin, Alexandra David-Neel, Swen Hedin, Claude Farrère and Paul Pelliot. In 1937 he retired. He opposed the cruelty the Chinese imposed on the Japanese during the occupation. After his children and grandchildren left, he became friends with a young Chinese artist. Threatened by the new regime, having spent 41 years in Beijing, in 1954 Jean-Augustin Bussière returned to France accompanied by his young wife Wu Sidan. He retired not far from the village where he grew up, Châteauneuf- les-Bains. He died four years later in 1958 at age 85.
In 2014, on the 50th Anniversary of French-Chinese relations, he was remembered for his heroic services during WWII when he carried bandages and medicines by bike from Saint-Michel Hospital through the Japanese lines to his dispensary located 40 km in the hills of Xishan to treat wounded Chinese and the rearguard. These unique coins and proof strikes were gifts from Chinese Presidents in gratitude for his service to the nation.
Jean-Louis Bussière, son of Jean-Augustin Bussière.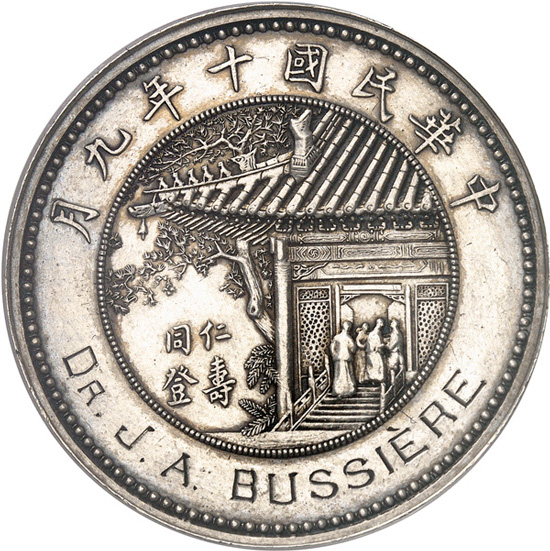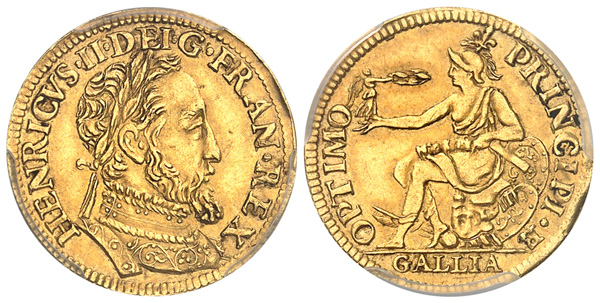 lot 425.

FRANCE Henri II (1547-1559). Gold Gallia demi-Henri d ́or, undated (1552), Paris.
Obv. HENRICVS. II. DEI. G. FRAN. REX. Laureate armored bust right.
Rv. OPTIMO PRINCIPI. Helmeted Gaul seated on the trophy of arms left holding a tiny Victory in her right hand, Victory holding out a crown; in exergue under the floor line: GALLIA.
Dy.980 - L/P.818 - Sb.4996 - Fr.374 ; Gold - 1,82 g - 20 mm - 6 h.
PCGS AU 55. Top Pop: the only graded coin!
From the Pflieger collection, the Gallia collection, Christie's October 6, 1987 auction n ° 219.
Very slight transverse mark. On the reverse is a tiny mark on the allegory of Gaul. Magnificent portrait of Henri II with minimal wear and a nice strike. Of the utmost rarity (this type is missing from the national collections). Very fine to Extremely fine.

Starting price: 70 000 €

According to Jean Lafaurie and Pierre Prieur, Les monnaies des rois de France, 1956, p.62, "the Gallia series must be from a Moulin workshop. From September 12, 1554, the billboards for the "cry des monnaies" provided drawings of Gallia Double Henri (diam. 26 mm), Gallia Henri (diam. 23 mm), Gallia Demi Henri (diam. 20 mm). We know of a few strikes of the Gallia Double Henri, one of the Henri and two of the Demi Henri; the others are essays and pieforts". La Monnaie du Moulin was a newly established workshop in Paris. Cellini was unable to introduce new coinage in 1537. The first coining press was introduced in France in 1550 as part of the young King's ambitious monetary policy. Shortly after his accession, Henri II's portrait appeared on coins. He appointed Marc Béchot head of the first general engraving office. Charles de Marillac, ambassador in Nuremberg, brought a press designed by the goldsmith Max Schwab from Nuremberg to France. It cost 3000 Ecus and was installed at the western end of the Île du Palais in Paris. It was named Moulin, after the water mill which operated the cutters and the press.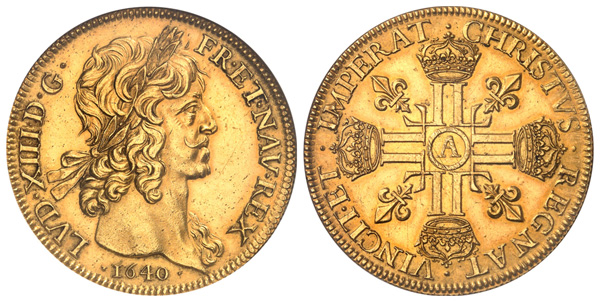 lot 452.
FRANCE Louis XIII (1610-1643). Gold Huit Louis d'or 'tête laurée' 1640, A, Paris.
Obv. LVD. XIII. D. G. FR. ET. NAV. REX. King's laureate head left, below (date).
Rv. CHRISTVS. REGNAT. VINCIT. ET. IMPERAT. Crowned cruciform opposed Ls; lis in quarters. Milled edge.
Dy.1295 - G.61 - Drs (1987) PP3 - KM.112 - Fr.407 ; Gold - 53,55 g - 43,9 mm - 6 h.
NGC MS 61, Top Pop. A beautiful specimen! Exceptional quality, only slight handling marks in the field, tiny, barely visible adjustment marks in the center of the reverse. Original, lustrous surfaces with a light orange patina. Extremely fine to Fleur de coin.
Provenance: the Collection of an art connoisseur, Vinchon. Jean Vinchon Numismatique, October 29, 2002, n° 221. Paramount collection. A tribute coin, for courtiers and the royal gaming table. More recently coin-shaped medal in a Huit louis weight.

Starting price: 20 0000 €
A RARE SERIE OF LOUIS XVI FRENCH COINS

Will be put into auction an exceptional set of almost two hundred Louis XVI rare coins, of which over seventy 70 lots of various Double Louis. d'or and Louis d'or; as well as an exceptional gold Ecu de Calonne. Also, major silver lots with one-offs and unlisted in reference books coins such as 1777 Metz or 1778 Montpellier Ecus, rare varieties such as LUD XV (sic!), or bronze coins are also presented. The Louis XVI collection continued during the Revolution with a large number of constitutional stamps, of high quality or very rare.

Louis XVI coins are lots n° 525 to 716.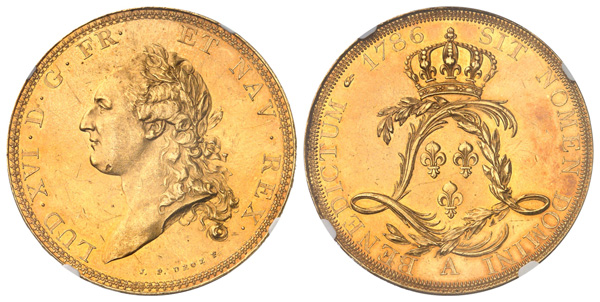 lot 538.
Louis XVI (1774-1792). Droz écu gold pattern said « écu de Calonne », 1786 A, Paris.
Obv. LUD. XVI. D. G. FR. – ET NAV. REX. Laureate bust left, below signature: J. P. DROZ F.
Rv. SIT NOMEN DOMINI (workshop) BENEDICTUM (privy mark) (date). three lilium within crowned double L palm and laurel branches monogram.
Ciani 2204 – VG.92. Silver – 47,75 g – 41 mm – 6 h.
Provenance: king Farouk collection, Sotheby's, February 1954, n° 496 (" probably unique"), then Paramount collection.
NGC UNC DETAILS SCRATCHES. Edge: /(lis) DOMI/NE (lis) /SALVU/M (lis) F/AC(lis) R/EGEM (lilium). A small scratch on the chin and light scratches right. Reverse with minimal marks but close to strike state. Light orange hue patina. Utmostly rare, missing from public collections, an artistic and technical masterpiece by Jean-Pierre Droz. Extremely fine.

Starting price: 70 000 €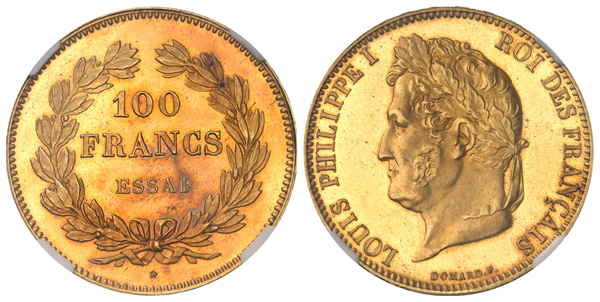 lot 809.
FRANCE Louis-Philippe (1830-1848). Gold 100 Francs Essai 'tête laurée' by Domard, Proof, undated (1831), A, Paris.
Obv. LOUIS PHILIPPE I ROI DES FRANÇAIS. Laureate head left, DOMARD. F signature.
Rv. Within wreath: 100 FRANCS ESSAI, below a star.
Maz.1057a - VG.2747 ; Gold - 34 mm - 6 h.
NGC PF 63 CAMEO. Top Pop: The finest graded example! From the Paramount collection and previously from Numismatica Genevensis, auction November 2, 2002, n ° 418.
Relief edge: DIEU PROTEGE LA FRANCE. PROOF. Of the highest rarity and an exceptional specimen with mirror fields and matte relief with deep cameo. The reverse is highlighted with orange hues. Almost Fleur de coin.

Starting price: 120 000 €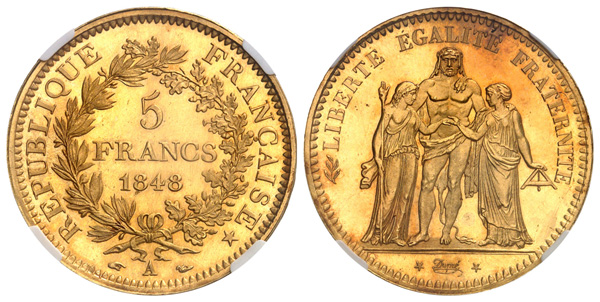 lot 826.
FRANCE IIe République (1848-1852). Gold 5 Francs Hercule trial strike, 1848 A, Paris.
Obv. LIBERTÉ ÉGALITÉ FRATERNITÉ. Hercules between allegories of Liberty and Equality; in exergue, Dupré signature.
Rv. RÉPUBLIQUE FRANÇAISE. Value within a wreath.
Maz.1211 (plain edge) - VG.- (cf.3101) ; Gold - 35,1 g - 37 mm - 6 h.
NGC MS 62+. Top Pop: The finest graded!
Provenance: Paramount collection (32,29 g) and previously from Jean Vinchon Numismatique, October 7, 2003, n° 174 (35,1 g).
Raised lettered edge: DIEU PROTEGE LA FRANCE. Spectacular gold trial or pattern strike. The reverse is nearly perfect if not for a few tiny hairlines in the fields. The obverse has minimal defects and stains that prevent a higher grade. The original surfaces are shimmering and display traces of polishing on the die, proof of a first strike. Light orange hues. Extremely fine to Fleur de coin.

Starting price: 150 000 €
lot 851.
FRANCE Second Empire (1852-1870). 100 Francs 'tête laurée' 1870 A, Paris.
Obv. NAPOLEON III EMPEREUR. Laureate head left, BARRE signature below.
Rv. EMPIRE FRANÇAIS (date). Crowned coat of arms.
G.1136 - F.551 - Fr.581 ; Gold - 32,25 g - 35 mm - 6 h.
NGC MS 62. Top Pop (2): Tied with one other for the finest graded!
Very rare and sought after. The last of this series. Only five graded coins including four at NGC with AU 53, MS 61 and two coins in MS 62 including this coin. A single coin graded by PCGS AU 55. A few thin scratches and handling marks with a few tics on the high reliefs. Retains part of its original luster, with some die polishing marks visible. Extremely fine.

Starting price: 50 0000 €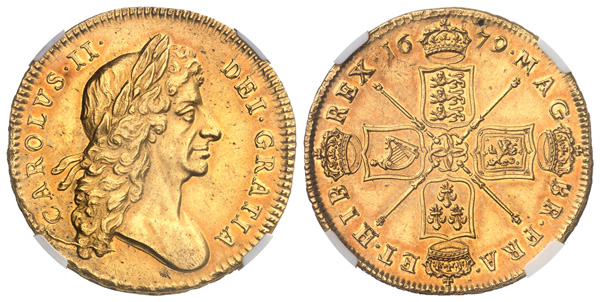 lot 1025.
GREAT BRITAIN Charles II (1660-1685). 5 Guineas 1679, London.
Obv. CAROLUS. II. DEI. GRATIA. King's laureate bust right.
Rv. MAG. BR. FRA. ET. HIB. REX (date). Crowned shields, cruciform, sceptres in angles.
KM.444.1 - Fr.281 - S.3331 ; Gold - 41,8 g - 36 mm - 6 h.
NGC MS 61. Top Pop: The finest graded coin! Provenance: Paramount collection.
Lettered edge TRICESIMO PRIMO. Struck in very high relief, die break at right under the hair. An incredible near-mint state, luster underlies the inscription lightly covered with an orange patina. The fields show few signs of handling, at most we note tiny strike deposits on the right. Extremely fine. Starting price: 10 0000 €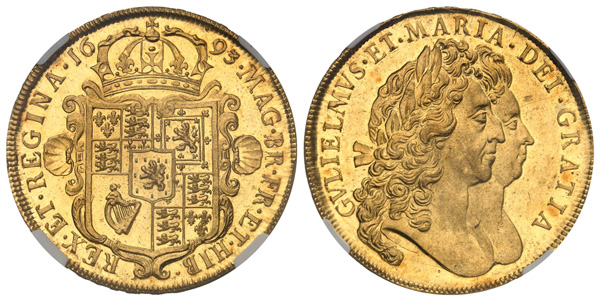 lot 1028.
GREAT BRITAIN William and Mary (1689-1694). 5 Guineas PROOFLIKE 1693, London.
Obv. GVLIELMVS. ET. MARIA. DEI. GRATIA. Conjoined busts right.
Rv. MAG. BR. FR. ET. HIB. REX. ET. REGINA (date). Crowned shield.
QVINTO edge.
KM.479.1 - Fr.299 - S.3422 - Schneider.462 ; Gold - 38 mm - 6 h.
NGC MS 64PL. Top Pop: Tied with one other as the finest graded! Provenance "Monaco Collection" and the Paramount collection n° 30302. Two tiny scratches in the right field in front of the busts. Prooflike. This coin is of exceptional quality, with sharp reliefs, mirror fields and slightly matte relief, very slight marks on the high reliefs. Almost mint state. With extraordinary eye-appeal and the highest grade obtained for this type. Fleur de coin.

Starting price: 250 000 €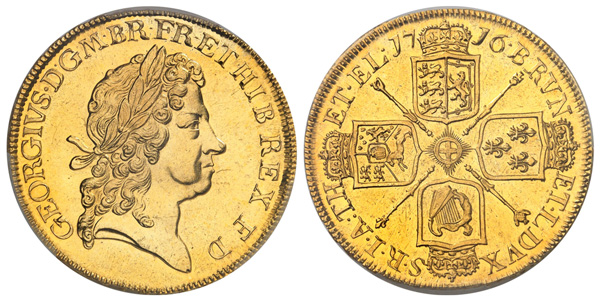 lot 1030.
GREAT BRITAIN George I (1714-1727). 5 Guineas 1716, London.
Obv. GEORGIVS. D. G. M. BR. FR. ET HIB. REX. F. D. Laureate head right.
Rv. BRVN. ET L. DVX. S. R. I. A. TH. ET EL. (date). Crowned shields, cruciform, sceptres in angles. S.3626 - Fr.325 ; Gold - 41,71 g - 37 mm - 6 h.
PCGS MS63. Top Pop: The finest graded coin!
Tiny handling marks on this example, remarkable quality, with original luster and in mint condition. Extremely fine to Fleur de coin.

Starting price: 150 000 €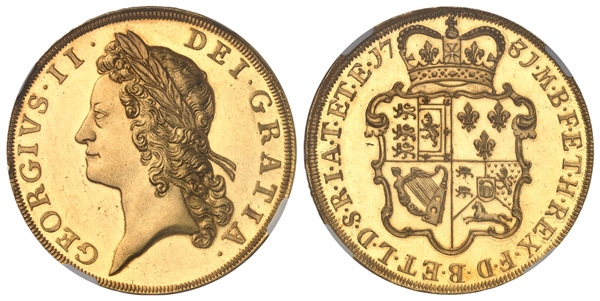 lot 1031.
GREAT BRITAIN George II (1727-1760). 5 Guineas, PROOF 1731, London.
Obv. GEORGIVS. II. DEI. GRATIA. Laureate head left.
Rv. M. B. F. ET. H. REX. F. D. B. ET. L. D. S. R. I. A. T. ET. E. (date). Crowned shield.
KM.571.1 - Fr.332 - S.3663A - W&R.68 (R4) - Schneider.558 ; Gold - 38 mm - 6 h.
Top Pop: The finest graded coin!
Provenance: "Monaco Collection" and the Paramount collection n° 30313.
NGC PF 64+ CAMEO. QVARTO edge. Obverse by John Croker and reverse by John Tanner. PROOF mint, with dashing mirror fields where traces of die polishing are visible. Perfectly crisp and matte reliefs giving a wonderful, almost unreal cameo effect. Fleur de coin.

Starting price: 500 000 €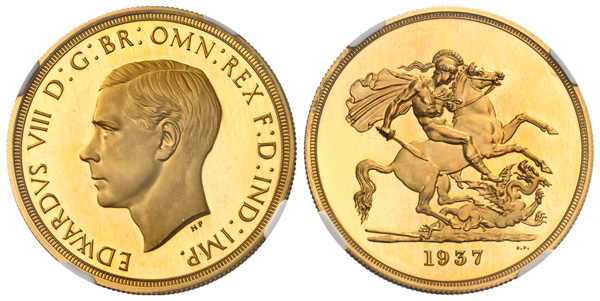 lot 1050.
GREAT BRITAIN Edward VIII (January 20 - December 11, 1936). 5 Pounds, pattern, PROOF 1937, London.
Obv. EDWARDVS VIII D: G: BR: OMN: REX F: D: IND: IMP. Bare head left, HP signature.
The portrait on the coin was controversial as Edward VIII chose to show his face in profile from the left, when tradition dictated the profile should be to the right.
Rv. Saint George slaying the dragon, in exergue (date) and B.P. signature. KM.Unl - Fr.406 (Very Rare) - S.4063 - Schneider.Unl - L&S. Unl - W&R.432 (R6); Gold - 38 mm - 12 h.
Provenance: "Monaco Collection" and the Paramount collection n° 30339.
NGC PF67 ULTRA CAMEO. Milled edge. Obverse by T. Humphrey Paget, reverse by Benedetto Pistrucci. Without doubt the most exceptional coin of the Paramount collection and of British numismatics! Flawless, perfect coin. The fields are mirrored and reflective. The reliefs are crisp and full matte, giving a magnificent cameo effect of exceptional intensity (ULTRA CAMEO). Fleur de coin.

Starting price: 1 750 000€


Edward VIII, son of George V, served in WWI with the British Armed Forces. He became King as Edward VIII on January 20, 1936. Early in his reign he displayed a free-spirit, refusing court protocols and disregarding conventions. He proposed to Wallis Simpson, an American socialite. She was in the process of getting her second divorce. It caused a constitutional crisis as well as a conflict with the Church of England, of which the King is the supreme head. Edward chose to marry Wallis Simpson and abdicated on December 11, 1936, after a ten and a half month reign. He married Wallis Simpson in June 1937 in France where he spent the rest of his life as Duke of Windsor. His brother, Albert, replaced him on the throne as George VI. Edward VIII coinage is extremely rare. The 200 or so dies prepared during 1936 were destroyed after his abdication. Only a few patterns of the 1 Pound (Sovereign), 2 Pounds and 5 Pounds remained. In addition to the Royal Mint coin, only two 5 Pounds coins are known. One is in the Tyrant collection and this coin. We also know that Edward VIII did not own any patterns bearing his likeness or name.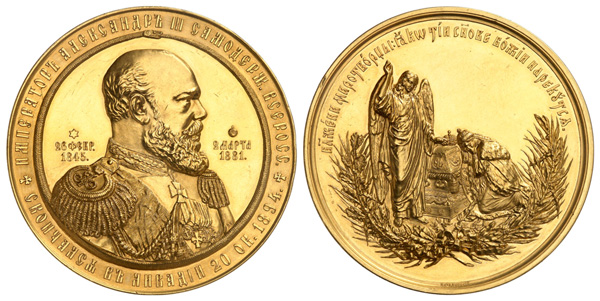 lot 1316.
RUSSIA Nicholas II (1894-1917). Gold medal, death of Alexander III by P. Stadnitsky 1894, St. Petersburg.
Obv. Inscription in Cyrillic with date October 20, 1894. In an ouroboros bust in uniform right, on both sides his birth date and reign start date; ПC signature.
Rv. Inscription in Cyrillic. In a wreath crowned Russia kneeling in front of the Emperor's tomb, a crown above, while a standing angel points the way to heaven; P. Stadnitsky signature on the rim.
Diakov.1093.1 ; Gold - 387,87 g - 81,5 mm - 12 h.
Slight marks on the rim. The fields show light cleaning. Spectacular medal. Extremely fine.
Provenance from the descendants of Alexander Friedrich Konstantin von Schleswig, Holstein-Gottorf Oldenburg Prince (1844-1932), grandson of Katharina Pawlowna (1788-1819), Queen of Württemberg, daughter of Tsar Paul I and Maria Fiodorovna.

Starting price: 150 000 €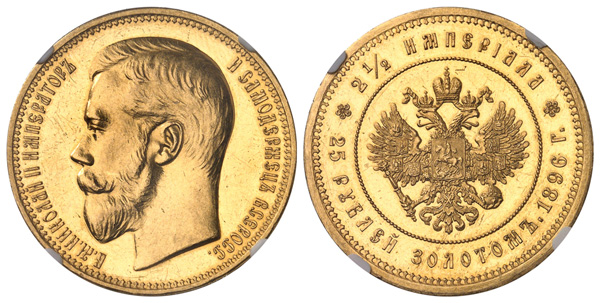 lot 1317.
RUSSIA Nicholas II (1894-1917). 25 Rubles or 2 1⁄2 Imperials (50 Francs) 1896, St. Petersburg.
Obv. Inscription in Cyrillic. Bare head left.
Rv. Crowned double-headed eagle with date and value.
Fr.171 - Bit.312 ; Gold - 32,20 g - 33 mm - 12 h.
NGC MS 61. The second highest graded. Cover page lot in the auction by expert S. Bourgey, June 3, 2004.
Nice color with original luster and a few scattered tiny marks, light matte relief, especially on the reverse. Extremely fine to Fleur de coin.

Starting price: 80 000 €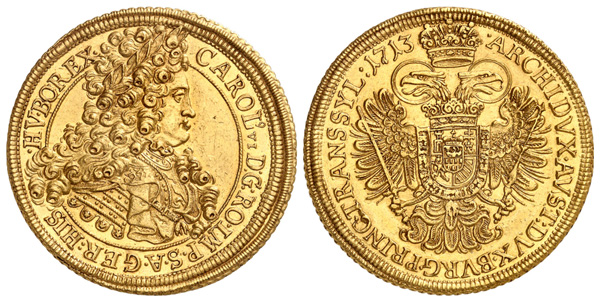 lot 1351.
TRANSYLVANIA Charles VI (1711-1740). 10 Ducats 1713, Karlsbourg (Alba Iulia).
Obv. CAROL9 VI D: G. RO. IMP. S. A. GER. HIS. HV. BO. REX. Laureate, draped and cuirassed bust right, Order of the Golden Fleece on chest.
Rv. ARCHIDVX. AVST: DVX. BVRG. PRINC. TRANSSYL: (date). Double-headed crowned eagle, holding scepter and sword.
Fr.509 ; Gold - 34,63 g - 45,7 mm - 12 h.
On a large flan. Tiny handling marks. Light patina with original luster. Extremely fine to Fleur de coin. Starting price: 20 0000 €
JEAN LECOMPTE COLLECTION
AN OUTSTANDING COLONIAL TOKENS SERIES (161 LOT NUMBERS)
Jean Lecompte is the world-renowned specialist in French colonies numismatics and the author of the reference book on the subject (Monnaies et jetons des colonies française, Gadoury editions, 2007). French colonial empire numismatics is extremely rich and varied from all parts of the world and the five continents (America, Africa, Indochina, Oceania, and even Terre Adélie). The first part of his collection, the medals of the French colonies was sold in Paris, hôtel Drouot (expert: S. Sombart) in 2018. Today, it is a second part, with 161 lots presented in Monaco by experts: N. Gimbert and S. Sombart. Exceptional tokens, some unique or from prestigious collections such as that from King Farouk of Egypt, are on sale in this exceptional October 20 and 21 2021 auction. The Jean Lecompte collection is so significant a special catalog will be published separately from the auction.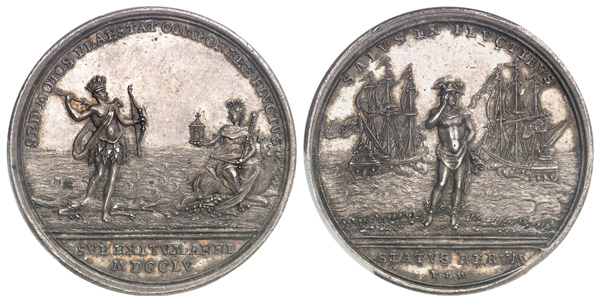 lot 1361.

AMERICA-CANADA (French Colonies), Louis XV (1715-1774). Medal, commemorating a June 8, 1755 battle, the beginning of the Seven Years' War. By Peter Paul Werner 1755, Nuremberg.
Obv. SALVS IN FLVCTIBVS. On shore, Mercury standing face-on, his hand raised to his ear to listen, between two vessels seen from the rear, one with the Irish flag, the other with a French flag; in exergue: STATVS RERVM and P. P. W. signature.
Rv. SED MOTOS PRAESTAT COMPONERE FLVCTVS. By the ocean, a crowned allegory with a scepter, seated left on a sea-horse, a cornucopia at her feet, holding a temple, on the other side a Native American on the right, her foot on an alligator, holding a bow and arrow; in exergue: SVB EXITVM ANNI MDCCLV. Lec.97a = cet ex. - Frossard 52 - Betts 392 ; Silver - 14,54 g - 35 mm - 12 h.
PCGS MS 62. Top Pop: The finest graded! Provenance: Jean Lecompte collection. This coin illustrated in the Jean Lecompte book, Monnaies et jetons des colonies française (The French Colonies Coins and Tokens) Gadoury editions, 2007, pp. 164-169
Slight handling marks. Beautiful patina. Extremely fine to Fleur de coin.

Starting price: 2 000 €
This medal [classified as a token by J. Lecompte] commemorates the June 8, 1755 battle in the Gulf of St. Lawrence: the event precluding the 1756 declaration of the Seven Years' War between France and Austria against England and Prussia. In 1754, following several clashes between French and British Colonial forces, the British government sent troops to occupy Fort Duquesne, near present-day Pittsburgh, Ohio. France was alerted and sent eighteen ships under the command of the squadron-chiefs Dubois de La Motte with reinforcement troops. Three armed vessels, four frigates and eleven ships of the line serving as troop transporters set out for Quebec. The English Royal Navy sent two fleets to intercept the French, led by vice- admiral Boscawen and Vice-Admiral Francis Holburne. After five hours of fighting, the French ships Alcide (64 guns) and the Lys (22 guns) lowered their flags. The Dauphin Royal (22 guns) escaped to Louisbourg. Most of the French convoy managed to escape the British fleet. This deliberate aggression was an act of war. The British attack caused panic in Paris where the stock market collapsed because of the threat to Colonial trade. English propaganda reported a victory, however inglorious, since most of the French convoy passed safely. On August 29, 1756, the attack on Saxony by the Prussian King Frederick II led to the Seven Years' War.
Jean Lecompte collection are lots n° 155-185, 337, 366-369, 523, 684-685, 785-787, 822-825, 832, 924-925, 1060-1066, 1070-1077, 1089-1099, 1207-1220, 1227-1228, 1230-1232, 1267-1276, 1323-1325, 1348-1350, 1352, 1361-1409.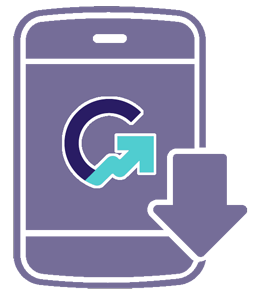 Download the Greysheet app for access to pricing, news, events and your subscriptions.
Visit these great CDN Sponsors

MDC Monnaies de Collection is a team of numismatic experts organizing auctions in Monaco of rare collectable coins and medals for an international clientele. Our selection is set on strict criteria such as their provenance, their condition and their quality. Located in the Park Palace mall in Monte Carlo area of Monaco, MDC provides professional valuation and purchase services as well as the guarantee of completing or selling a collection for an optimal profit. Our team is committed to offer you a friendly advice and personalized service, whether it is for sales, shipments, valuations or just advice on setting up coin collections.
---