Palladium:

$2,078.00
$12.00
Bitcoin:

$22,943.09
$405.56
Ethereum:

$1,826.39
$41.32
NGC Grades One of the First Morgan Dollars Struck in San Francisco
SARASOTA, Fla. (August 29, 2019) — Numismatic Guaranty Corporation® (NGC®) has certified one of the first 10 Morgan Dollars struck by the San Francisco Mint. This incre
SARASOTA, Fla. (August 29, 2019) — Numismatic Guaranty Corporation® (NGC®) has certified one of the first 10 Morgan Dollars struck by the San Francisco Mint. This incredible piece of numismatic history is now graded NGC SP 64.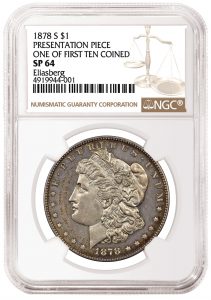 Hundreds of millions of Morgan Dollars were struck from 1878 to 1921. Today, they are among the most popular coins with collectors because of their classic design, large size and historical significance. Nearly 4 million examples have been certified by NGC.
The 1878-S Morgan Dollar recently certified by NGC undoubtedly ranks as one of the most important. According to contemporary newspaper accounts, this coin was struck sometime around 3:40 p.m. on April 17, 1878, under the close supervision of Coiner F.X. Cicott and Mint Superintendent Henry L. Dodge. It was engraved: "ONE OF THE FIRST TEN COINED APRIL 17TH FROM J. GUS. BURT."
This incredible coin was struck from freshly polished dies and has an exceptionally strong strike with vivid cameo contrast between the design elements and the fields. The coin was clearly specially produced for the occasion and has thus been given the Specimen designation by NGC.
The coin's engraving is very similar to other engravings found on Morgan Dollars, such as the ones that appear on the first 1921 Morgan Dollars released from the Denver Mint. However, this appears to be the only 1878-S Morgan Dollar with such an engraving, which is also better executed than that seen on the 1921-D examples.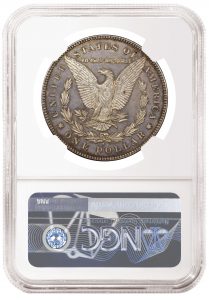 This 1878-S Morgan Dollar has a long pedigree. Its provenance can be traced back to Henry Chapman sale of the Emanuel Wertman Collection on November 19, 1910 in Philadelphia, where it apparently sold for a mere $1.10. It was later part of the famed Eliasberg Collection of US coinage.
"I have collected and studied Morgan Dollars for nearly four decades and this is one of the most amazing examples that I have ever seen," said Mark Salzberg, NGC Chairman and Grading Finalizer. "The coin is extraordinary, and I am honored that the owner chose NGC to certify it."
About Numismatic Guaranty Corporation® (NGC®):
NGC is the world's largest and most trusted third-party grading service for coins, tokens and medals, with more than 44 million collectibles certified. Founded in 1987, NGC provides an accurate, consistent and impartial assessment of authenticity and grade. Every coin NGC certifies is backed by the comprehensive NGC Guarantee of authenticity and grade, which gives buyers greater confidence. This results in higher prices realized and greater liquidity for NGC-certified coins. To learn more, visit NGCcoin.com
# # # #
© 2019 Numismatic Guaranty Corporation of America. All rights reserved.
NGC, NCS, PMG, CGC, CCS, ASG, CAG and CCG are the registered trademarks or unregistered trademarks of Numismatic Guaranty Corporation of America, and/or its related companies in the United States and/or other countries. All other names and marks referenced in this release are the trade names, trademarks, or service marks of their respective owners.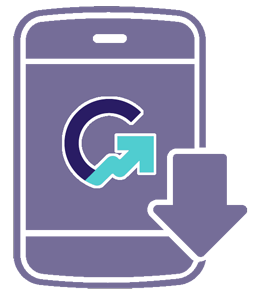 Download the Greysheet app for access to pricing, news, events and your subscriptions.
Visit these great CDN Sponsors
Source: Certified Collectibles Group

The Certified Collectibles Group (CCG) is a set of independent third-party companies (NGC, NCS, PMG, CCG, CCS, ASG & CAG) focused on the expert authentication, grading and conservation of collectibles.
---