SEARCH BY CATEGORY
OR PUBLICATION

Publishers Message (April 2021 Greysheet)
Published on April 1, 2021
At the risk of overusing an old cliché, it's an exciting time to be a coin dealer, or in my case, the editor of a publication focused on the dealer community.
Editorial
Pricing
Auctions
Coin Dealers
At the risk of overusing an old cliché, it's an exciting time to be a coin dealer, or in my case, the editor of a publication focused on the dealer community. As Patrick and I have reported over the past several months, the supply of collector coins is rapidly drying up. Multiple dealers tell me that they've never had more cash in their checking accounts and fewer coins in their inventory. Coin shows have traditionally been the solution for needy buyers of material but dealers are learning to be a lot more resourceful in this time of need. Online marketplaces, like CDN Exchange, and exchanges are becoming increasingly popular among dealers, as well as Facebook groups and other social media outlets. The other great beneficiary have been the auction houses. Whether Internet-based auction like GreatCollections and David Lawrence Rare Coins, or live auctions like Stack's Bowers, Heritage, and Legend, we are seeing an influx of fresh material coming to market as sellers that had previously sat on the sidelines, willing to take a chance and put their prized possessions on the auction block. Some sellers have bypassed auction altogether and gone the route of private treaty. In just the past week Bruce Morelan, a partner in Legend Numismatics and Legend Auctions, announced that he acquired the finest-known 1913 Liberty nickel (PCGS/CAC PR66) and 1884 Trade dollar (PCGS PR66+ CAM). According to CAC President, John Albanese, "rarities have been repriced in the last 30 days, and a lot of underbidders on these major coins have the feeling of being left at the alter, with money left to spend."
The attached table shows a listing of the top lots sold at public auction since December 2020. I cannot recall a time when so many coins broke the $1 million mark at auction in a 3-month window. Incredible! Sellers have noticed, and Stack's Bowers recently announced that the Pogue family will be selling the famous 1822 $5 in their March sale. This coin is likely to bring $5 million or more by presale estimates. It's really exciting to see.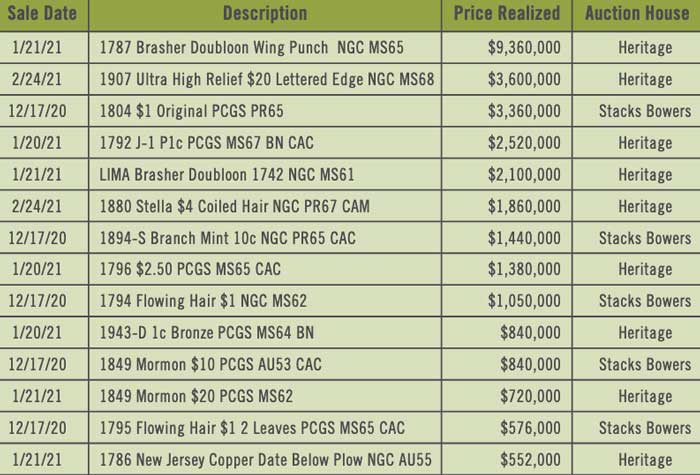 DIGITAL ACCESS CHANGES

As many subscribers are aware, in early March we switched our systems from a digital PDF download to document viewer. This was done for several reasons, but the biggest one is that the PDFs were being indiscriminately distributed across the Internet and many subscribers were also printing multiple copies but only paying for one. We would love to supply our product for free, but we cannot continue to do this. As you read this we will also be making changes to our online access to limit users from sharing their logins. We hope you will respect the value of our work and our data and we thank you for your continued support.
Sincerely,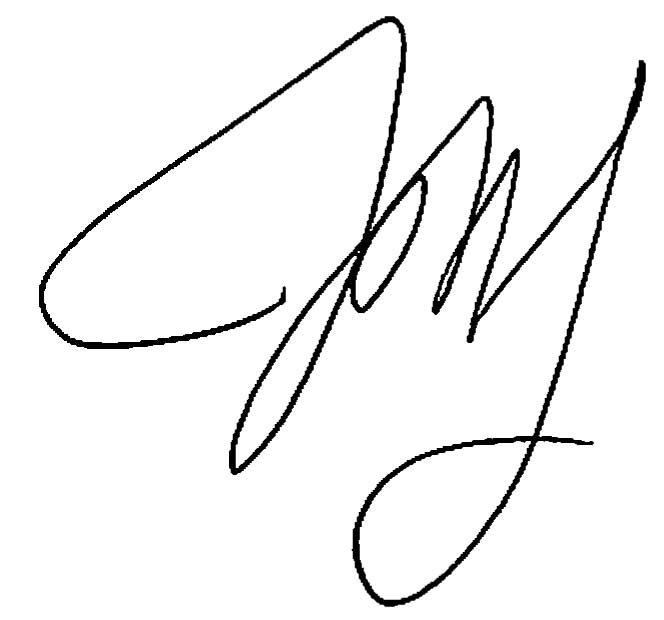 John Feigenbaum
john@greysheet.com
Visit these great CDN Sponsors
Leave a comment
Please sign in or register to leave a comment.
Your identity will be restricted to first name/last initial, or a user ID you create.
Comment