Palladium:

$2,080.00
$10.00
Bitcoin:

$22,747.65
$601.00
Ethereum:

$1,814.68
$53.03
SERIES ANALYSIS: Early Silver Dollars, Flowing Hair (Part 1)
This is the first installment of a series on silver dollars The present topic is Flowing Hair silver dollars, which were struck in 1794 and in 1795. These are the first silver dollars struck at a U.S. Mint.
This is the first installment of a series on silver dollars The present topic is Flowing Hair silver dollars, which were struck in 1794 and in 1795. These are the first silver dollars struck at a U.S. Mint.
Here is a list of the design types of classic U.S. silver dollars: 1) Flowing Hair (1794-95); 2) Draped Bust obverse, "Small Eagle" reverse (1795-98); 3) Draped Bust obverse, Heraldic or "Large Eagle" reverse (1798-"1804") ; 4) Gobrecht (1836-39); 5) Liberty Seated (1840-73); Morgan (1878-1904, 1921); 6) Peace (1921-35). Debatable aspects of this list are beside the theme here.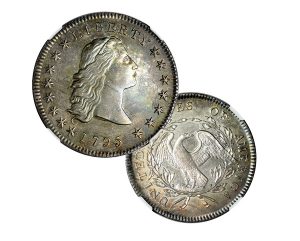 Flowing Hair silver dollars are often erroneously referred to as bust dollars. In the context of art and medals, for a depiction of a person or allegorical human form to qualify as a 'bust,' usually it must include at least one full shoulder and much of the subject's chest. Although the obverse central element of the Flowing Hair dollars shows some of the area below Miss Liberty's neck, this portrait is best referred to as a head of Miss Liberty, not a bust of her.
Fewer than 160 1794 silver dollars survive. The most impressive is the Carter-Lustig-Morelan coin, which is PCGS certified as Specimen-66 and CAC approved. Shortly before it was auctioned by Stack's-Bowers for $10,016,875 on Jan. 24, 2013, I devoted an entire article to the physical characteristics of this coin. This is not a business strike. It was intended to be a Proof or something similar to a Proof, though U.S. Mint personnel at the time probably did not possess the skills to produce a Proof and/or did not have the necessary equipment. The raised lines and glistening texture from the workmanship on the dies are fascinating. The fabric of this coin is much different from business strikes of the same era, but also much different from Proof silver coins that were struck from 1818 to the 1830s.
The auction record for a business strike Flowing Hair dollar, $4,993,750, was set by the Hayes-Pogue coin on Sept. 30, 2015. The Hayes-Pogue 1794 is PCGS graded MS-66+ and CAC approved. Though unquestionably a business strike with a fabric that is much different from that of the Carter-Lustig-Morelan 1794, the Hayes-Pogue coin is exceptional, with excellent luster.
The Lelan Rogers 1794 is also unquestionably a business strike, was PCGS graded MS-66+ and has been CAC approved. While the Hayes-Pogue coin appears to be naturally retoning after a moderate dipping, the Rogers coin is deeply, colorfully and richly toned, darker but stunning. The Rogers 1794 has not been auctioned since Stack's (NY) sold type coins from the Lelan Rogers collection during the autumn of 1995! Jay Parrino then bought the Rogers 1794. Not long afterwards, Parrino sold it through an intermediary to a collector in Georgia, who probably still owns this coin. I saw him at the ANA Convention.
These amazing three tower above the rest of the surviving 1794 dollars. At the FUN Convention in January 2019, a NGC graded AU-58 and CAC approved 1794 dollar sold for $780,000, very reasonable in contrast to the values attached to mint state coins, which are worth millions. That piece was formerly in the collection of David Queller.
Though best known for his patterns, Queller had a complete set 'by date' (including mint locations) of classic U.S. silver dollars. All Flowing Hair and Draped Bust silver dollars were struck at the Philadelphia Mint.
Among 1794 dollars that fall below Extremely Fine, it is often debatable as to which pieces are gradable. Indeed, it is unclear as to which coins are on which side of the gradability border. Collectors should consult experts and may wish to consider a 1794 dollar in a 'genuine' or 'details' holder. Surviving, circulated 1794 dollars tend to have problems. In some cases, it is safer to acquire one that is already designated as ungradable, provided that it is not horrid, oddly unnatural or bitterly annoying.
At the ANA convention in August, Heritage auctioned a PCGS graded AG3 1794 for $51,600. Two years earlier, in August 2017, Heritage auctioned the exact same coin for $32,900. This same coin was then, however, in a holder with a label that said, "PCGS Genuine Damage-AG Details"! It is probably true that this coin was not modified in between submissions to PCGS.
Regarding this Almost Good 1794 dollar, the main issue was whether the indentation below Miss Liberty's hair constitutes "damage." This is a point that could be argued either way. I recollect spending time thinking about while I was viewing the coin. No one expects an AG3 grade coin from 1794 to be technically superlative.
In the Heritage ANA sale in August, the next lot was a PCGS graded Fine-12 1794, which brought $99,000. While this may seem like a good deal, if the Greysheet bid value of $120,000 is considered, this coin has some sub-optimal characteristics, in my opinion, and it is logical for it to bring less than the corresponding Greysheet bid. Collectors should keep in mind that Greysheet bids are top prices that particular dealers will pay for coins that fulfill the criteria of the respective buyers. Typically, Greysheet bids are not reflective of sight-unseen commitments.
In August 2014, Stack's-Bowers auctioned an appealing PCGS graded VF35 1794 dollar for $223,250. VG8 to VF20 1794 dollars are around, and sometimes sell for a little more or even a little less than Greysheet bid levels. PCGS has graded eight in the Very Good range and eighteen in the Fine range, plus seven as VF20. NGC reports two in the VG range, five in the Fine range, and nine in the VF range. It is important to think carefully, consult experts, and not be too fussy, while evaluating possible purchases of 1794 dollars.
Buying Flowing Hair 1795 dollars is much easier and much less costly. These are often divided into two groups, the Flowing Hair dollars that have three leaves under each of the eagle's wings and those that have two leaves under each wing. While the leaves are apparent without magnification, it is puzzling that so many collectors find them to be of tremendous importance. These seem to be marginally noticeable die variations rather than major varieties.
A FH 1795-'Three Leaves' in MS64 could be acquired for around $250,000, certainly less than $300k! In June 2019, the Goldbergs auctioned a PCGS graded MS63 1795- 'Three Leaves,' with a sticker of approval from CAC, for $156,000. According to the cataloger, this coin had been 'off the market' for more than forty years!
Regarding the other end of the grading spectrum, the firm of David Lawrence sold a NGC graded and CAC approved AG3 FH 1795-'Three Leaves' dollar for $2109 on Dec. 10, 2017. Earlier in 2017, Stack's-Bowers auctioned a NGC graded VG10 1795 with a CAC sticker for $3290. In September 2018, Heritage auctioned an NGC graded F12 1795-'Three Leaves,' with a CAC sticker, for $4,236.
In the Greysheet, the 1795-'Two Leaves' major variety is priced higher than corresponding 1795-'Three Leaves' Flowing Hair dollars in grades from VG8 to MS62, but the same in grades below or above that range. The difference is dramatic in regard to certified AU58 grade FH dollars; a 1795-'Three Leaves' coin is valued at $30,000, while a 'Two Leaves' dollar is valued in the Greysheet at $47,400, more than 50% more!
In February 2017, the Goldbergs auctioned a PCGS graded AG3 1795-'Two Leaves' dollar for $1,087, possibly an especially meaningful acquisition for a collector who would not otherwise be able to afford a FH silver dollar. On Dec. 23, 2018, the firm of David Lawrence sold a PCGS graded G4 1795-'Two Leaves' dollar for $2,050.
In March 2019, Heritage auctioned a PCGS graded VG10 1795-'Two Leaves' dollar for $2,640. That same month, Stack's-Bowers auctioned a PCGS graded F12 1795-'Two Leaves' dollar for $3,240.
PCGS reports having graded 1744 1795-'Three Leaves' and 839 1795-'Two Leaves' dollars. The readily available NGC census does not distinguish between these two major varieties, and reports 1272 Flowing Hair 1795 dollars having been graded, presumably including all varieties. It is not clear to me as to whether the just mentioned PCGS data includes the 63 Flowing Hair 1795 dollars that are identified by PCGS as having a silver plug. Silver dollars of either 'Two Leaves' or 'Three Leaves' varieties could have a silver plug.
In the early days of the U.S. Mint, planchets (prepared blanks) that were overweight were scraped by U.S. Mint employees to the point that their respective weights were in the weight range defined by law. If a planchet was scraped too much, it would become underweight, and would be a candidate for plugging in the center with a small piece of silver, so that its respective silver content was sufficient to meet specifications.
It is possible that over-adjustment is not the only reason why some planchets were underweight. Generally, there were and still are various imperfections in manufacturing processes.
The already mentioned Carter-Lustig-Morelan 1794 dollar has a silver plug, though this does not add to its value. Some collectors figure that 1795 dollars with a silver plug constitute a major variety that is required for a set of major varieties of early dollars. Would it make more sense to view silver plugs as corrections of minor mint errors, rather than varieties in the context of regular issues? Opinions, though, are beside the point that these are worth a noteworthy premium to some collectors.
In grades below AU53, the Greysheet values FH 1795 dollars that are plugged as being worth two to three times as much as Flowing Hair 1795 dollars without plugs. In August 2017, Heritage auctioned two PCGS graded VF30 1795 Flowing Hair dollars, each with a silver plug. Both were struck from the same pair of dies (which are referenced as BB18). Neither has a CAC sticker. In consecutive lots, the first sold for $14,754.48 and the second realized $17,037.50. In contrast, Heritage auctioned a PCGS graded VF30 1795 in April 2017, without a silver plug, though struck from this same pair of dies (BB18), for $7,637.50.
A set of three or four Flowing Hair dollars is a very realistic objective, as 1794, 1795-'Two Leaves' and 1795-'Three Leaves' dollars are offered in multiple instances every year, and a 1795 dollar with a silver plug appears at least twice during most years. One 1794 dollar and one 1795 dollar is sufficient to start a set of silver dollars 'by date'!
# # #
©2019 Greg Reynolds
Insightful10@gmail.com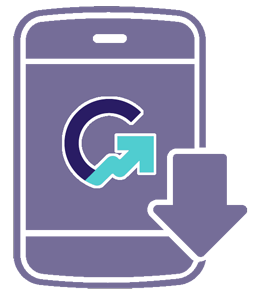 Download the Greysheet app for access to pricing, news, events and your subscriptions.
Subscribe Now.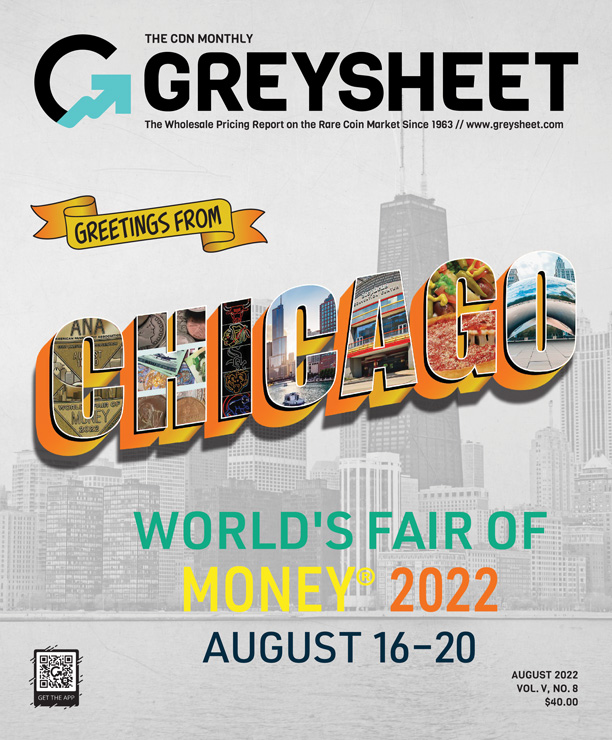 Subscribe to Monthly Greysheet for the industry's most respected pricing and to read more articles just like this.
Visit these great CDN Sponsors
Greg Reynolds is a professional numismatic researcher and writer. He can reached via email at
Insightful10@gmail.com
.
---