Bitcoin:

$18,994.12
$120.78
Ethereum:

$1,306.31
$7.56
Series Analysis: The Extreme Consistency of Raw Barber Dimes
Of all series of U.S. silver coins that commenced in the 19th century, Barber dimes are the least expensive and easiest to collect.
Of all series of U.S. silver coins that commenced in the 19th century, Barber dimes are the least expensive and easiest to collect. A large number of different dates may be purchased for less than $5 each. In F12 grade, Greysheet Bids for more than fifty of the seventy-three dates are less than $100 each. In Fine to AU grades, prices for Barber dimes have been trending mildly upward for forty-five years, with modest ups and downs along the way. Fine to AU grade Barber dimes remain very affordable in the context of classic U.S. coins.
Among business strikes in the series, there are no rarities. I have examined seven of the nine known 1894-S dimes and I firmly maintain that these are not business strikes. They are Proofs or are close to being Proofs—special strikings from extraordinarily prepared dies. An 1894-S is thus not needed for a complete set of business strike Barber dimes.
A set by date of raw Barber dimes is not difficult to assemble and is especially inexpensive in the context of classic U.S. coins. Some collectors who cannot afford to complete a set can afford to buy at least a dozen different dates, including some from the 19th century.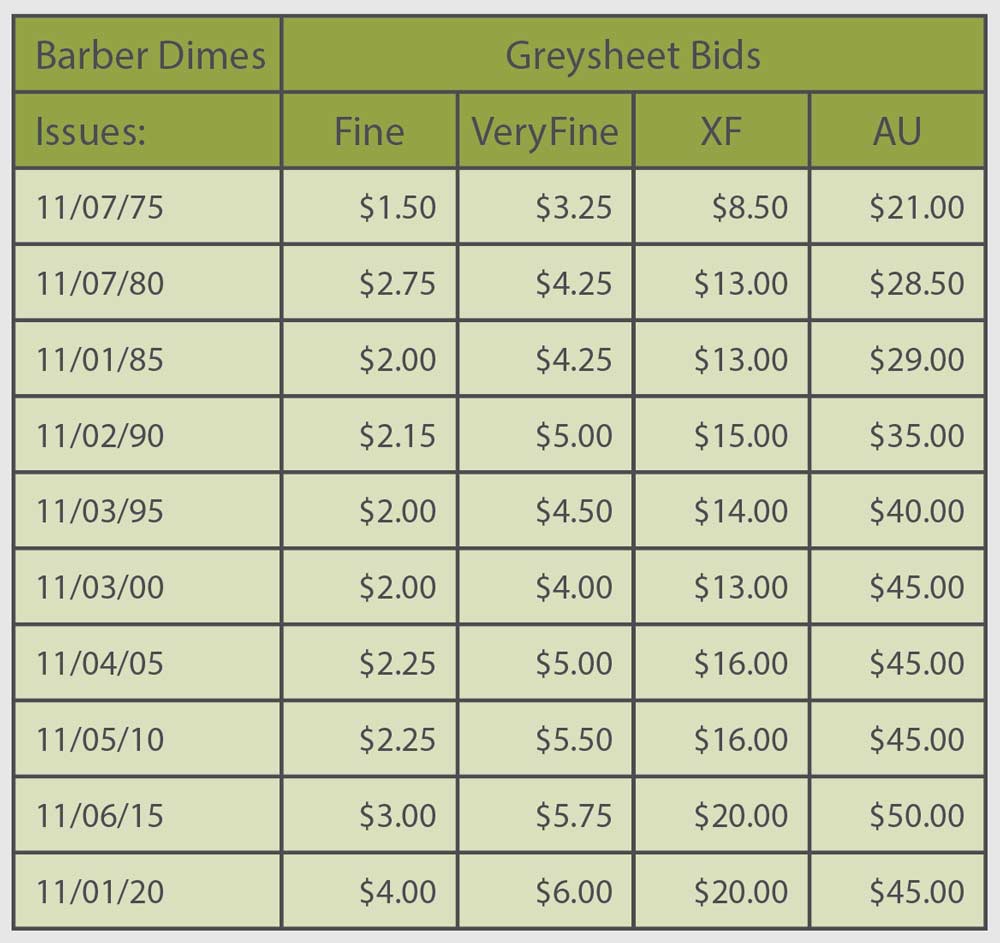 Importantly, Greysheet Bids for more than twenty dates are just $4 each in F12 grade: 1900, '01, '02, '03, '04, '05, '07, '08, '08-D, '09, '10, '11, '11-D, '11-S, '12, '12-D, '12-S, '13, '14, '14-D, '15, '16, and '16-S . Greysheet Bids for 1897, 1898, and 1906-D dimes in F12 are $5 each. Collectors should expect dealers to ask for prices above Greysheet Bid levels. Common date Barber dimes in circulated grades are usually not certified, as it is not cost-effective for dealers to pay PCGS or NGC fees, plus shipping, to have Barber dimes graded. Collectors, though, sometimes have low-cost coins certified out of curiosity or for educational purposes.
Greysheet Bid for the key date business strike Barber dime, the 1895-O, is $365 in G4 grade and $750 in F12. An AG3 or Fair-02 grade 1895-O would cost much less than $200. When I was a kid, I used to buy Barber dimes at local coin shows. Most of them cost between $1 and $10, generally around $2 or $3 each. Occasionally, I acquired AG3 or Fair-02 grade representatives of better dates. I enjoyed owning them.
Although the coin related media tends to emphasize coverage of contemporary mint issues, PCGS and NGC registry sets, Morgan dollars, Lincoln cents, Saint Gardens double eagles, coins from shipwrecks, offerings of 1804 dollars, and coins with wildly colorful toning, there are thousands of collectors who buy raw Barber dimes. The history of Greysheet Bids for these suggests that the number of people who collect raw Barber dimes has not changed much over the last half-century.
For a period from 1975 to 2020, it is illuminating to reference Greysheet Bids for Fine to AU grade Barber dimes that were published in the first issue in November every five years. As the Greysheet became a monthly in 2018, rather than a weekly, bids in the only issue of November 2020 are being referenced here. There are several reasons as to why Greysheet Bids for Barber dimes in Good to VG grades are being excluded from this list of historical values. Past editors of the Greysheet did not always distinguish prices for Good grade Barber dimes from those in VG grades. There was a time when rolls of G to VG grade Barber dimes were often subject to speculation or intense dealer-to-dealer trading. Much more so than Barber dimes that grade F12 or higher, values of G to VG grade Barber dimes have been affected by spurts in demand by large retail operations to mass-market these to the general public. For the purpose of revealing price changes over time of Barber dimes overall, it is best to focus upon Fine to AU grade common dates, as past Greysheets provide fairly reliable data for these.
While prices for raw Barber dimes sometimes decline, the trend over the last forty-five years has been for prices to inch upward. It is curious that the ratio of the values of XF grade Barber dimes to AU grade coin fell from 1985 to 2010, 44.8% to 35.6%, and then rose to return to about the ratio in 1985, 44.4% ($20/45) in November 2020.
Fine grade Barber dimes have increased in value the most, 167%, while Very Fine grade coins have increased in value the least, just 84.6%. Extremely Fine grade Barber dimes outpaced AU grade coins, 135% versus 114%, though a sizable portion of this increase occurred between November 1975 and November 1980. An XF Barber dime was worth 53.8% more in November 2020 than it was worth in November 1980, while an AU Barber dime was worth about 57.9% more.
This kind of analysis would be of limited use for mint state coins as grading criteria and standards have changed over time. MS60 grade Barber dimes were very appealing in the past, and many of those would probably grade from MS61 to MS64 in the present. A MS65 grade Barber dime in 1985 would be likely to qualify for a higher grade in 2020, though this is not always true.
There is also the question of how imperfections in circulated coins, like contact marks, are and were interpreted. Were dealers more fussy about paying Greysheet bid prices during some time periods? A F12 grade Barber dime that has three mild contact marks is different from a F12 Barber dime that has six very noticeable contact marks of medium depth, which are apparent without magnification.
To understand Greysheet Bid levels for relatively common coins, it is important to figure that dealer-buyers can predict the quality of coins being offered on average from leading known sellers without envisioning every single coin. It is true, however, that changes in grading criteria have not been limited to mint state coins. There are coins that might qualify in AU in one time period and as XF in another. For the most part, however, grading criteria for circulated Barber dimes has been stable over the last half century.
I am not implying that people should use Greysheet data as a reference to speculate in circulated Barber dimes. I am not encouraging speculation here.
The point here is that Greysheet data suggests that there has been ongoing interest in collecting circulated Barber dimes for the last forty-five years. Grading criteria for circulated Barber dimes have been consistent enough to demonstrate this point.
During this whole forty-five year period, Barber dime collectors who faded away were replaced by people who commenced collecting Barber dimes. Although millions of non-circulating modern U.S. coins have been minted since 1980, and there has been much emphasis on certified classic U.S. coins since PCGS was founded in 1986, more than twenty-five thousand collectors own raw circulated Barber dimes.
Copyright ©2021 Greg Reynolds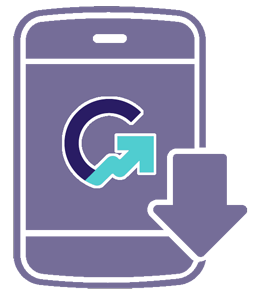 Download the Greysheet app for access to pricing, news, events and your subscriptions.
Visit these great CDN Sponsors
Greg Reynolds is a professional numismatic researcher and writer. He can reached via email at
Insightful10@gmail.com
.
---