Palladium:

$2,084.00
$8.00
Bitcoin:

$23,730.15
$281.99
Ethereum:

$1,875.44
$19.04
Canadian Dollar:

$0.78
$0.01
Top Ten Auction Records for U.S. and Early American Coins & Patterns
In a list that is sure to be outdated within weeks, Greg Reynolds runs through the top ten auction records for U.S. coins.
As Heritage auctioned a 1787 Brasher Doubloon for $9.36 million on January 21, 2021, and Stack's-Bowers recently announced that the only privately owned 1822 half eagle (U.S. $5 gold coin) will be offered in March, the topics of auction records and the most valuable American coins are 'in the news'! The ten highest auction results for U.S. and Early American coins and patterns are listed here.
I personally viewed all of the coins and patterns discussed in this list. I attended most of the cited auctions. I very much enjoyed these events.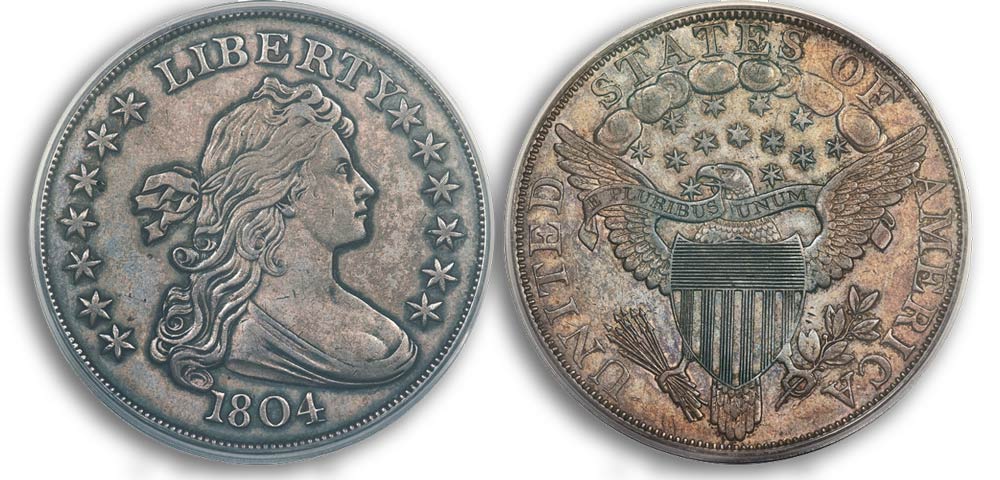 10. Mickley-Hawn-Greensboro 1804 Dollar – 08/09/13
On August 9, 2013, prior to the beginning of an ANA Convention in Rosemont, Heritage auctioned the Mickley-Hawn-Queller-Greensboro 1804 silver dollar for $3,877,500. Heritage auctioned this 1804 dollar three times during a period of less than eleven years. This result in August 2013 was the highest of the three.
The Mickley-Hawn 1804 dollar is a wonderful coin, with excellent natural toning, though it has substantial friction on the highpoints. The Childs Collection and 'King of Siam' 1804 dollars are each of much higher quality.
There survive fifteen 1804 silver dollars, eight of which were struck in 1834 and/or 1835 including this one. The others were struck in 1858 or later.
I witnessed David Queller purchase the Mickley-Hawn 1804 dollar for $522,500 at a Stack's (NY) auction of portions of the Reed Hawn Collection in October 1993. In April 2008, Heritage auctioned Queller's silver dollars and this coin realized $3,737,500. Later, in June 2018, this same 1804 dollar was auctioned at a Long Beach Expo for $2,640,000. Dell Loy Hansen was the buyer.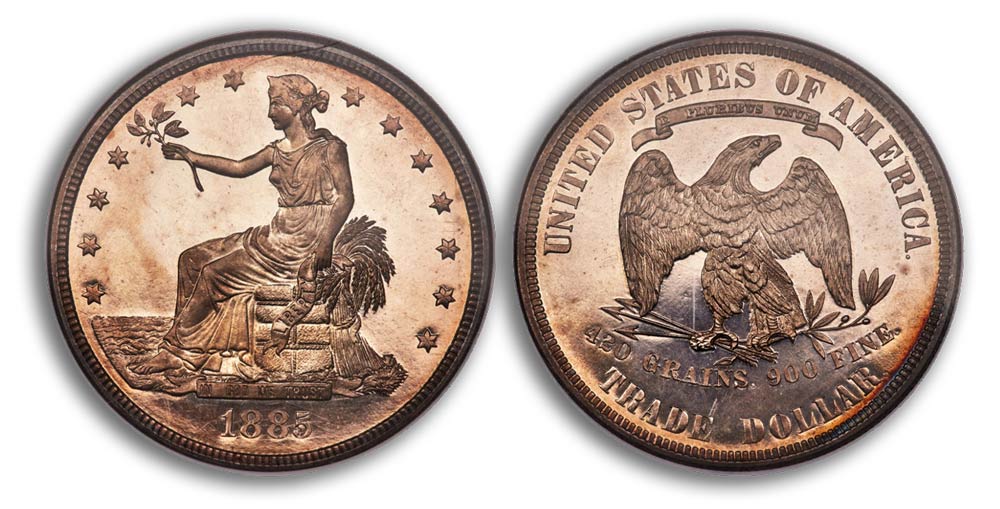 9. Eliasberg-Greensboro 1885 Trade Dollar – 01/20/19

On January 20, 2019, at a FUN Convention in Orlando, Heritage auctioned the Eliasberg 1885 Trade Dollar for $3,960,000. Dell Loy Hansen now owns it. On April 8, 1997, Jay Parrino paid $907,500 for this same coin in the Eliasberg '97 sale by Bowers & Merena.
Like the Eliasberg 1913 Liberty Head nickel, the Eliasberg 1885 Trade Dollar is the finest of five known. All five 1885 Trade Dollars are owned by collectors, as far as I know.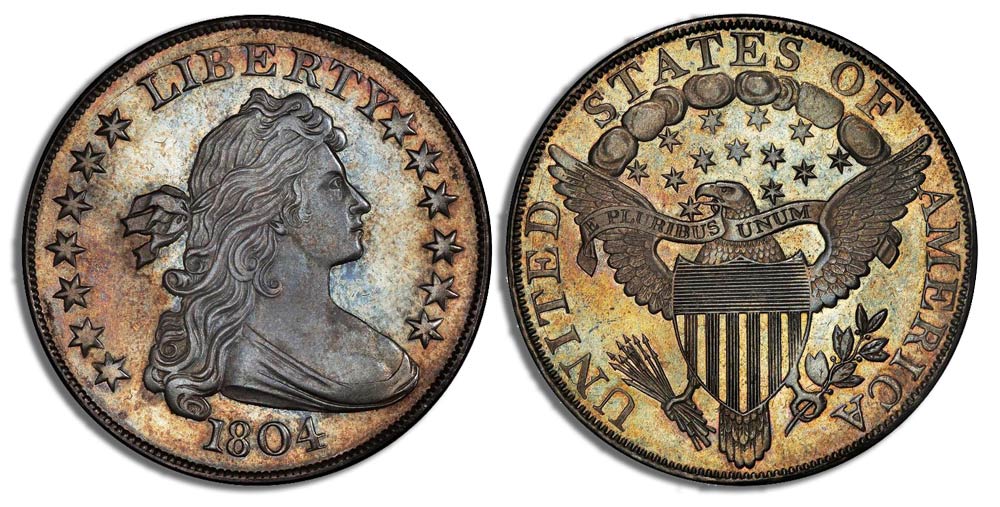 8. Childs Family 1804 Silver Dollar – 08/30/99
On August 30, 1999, at a hotel on Central Park South, Bowers & Merena (New Hampshire) auctioned the Walter Childs Collection 1804 silver dollar for $4,140,000. This outcome set an auction record for any coin or pattern. On April 8, 1997, the Stickney-Eliasberg 1804 silver dollar brought $1,815,000, a realization which set the previous record.
Before that auction in 1999, this 1804 dollar was PCGS certified as Proof-68 and was regarded then as the finest known by far. I attended the auction. At the time, I figured that a price realized of $2.75 million would have been strong.
Most players were then thinking that this 1804 dollar would realize between $1.9 million and $2.9 million. While the Childs auction was exciting, it was not characterized by the large attendance and surreal aura of the Eliasberg '97 sale. Yes, the Childs 1804 dollar was clearly of higher quality than the Eliasberg 1804 dollar. It was not clear before the auction in August 1999, however, that the Childs 1804 would sell for much more than the Eliasberg 1804 realized in a frenzied bidding environment in April 1997.
The $4.14 million result was astonishing at the time. There was a bidding war between Jay Parrino and the Pogue Family. David Akers acted as agent for the Pogues. Brent Pogue and his father were there.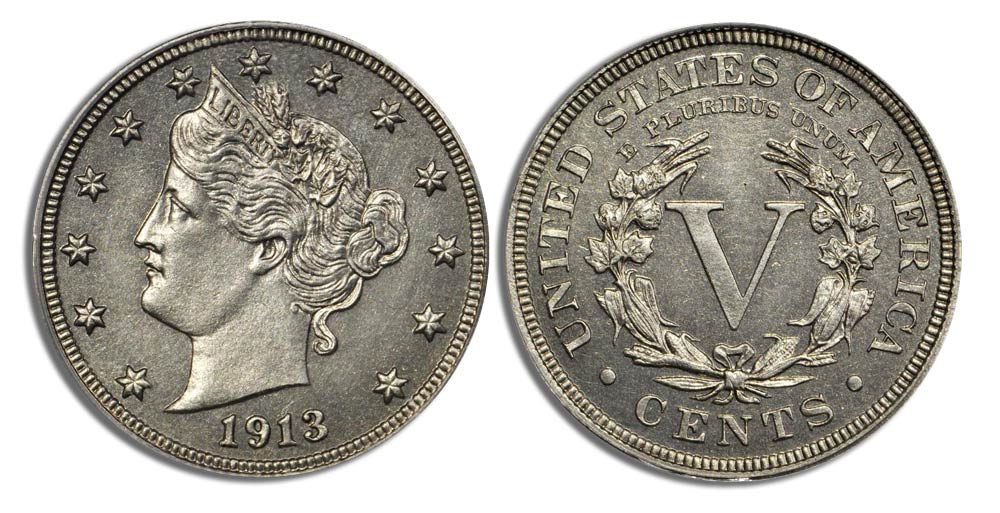 7. Finest Known 1913 Liberty Head Nickel – 08/15/18

On August 15, 2018, at the Pennsylvania Convention Center in Philadelphia while an ANA Convention was in progress, Stack's-Bowers auctioned the Eliasberg 1913 Liberty Head nickel for $4,560,000. It is now in the collection of Gerald Forsythe. His Proof Liberty nickels, including this 1913, were exhibited on the bourse floor at the ANA Convention in August 2019 in Rosemont, Illinois.
Two of the five known are in museums. Mrs. Emery May Holden Norweb donated the Norweb Family 1913 Liberty Head nickel to the Smithsonian in 1977. The late Aubrey Bebee was a famous dealer who personally owned a 1913 Liberty Head nickel, which was donated to the ANA in 1989. The McDermott-Bebee 1913 Liberty Head nickel has been displayed at the ANA museum and at many ANA Conventions.
Indisputably, the Eliasberg 1913 Liberty Head nickel is the finest of five known. Louis Eliasberg formed the all-time greatest collection of U.S. coins. This nickel was in his collection for decades before Louis Eliasberg's son, Richard, consigned the copper, nickel and silver U.S. coins in the collection, plus patterns, colonials and pioneer gold, to Bowers & Merena circa 1995. Auctions were held at the St. Moritz hotel in Manhattan during May 1996 and April 1997. I feel fortunate to have been around to attend those events.
On May 21, 1996, the Eliasberg 1913 Liberty Nickel became the first coin to be auctioned for more than $1 million. Jay Parrino paid $1,485,000, exactly 50% more than the previous record. In July 1989, the Dexter-Dunham-Bareford 1804 silver dollar was auctioned by Rarcoa for $990,000 in the Auction '89 event.
[Editor's Note: Earlier this month, this coin reportedly changed hands in a private treaty transaction to Bruce Morelan.]
6. Perschke 'New York Style' Brasher Doubloon – 01/09/14

On January 9, 2014, at a FUN Convention in Orlando, Heritage auctioned Walter Perschke's 'New York Style' 1787 Brasher Doubloon for $4,582,500, a weak to moderate price. Monaco Rare Coins bought it for inventory, without a client in mind. Monaco Vice President Adam Crum arranged for it to be displayed in numerous settings. I thank Adam for allowing me to carefully examine the Perschke 'New York Style' 1787 Brasher Doubloon at the ANA Convention in Rosemont, Illinois, during August 2014.
In 2018, it was purchased by a 'West Coast' collector through Heritage. The buyer had been an avid collector of pre-1793 American numismatic items for decades. He very much wished for a Brasher Doubloon and was thrilled to finally be able to acquire one. He paid an amount between $5 million and $6 million.
Earlier, this Brasher Doubloon was purchased by Walter Perschke in July 1979 at the Rarcoa session of Auction '79. Perschke paid $430,000.
The Perschke Brasher Doubloon was NGC graded as MS63 in 2012 and CAC approved before it was auctioned in January 2014. It was later crossed into a PCGS holder with the same grade assignment. Of the five privately owned 'New York Style' Brasher Doubloons, the Perschke piece is the second finest of the four that I have examined. I have never seen the DuPont Collection Brasher Doubloon.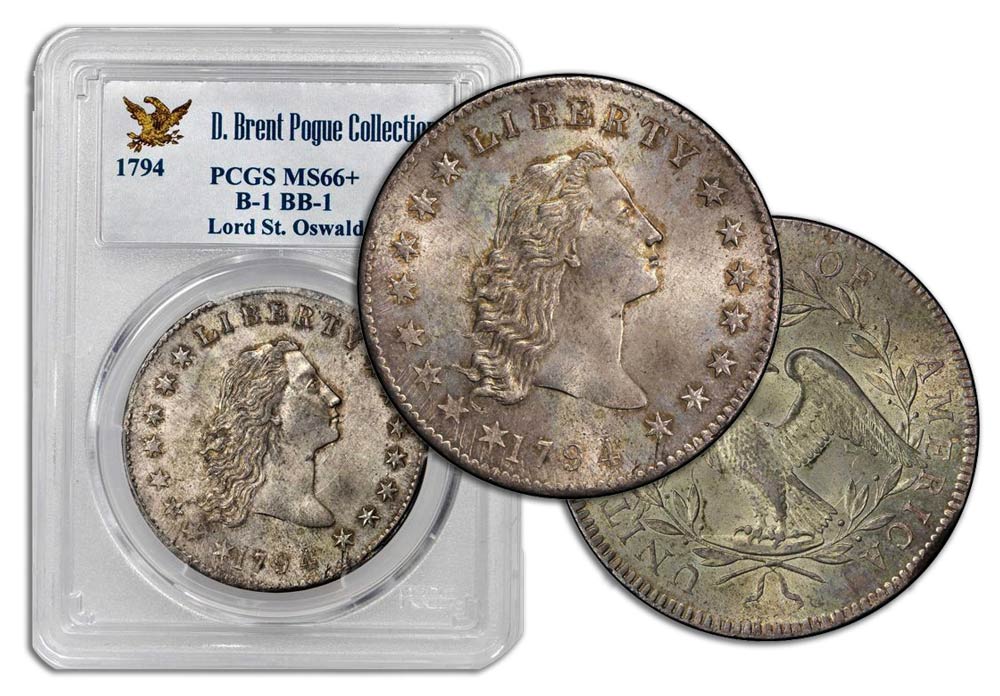 5. Hayes-Pogue 1794 Silver Dollar – 09/30/15
On September 30, 2015, at the Sotheby's headquarters in New York, Stack's-Bowers auctioned the Hayes-Pogue 1794 silver dollar for $4,993,750. This coin was PCGS certified as MS-66+ and CAC approved. This same 1794 silver dollar, which is now in the Simpson Collection, is scheduled to be auctioned by Heritage in August 2021.
The Hayes-Pogue-Simpson 1794 silver dollar is one of three gem 1794 dollars that survive. Another is the Carter-Cardinal-Morelan coin on this list, which very much distinguishes itself by being a true special striking.
The third gem 1794 dollar was in the Lelan Rogers Collection. The Hayes-Pogue-Simpson and Lelan Rogers 1794 dollars are obviously business strikes. The Rogers 1794 was also PCGS certified as MS66+ and was also approved by CAC.
In November 1995, three auction firms, Stack's (NY), Rarcoa and Akers, banded together to conduct the Numisma '95 event in New York. Several important type coins from the Lelan Rogers Collection were auctioned in the Stack's session. Jay Parrino was the successful bidder for the Lelan Rogers silver dollar. Circa 1997, Parrino sold the Rogers 1794 dollar to a collector in the South who still owns it.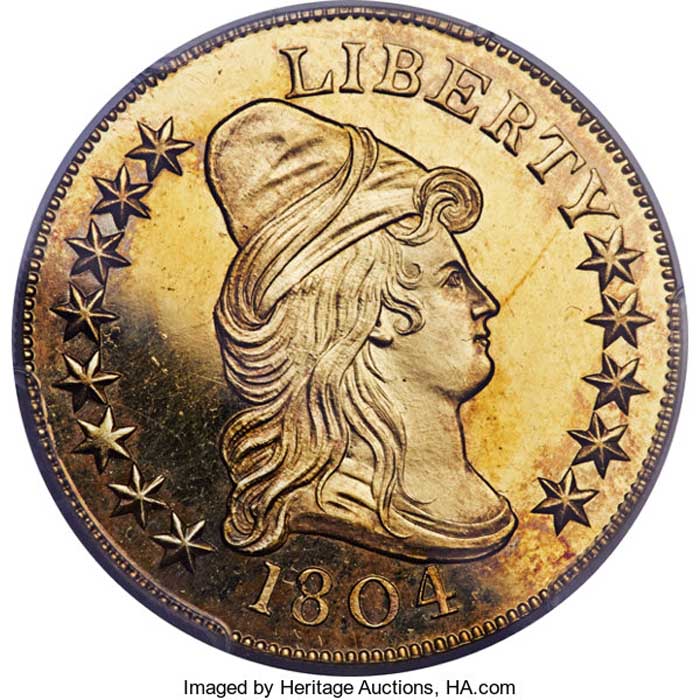 4. Simpson Proof 1804 $10 Gold Coin – 01/20/21
On January 20, 2021, Heritage auctioned the Simpson Collection Proof 1804 eagle ($10 gold coin) for $5,280,000. This is one of three known Proof 1804 eagles. It is very likely that all three were minted in 1834 and/or 1835. It is also likely that all the surviving Proof 1804 eagles were originally in Proof sets that were ordered by President Andrew Jackson to be given to foreign chiefs of state, particularly selected monarchs in Asia. One Proof 1804 Eagle is still in the 'King of Siam' Proof set, which is owned by a collector.
Another Proof 1804 eagle was earlier in the Eliasberg Collection and is currently impounded in the collection of the Harry Bass Foundation. It is or was on display at the ANA museum in Colorado Springs.
The pedigree of the Simpson Collection Proof 1804 eagle is detailed in the Simpson III catalogue by Heritage. I mention this 1804 eagle in my review of rare gold coins in the Simpson III sale.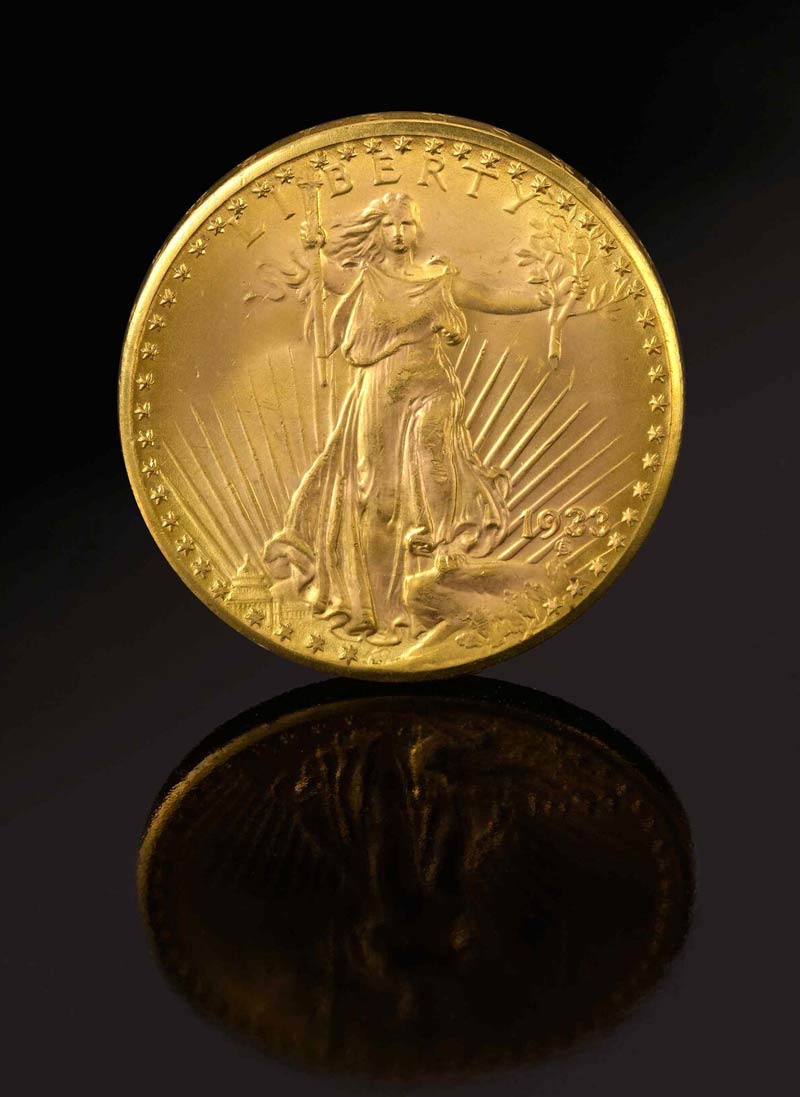 3. Pushed Sale of One 1933 Double Eagle – 07/30/02
On July 30, 2002, Sotheby's, in association with Stack's (NY), auctioned the Fenton 1933 Saint Gaudens double eagle ($20 gold coin) for $7,590,020. This price is an anomaly, which continues to be reflective of a peculiar and illogical legal situation.
Hundreds of thousands of 1933 double eagles were struck. More than fifteen may survive. In my opinion, there is not convincing evidence that any 1933 double eagles were ever stolen.
Almost all relevant historians and coin oriented researchers generally maintain that, from the 1790s to 1934, collectors and tourists traded old coins for new coins at the Philadelphia Mint. Usually, no one involved thought it was necessary to keep a precise record of each trade. The later contrived argument that there was always a legal requirement for a precise record of each coin being delivered by the coiner to the mint superintendent and then discharged by the cashier's office is untenable.
There are many rare U.S. coins now in collections that were not clearly listed in records at U.S. Mints. As far as I know, the vast majority of these are unanimously considered to be legal for private citizens to own, including but not limited to 1823 large cents, the 1870-S half dime, all 1849-O quarters, all 1870-S silver dollars, and most Proof U.S. coins dating before 1858, plus many Proof coins dating after 1858.
Officials at the mint kept track of the number of coins of each silver and gold denomination, and the deliveries by the coining department, though not always the dates on the respective coins. The totals of double eagles at the mint during the 1930s were formally counted from time to time. The accounting books balanced during the pertinent time period. There were no missing double eagles.
It is a very realistic possibility that two dozen 1933 double eagles were fairly included in a group of 1932 double eagles that were legally released during March 1933, with accurate counts of the totals of double eagles. It could also be true that collectors or dealers traded 1928 double eagles for 1933 double eagles in March 1933 with the cooperation in good faith of employees of the Philadelphia Mint. Would anyone then have thought that there was a legal requirement for such trades to be precisely recorded?
Nevertheless, federal attorneys in 2011 somehow convinced a jury that all privately held 1933 were always the property of the U.S. Treasury Department. My analyses of the Switt-Langbord 1933 double eagle case may be found online.
The Fenton 1933 is in its own category because Stephen Fenton and the U.S. Treasury Department made a deal in 2001 or so. An 'out or court' settlement required that this one 1933 double eagle be auctioned with Fenton and the U.S. Treasury splitting the amount realized after an auction commission was deducted. I was there on July 30, 2002. At least three bidders were still active after the level surpassed $5 million.
[Editor's Note: On March 10, Sotheby's announced that this coin will be auctioned again on June 8, 2021. See related article.]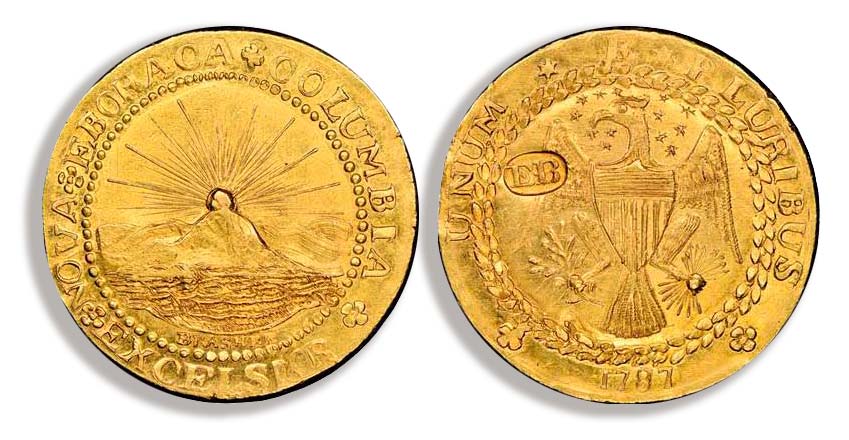 2. Finest Known 'NY Style' Brasher Doubloon – 01/21/21
On January 21, 2021, Heritage auctioned the Stickney-Garrett-Partrick 1787 'New York Style' Brasher Doubloon for $9.36 million. Please click here to read my analysis of the Brasher Doubloons in the Partrick Collection and my discussion of the historical meaning of Brasher Doubloons. This $9.36 million result is an auction record for a gold numismatic item.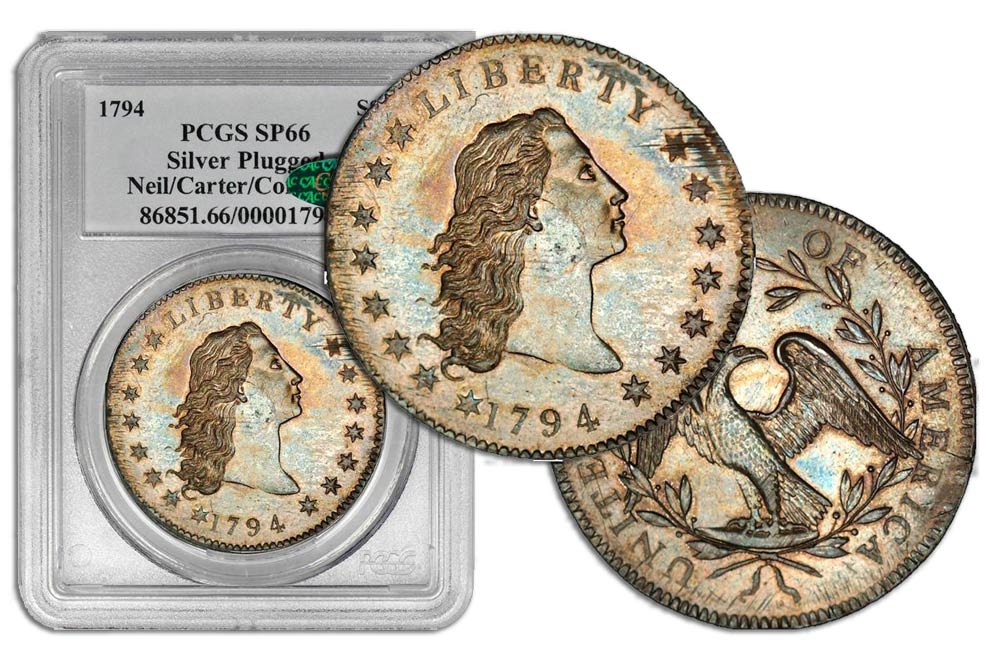 1. Specially Struck 1794 silver Dollar – 01/24/13
The auction record for any kind of numismatic item is the result of $10,016,875 (= $8.525 million + 17.5%) for the Carter-Lustig-Knoxville-Contursi-Cardinal 1794 silver dollar in a Stack's-Bowers auction in New York city on January 24, 2013. This coin was PCGS certified as Specimen-66 and CAC approved.
Although the final bid at the auction was strangely communicated, I personally knew all of the serious bidders or their respective agents. I made inquiries. I know the consignor as well, and several officials at the auction firm. I am satisfied that this coin really sold for $10,016,875. I extensively discussed the prices realized in this auction in my coverage, which appeared in a leading coin publication.
Before that auction, I wrote a detailed analysis of this 1794 dollar, "Incredible 1794 Silver Dollar to be Auctioned." All of my articles relating to the Stack's-Bowers auction of the Cardinal Collection on January 24, 2013 may still be found online with Google searches. It is not practical to refresh all that material here.
In regards to this 1794 dollar, a current point is that Bruce Morelan has now owned it for more than eight years. He has indicated publicly that it is not currently for sale. When Morelan sold his business strike bust dollars last year, he included this coin in the offering, not because he wanted to sell it, but rather to attract attention to his business strike bust dollars. With this coin as a magnet, Morelan's business strike bust dollars garnered more attention than they otherwise would have received. As far as I know, Bruce never wished to sell this specially struck 1794 silver dollar, which is certainly one of the most fascinating of all American coins.
Copyright ©2021 Greg Reynolds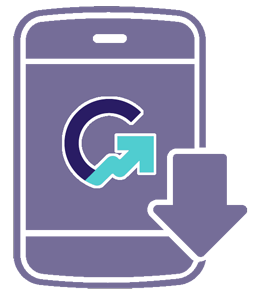 Download the Greysheet app for access to pricing, news, events and your subscriptions.
Subscribe Now.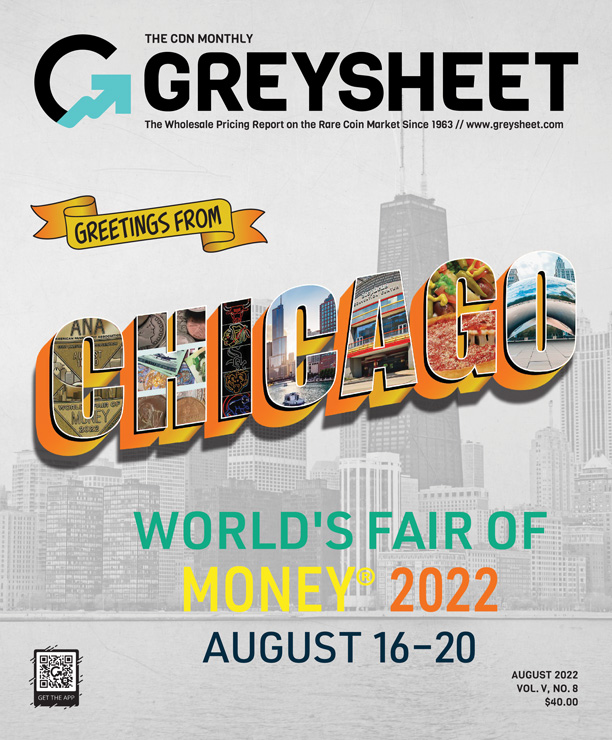 Subscribe to Monthly Greysheet for the industry's most respected pricing and to read more articles just like this.
Visit these great CDN Sponsors
Greg Reynolds is a professional numismatic researcher and writer. He can reached via email at
Insightful10@gmail.com
.
---