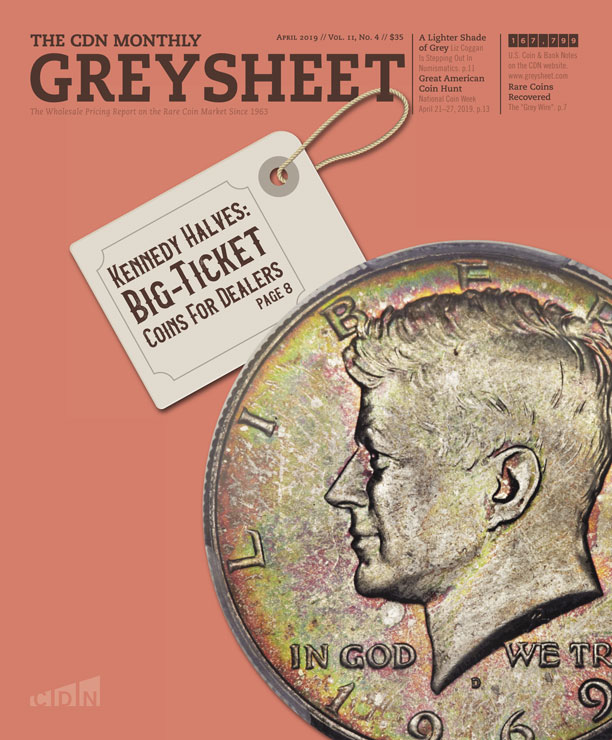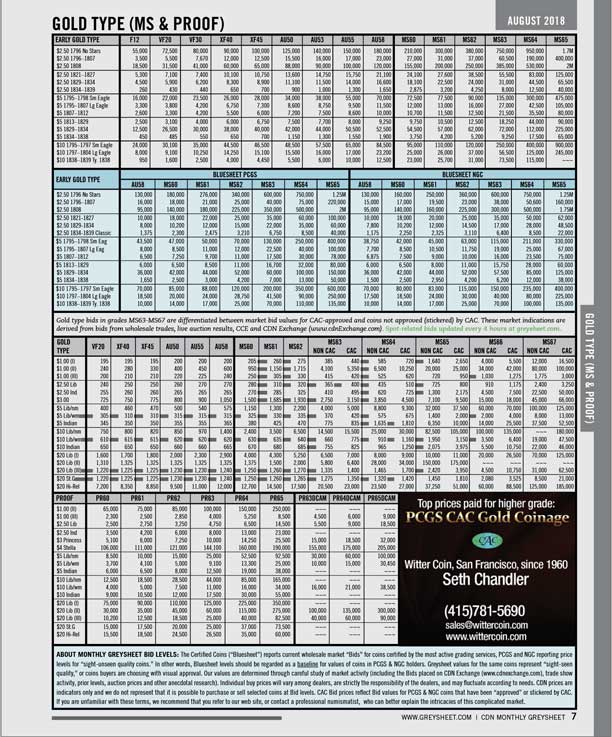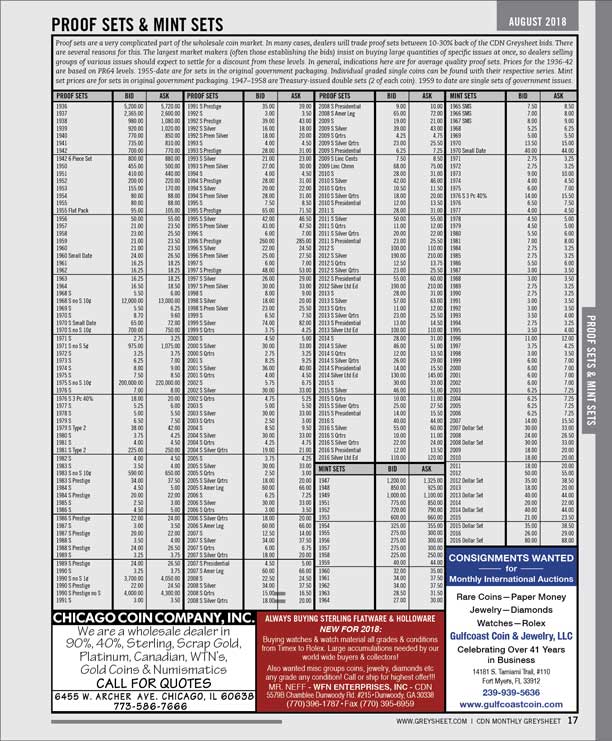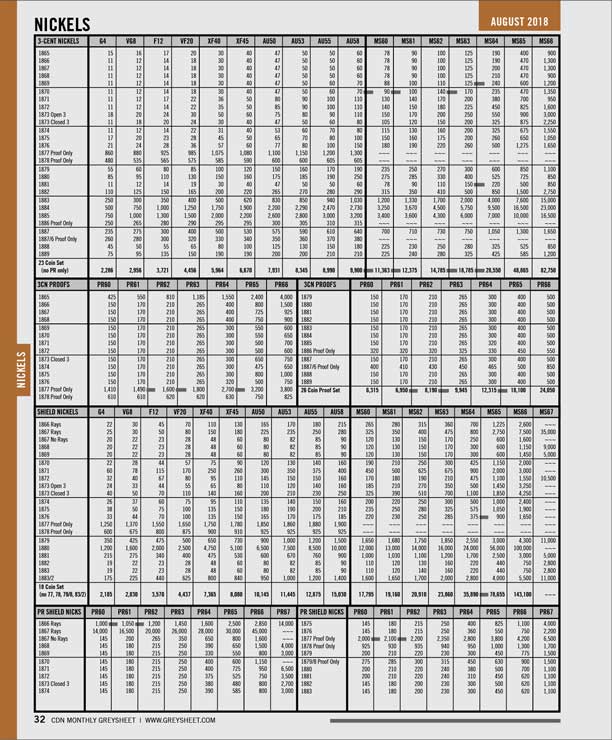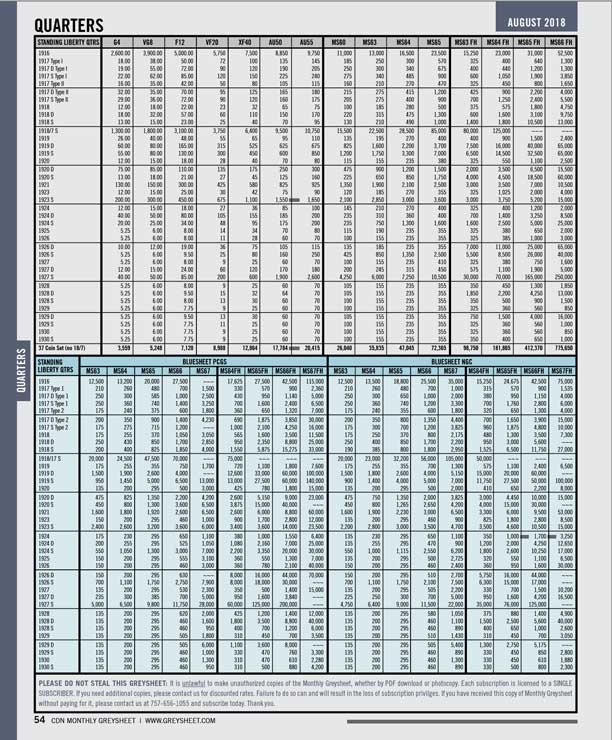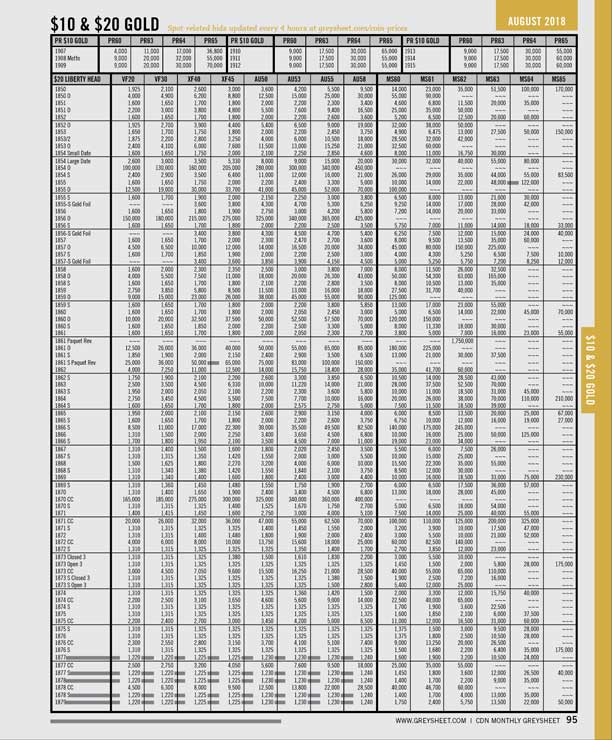 Watch the 2-minute video
The Monthly Greysheet
Publication information:
The CDN flagship, Monthly Greysheet, subscription includes pricing for nearly every U.S. coin, as well as modern China issues including values from the former Greysheet publications, Bluesheet, and Goldsheet newsletters, in a single 116+ page full-color magazine.

Coin Dealer Newsletter has continuously published Greysheet coin pricing since 1963. Each issue of Monthly Greysheet is full of the latest wholesale market information for collectible U.S. coins and considered a must have by dealers, investors, and serious collectors worldwide.

Subscription information:
The Greysheet subscription package includes: 12 monthly issues each year, as well as online and smartphone access to pricing data.

Library of Congress:
ISSN (print): 2641-5240
ISSN (online): 2641-5259
Subscribe to: Monthly Greysheet: 12 Issues Per Year
International shipping is now available for an additional $69/year.
We publish printed prices for all U.S. coin series as listed in our
online price guides
with the addition of: proof sets, type coins, world bullion gold, bags, complete sets and more. This is the wholesale pricing guide requested by everyone in the coin business!
Since 1963, the Coin Dealer Newsletter (CDN) has been in the information business. Our monthly Greysheet is a must have for all coin & currency professionals, and fills a very special need in the coin business: current, accurate wholesale information on the BID level of U.S. coins. Bid is the estimated amount that one dealer is willing to pay another dealer to purchase a needed coin.

Why do dealers around the world trust us? They know that only in the CDN can they find unbiased, accurate, current price information - information that they know is independent, because the CDN staff neither buys nor sells coins, only information. Prices listed as classic Greysheet values assume that the transaction is sight-seen; that is, the bidding dealer is willing to pay that price to buy a coin that he is given the opportunity to inspect prior to concluding the transaction (more about sight-unseen bidding later!). If the dealer is not pleased with the coin, or disagrees with the seller's grading, he is under no obligation to buy it. CDN prices also assume that the coin is graded according to accepted industry standards, as exemplified by PCGS and NGC. The CDN also considers information on coins that are "raw" (that is, the coins have not been examined by one of the certification services), but that are properly graded. Since coins certified by PCGS and NGC are such an important segment of the coin market, bids for these coins are an important consideration in the CDN pricing evaluations.

Since the CDN started as a publication for dealers, we assume that our subscribers know how to grade; if they know the grade of the coin, we give them the current price. Since the Greysheet comes out weekly, the information is always up-to-date, and it is easy to take anywhere it's needed. As the grading definitions changed over the years, the Greysheet changed to reflect appropriate prices for Bids using the new definitions. Presenting tens of thousands of prices accurately every week requires the cooperation of many people. Our senior staff has over 100 years of coin business experience, and every day we get information from hundreds of people trading coins. We watch the computerized networks and pay special attention to dealers "wanted to buy" lists, as well as auction Prices Realized.

Pages of information are devoted to Silver Dollars; this is a small measure of their continuing popularity among collectors. We list every date and mintmark, and many of the varieties, in eleven different grades! All the way from Very Good to MS-67, with special listings for Deep Mirror Proof-Like (DMPL) Dollars (those Dollars whose fields are as reflective as mirrors). How to determine a DMPL, versus a less reflective Prooflike (PL)? If you can read your Greysheet prices reflected in the coin's fields, you have one! The mirror-like qualities of some Deep Mirror Proof Likes is so great that they approach the reflective nature of the Mint's PROOF specimens - remember that PL and DMPL coins are business strikes, while Proof coins are specially prepared from polished dies and planchets.