GREYSHEET & CPG® PRICE GUIDE
Canada Coin Values
Tracked Items
Please sign in or create a free account to use this feature.
Sign in
Spot Prices
Gold:
2032.67 0.00
Silver:
$28.21 0.00
Platinum:
$961.75 0.00
dealers only - join today!
CDNX is a dealer-only network where dealers can post bids, set market prices, and communicate in private. Join the community of 200+ members including Heritage, CAC, Witter Coin, Legend, David Lawrence.
Learn more
Smartphone App (Free Download)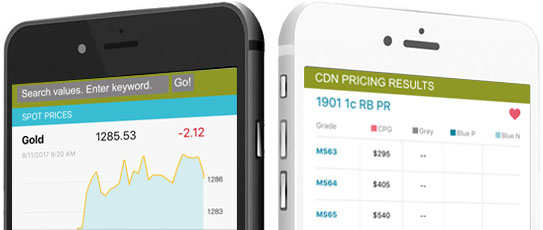 Learn more
Canadian Coins on CDN
CDN is building a price guide for collectible Canadian coinage. In the meantime, we have already started building the catalog of items and we're matching auction records from Heritage Auctions, Stack's Bowers and others for useful reference.
If you have expertise in this area, please let us know! We would like your assistance in making CDN the best valuation tool in the world.
Send Feedback
Canada & Provinces
Legal Disclaimer
The prices listed in our database are intended to be used as an indication only. CDN Publishing, LLC does not buy or sell collectible coins or currency and users are strongly encouraged to seek multiple sources of pricing before making a final determination of value. CDN Publishing is not responsible for typographical or database-related errors. Your use of this site indicates full acceptance of these terms.
CDN Terms of Use