GREYSHEET & CPG® PRICE GUIDE
China Coin Values
Tracked Items
Please sign in or create a free account to use this feature.
Sign in
Spot Prices
Gold:
1796.73 0.00
Silver:
$18.62 0.00
Platinum:
$823.15 0.00
dealers only - join today!
CDNX is a dealer-only network where dealers can post bids, set market prices, and communicate in private. Join the community of 200+ members including Heritage, CAC, Witter Coin, Legend, David Lawrence.
Learn more
Smartphone App (Free Download)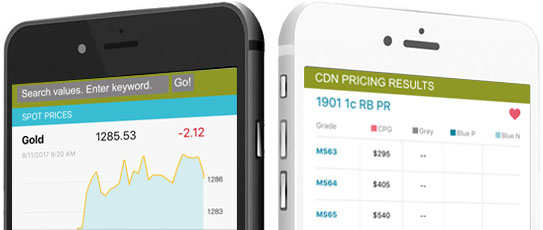 Learn more
歡迎來到現代中國硬幣的CDN定價
所有价格均以美元标示。 Goldsheet刊载了现代中国钱币(包括已评级及未评级)的批发买入及卖出价。BID价皆根据拍卖成交价或近期成交纪录而定,而ASK价则为买家购买时的参考价。已评级钱币价格只适用於由NGC或PCGS评级的钱币。由其他机构评级的钱币有机会以低於此价格交易。OMP代表原装官方包装。散装未评级钱币(即已拆开密封包装)有机会以低於刊载价格交易。另外,有刮花,班点或其他瑕疵的钱币均有机会以低於刊载价格交易。 钱币近期未有交易或未能确认的价格均以~~~符号代替。价格将会根据拍卖纪录及交易结果定期更新。欢迎读者透过电邮提供价格资讯及其他意见:
Send Feedback
Legal Disclaimer
The prices listed in our database are intended to be used as an indication only. CDN Publishing, LLC does not buy or sell collectible coins or currency and users are strongly encouraged to seek multiple sources of pricing before making a final determination of value. CDN Publishing is not responsible for typographical or database-related errors. Your use of this site indicates full acceptance of these terms.
CDN Terms of Use