Palladium:

$946.00
$27.00
Bitcoin:

$41,236.25
$873.75
Ethereum:

$2,219.19
$18.77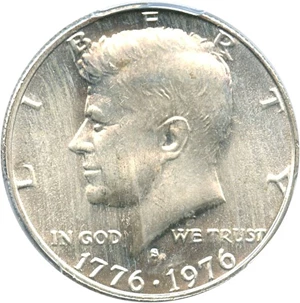 1976-S 50c PCGS MS66 (Silver)
Source: David Lawrence Rare Coins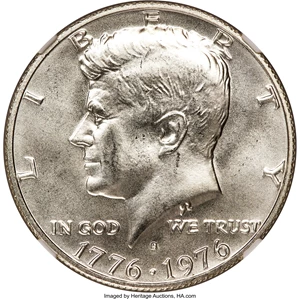 1976-S 50C Silver MS69 NGC....
Source: Heritage Auctions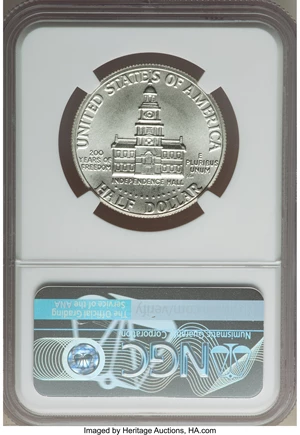 1976-S 50C Silver MS69 NGC....
Source: Heritage Auctions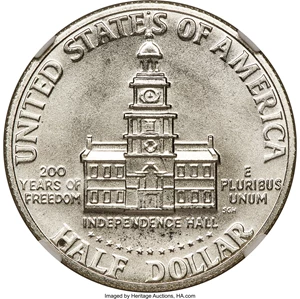 1976-S 50C Silver MS69 NGC....
Source: Heritage Auctions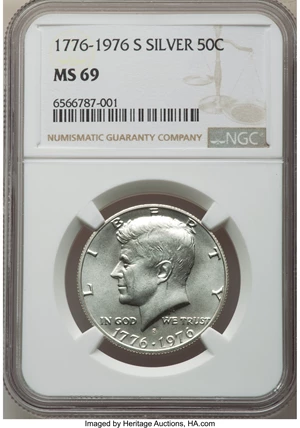 1976-S 50C Silver MS69 NGC....
Source: Heritage Auctions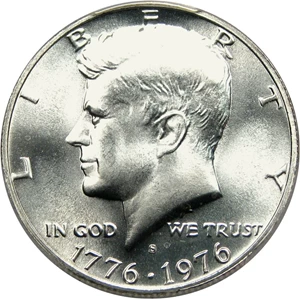 1976-S 50c PCGS MS68 (Silver)
Source: David Lawrence Rare Coins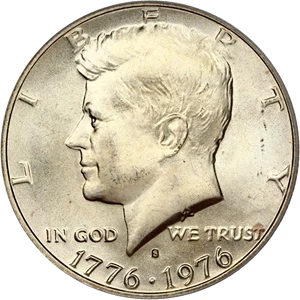 1976-S 50c PCGS MS68 (Silver)
Source: David Lawrence Rare Coins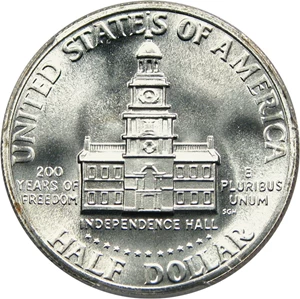 1976-S 50c PCGS MS68 (Silver)
Source: David Lawrence Rare Coins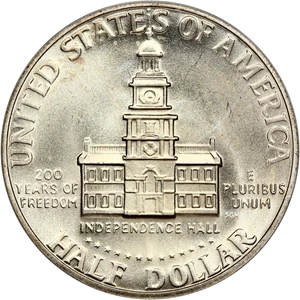 1976-S 50c PCGS MS68 (Silver)
Source: David Lawrence Rare Coins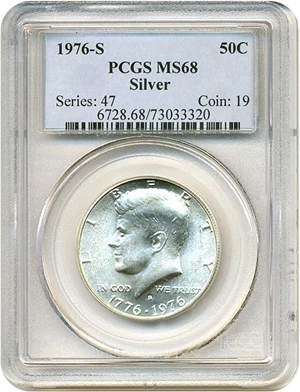 1976-S 50c Silver PCGS MS68
Source: David Lawrence Rare Coins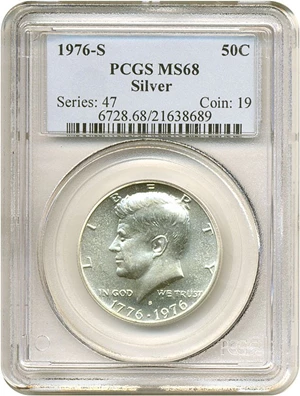 1976-S 50c Silver PCGS MS68
Source: David Lawrence Rare Coins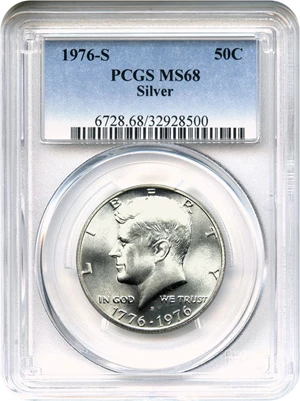 1976-S 50c PCGS MS68 (Silver)
Source: David Lawrence Rare Coins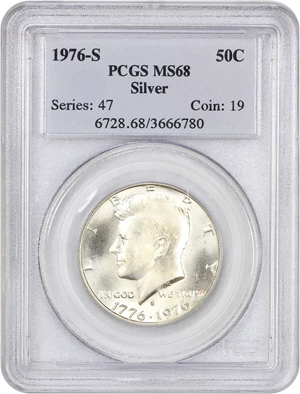 1976-S 50c PCGS MS68 (Silver)
Source: David Lawrence Rare Coins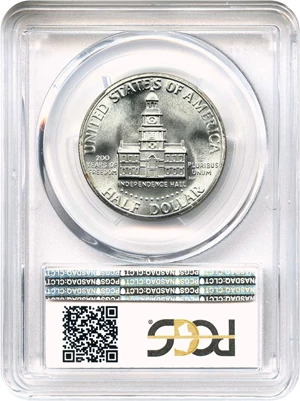 1976-S 50c PCGS MS68 (Silver)
Source: David Lawrence Rare Coins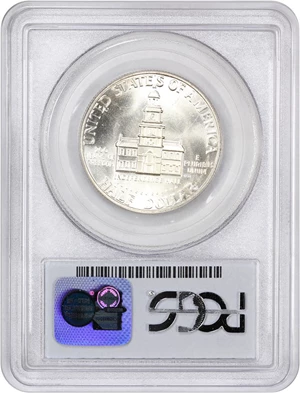 1976-S 50c PCGS MS68 (Silver)
Source: David Lawrence Rare Coins


1976-S 50c Silver PCGS MS68
Source: David Lawrence Rare Coins


1976-S 50c Silver PCGS MS68
Source: David Lawrence Rare Coins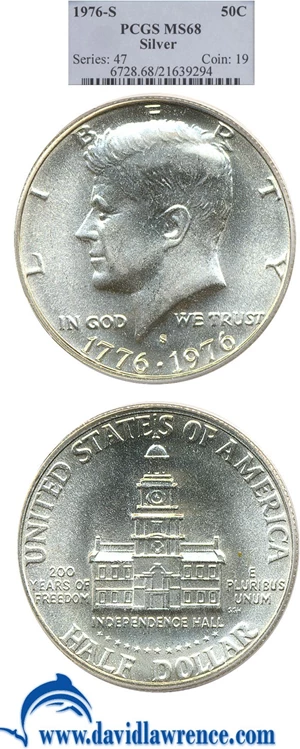 1976-S 50c Silver PCGS MS68
Source: David Lawrence Rare Coins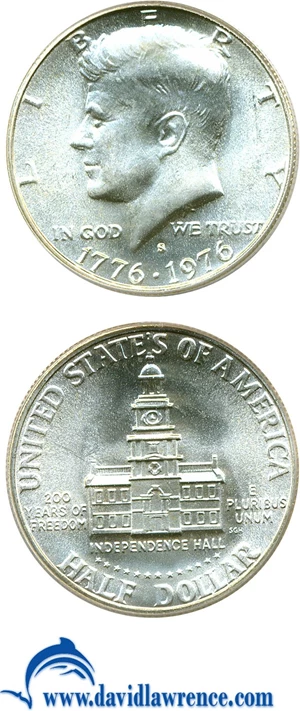 1976-S 50c Silver PCGS MS68
Source: David Lawrence Rare Coins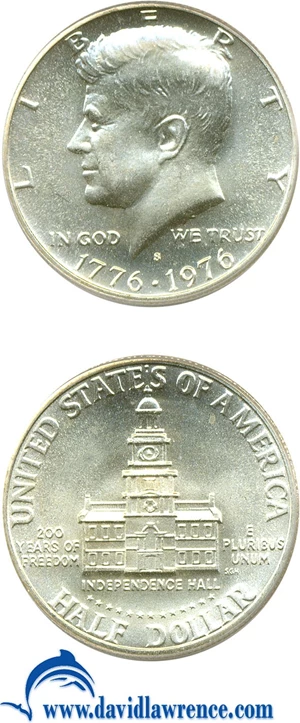 1976-S 50c Silver PCGS MS68
Source: David Lawrence Rare Coins
Greysheet Catalog Details (GSID: 6933)

The 1976-S Half dollar is part of a series of Kennedy half dollar coins struck from 1976. The specific variety is Silver. Struck in San Francisco and designated as a Business (MS) strike, this coin is made of 80% silver; 20% copper from a mintage of 11,000,000 struck.
Shortly following the assassination of President John F. Kennedy in Dallas, Texas, on November 22, 1963, Congress expedited the approval of redesigning the half dollar to honor the nation's fallen president. The first Kennedy half dollar was released in early 1964, replacing the Franklin half dollar that debuted only 16 years earlier in 1948.

The Kennedy half dollar, with the obverse designed by Gilroy Roberts and the reverse by Frank Gasparro, was an immediate hit; millions of mourning Americans jumping on the opportunity to own a "souvenir" of Kennedy for only 50 cents. This led many into thinking the Kennedy half dollar is inherently more valuable or worthy of saving than other half dollars and soon helped lead to an effective removal of the half dollar from circulation. By the early 1980s, the denomination had become virtually non-existent in day-to-day transactions, even though the half dollar remained on the lineup of business-strike circulating coinage until 2002.

No single issue of the Kennedy half dollar is rare, though any business-strike pieces grading better than MS66 or MS67 is largely regarded as a conditional rarity. There are also scarce varieties such as the 1974 doubled die obverse, 1982 no FG, and 1998-S matte finish. Several issues were made in relatively small quantities for distribution only in mint sets, including the 1970-D, 1987 Philadelphia and Denver pieces, and all made since 2002.
Obverse: Portrait of President John F. Kennedy surrounded by the word LIBERTY on the periphery. IN GOD WE TRUST appears left and right of the portrait with the date at the bottom. The mint mark, if any, appears under the right of Kennedy's neck.
Reverse: The heraldic eagle holding arrows and branch of olive leaves with a full circle of stars around it. UNITED STATES OF AMERICA * HALF DOLLAR surround the periphery.
GSID:
6933
Coin Date:
1976-S
Denomination:
50c / Half dollar
Designation:
MS
Mint Mark:
S
Mint Location:
San Francisco
Mintage:
11,000,000
Coinage Type:
Kennedy half dollar
Coinage Years:
1976
Composition:
80% silver; 20% copper
Variety:
Silver
Strike Type:
Business
Diameter:
30.6 mm
Fineness:
0.8
Weight:
11.5 gr
Weight:
0.36169 oz
Coin Shape:
Round
Designer:
Gilroy Roberts & Seth Huntington
Obverse Designer:
Gilroy Roberts
Reverse Designer:
Seth G. Huntington
PCGS #:
6728
NGC ID:
B76B
Feedback:
Visit these great CDN Sponsors
CDN Sponsors
Greysheet & CPG® PRICE GUIDE
About CDN Prices
All CDN prices are based on proprietary market knowledge and technology developed by CDN Publishing, LLC.
CPG® prices represent retail levels. Collectors should refer to CPG values as a starting place for their negotiations, or auction bid reference.
Greysheet/Greensheet prices are wholesale market levels for collectible coins/paper money intended to indicate what a dealer, or wholesale, buyer would pay for the described item in the specified grade. Greysheet/Greensheet represent "sight-seen" values based on a buyer's in-hand review. The actual value can be more or less than this depending on factors including eye appeal and market timing.
Bluesheet (NGC & PCGS) prices represent the highest sight-unseen offers to buy on dealer networks like CDN Exchange. In many cases, there are no active sight-unseen buy offers, so CDN looks to the recent lowest market values for such an item. For this reason, Bluesheet values typically represent the floor of the market for the specified item. CDN only tracks Bluesheet on certain items.
CAC prices are for U.S. coins that meet the standards of the Certified Acceptance Corporation. You can learn more about CAC on their web site.
Price movement is indicated for price changes in the last 30 days.
The prices listed in our database are intended to be used as an indication only. Users are strongly encouraged to seek multiple sources of pricing before making a final determination of value. CDN Publishing is not responsible for typographical or database-related errors. Your use of this site indicates full acceptance of these terms.
Read More...