Platinum:

$1,005.00
$1.00
Palladium:

$1,409.50
$9.00
Bitcoin:

$27,220.01
$258.61
Ethereum:

$1,905.22
$27.48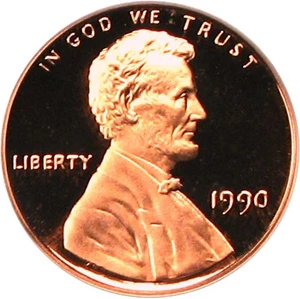 1990 1c PCGS Proof 69 RD DCameo (No S)
Source: David Lawrence Rare Coins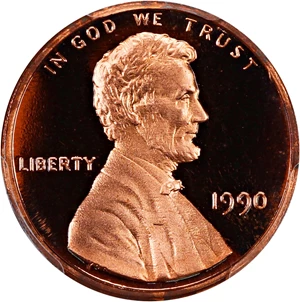 1990 No S 1c PCGS Proof 69 RD DCAM
Source: David Lawrence Rare Coins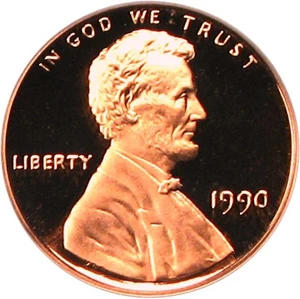 1990 1c PCGS Proof 69 RD DCameo (No S)
Source: David Lawrence Rare Coins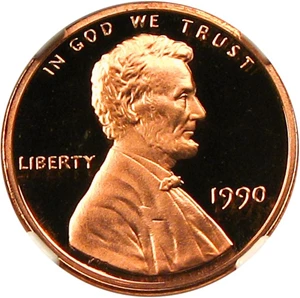 Mint Error: 1990 No S 1c NGC Proof 69 RD DCAM ** Rare Missing Mintmark Error ** Tied for Finest Graded
Source: David Lawrence Rare Coins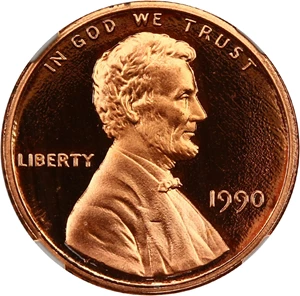 1990 No S 1c NGC Proof 69 RD UCAM
Source: David Lawrence Rare Coins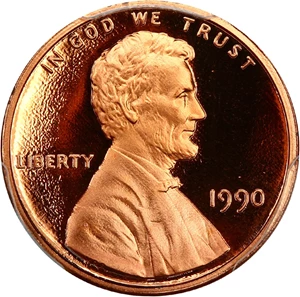 1990 No S 1c PCGS Proof 69 RD DCAM
Source: David Lawrence Rare Coins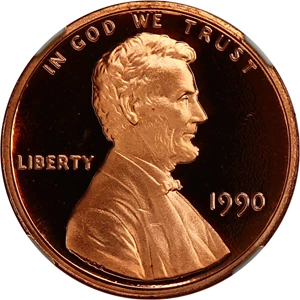 1990 No S 1c NGC Proof 69 RD UCAM
Source: David Lawrence Rare Coins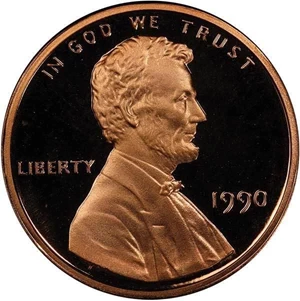 1C 1990 NO S. PCGS PR69 RD DCAM
Source: Legend Auctions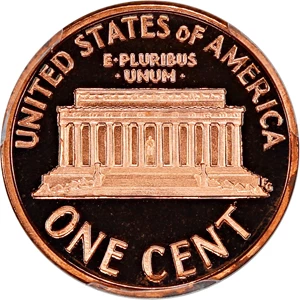 1990 No S 1c PCGS Proof 69 RD DCAM
Source: David Lawrence Rare Coins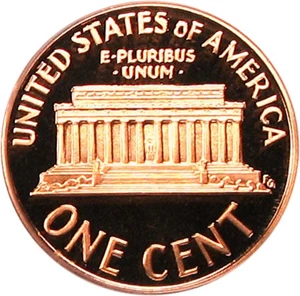 1990 1c PCGS Proof 69 RD DCameo (No S)
Source: David Lawrence Rare Coins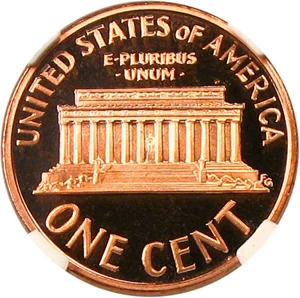 Mint Error: 1990 No S 1c NGC Proof 69 RD DCAM ** Rare Missing Mintmark Error ** Tied for Finest Graded
Source: David Lawrence Rare Coins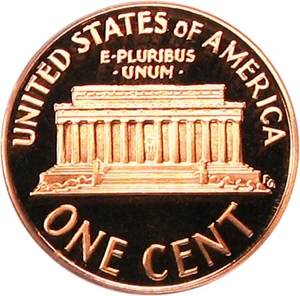 1990 1c PCGS Proof 69 RD DCameo (No S)
Source: David Lawrence Rare Coins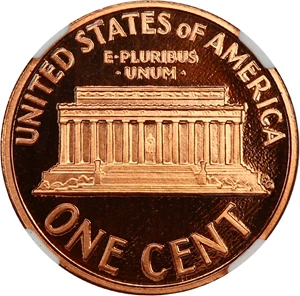 1990 No S 1c NGC Proof 69 RD UCAM
Source: David Lawrence Rare Coins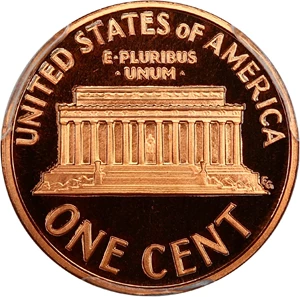 1990 No S 1c PCGS Proof 69 RD DCAM
Source: David Lawrence Rare Coins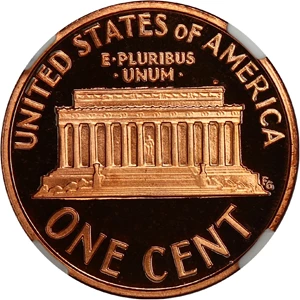 1990 No S 1c NGC Proof 69 RD UCAM
Source: David Lawrence Rare Coins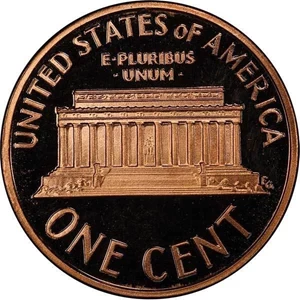 1C 1990 NO S. PCGS PR69 RD DCAM
Source: Legend Auctions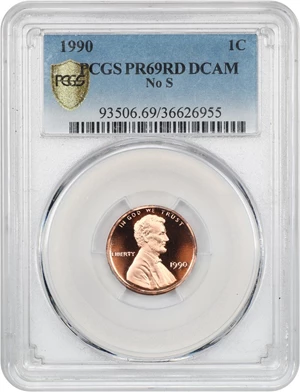 1990 No S 1c PCGS Proof 69 RD DCAM
Source: David Lawrence Rare Coins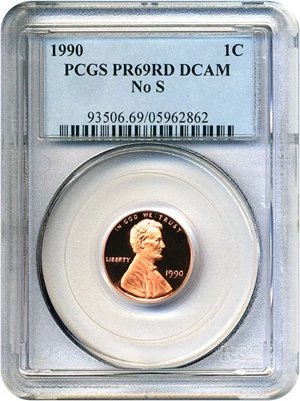 1990 1c PCGS Proof 69 RD DCameo (No S)
Source: David Lawrence Rare Coins

Mint Error: 1990 No S 1c NGC Proof 69 RD DCAM ** Rare Missing Mintmark Error ** Tied for Finest Graded
Source: David Lawrence Rare Coins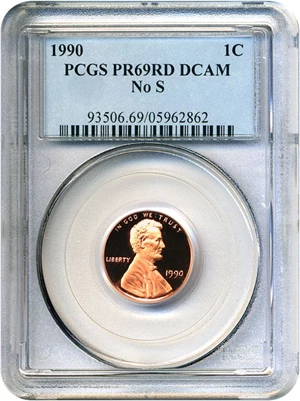 1990 1c PCGS Proof 69 RD DCameo (No S)
Source: David Lawrence Rare Coins
Greysheet Catalog Details
A very unusual variety surfaced in 1990 when a few dozen examples of the 1990 Lincoln proof cent appeared without its requisite S mintmark. As the months turned into years, only a handful of other 1990 no S proof cents surfaced, proving this variety to be an especially rare error indeed. In an era of tight quality control at the United States Mint, it seems unfathomable that an error of this type, one in which a San Francisco Mint proof coin is missing its mintmark, could have ever been created, let alone was able to escape the mint. Yet, it did.

In all, fewer than 200 examples of the 1990 no S proof Lincoln cent have been discovered. On rare occasions, one still turns up in an unsearched hoard of 1990 proof sets. Whether or not many more exist remains to be seen, but it is without a doubt one of the rarest and most significant of all modern proof varieties and demand remains strong for this sensational error.
Obverse: Bust of Abraham Lincoln framed by IN GOD WE TRUST on the top periphery. The word LIBERTY to the left of the portait and the date postioned on the right side.
Reverse: Lincoln memorial building centered with words ONE CENT, UNITED STATES OF AMERICA on top and bottom periphery. E PLURIBUS UNUM centered above the top of the memorial.
Coin Date:
1990 No S
Denomination:
1c / Cent
Designation:
PR
Mint Mark:
S
Mint Location:
San Francisco
Coinage Type:
Lincoln obverse, Memorial reverse
Coinage Years:
1959-2008
Composition:
Copper-plated zinc
Strike Type:
Proof
Diameter:
19 mm
Weight:
2.5 gr
Coin Shape:
Round
Designer:
Victor Brenner (obverse); Frank Gasparro (reverse)
Obverse Lettering:
IN GOD WE TRUST, LIBERTY, 1990
Obverse Designer:
Victor D. Brenner
Reverse Lettering:
E PLURIBUS UNUM, ONE CENT, UNITED STATES OF AMERICA
Reverse Designer:
Frank Gasparro
PCGS #:
93506
NGC ID:
274B
Feedback:
Visit these great CDN Sponsors
Greysheet & CPG® PRICE GUIDE
About CDN Prices
All CDN prices are based on proprietary market knowledge and technology developed by CDN Publishing, LLC.
CPG® prices represent retail levels. Collectors should refer to CPG values as a starting place for their negotiations, or auction bid reference.
Greysheet/Greensheet prices are wholesale market levels for collectible coins/paper money intended to indicate what a dealer, or wholesale, buyer would pay for the described item in the specified grade. Greysheet/Greensheet represent "sight-seen" values based on a buyer's in-hand review. The actual value can be more or less than this depending on factors including eye appeal and market timing.
Bluesheet (NGC & PCGS) prices represent the highest sight-unseen offers to buy on dealer networks like CDN Exchange. In many cases, there are no active sight-unseen buy offers, so CDN looks to the recent lowest market values for such an item. For this reason, Bluesheet values typically represent the floor of the market for the specified item. CDN only tracks Bluesheet on certain items.
CAC prices are for U.S. coins that meet the standards of the Certified Acceptance Corporation. You can learn more about CAC on their web site.
Price movement is indicated for price changes in the last 30 days.
The prices listed in our database are intended to be used as an indication only. Users are strongly encouraged to seek multiple sources of pricing before making a final determination of value. CDN Publishing is not responsible for typographical or database-related errors. Your use of this site indicates full acceptance of these terms.
Read more...
---