Platinum:

$1,026.00
$1.00
Palladium:

$1,430.00
$2.00
Bitcoin:

$27,745.55
$360.60
Ethereum:

$1,893.28
$17.54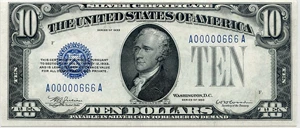 FR. 1700 1933 $10 Silver Cert PMG Choice Unc 63 EPQ (Great Embossing)
Source: David Lawrence Rare Coins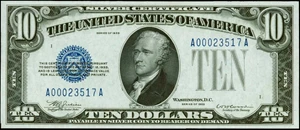 Fr. 1700. 1933 $10 Silver Certificate. PMG Superb Gem Uncirculated 67 EPQ.
Source: Stack's Bowers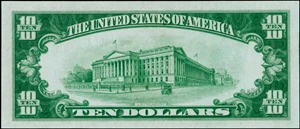 Fr. 1700. 1933 $10 Silver Certificate. PMG Superb Gem Uncirculated 67 EPQ.
Source: Stack's Bowers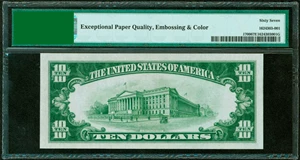 Fr. 1700. 1933 $10 Silver Certificate. PMG Superb Gem Uncirculated 67 EPQ.
Source: Stack's Bowers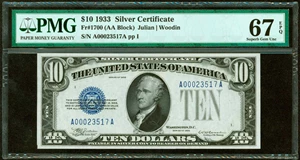 Fr. 1700. 1933 $10 Silver Certificate. PMG Superb Gem Uncirculated 67 EPQ.
Source: Stack's Bowers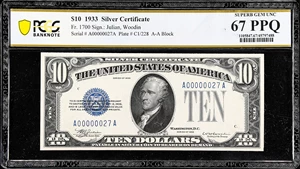 Fr. 1700. 1933 $10 Silver Certificate. PCGS Banknote Superb Gem Uncirculated 67 PPQ. Low Serial Number.
Source: Stack's Bowers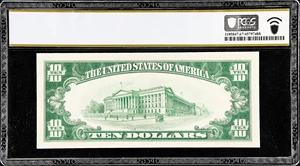 Fr. 1700. 1933 $10 Silver Certificate. PCGS Banknote Superb Gem Uncirculated 67 PPQ. Low Serial Number.
Source: Stack's Bowers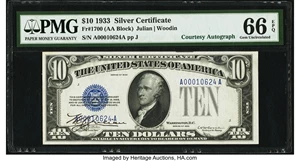 Fr. 1700 $10 1933 Silver Certificate. PMG Gem Uncirculated 66 EPQ....
Source: Heritage Auctions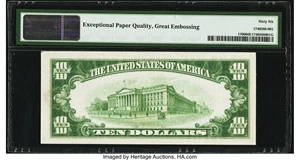 Fr. 1700 $10 1933 Silver Certificate. PMG Gem Uncirculated 66 EPQ....
Source: Heritage Auctions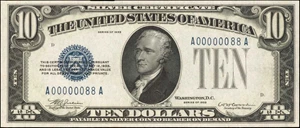 Fr. 1700. 1933 $10 Silver Certificate. PCGS Currency Gem New 66 PPQ.
Source: Stack's Bowers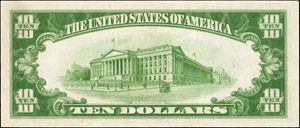 Fr. 1700. 1933 $10 Silver Certificate. PCGS Currency Gem New 66 PPQ.
Source: Stack's Bowers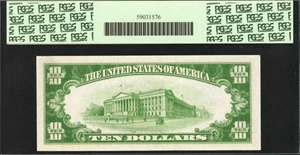 Fr. 1700. 1933 $10 Silver Certificate. PCGS Currency Gem New 66 PPQ.
Source: Stack's Bowers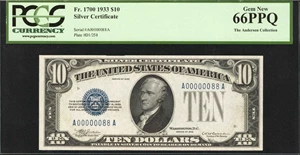 Fr. 1700. 1933 $10 Silver Certificate. PCGS Currency Gem New 66 PPQ.
Source: Stack's Bowers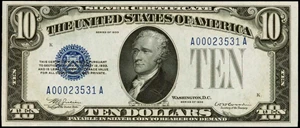 Fr. 1700. 1933 $10 Silver Certificate. PMG Gem Uncirculated 66 EPQ.
Source: Stack's Bowers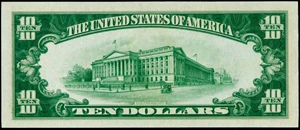 Fr. 1700. 1933 $10 Silver Certificate. PMG Gem Uncirculated 66 EPQ.
Source: Stack's Bowers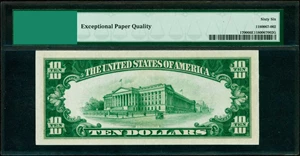 Fr. 1700. 1933 $10 Silver Certificate. PMG Gem Uncirculated 66 EPQ.
Source: Stack's Bowers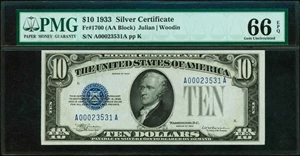 Fr. 1700. 1933 $10 Silver Certificate. PMG Gem Uncirculated 66 EPQ.
Source: Stack's Bowers

Fr. 1700 $10 1933 Silver Certificate. PCGS Gem New 66PPQ....
Source: Heritage Auctions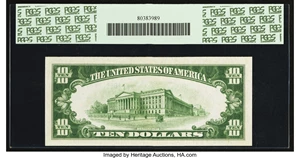 Fr. 1700 $10 1933 Silver Certificate. PCGS Gem New 66PPQ....
Source: Heritage Auctions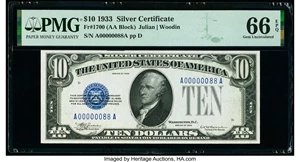 Fr. 1700 $10 1933 Silver Certificate. PMG Gem Uncirculated 66 EPQ....
Source: Heritage Auctions
Greysheet Catalog Details
According to Dustin Johnston of Heritage Auctions, "Collectors regard the Series 1933 $10 Silver Certificate as the 'King of the Silver Certificates.' Several factors contributed to its rarity. First, a mere 216,000 were printed, nearly 60,000 of which were destroyed before being issued. By comparison, the Bureau of Engraving and Printing produced about 800,000 notes every hour in 2021. Second, the 1933 $10 Silvers saw very limited distribution. Rather than being sent to the twelve Federal Reserve Banks nationwide to be issued into commerce channels, they were only issued out of the Treasury Cash Room in Washington, D.C., and for only eight months in 1934.

In 1933, Franklin D. Roosevelt signed an executive order banning public ownership of gold. Citizens had until May 1 to turn in their gold. Silver Certificates continued to be issued to help quell the public reaction to the Gold Act. However, the intention was never to print them in significant quantities. The government favored fiat money, which was not backed or redeemable by gold or silver. In the case of Series 1933 $10 Silvers, they were printed in minuscule numbers, so few even to impact the money supply.

The 1933 $10s are numismatically important because of their obligation clause, "This certificate is issued pursuant to…" is not found on any other note. It is the only design to feature 'Payable in silver coin to the bearer on demand.' While the government provided silver-backed notes, it did not want the general public to redeem them for physical silver. The clause was changed quickly, and there was a massive campaign to pull the notes from circulation.

Today, only about 80 examples are known. This number would be much lower were it not for the efforts of George Blake and Colonel E.H.R Green (son of Hetty Green), to collect the low serial numbered notes from the issue. At public auction, the Series 1933 $10s sell for $5,000 to over $100,000, depending on condition. By contrast, Series 1934 $10 Silver Certificates start around $15 and can be bought in high grades for a few hundred dollars."

Visit these great CDN Sponsors
Greysheet & CPG® PRICE GUIDE
About CDN Prices
All CDN prices are based on proprietary market knowledge and technology developed by CDN Publishing, LLC.
CPG® prices represent retail levels. Collectors should refer to CPG values as a starting place for their negotiations, or auction bid reference.
Greysheet/Greensheet prices are wholesale market levels for collectible coins/paper money intended to indicate what a dealer, or wholesale, buyer would pay for the described item in the specified grade. Greysheet/Greensheet represent "sight-seen" values based on a buyer's in-hand review. The actual value can be more or less than this depending on factors including eye appeal and market timing.
Bluesheet (NGC & PCGS) prices represent the highest sight-unseen offers to buy on dealer networks like CDN Exchange. In many cases, there are no active sight-unseen buy offers, so CDN looks to the recent lowest market values for such an item. For this reason, Bluesheet values typically represent the floor of the market for the specified item. CDN only tracks Bluesheet on certain items.
CAC prices are for U.S. coins that meet the standards of the Certified Acceptance Corporation. You can learn more about CAC on their web site.
Price movement is indicated for price changes in the last 30 days.
The prices listed in our database are intended to be used as an indication only. Users are strongly encouraged to seek multiple sources of pricing before making a final determination of value. CDN Publishing is not responsible for typographical or database-related errors. Your use of this site indicates full acceptance of these terms.
Read more...
---